Marquez outduels Dovizioso to win in Motegi, secure title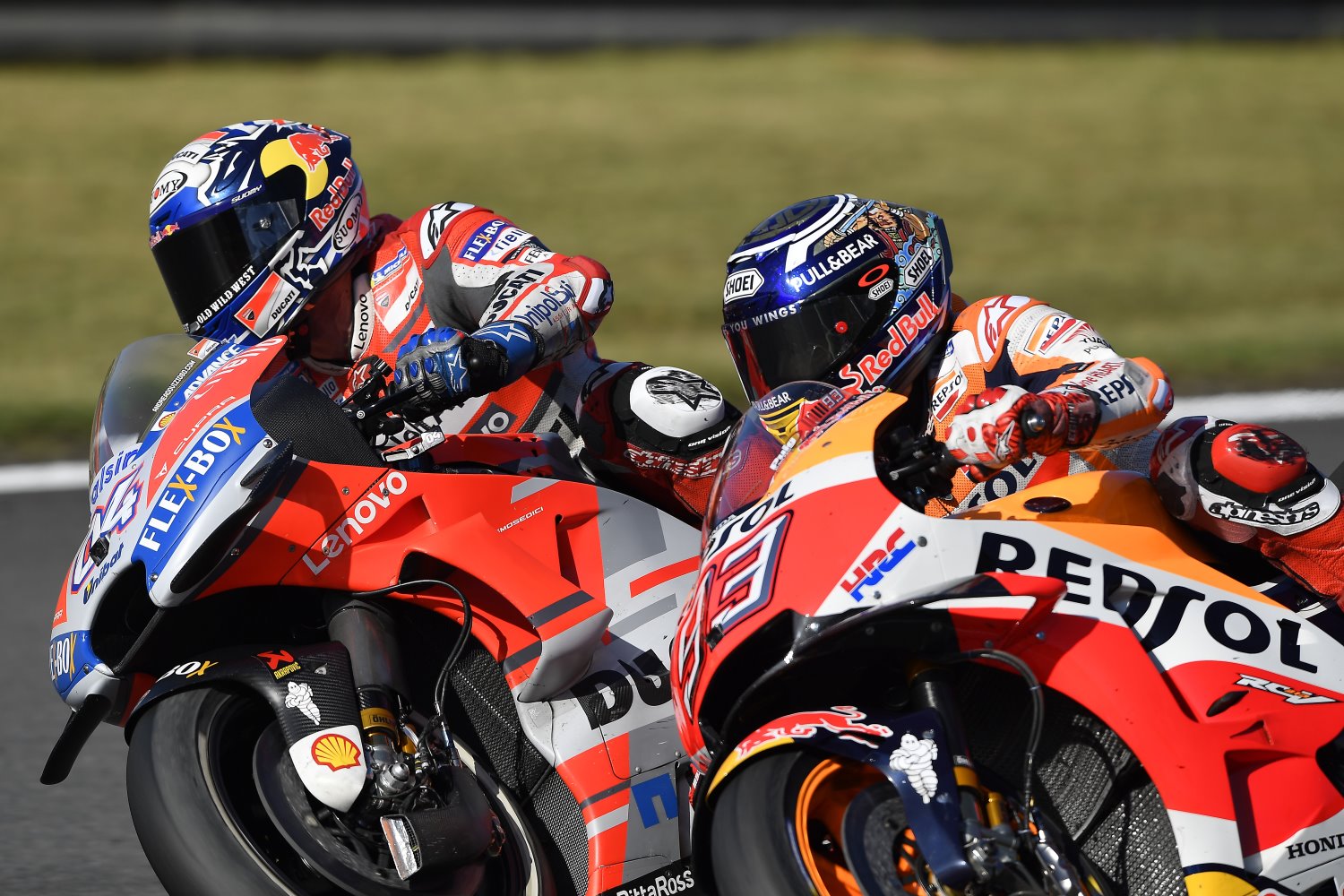 7th World title for Marquez after race-long battle with Dovi
Marc Marquez (Repsol Honda Team) wrapped up a sensational seventh World Championship title at the home of Honda after claiming a stunning victory at the Motul Grand Prix of Japan, a race-long battle with Andrea Dovizioso (Ducati Team) ended with the latter crashing out of contention at Turn 10 with two laps to go, handing the title to the number 93.
Marc Marquez took an incredible victory at Twin Ring Motegi today, becoming the 2018 MotoGP World Champion with three races to go, in front of Honda President and CEO Mr Takahiro Hachigo, who joined him on the podium.
After starting from the sixth spot on the grid, Marc was immediately able to recover four positions, taking over second place and engaging in race-long battle with title contender Andrea Dovizioso and fellow Honda rider Cal Crutchlow. With two laps remaining, the Italian rider crashed out of the race, just after Marc had passed him in preparation for a last-lap duel.
With his eighth win of 2018 and the 69th in his career (across all classes), Marquez becomes the youngest rider of all time to reach the milestone of seven World Championships (125cc in 2010, Moto2 in 2012 and MotoGP in 2013, 2014, 2016, 2017 and 2018); he does this at the age of 25 years and 246 days, taking the record from Mike Hailwood, who was 26 years and 140 days old when he won his seventh title, the 1966 350cc crown.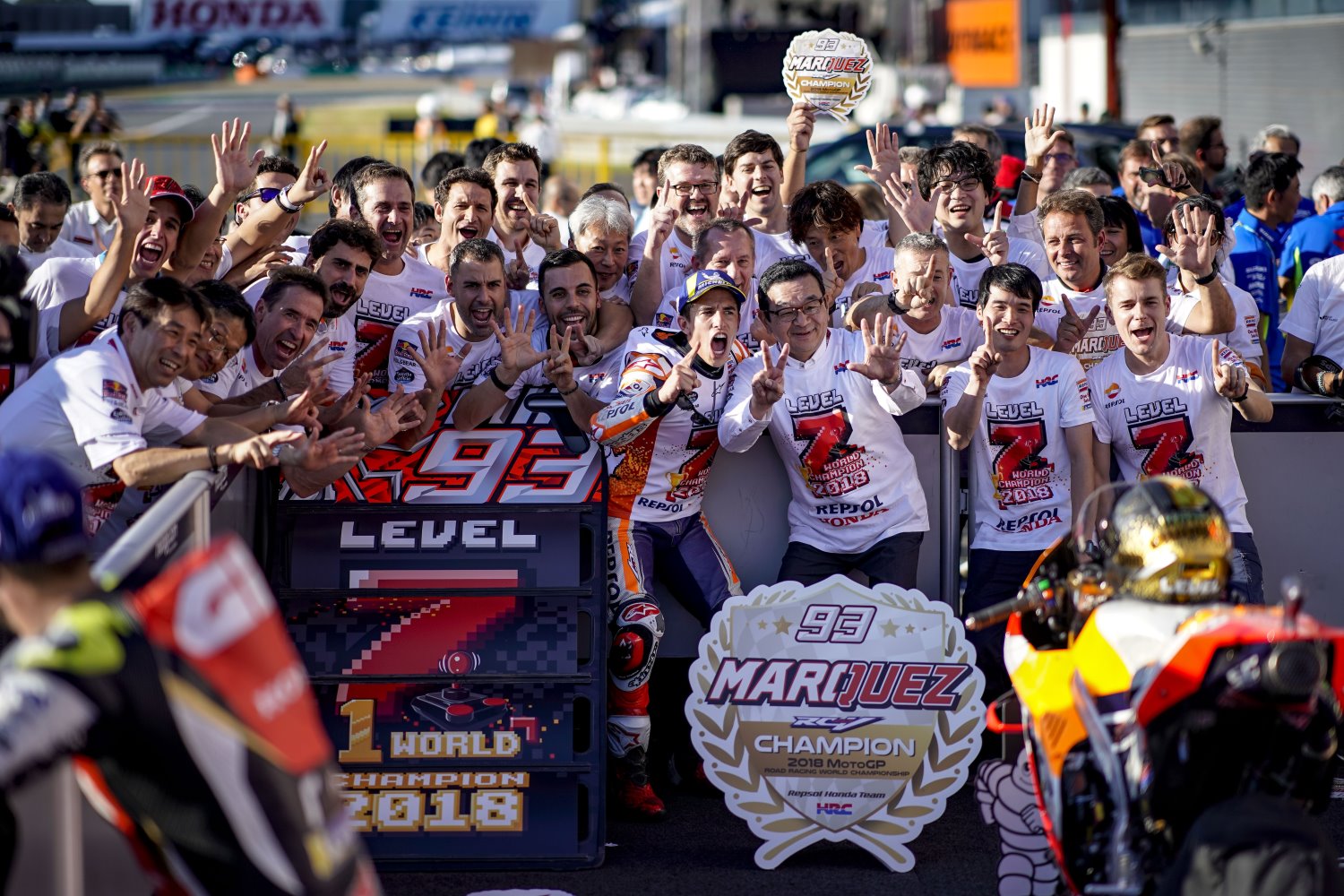 Celebrating with Honda CEO Takahiro Hachigo
Dovizioso got the perfect launch from P1 on the line as Johann Zarco (Monster Yamaha Tech 3) and Jack Miller (Alma Pramac Racing) came into off the front row. Meanwhile, Marquez kept the inside line from P6 to get himself into P3 before dispatching Miller at Turn 9 for P2 – Dovi's qualifying advantage disappearing after half a lap.
Crutchlow then got past Miller to latch onto Marquez and Dovi, with Valentino Rossi (Movistar Yamaha MotoGP) making a great start from P9 to get himself up to fourth as he passed Miller into Turn 11.
[adinserter name="GOOGLE AD"]The three at the front then put the hammer down as Dovizioso slammed in a 1:45.7 on lap 6, Crutchlow and Marquez kept tabs on the Italian but fourth place Rossi suddenly found himself over eight tenths back. The pace was fluctuating but the leading trio started to edge away from the nine-time World Champion bit by bit, who in turn had two Team Suzuki Ecstar riders right on his tailpipes.
With 11 to go, the two Hamamatsu factory machines passed Rossi and were closing in on the front three, with fifth place Alex Rins setting a lap nearly a second quicker than race leader Dovizioso. Then, Marquez made his first move on lap 14 at Turn 9, but on the exit of Turn 10 he ran wide and onto the dirt, kicking up plenty of dust to hamper his exit, allowing Dovizioso to re-take the lead into Turn 11. The Suzukis were firmly in the fray at this point but then disaster struck for Andrea Iannone, the Italian crashing out at Turn 10.
With eight to go, Dovizioso and Marquez exchanged 1:45s with Crutchlow a whisper behind – a 1:46 flat, but a 0.5 second gap appeared between the LCR rider and Marquez. A lap later the number 35 was two tenths slower as the front two started to make the decisive break, with Rins ready to pounce on Crutchlow. Dovi's intent was clear: a fastest lap of the race, hammer firmly down and the pin pulled.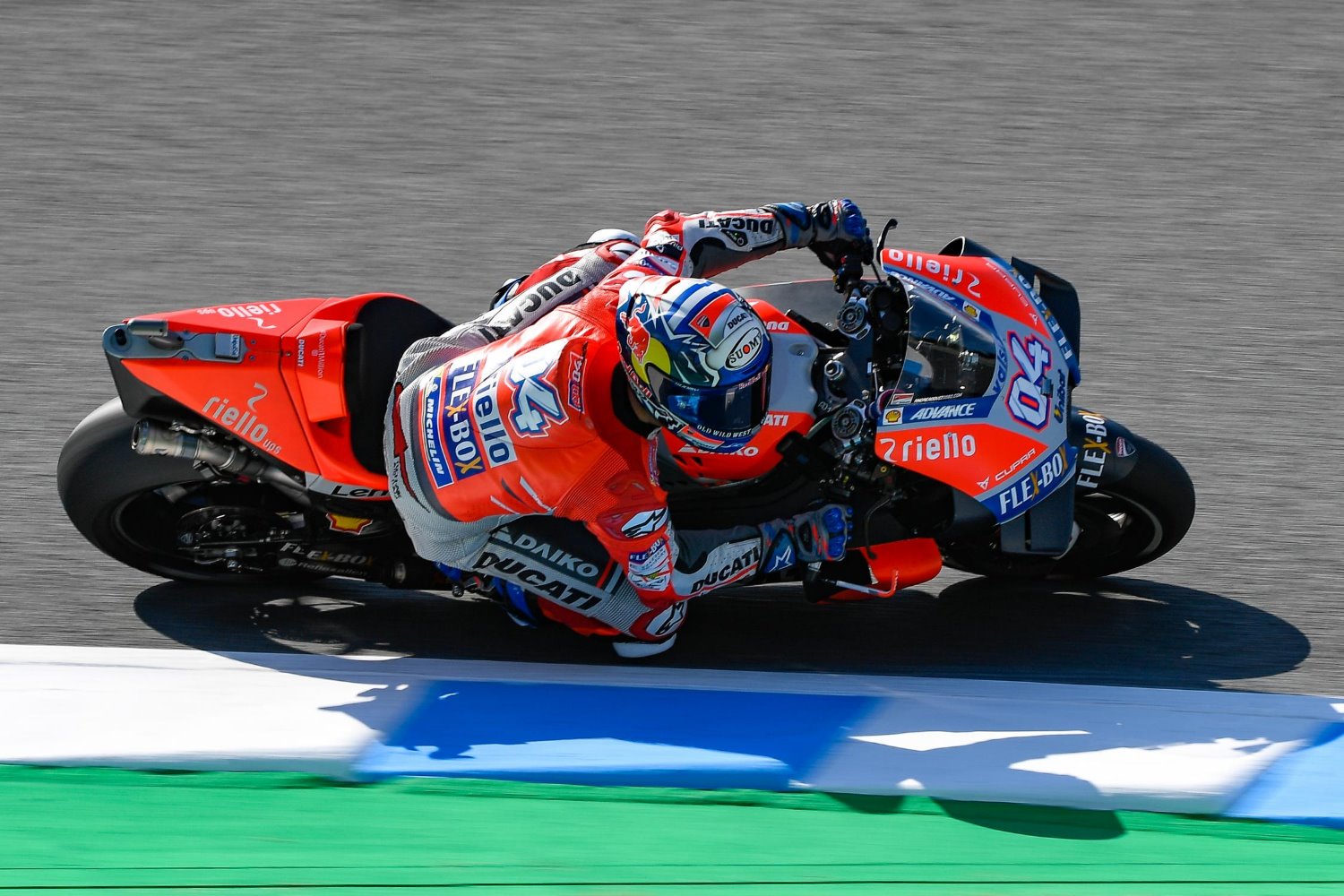 In the end Dovizioso was not match for the superior skills of Marquez
And so it was, Dovizioso vs Marquez on the final five laps. Marquez sat behind the Desmosedici before making a move into P1 at Turn 9 – no immediate reply for Dovi. With three to go the Ducati was swarming, but there was no way past with two to go.
Then, a huge moment and one that decided the 2018 title. Pushing hard to keep with Marquez, Dovi tucked the front of his GP18 at Turn 10 with just over two laps to go, crashing out of the race to leave Marquez with a healthy margin to Crutchlow and Rins. The number 93 taking title number seven at the home of Honda, his eighth win of the season.
Crutchlow held off Rins for P2 at the line, with Rins less than two tenths behind the British rider to secure a phenomenal home podium for Suzuki. Rossi brought his YZR-M1 home in a second consecutive P4, with Alvaro Bautista (Angel Nieto Team) claiming P5 in Japan after a strong latter half to the race – an equal best result of the season for the Spaniard. Zarco couldn't recover from a difficult start, he ended P6, with fellow Yamaha rider Maverick Vinales (Movistar Yamaha MotoGP) seventh.
Dani Pedrosa (Repsol Honda Team) crossed the line eighth on his last Grand Prix visit to Japan, the 'Little Samurai' having a healthy five-second gap back to ninth place Danilo Petrucci (Alma Pramac Racing) – the Italian losing ground to Crutchlow and Zarco in the Independent Team Championship. Battle of the rookies was won by tenth place Hafizh Syahrin (Monster Yamaha Tech 3), the Malaysian beating Franco Morbidelli (EG 0,0 Marc VDS) by less than a second.
Marc Marquez 93
WINNER 2018 MOTOGP WORLD CHAMPION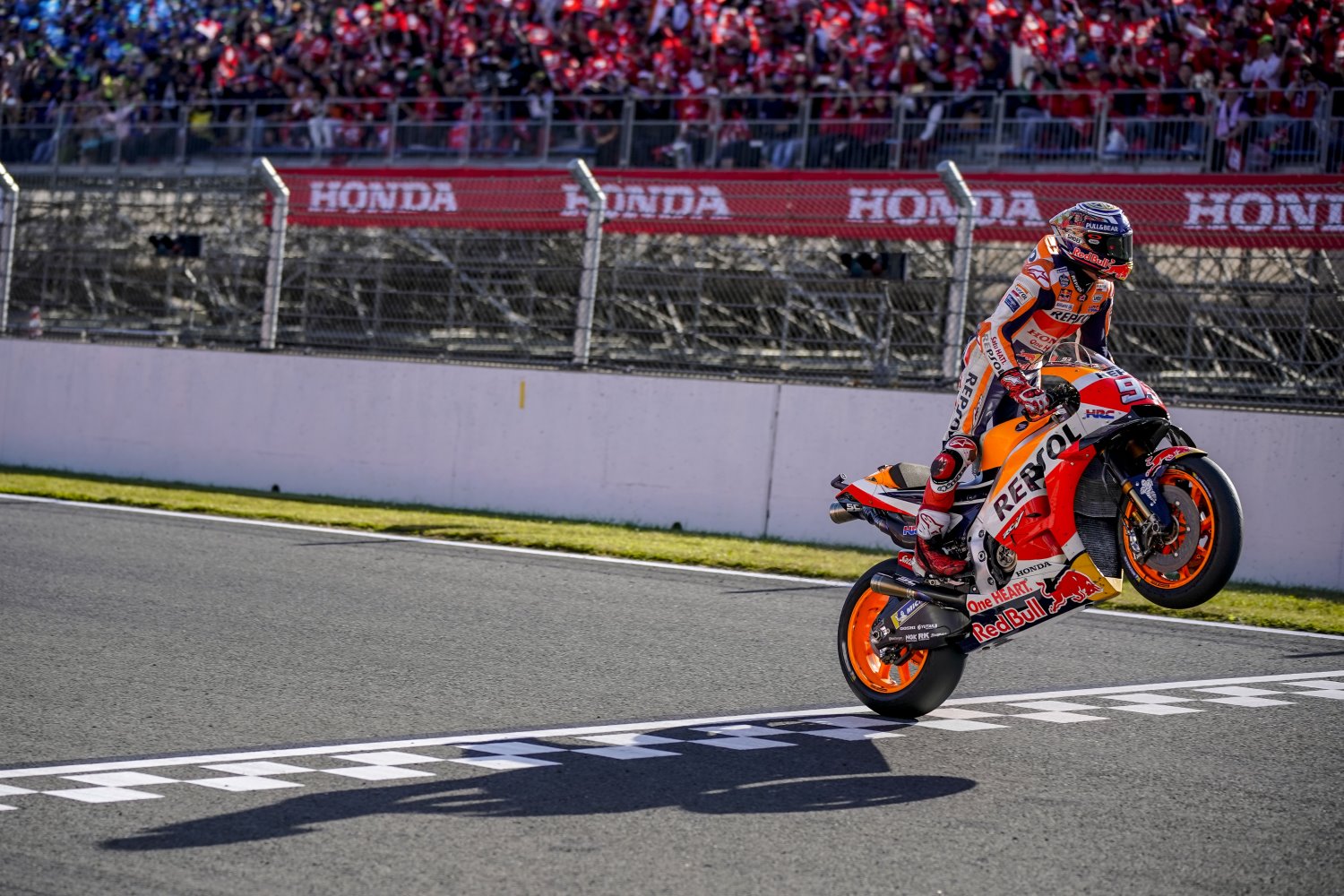 Marquez storms across the line doing a wheelie to win
"I feel really, really good. I would say it's a dream came true, or better, that I'm living a dream. It's something so special, here together with my team, all the Honda and HRC people, my family and my staff. It has been a great season, and ever since Aragon I've been tasting, imagining this title, because it was very close. Then I realized that this wasn't my style, and I needed extra motivation, so I set the goal of trying to achieve it with my first match ball—in Motegi, by winning the race.
"This circuit was a challenging one to manage that, but it seems like when I'm under pressure, I feel better on the bike! Today the race was as I expected. I was prepared to make a good start and immediately make some passes. I got to second place at the end of the first lap, and then was able to follow Andrea and stay with him. I thought I could try and attack before the last lap because I felt I had something extra to give. He was pushing very hard and made a mistake, and that's a shame because he deserved to be here on the podium.
"That's also something that I think Dani would deserve at least once this season. Anyway, when I crossed the finish line it was an explosion of joy. My people prepared this Level7 celebration, but I didn't know anything ahead of time. I never want to know, but I think it's because I used to play that kind of game a lot. Now it's time to celebrate this seventh title and enjoy these final three races."
Race Result
| POS | RIDER | TEAM | BIKE | LAPS | GAP |
| --- | --- | --- | --- | --- | --- |
| 1 | Marc Marquez | Honda | Honda | 24 | 42m36.438s |
| 2 | Cal Crutchlow | LCR Honda | Honda | 24 | 1.573s |
| 3 | Alex Rins | Suzuki | Suzuki | 24 | 1.720s |
| 4 | Valentino Rossi | Yamaha | Yamaha | 24 | 6.413s |
| 5 | Alvaro Bautista | Aspar Ducati | Ducati | 24 | 6.919s |
| 6 | Johann Zarco | Tech3 Yamaha | Yamaha | 24 | 8.024s |
| 7 | Maverick Vinales | Yamaha | Yamaha | 24 | 13.330s |
| 8 | Dani Pedrosa | Honda | Honda | 24 | 15.582s |
| 9 | Danilo Petrucci | Pramac Ducati | Ducati | 24 | 20.584s |
| 10 | Hafizh Syahrin | Tech3 Yamaha | Yamaha | 24 | 24.985s |
| 11 | Franco Morbidelli | MVDS Honda | Honda | 24 | 25.931s |
| 12 | Bradley Smith | KTM | KTM | 24 | 26.875s |
| 13 | Pol Espargaro | KTM | KTM | 24 | 27.069s |
| 14 | Katsuyuki Nakasuga | Yamaha | Yamaha | 24 | 32.550s |
| 15 | Takaaki Nakagami | LCR Honda | Honda | 24 | 37.718s |
| 16 | Xavier Simeon | Avintia Ducati | Ducati | 24 | 39.583s |
| 17 | Jordi Torres | Avintia Ducati | Ducati | 24 | 39.839s |
| 18 | Andrea Dovizioso | Ducati | Ducati | 24 | 42.698s |
| 19 | Scott Redding | Aprilia | Aprilia | 24 | 49.943s |
| 20 | Thomas Luthi | MVDS Honda | Honda | 24 | 52.707s |
| 21 | Sylvain Guintoli | Suzuki | Suzuki | 24 | 1m01.848s |
| – | Andrea Iannone | Suzuki | Suzuki | 14 | Retirement |
| – | Karel Abraham | Aspar Ducati | Ducati | 12 | Retirement |
| – | Jack Miller | Pramac Ducati | Ducati | 10 | Retirement |
| – | Aleix Espargaro | Aprilia | Aprilia | 6 | Retirement |
| – | Jorge Lorenzo | Ducati | Ducati | 0 | Withdrawn |
Riders' Standings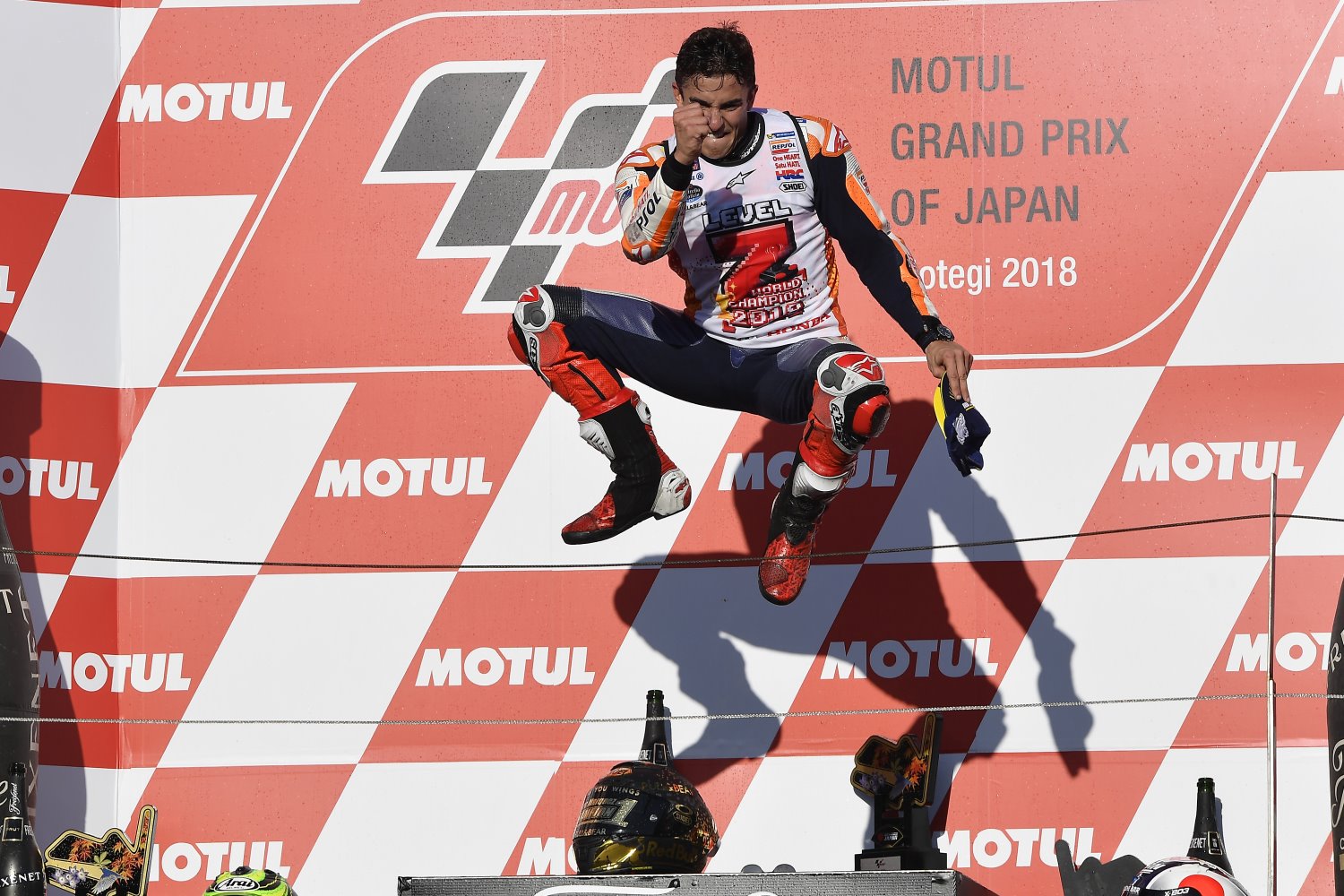 Marquez
| POS | RIDER | POINTS |
| --- | --- | --- |
| 1 | Marc Marquez | 296 |
| 2 | Andrea Dovizioso | 194 |
| 3 | Valentino Rossi | 185 |
| 4 | Maverick Vinales | 155 |
| 5 | Cal Crutchlow | 148 |
| 6 | Johann Zarco | 133 |
| 7 | Danilo Petrucci | 133 |
| 8 | Jorge Lorenzo | 130 |
| 9 | Alex Rins | 118 |
| 10 | Andrea Iannone | 113 |
| 11 | Dani Pedrosa | 95 |
| 12 | Alvaro Bautista | 83 |
| 13 | Jack Miller | 74 |
| 14 | Franco Morbidelli | 38 |
| 15 | Tito Rabat | 35 |
| 16 | Pol Espargaro | 35 |
| 17 | Hafizh Syahrin | 34 |
| 18 | Aleix Espargaro | 32 |
| 19 | Bradley Smith | 23 |
| 20 | Takaaki Nakagami | 19 |
| 21 | Scott Redding | 12 |
| 22 | Mika Kallio | 6 |
| 23 | Karel Abraham | 5 |
| 24 | Katsuyuki Nakasuga | 2 |
| 25 | Michele Pirro | 1 |
| 26 | Thomas Luthi | 0 |
| 27 | Xavier Simeon | 0 |
| 28 | Stefan Bradl | 0 |
| 29 | Jordi Torres | 0 |
| 30 | Sylvain Guintoli | 0 |
| 31 | Christophe Ponsson | 0 |