John Hunter Nemechek denies Hemric in Kansas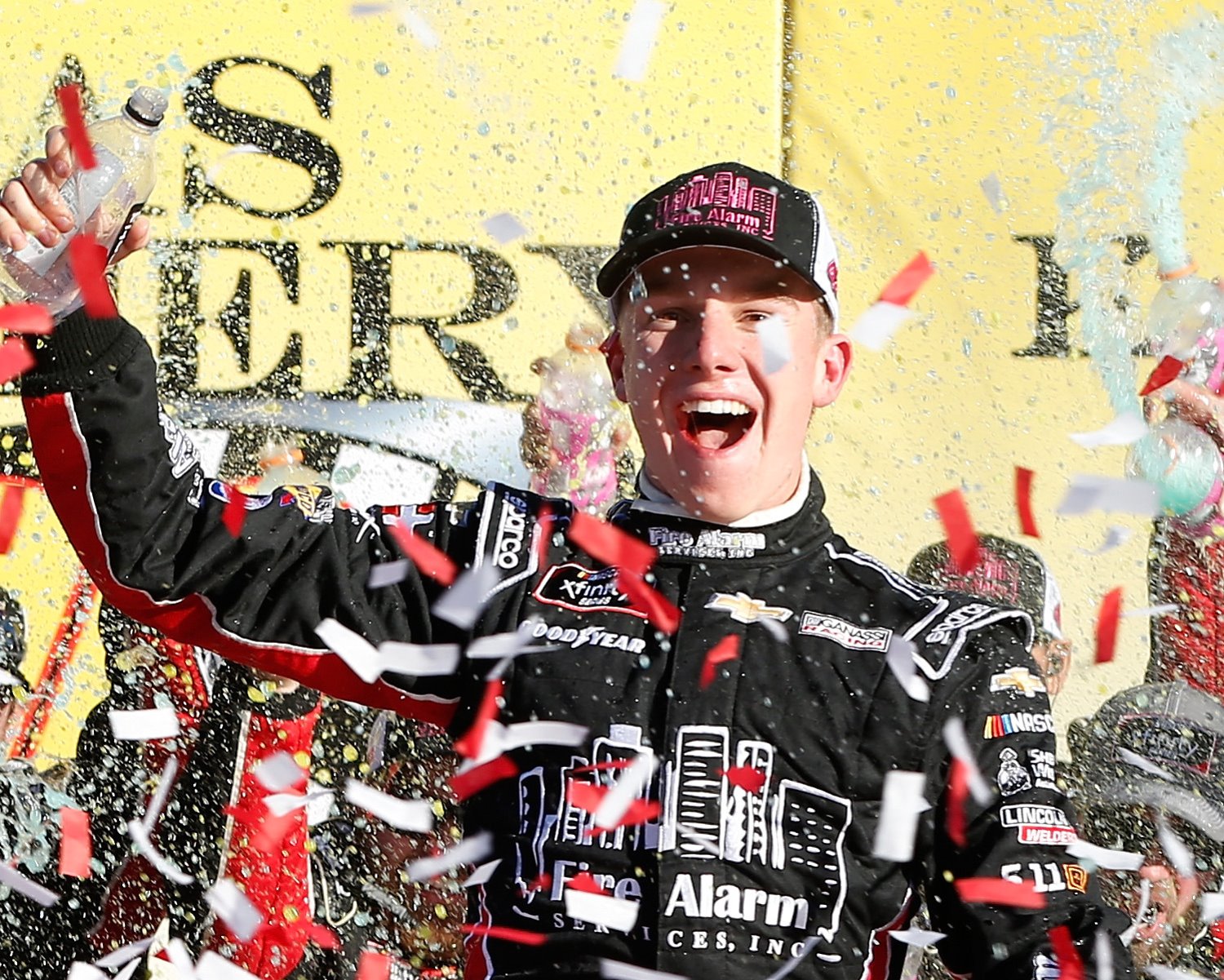 John Hunter Nemechek – his first ever Xfinity race win
Brian Lawdermilk/Getty Images
John Hunter Nemechek was a playoff spoiler Saturday at Kansas Speedway, scoring his first NASCAR Xfinity Series victory.
Nemechek led 64 of 200 laps in the Kansas Lottery 300, the opening race in the series' postseason Round of 8. The 21-year-old driver overcame an extra pit stop to tighten lug nuts, rallying from sixth place on the final restart to surge ahead of Daniel Hemric with 30 laps remaining.
Hemric was the hard-luck runner-up again, finishing second for the fourth time in his Xfinity Series career without a win. Hemric started from the pole and led a race-high 128 laps, but was unable to fend off Nemechek's final charge.
Nemechek is running a partial season in the Chip Ganassi Racing No. 42 Chevrolet and is not eligible for the championship. The Nemechek victory denied Hemric's hopes of automatically advancing to the season-ending title race Nov. 17 at Homestead-Miami Speedway for the second straight year.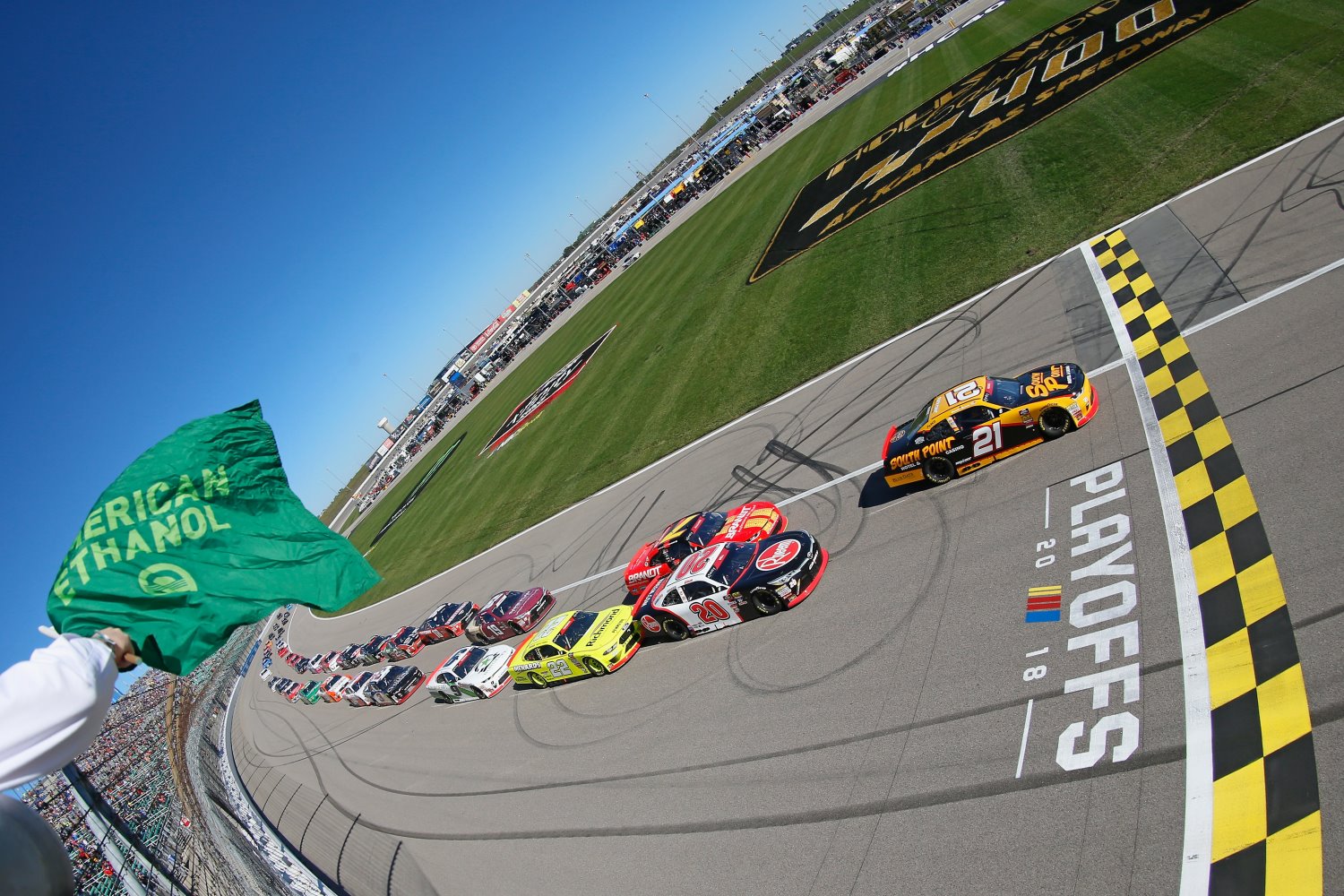 Hemric leads from pole at the start
Jonathan Ferrey/Getty Images
Elliott Sadler took third place with Shane Lee and Tyler Reddick rounding out the top five positions.
Four of the remaining eight championship-eligible drivers were tangled up in a Lap 1 crash that unfolded in Hemric's mirror shortly after the green flag flew. Justin Allgaier lost control of his No. 7 JR Motorsports Chevrolet, sliding into the No. 20 Joe Gibbs Racing Toyota of fellow postseason contender Christopher Bell in Turn 2.
Several cars in close formation piled in behind them, including playoff hopefuls Austin Cindric and Cole Custer. Of the four postseason drivers, only Custer was able to continue. Michael Annett, Chase Briscoe, Ross Chastain, Spencer Gallagher and Ryan Truex were also involved.
Bell finished 37th with Allgaier 38th and Cindric 39th — all damaging results for their playoff chances. Custer limped home in 26th place, losing several laps to repairs and a replacement of the power steering unit.
The series' next event — the fifth in the seven-race playoffs — is scheduled Nov. 3 at Texas Motor Speedway.
Results
| | | | | | | |
| --- | --- | --- | --- | --- | --- | --- |
| Pos | St | No. | Driver | Car | Laps | Status |
| 1 | 13 | 42 | John Hunter Nemechek | Fire Alarm Services Inc. Chevrolet | 200 | Running |
| 2 | 1 | 21 | Daniel Hemric (P) | South Point Hotel & Casino Chevrolet | 200 | Running |
| 3 | 11 | 1 | Elliott Sadler (P) | Textron Off Road Wildcat XX Chevrolet | 200 | Running |
| 4 | 8 | 3 | Shane Lee | Childress Vineyards Chevrolet | 200 | Running |
| 5 | 6 | 9 | Tyler Reddick # (P) | BurgerFi Chevrolet | 200 | Running |
| 6 | 9 | 2 | Matt Tifft (P) | American Ethanol e 15/ Sorghum Chevrolet | 200 | Running |
| 7 | 16 | 16 | Ryan Reed | Drive Down A1C Lilly Diabetes Ford | 200 | Running |
| 8 | 18 | 60 | Ty Majeski | Ford Ford | 200 | Running |
| 9 | 19 | 39 | Ryan Sieg | Frank Foster 'Til I'm Gone Chevrolet | 199 | Running |
| 10 | 40 | 51 | Jeremy Clements | RepairableVehicles.com Chevrolet | 199 | Running |
| 11 | 14 | 11 | Ryan Truex | LeafFilter Gutter Protection Chevrolet | 198 | Running |
| 12 | 27 | 36 | Alex Labbe # | AlphaPrimeUSA.com Chevrolet | 197 | Running |
| 13 | 23 | 0 | Garrett Smithley | teamjdmotorsports.com Chevrolet | 196 | Running |
| 14 | 31 | 15 | Quin Houff | teamjdmotorsports.com Chevrolet | 196 | Running |
| 15 | 20 | 35 | Joey Gase | Absarokatuff.com Chevrolet | 195 | Running |
| 16 | 33 | 40 | Chad Finchum # | Smithbilt Homes/The Preserve Toyota | 195 | Running |
| 17 | 34 | 52 | David Starr | Wilkerson Crane Rental Chevrolet | 194 | Running |
| 18 | 32 | 8 | Ja Junior Avila | ART General Contractor LLC / JW Transport LLC | 193 | Running |
| 19 | 35 | 76 | Spencer Boyd # | Grunt Style Chevrolet | 192 | Running |
| 20 | 37 | 45 | Josh Bilicki # | Prevagen/GNC Toyota | 191 | Running |
| 21 | 7 | 18 | Ryan Preece | Craftsman Toyota | 189 | Running |
| 22 | 36 | 78 | Vinnie Miller # | CorvetteParts.net Chevrolet | 189 | Running |
| 23 | 29 | 01 | BJ McLeod | teamjdmotorsports.com Chevrolet | 189 | Running |
| 24 | 28 | 90 | Josh Williams | Sleep Well/Star Tron Chevrolet | 187 | Running |
| 25 | 22 | 4 | Ross Chastain | teamjdmotorsports.com Chevrolet | 182 | Running |
| 26 | 10 | 00 | Cole Custer (P) | Haas Automation Ford | 181 | Running |
| 27 | 30 | 66 | Bobby Earnhardt | HABCO Toyota | 133 | Fuel Pump |
| 28 | 38 | 74 | Mike Harmon | The Journey Home Project Chevrolet | 129 | Running |
| 29 | 39 | 38 | Angela Ruch | Connecting Families Chevrolet | 98 | Oil Leak |
| 30 | 12 | 98 | Chase Briscoe | Nutri Chomps Ford | 79 | Suspension |
| 31 | 25 | 13 | Timmy Hill | OCR Gaz Bar Toyota | 54 | Vibration |
| 32 | 24 | 99 | Stephen Leicht | Chevrolet | 26 | Steering |
| 33 | 17 | 23 | Spencer Gallagher | Allegiant Chevrolet | 24 | Accident |
| 34 | 26 | 93 | Jeff Green | RSS Racing Chevrolet | 16 | Rear Gear |
| 35 | 21 | 37 | JJ Yeley | RSS Racing Chevrolet | 16 | Brakes |
| 36 | 5 | 19 | Brandon Jones | Game Plan For Life Toyota | 12 | Accident |
| 37 | 2 | 20 | Christopher Bell # (P) | Rheem Toyota | 2 | Accident |
| 38 | 3 | 7 | Justin Allgaier (P) | BRANDT Professional Agriculture Chevrolet | 1 | Accident |
| 39 | 4 | 22 | Austin Cindric # (P) | Menards/Richmond Ford | 0 | Accident |
| 40 | 15 | 5 | Michael Annett | Pilot Flying J Chevrolet | 0 | Accident |
[adinserter name="GOOGLE AD"]