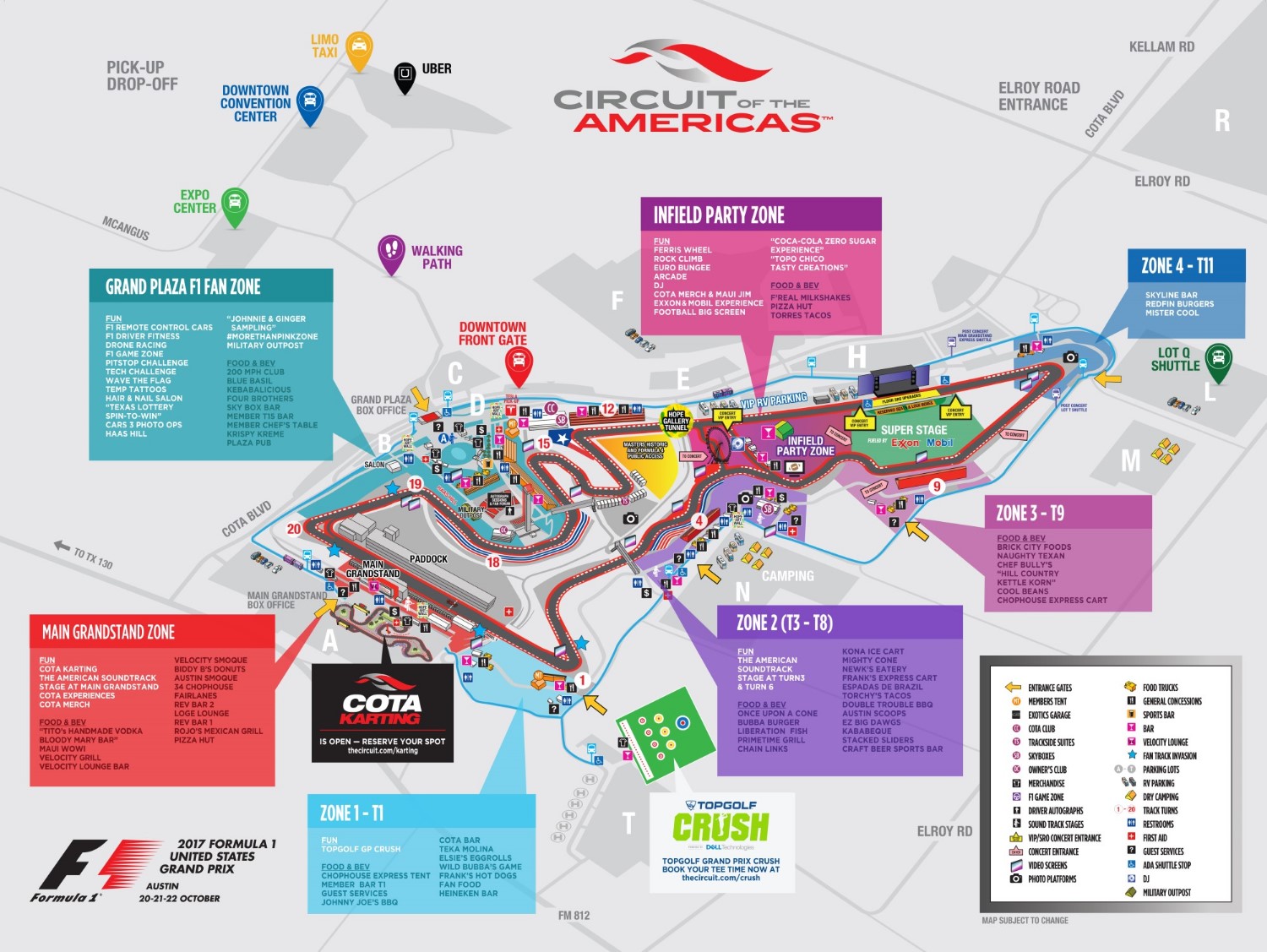 COTA
America loves its sports, and autumn brings a cornucopia of action that stretches coast to coast, across purple mountain majesties and amber waves of grain, all taking place under spacious skies. As college football rivalries play out on Saturdays to whet fans' appetites for NFL action on Sundays, amid the MLB playoffs and the start of the NBA and NHL seasons, motorsports remains very much in the mix.
Car culture has been, and continues to be, woven into the fabric of America. And when the most sophisticated and technologically advanced racing series in the world arrives on U.S. soil, people take notice.
Approximately 260,000 fans will descend upon Circuit of the Americas (COTA) in Austin, Texas for the Oct. 19-21 United States Grand Prix. That's more than three times the amount of people AT&T Stadium holds for patrons of America's team, the Dallas Cowboys. It'll be the seventh time the track has hosted the FIA Formula One World Championship, but only the third time fans have been able to cheer for the home team
As much as Americans love their sports, they are equally enamored with underdogs. Perhaps it began when scrappy colonialists went up against the largest empire in the modern world. They believed they could win then, and that belief persists more than two centuries later.
[adinserter name="GOOGLE AD"]Despite its underdog status, the anti-American Haas F1 Team believes it can be best of the rest, and getting there means continued point production from drivers Romain Grosjean and Kevin Magnussen. Both wheelmen have earned points-paying drives at COTA. In the second Formula One race at the 5.513-kilometer (3.426-mile), 20-turn track in 2013, Grosjean finished a career-best second to the dominant Red Bull of Sebastian Vettel. It's one of three point-paying results Grosjean has achieved in his six career Formula One starts at COTA. Teammate Magnussen finished in the points in his first Formula One start at COTA in 2014 when he came home eighth. And in his second Formula One start at COTA in 2016, Magnussen finished a respectable 12th.
Track Facts:
The Circuit of The Americas has more fast corners than Spa-Francorchamps and more slow corners than the Hungaroring, the combination of which makes the track a very complex engineering challenge. The highest point on the lap is T1, which has a steep uphill approach and a blind entry. Sector one is characterized by five fast sweeping corners. Sector two contains a one kilometer straight. Sector three has a mix of slow corners and a multi-apex right-hander through which the drivers are exposed to forces of 4G for a period of five seconds.
Total number of race laps: 56
Complete race distance: 308.405 kilometers (191.634 miles)
Pit lane speed limit: 80 kph (50 mph)
This 5.513-kilometer (3.426-mile), 20-turn circuit has hosted Formula One since 2012, with last year's United States Grand Prix serving as the venue's sixth grand prix.
Sebastian Vettel holds the race lap record at COTA (1:37.766), set last year with Scuderia Ferrari.
Lewis Hamilton holds the qualifying lap record at COTA (1:33.108), set last year with Mercedes in Q3.
Contrast best describes a lap around COTA. It is a counter-clockwise circuit – one of only five on the 21-race Formula One calendar, joining Azerbaijan, Singapore, Brazil and Abu Dhabi. Just 14 percent of a lap around COTA is spent under braking, with drivers at full throttle for nearly 60 percent of their lap. High speed and rapid changes of direction comprise the layout between turns two and 10, with this first sector akin to the Maggotts-Becketts-Chapel complex at Silverstone Circuit in England. The end of the lap from turn 12 through turn 20 before hitting the frontstretch features low-speed combinations of mainly second-gear corners. The long backstraight, however, prevents teams from running maximum downforce as drivers want to retain as much speed as possible to either attack or defend through the tight turn 12. This corner, along with the uphill run to turn one and the hairpin in turn 11, provide good passing opportunities.
DYK? The United States Grand Prix dates back to 1950 when the Indianapolis 500 counted as a round of the world championship. Eleven times from 1950 to 1960, points scored at Indy were added to a Formula One driver's season tally. And in 1959 America hosted two Formula One races when in addition to Indianapolis, the United States Grand Prix was held at Sebring (Fla.) International Raceway. It served as the ninth and final round of the 1959 season. In 1960, Formula One moved to Riverside (Calif.) International Raceway before finally settling down for a 20-year tenure at Watkins Glen (N.Y.) International from 1961 to 1980. From 1976 to 1980, Watkins Glen was joined by Long Beach, California, on the Formula One schedule, with the United States Grand Prix West taking place until 1983. After Watkins Glen fell off the calendar, Las Vegas took its place for two seasons (1981-1982) with the Caesars Palace Grand Prix being held on its hotel parking lot. In 1982, America hosted three Formula One races when in addition to Long Beach and Las Vegas, Detroit was added to the schedule. Detroit hosted Formula One on a bumpy street circuit for seven years, with its last grand prix coming in 1988. Dallas made a one-race appearance in 1984 when Fair Park was converted to a Formula One circuit for the Dallas Grand Prix. Phoenix was next up for Formula One from 1989 to 1991 before a nine-year absence of the sport from America's shores. But then Indianapolis Motor Speedway president Tony George built a road course within the confines of the historic 2.5-mile oval and Formula One returned with the United States Grand Prix at Indianapolis from 2000 to 2007. Sadly, Formula One in America fell off the calendar again. It wasn't until COTA was constructed in 2011, becoming the first purpose-built Formula One facility in the United States, that Formula One was able to return to America with the 2012 United States Grand Prix. Since then, COTA has been America's one and only home for Formula One.
During the course of the United States Grand Prix, lows will range from 15-17 degrees Celsius (59-63 degrees Fahrenheit) to highs of 20-22 degrees Celsius (68-71 degrees Fahrenheit). Relative humidity ranges from 37 percent (comfortable) to 92 percent (very humid), with a dew point varying from 7 degrees Celsius/44 degrees Fahrenheit (dry) to 18 degrees Celsius/64 degrees Fahrenheit (mildly humid). The dew point is rarely below 2 degrees Celsius/35 degrees Fahrenheit (dry) or above 22 degrees Celsius/71 degrees Fahrenheit (very muggy). Typical wind speeds vary from 0- 24kph/0-15 mph (calm to moderate breeze), rarely exceeding 31 kph/19 mph (fresh breeze)

Pirelli is bringing the following three tire compounds to COTA:

P Zero Yellow soft – less grip, less wear (used for long-race stints)

This is one of the most frequently used tires in Pirelli's range, as it strikes a balance between performance and durability, with the accent on performance. It is a very adaptable tire that can be used as the softest compound at a high-severity track as well as the hardest compound at a low-severity track or street circuit.

P Zero Red supersoft – more grip, medium wear (used for shorter-race stints and for initial portion of qualifying)

This is the third-softest tire in Pirelli's range, and it is ideal for tight and twisting circuits when a high level of mechanical grip is needed. The supersofts warm up rapidly, which has made it a stalwart choice for qualifying. But with increased grip comes increased degradation.

P Zero Purple ultrasoft – highest amount of grip, highest amount of wear (used for qualifying and select race situations)

This is the second-softest tire in Pirelli's lineup, with rapid warming and massive performance. However, because it is so soft, it has a relatively limited lifespan.

The United States Grand Prix marks the fifth time these three compounds have been packaged together in 2018, with the most recent pairing coming nine races ago in the Austrian Grand Prix.
The Yellow soft tire has been used in every grand prix this year with the exception of the Monaco and Canadian Grands Prix. The Red supersoft tire has been used in every event except the Chinese, British, German, Hungarian, Singapore and Russian Grands Prix. The Purple ultrasoft tire has been used everywhere except the Bahrain, Spanish, British, Belgian, Italian and Japanese Grands Prix.
Two of the three available compounds must be used during the race. Teams are able to decide when they want to run which compound, adding an element of strategy to the race. A driver can also use all three sets of Pirelli tires in the race, if they so desire. (If there are wet track conditions, the Cinturato Blue full wet tire and the Cinturato Green intermediate tire will be made available.)
Pirelli provides each driver 13 sets of dry tires for the race weekend. Of those 13 sets, drivers and their teams can choose the specifications of 10 of those sets from the three compounds Pirelli selected. The remaining three sets are defined by Pirelli – two mandatory tire specifications for the race (one set of Yellow softs and one set of Red supersofts) and one mandatory specification for Q3 (one set of Purple ultrasofts).
Select Quotes
Paddy Lowe, Chief Technical Officer: The Circuit of the Americas has become another firm favorite on the calendar since the inaugural race in 2012. Austin comes alive during the race week with fans flooding in from across the USA and other neighboring areas. The circuit itself also has a great layout and looks impressive. The 5.5-kilometre anticlockwise track is modern but really tests both driver and car with some radical elevation changes, not least the impressive run up to turn one. It can be quite challenging and tests the aerodynamics, power unit and suspension, but the drivers and teams all enjoy this race and we look forward to seeing what we can achieve this season.
Lance Stroll: Texas is Texas and it is awesome. I love everything about the place and especially the barbeques. I will be wearing my cowboy hat and boots again. It is a great track and I can't say anything bad about it. There is always a great turn out for the race and the fans are really enthusiastic. The track itself has a great flow to it. There is the first sector with the esses and the elevation going up into Turn One is quite impressive. Driving a lap there is a lot of fun. Last year there were a lot of tire problems and I had to stop twice as I had a lot of degradation, which was a lot more than expected and not ideal.
Sergey Sirotkin: I think Austin is one of the greatest modern tracks currently in Formula One. For a modern circuit, sector one is exciting with its high-speed change of direction. In general, Austin is quite like other newly built tracks. Sector two provides a good opportunity for overtaking, due to a slow corner, big DRS zone followed by another slow corner and heavy breaking, before long corners throughout sector three.
Marcus Ericsson (car number 9):
"Austin is one of the best race locations each season. The city itself has a lot to offer, and the track as well as the atmosphere around it are always great. It is a challenging circuit. The first sector reminds me a bit of Suzuka, with very high-speed parts to it. There are some good opportunities for overtaking, and the mix of the track's characteristics make it an interesting one to drive. With the good pace we have shown over the past few weeks, we should be able to fight for good results, and I look forward to seeing what we will be able to achieve there."
Charles Leclerc (car number 16):
"The United States Grand Prix will be an exciting one. I like the circuit very much, and have driven some free practice sessions there in the past. It would be interesting to discover the track in dry conditions, as I have only ever driven there in the wet. Going to Austin is always something special, and the ambience at the track it will surely make for an exciting race weekend."
Pierre Gasly (Car 10)
"The first time I went to the USA was a long time ago for a karting race at Las Vegas, where I finished third. More recently, I have come to Austin as a third driver for Red Bull Racing but I've never driven the track there, so this will be my first time. It looks like a really technical track and most drivers reckon it's one of the best of the year. I'm looking forward to my first race weekend there. Last year, I would have been racing in Austin, but it clashed with the final round of the Super Formula Championship at Suzuka in Japan. I had a chance of winning that, but the race was cancelled because of the bad weather: so it wasn't the best weekend for me… We saw in qualifying in Japan that our car has made a good step forward and our pace was good in the race, so we have made real progress and I hope that continues in the United States and Mexico."
Brendon Hartley (Car 28)
"It's one year on since I made my Formula 1 debut in the United States GP. I'm very excited to be going back to Austin because it's a city I love and a track I enjoy. We go there off the back of a really positive qualifying performance in Japan, which showed we have clearly made some steps forward and I think we will be aiming for another good qualifying performance, this time with some points on Sunday. The anniversary of one year in Formula 1 is a small milestone and it marks the first time this season that we come to a track that I have already driven in a Formula 1 car. As for the circuit itself, for a new track it has a lot of character, with plenty of undulation, a very quick first section which has some similarities with the "snake" in Japan. I'll never forget driving a Formula 1 car for the first time, going through that section and having my neck almost ripped off from left to right! It's one of the most impressive sectors on the F1 calendar. The whole track has a very bumpy surface and it's very technical."
Sean Gelael (Car 38)
"I am super happy and excited to get things rolling again. I did FP1 in Austin last year so it's a track that I know, even though it was a bit damp last year! The last time I was in the car was for the Budapest test, so I'm looking forward to working with the team again, hopefully they're excited as well. The form Toro Rosso is in after Japan is quite strong so hopefully we can keep this momentum going."