Almirola leads Ford 1-2-3 at Talladega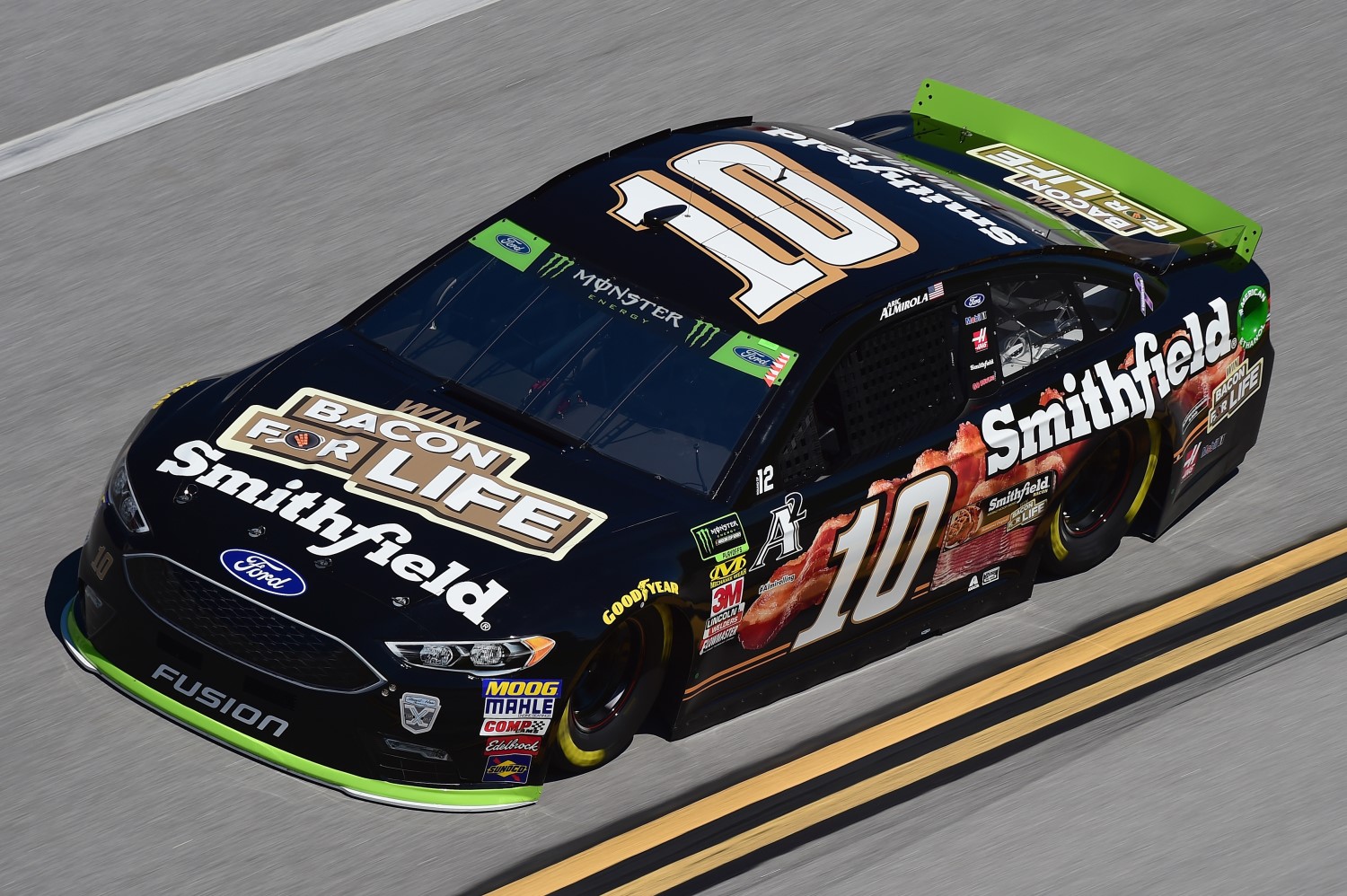 Aric Almirola charges to victory at Talladega
Jared C. Tilton/Getty Images
Aric Almirola had more fuel than his Stewart-Haas Racing teammates on Sunday, giving him the opportunity to pass the sputtering Ford of Kurt Busch off turn four on the final lap en route to the victory at Talladega Superspeedway.
It's the first win of the season for Almirola, his second career Monster Energy NASCAR Cup Series win victory. His first came back on July 6, 2014 at Daytona International Speedway.
The victory also locks him into the Round of 8 of the MENCS Playoffs.
"Today was sweet," Almirola said. "To go to Victory Lane in such a clutch moment, in the Playoffs, down 10 points coming into this weekend, knowing this was an opportunity race for us, winning here today was really special. Like I said, I can count on my hand five or six races that I feel like we maybe should have won this year, and it didn't work out, didn't happen. Today the good Lord was shining down on us and we were able to go to Victory Lane. It was a special day."
In a race that saw the Stewart-Haas Fords dominate the day, a late caution sent the race into Overtime while several drivers – including the leader – were worried about fuel.
Coming to the restart, SHR teammate Kevin Harvick suddenly pulled onto pit road with his engine sputtering from third place, as did fellow Playoff contenders Brad Keselowski Ryan Blaney who had both been in the top 10.
[adinserter name="GOOGLE AD"]Busch again surged to the lead, and suddenly came under fire from Almirola.
With cars wrecking behind them shortly after taking the white flag, Busch worked to block Almirola as NASCAR let the race stay under green.
Coming into turn four, Almirola swung his No. 10 Ford to the outside as Busch's car suddenly slowed with a dry fuel tank. From there, Almirola held off teammate Clint Bowyer to the checkered flag.
Almirola's victory comes one week after a bitter disappointment after coming close to winning at Dover, only to see the change go away with a late crash.
"I felt like I kept giving it away and I was so disappointed for all these guys behind me because they're awesome," Almirola said. "They're the best. I'm with the best team in the garage and I felt like I kept letting them down not winning a race. Today, the Good Lord was shining on us and we went to Victory Lane. We did it, finally."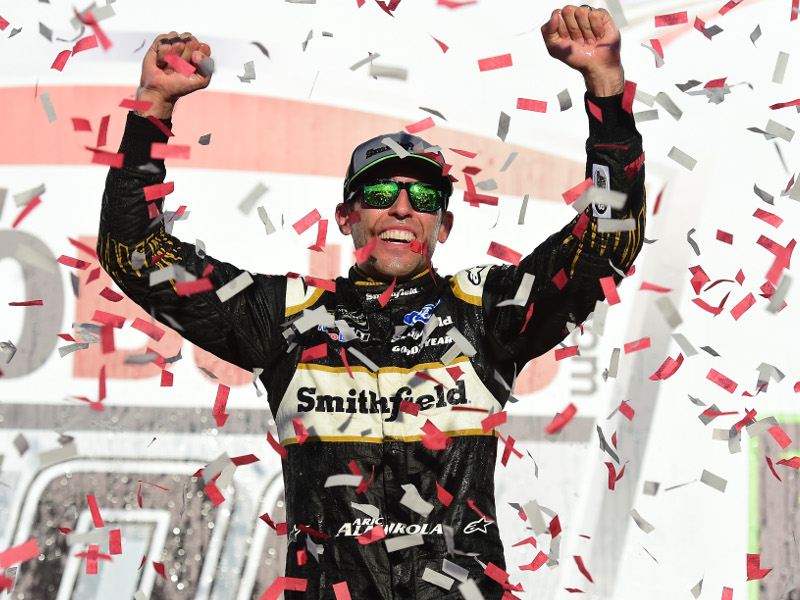 Almirola celebrates
SHR drivers led 155 laps on the day, with Busch topping the charts by leading 108 laps. Several times, the four SHR teammates pulled away from the field, sometimes leading up to 12 cars single file. Over the closing laps, the four had pulled away as the rest of the pack, from fifth place back, battled side-by-side while Busch led the way.
With two laps to go, the yellow flag flew for a crash triggered when Alex Bowman got loose, making contact with Erik Jones before hitting the wall. J.J. Yeley and William Byron were gathered up in the process.
That set up the Overtime finish, which saw Busch's No. 41 Ford come up a turn and a half short from the finish.
Busch would cross the line in 14th, leaving the race's polesitter wondering what could have been – and questioning why there was not a caution thrown for the last lap caution.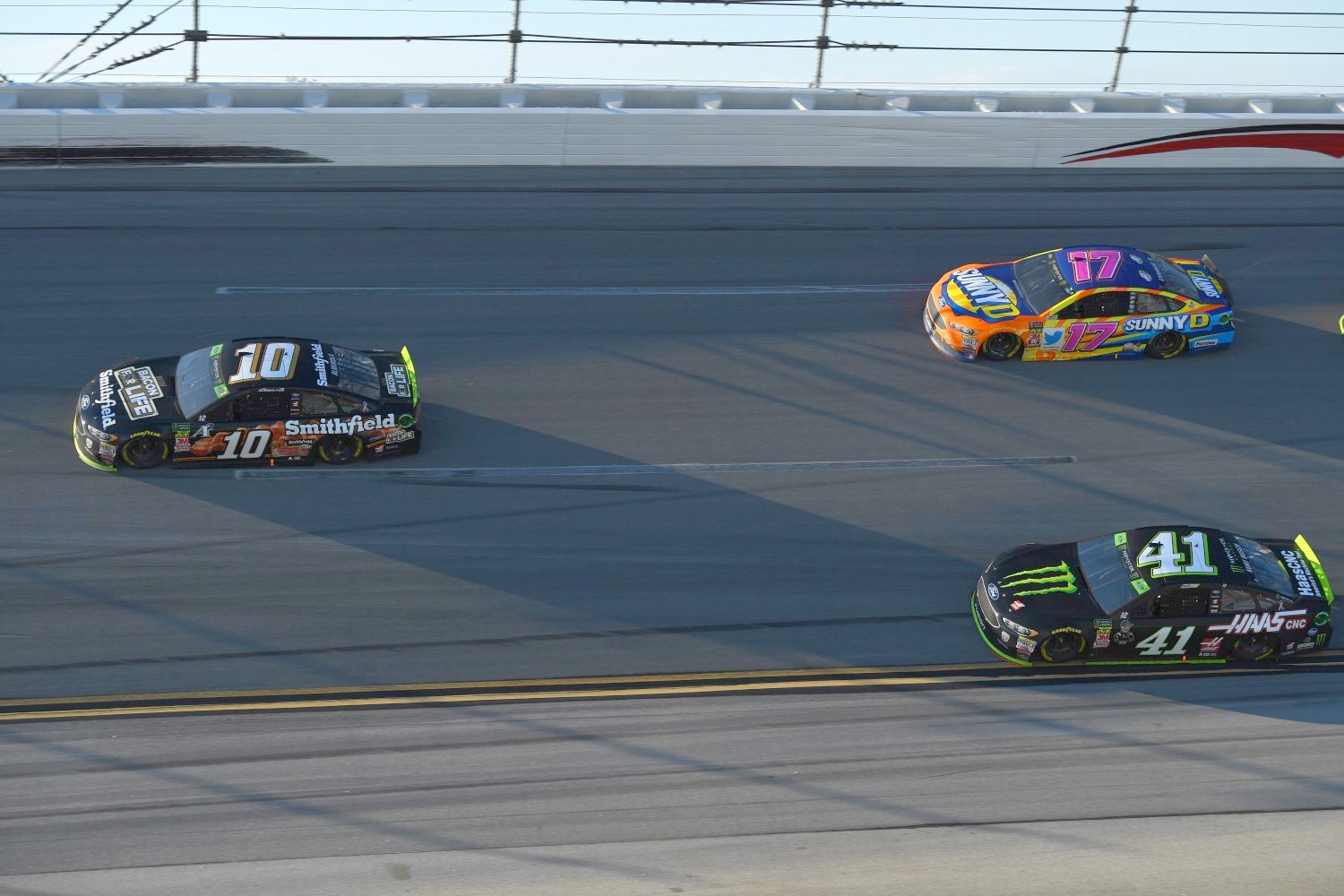 Almirola sweeps past a sputtering Kurt Busch
"It was a very different Talladega for me," Busch said. "I really enjoyed leading the race, working with my teammates. I'm really happy a Stewart-Haas car won, but the four of us, I've never seen so much synergy. We knew we were gonna have to race when we got to Kansas. It would have been nice to have the win. We're here to win. That's what Monster Energy wants. Thanks to them. That's what Team Haas wants. Thanks to Gene, Tony Stewart, everybody. But there were two human element calls there at the end. I don't know why we ran an extra lap under yellow and why there wasn't the yellow for a dispatch of an ambulance."
While Busch's Ford faltered, teammate Clint Bowyer edged out fellow Ford driver Ricky Stenhouse, Jr. for second at the checkered flag.
"I was happy for Aric," Bowyer said. "He had that race won last week (at Dover), and it was me that brought out the caution. I feel like he got a little redemption there. Was happy that we finished second. I think it was second, second and second. As far as our day went, we needed to be a little bit better."
The final lap crash broke out when Matt DiBenedetto spun after contact from the car of Trevor Bayne. Chase Elliott, Kyle Busch, Martin Truex, Jr. and Ryan Newman were all gathered up in the accident as well.
Unofficially, Bowyer finished in second, with Ricky Stenhouse, Jr. in third, Denny Hamlin in fourth and Joey Logano in fifth.
A.J. Allmendinger, Jimmie Johnson, Erik Jones, Paul Menard and Regan Smith rounded out the top ten.
It was a rough outing for several of the Playoff contenders going into next weekend's cutoff race at Kansas Speedway. Kyle Larson finished in 11th, with Truex, Jr. 23rd, Kyle Busch in 26th, and Keselowski – who led portions of the race's final segment – in 27th.
Harvick came home in 28th, with Ryan Blaney in 29th. Elliott was 31st and Bowman finished 33rd.
Results
| | | | | | | |
| --- | --- | --- | --- | --- | --- | --- |
| POS | CAR | DRIVER | MANUF | LAPS | BEHIND | BEST SPEED |
| 1 | 10 | Aric Almirola (P) | Ford | 193 | — | 202.410mph |
| 2 | 14 | Clint Bowyer (P) | Ford | 193 | 0.105 | 202.414 |
| 3 | 17 | Ricky Stenhouse Jr. | Ford | 193 | 0.311 | 203.019 |
| 4 | 11 | Denny Hamlin | Toyota | 193 | 0.433 | 203.420 |
| 5 | 22 | Joey Logano (P) | Ford | 193 | 0.479 | 202.731 |
| 6 | 47 | AJ Allmendinger | Chevy | 193 | 0.525 | 203.944 |
| 7 | 48 | Jimmie Johnson | Chevy | 193 | 0.528 | 203.325 |
| 8 | 20 | Erik Jones | Toyota | 193 | 0.539 | 202.615 |
| 9 | 21 | Paul Menard | Ford | 193 | 0.605 | 204.760 |
| 10 | 95 | Regan Smith | Chevy | 193 | 0.631 | 203.377 |
| 11 | 42 | Kyle Larson (P) | Chevy | 193 | 0.664 | 203.766 |
| 12 | 62 | * Brendan Gaughan(i) | Chevy | 193 | 0.679 | 203.269 |
| 13 | 6 | Trevor Bayne | Ford | 193 | 0.781 | 203.866 |
| 14 | 41 | Kurt Busch (P) | Ford | 193 | 2.664 | 202.478 |
| 15 | 13 | Ty Dillon | Chevy | 193 | 3.273 | 203.200 |
| 16 | 19 | Daniel Suarez | Toyota | 193 | 3.348 | 202.804 |
| 17 | 3 | Austin Dillon | Chevy | 193 | 3.361 | 203.693 |
| 18 | 00 | Joey Gase(i) | Chevy | 193 | 3.557 | 204.384 |
| 19 | 43 | Darrell Wallace Jr. # | Chevy | 193 | 3.875 | 203.204 |
| 20 | 24 | William Byron # | Chevy | 193 | 5.364 | 203.580 |
| 21 | 37 | Chris Buescher | Chevy | 193 | 6.393 | 203.680 |
| 22 | 99 | * Landon Cassill(i) | Chevy | 193 | 13.089 | 201.380 |
| 23 | 78 | Martin Truex Jr. (P) | Toyota | 193 | 16.469 | 202.714 |
| 24 | 15 | Ross Chastain(i) | Chevy | 193 | 17.108 | 202.132 |
| 25 | 31 | Ryan Newman | Chevy | 193 | 20.048 | 203.758 |
| 26 | 18 | Kyle Busch (P) | Toyota | 193 | 22.609 | 203.515 |
| 27 | 2 | Brad Keselowski (P) | Ford | 193 | 28.400 | 202.722 |
| 28 | 4 | Kevin Harvick (P) | Ford | 193 | 34.727 | 202.350 |
| 29 | 12 | Ryan Blaney (P) | Ford | 193 | 67.968 | 202.658 |
| 30 | 32 | Matt DiBenedetto | Ford | 192 | 0.770 | 203.045 |
| 31 | 9 | Chase Elliott (P) | Chevy | 192 | 0.942 | 202.179 |
| 32 | 72 | Corey LaJoie | Chevy | 191 | -2 | 201.659 |
| 33 | 88 | Alex Bowman (P) | Chevy | 191 | -2 | 202.290 |
| 34 | 7 | * DJ Kennington(i) | Chevy | 190 | -2 | 198.442 |
| 35 | 1 | Jamie McMurray | Chevy | 186 | -6 | 204.869 |
| 36 | 23 | JJ Yeley(i) | Ford | 185 | -8 | 203.970 |
| 37 | 96 | * Jeffrey Earnhardt | Toyota | 185 | -8 | 202.465 |
| 38 | 51 | Cody Ware | Chevy | 185 | -7 | 198.924 |
| 39 | 38 | David Ragan | Ford | 173 | -19 | 202.418 |
| 40 | 34 | Michael McDowell | Ford | 155 | -37 | 202.448 |
# DENOTES ROOKIE
(I) NOT ELIGIBLE FOR POINTS
(*) REQUIRED TO QUALIFY ON TIME
[adinserter name="GOOGLE AD"]