Kobayashi, Conway and Lopez win in Fuji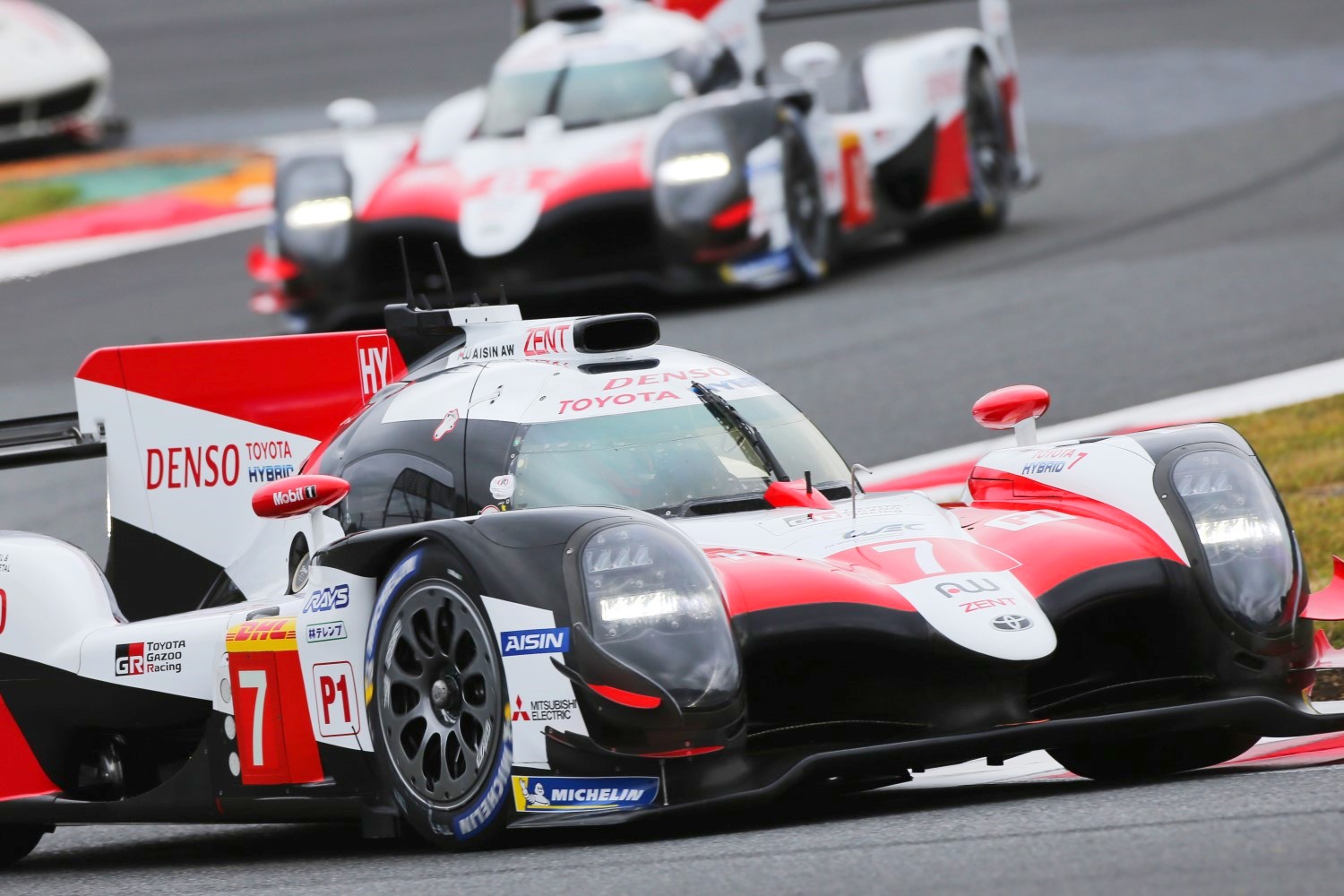 Toyotas 1-2 as always
Toyota Gazoo Racing took a home 1-2 finish at the 6 Hours of Fuji today with the No.7 Toyota TS050 HYBRID driven by Mike Conway, Kamui Kobayashi and Jose Maria Lopez taking the victory.
It is a second victory at Fuji for Conway and Kobayashi following success in 2016, and it is a first WEC win for Lopez.
The No.8 sister car of Fernando Alonso, Sebastien Buemi and Kazuki Nakajima took the flag in second place but kept their championship points lead.
An action-packed start on a wet track saw Kazuki in the pole position #8 hold the advantage while Kamui put on an overtaking show in the #7, exploiting the advantage of four-wheel drive in the difficult conditions to move from eighth on the grid to second by lap two.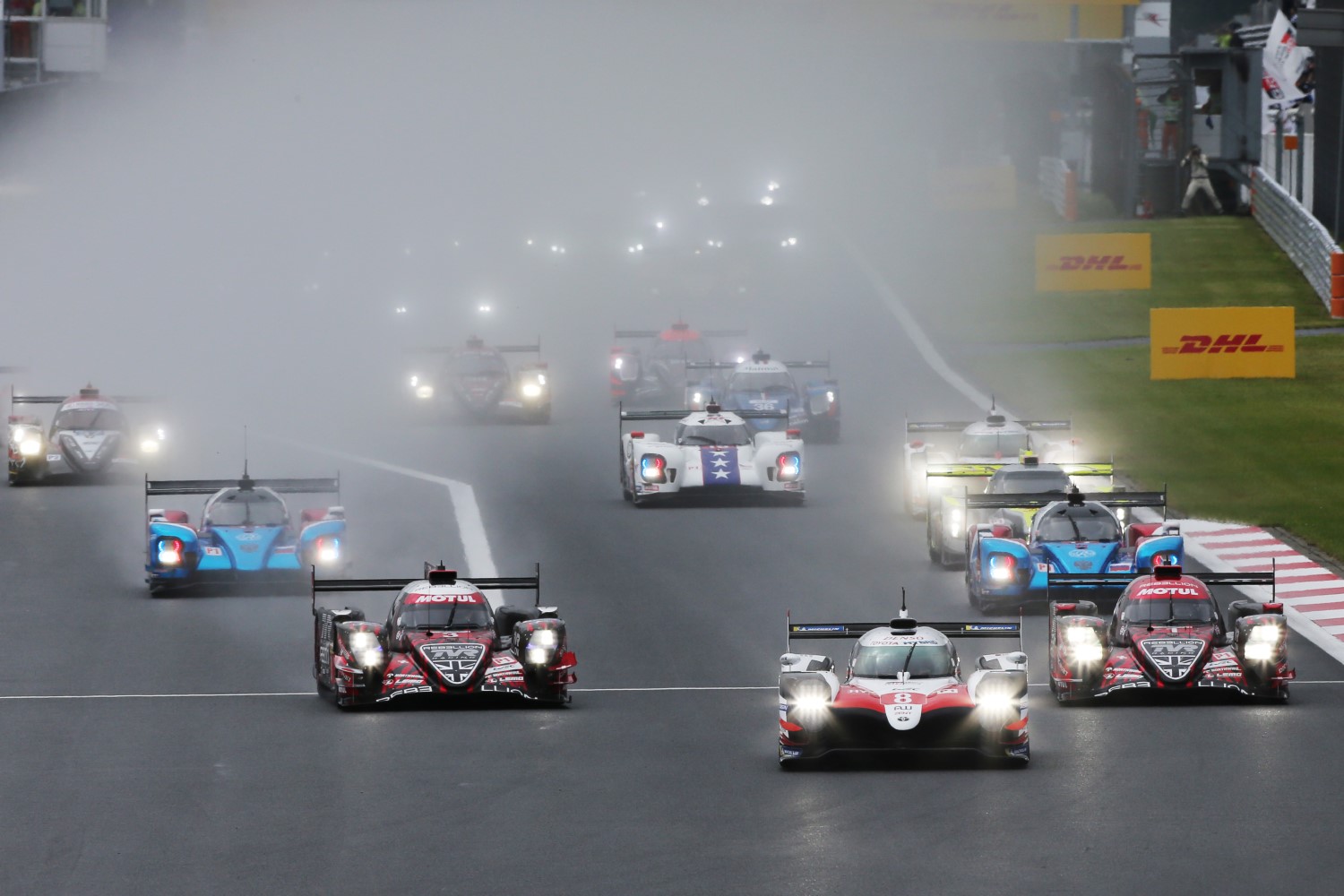 The start was wet. Is it ever sunny at Fuji?
The excitement continued throughout a fascinating first hour. Kamui pitted early to switch to heavy wet tires before a safety car period eliminated Kazuki's lead of over one minute. Soon after, the #8 switched to hybrid intermediate tires, leaving the #11 SMP in the lead.
Changing weather added to the drama, with bright sunshine drying the track towards the end of the safety car period. That left Kamui on inappropriate tires for the conditions so he was the first to pit for slick tires after the 30-minute interruption and he took advantage by immediately setting very quick lap times.
Kazuki and the other LMP1 cars did likewise soon after and when the running order stabilized early in the second hour, Kamui led in the #7 with Kazuki close behind and both TS050 HYBRIDs steadily building a gap to the third-placed #1 Rebellion.
When Kazuki handed over to Sébastien after two intense hours, the #8 was around 10 seconds behind its sister car, but with newer tires Sébastien began to close the gap on a fully dry track. The #8 took over the lead when Kamui brought his epic two-and-a-half-hour stint to an end, with Mike taking the wheel.
The momentum swung between the two cars, depending on who had the newer tires. After a full course yellow with two hours remaining, José in the #7 led by around 20 seconds from Fernando in the #8 and the pair pushed each other hard.
José set what turned out to be the fastest lap of the race on lap 153 and he kept a stable gap at the front until handing the lead to Kamui with just over 30 minutes remaining. Kamui had the honor of taking the checkered flag in the #7, with Kazuki bring the #8 home second for a perfect team result.
[adinserter name="GOOGLE AD"]The LMGTE Pro category saw typically ferocious action. Through the multi-manufacturer action came Kevin Estre and Michael Christensen in the Porsche GT Team 911 RSR to take the first 6-hour WEC victory for the model.
LMP2 witnessed a faultless display by the Jackie Chan DC Racing squad of the all-Malaysian line-up of Jazeman Jaafar, Weiron Tan and Nabil Jeffri.
They led for the majority of the race and recorded a 1-2 ahead of the sister Jackie Chan DC Racing car of Ho-Pin Tung, Stephane Richelmi and Gabriel Aubry in what was a second consecutive win for the Chinese-entered squad.
Both Jota-Sport DCR ORECAs benefited by pitting just before the pitlane closed early on, and were given a comfortable buffer by a spin for nearest rivals TDS Racing in the second hour.
In LMGTE Am it was Team Project 1 team which celebrated its maiden win in the WEC. The trio of Egidio Perfetti, Jorg Bergmeister and Patrick Lindsey took victory after a thrilling contest with multiple leaders at various stages of the six-hour race.
52,800 fans attended the 2018 edition of the 6 Hours of Fuji.
Winning Quotes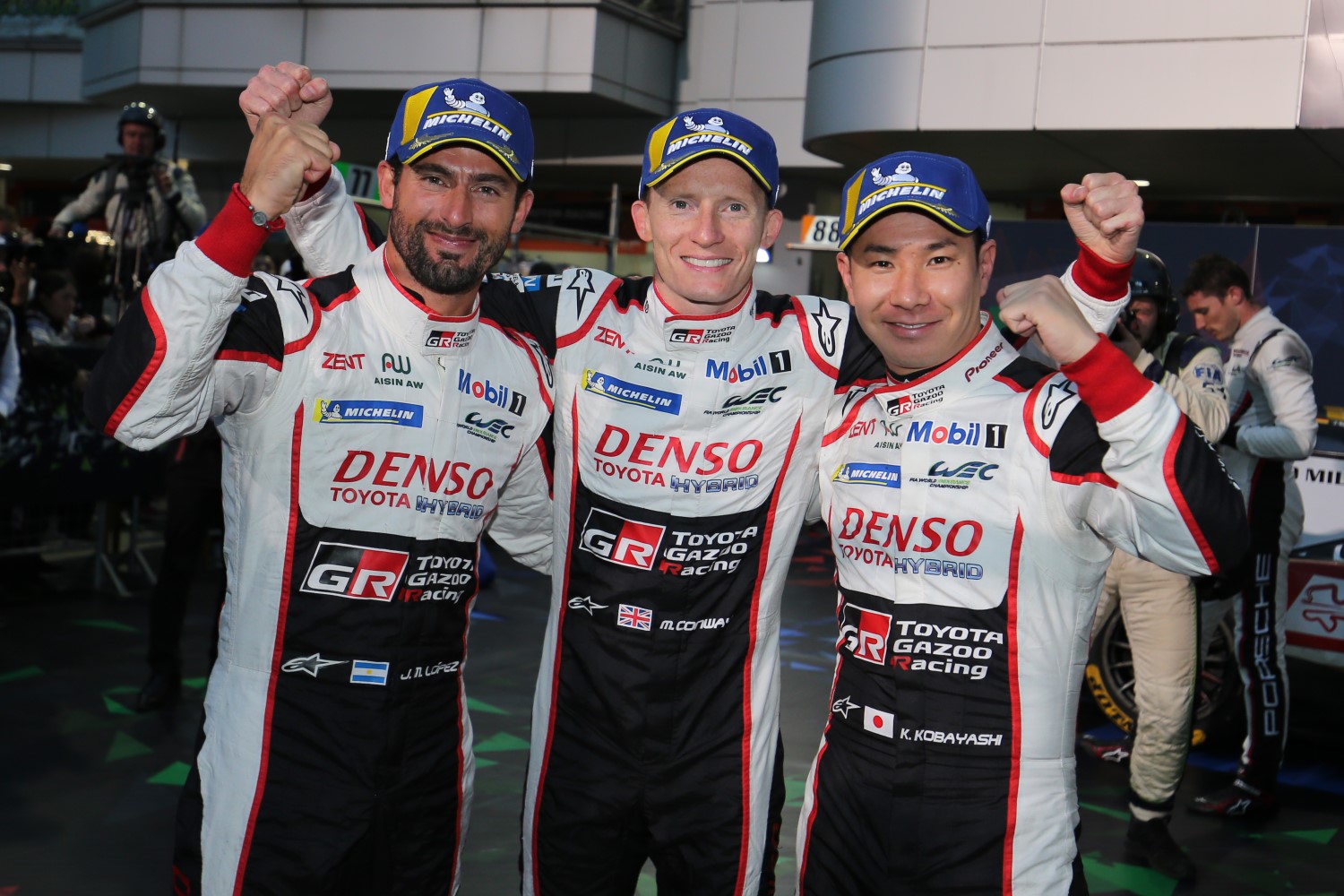 Lopez, Conway and Kobayashi celebrate
TS050 HYBRID #7
Race: 2nd, 230 laps, 8 pit stops. Grid: 8th. Fastest lap: 1min 26.043secs
Mike Conway (TS050 HYBRID #7): "I am really pleased with this result; to get a one-two in TOYOTA's home race is a nice feeling. It was not an easy race, especially starting from eighth but our car performed really well and my team-mates did a fantastic job as usual; they were solid and consistent which was exactly what we needed. It's great to get another win after coming so close for the last two years and to get it now at the home race is obviously great. "
Kamui Kobayashi (TS050 HYBRID #7): "It's amazing to win my home race for the second time. The team has done a great job all weekend and they really deserve this. We were disappointed after qualifying but we came back in the best way possible with a victory. We have waited a long time on car #7 for this; finally we are in the center of the podium again. I think this can be a turning point for us for the rest of the season but now we need to celebrate this moment."
José María L¢pez (TS050 HYBRID #7): "After the disappointment from qualifying it feels so good to achieve the first win with TOYOTA. It's also a fantastic feeling to win for the first time in WEC. The most important thing is to thank everyone in Higashi-Fuji and Cologne who make it all possible as well as Mike and Kamui; it is a privilege to share a car with these guys. Together we have bounced back in a very important race for us and I cannot describe how happy I am."
TS050 HYBRID #8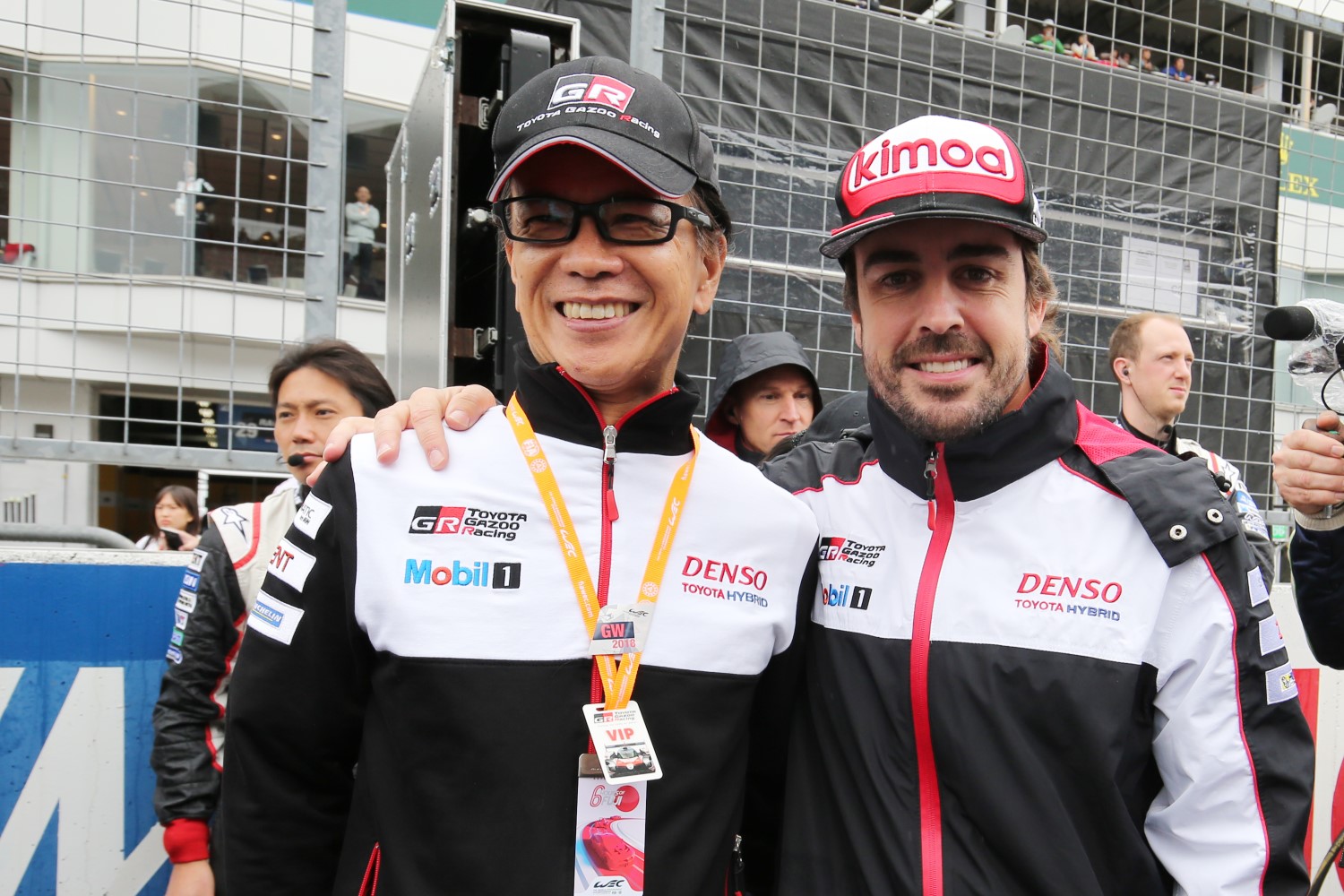 Shigeki Tomoyama (JPN) President Gazoo Racing Company and Fernando Alonso (ESP)
Race: 1st, 230 laps, 8 pit stops. Grid: 1st. Fastest lap: 1min 25.603secs
Sébastien Buemi (TS050 HYBRID #8): "Congratulations to the #7 guys, they did a great job and deserve this victory. On our car we were strong but the #7 was just a tiny bit quicker than us most of the race. Congratulations as well to the team for a perfect result in our home event; I'm happy we could achieve a one-two and I hope everyone enjoyed the race."
Kazuki Nakajima (TS050 HYBRID #8): "It was a great result for the team to get a one-two here at Fuji Speedway; it is a special moment. For our car it was a difficult race today because the #7 had better pace in the dry conditions and we were a bit unlucky with the safety car. But no complaints; that's racing. Today we finished second but we did a great job as a team for both World Championships."
Fernando Alonso (TS050 HYBRID #8): "It was a good race. We were a bit unlucky with the safety car – we were one minute 20 seconds in front and all that advantage was neutralized, but these things happen in motorsport. We were not quite quick enough to battle the #7 today; congratulations to them. They deserved it because they have been very fast all weekend. It has been a positive day for the championship; we have extended the lead in both so overall it's a very good weekend. "
Akio Toyoda, TOYOTA Motor Corporation President: "We have achieved an excellent result of finishing the FIA World Endurance Championship 6 Hours of Fuji with a one-two finish. I would like to express our appreciation to all the fans supported us. The 6 Hours of Fuji this year meant a lot to us; a triumphant home return following the Le Mans 24 Hours, a chance to race again after the disappointment of the previous race and the home race of TOYOTA GAZOO Racing. Many fans, partners and suppliers who support our activities came to Fuji. In order to convey gratitude to them, I really wanted to be there but unfortunately I could not make it. I believe the best way to show them our gratitude as TOYOTA GAZOO Racing is to have a great race and I especially really wanted them to see a one-two finish like at Le Mans on our home circuit. What I could do for this purpose was to send a message to the drivers before the race: "Please drive out and enjoy the battle to the finish line!" And prior to the race, they replied to me: "We are going to race hard!" They really drove six hours like that. I think such a race could show TOYOTA GAZOO Racing's passion to those who supported us and I would like to thank all the drivers for this. Although I could not be on site, I felt the feelings of everyone in the team from the TV screen and I was able to fight with them as one team. Thank you very much to the all team members for this one-two finish, and congratulations on the long-awaited win for all on car #7! And for the fans who always support us, thank you very much. We appreciate your continued support."
Result
| POS | CLASS | DRIVER | CAR | LAPS | GAP |
| --- | --- | --- | --- | --- | --- |
| 1 | LMP1 | M.Conway, K.Kobayashi, J.M.Lopez | Toyota | 230 | 0.000s |
| 2 | LMP1 | S.Buemi, K.Nakajima, F.Alonso | Toyota | 230 | 11.440s |
| 3 | LMP1 | N.Jani, A.Lotterer, B.Senna | Rebellion/Gibson | 226 | 4 Laps |
| 4 | LMP1 | M.Aleshin, V.Petrov, J.Button | BR Engineering/AER | 219 | 11 Laps |
| 5 | LMP1 | O.Webb, T.Dillmann, J.Rossiter | ENSO CLM/NISMO | 219 | 11 Laps |
| 6 | LMP2 | J.Jaafar, W.Tan, N.Jeffri | ORECA/Gibson | 217 | 13 Laps |
| 7 | LMP2 | H-Pin Tung, G.Aubry, S.Richelmi | ORECA/Gibson | 217 | 13 Laps |
| 8 | LMP2 | N.Lapierre, A.Negrao, P.Thiriet | Alpine/Gibson | 217 | 13 Laps |
| 9 | LMP2 | F.Perrodo, M.Vaxiviere, J-E.Vergne | ORECA/Gibson | 216 | 14 Laps |
| 10 | LMP2 | E.Creed, R.Ricci, K.Ihara | Ligier/Gibson | 211 | 19 Laps |
| 11 | GTE Pro | M.Christensen, K.Estre | Porsche | 207 | 23 Laps |
| 12 | GTE Pro | T.Blomqvist, A.F.da Costa | BMW | 207 | 23 Laps |
| 13 | GTE Pro | A.Priaulx, H.Tincknell | Ford | 207 | 23 Laps |
| 14 | GTE Pro | A.P.Guidi, J.Calado | Ferrari | 207 | 23 Laps |
| 15 | GTE Pro | R.Lietz, G.Bruni | Porsche | 207 | 23 Laps |
| 16 | GTE Pro | S.Mucke, O.Pla | Ford | 206 | 24 Laps |
| 17 | GTE Pro | M.Sorensen, N.Thiim | Aston Martin | 206 | 24 Laps |
| 18 | GTE Pro | M.Tomczyk, N.Catsburg | BMW | 206 | 24 Laps |
| 19 | GTE Pro | A.Lynn, M.Martin | Aston Martin | 206 | 24 Laps |
| 20 | LMP2 | R.Gonzalez, P.Maldonado, A.Davidson | ORECA/Gibson | 205 | 25 Laps |
| 21 | LMP2 | F.van Eerd, G.van der Garde, N.de Vries | Dallara/Gibson | 204 | 26 Laps |
| 22 | GTE Pro | D.Rigon, S.Bird | Ferrari | 202 | 28 Laps |
| 23 | GTE Am | J.Bergmeister, P.Lindsey, E.Perfetti | Porsche | 201 | 29 Laps |
| 24 | GTE Am | S.Hoshino, G.Roda, M.Cairoli | Porsche | 201 | 29 Laps |
| 25 | GTE Am | S.Yoluc, J.Adam, C.Eastwood | Aston Martin | 201 | 29 Laps |
| 26 | GTE Am | P.D.Lana, P.Lamy, M.Lauda | Aston Martin | 201 | 29 Laps |
| 27 | GTE Am | M.Wainwright, B.Barker, T.Preining | Porsche | 201 | 29 Laps |
| 28 | GTE Am | T.Flohr, F.Castellacci, G.Fisichella | Ferrari | 200 | 30 Laps |
| 29 | GTE Am | Mok W.S., K.Sawa, M.Griffin | Ferrari | 200 | 30 Laps |
| 30 | GTE Am | C.Ried, J.Andlauer, M.Campbell | Porsche | 176 | 54 Laps |
| 31 | LMP1 | J.Allen, B.Hanley | BR Engineering/Gibson | 179 | DNF |
| 32 | LMP1 | S.Sarrazin, E.Orudzhev, M.Isaakyan | BR Engineering/AER | 132 | DNF |
| 33 | LMP1 | M.Beche, T.Laurent, G.Menezes | Rebellion/Gibson | 23 | DNF |
| 34 | GTE Am | M.Ishikawa, O.Beretta, E.Cheever | Ferrari | 14 | DNF |
Drivers' standings
| POS | DRIVER | POINTS |
| --- | --- | --- |
| 1 | Fernando Alonso | 65 |
| 1 | Kazuki Nakajima | 65 |
| 1 | Sebastien Buemi | 65 |
| 2 | Gustavo Menezes | 63 |
| 2 | Mathias Beche | 63 |
| 2 | Thomas Laurent | 63 |
| 3 | Jose Maria Lopez | 46 |
| 3 | Kamui Kobayashi | 46 |
| 3 | Mike Conway | 46 |
| 4 | Andre Lotterer | 36 |
| 4 | Neel Jani | 36 |
| 5 | Andre Negrao | 29 |
| 5 | Nicolas Lapierre | 29 |
| 5 | Pierre Thiriet | 29 |
| 6 | Gabriel Aubry | 26 |
| 6 | Ho-Pin Tung | 26 |
| 6 | Stephane Richelmi | 26 |
| 7 | Jazeman Jaafar | 26 |
| 7 | Nabil Jeffri | 26 |
| 7 | Weiron Tan | 26 |
| 8 | Bruno Senna | 18 |
| 9 | Pastor Maldonado | 16 |
| 9 | Roberto Gonzalez | 16 |
| 10 | Egor Orudzhev | 15 |
| 10 | Stephane Sarrazin | 15 |
| 11 | Oliver Webb | 12 |
| 12 | Dominik Kraihamer | 12 |
| 12 | Tom Dillmann | 12 |
| 13 | Mikhail Aleshin | 10 |
| 13 | Vitaly Petrov | 10 |
| 14 | Nathanael Berthon | 10 |
| 15 | Frits van Eerd | 7.5 |
| 15 | Giedo van der Garde | 7.5 |
| 16 | Anthony Davidson | 6 |
| 17 | Erwin Creed | 4.5 |
| 17 | Romano Ricci | 4.5 |
| 18 | Nyck de Vries | 4 |
| 19 | Jan Lammers | 3.5 |
| 20 | Francois Perrodo | 3 |
| 20 | Loic Duval | 3 |
| 20 | Matthieu Vaxiviere | 3 |
| 21 | Thomas Dagoneau | 2 |
| 22 | Yoshiharu Mori | 2 |
| 23 | Charlie Robertson | 1 |
| 23 | Leo Roussel | 1 |
| 23 | Mike Simpson | 1 |
| 24 | Julien Canal | 0.5 |
| 25 | Ben Hanley | 0.5 |
| 25 | Henrik Hedman | 0.5 |
| 25 | Renger van der Zande | 0.5 |
| 26 | Matevos Isaakyan | 0 |
| 27 | Jenson Button | 0 |
| 28 | Alex Brundle | 0 |
| 28 | Oliver Rowland | 0 |
| 28 | Oliver Turvey | 0 |
| 29 | Rene Binder | 0 |