Timothy Peters survives wild Talladega finish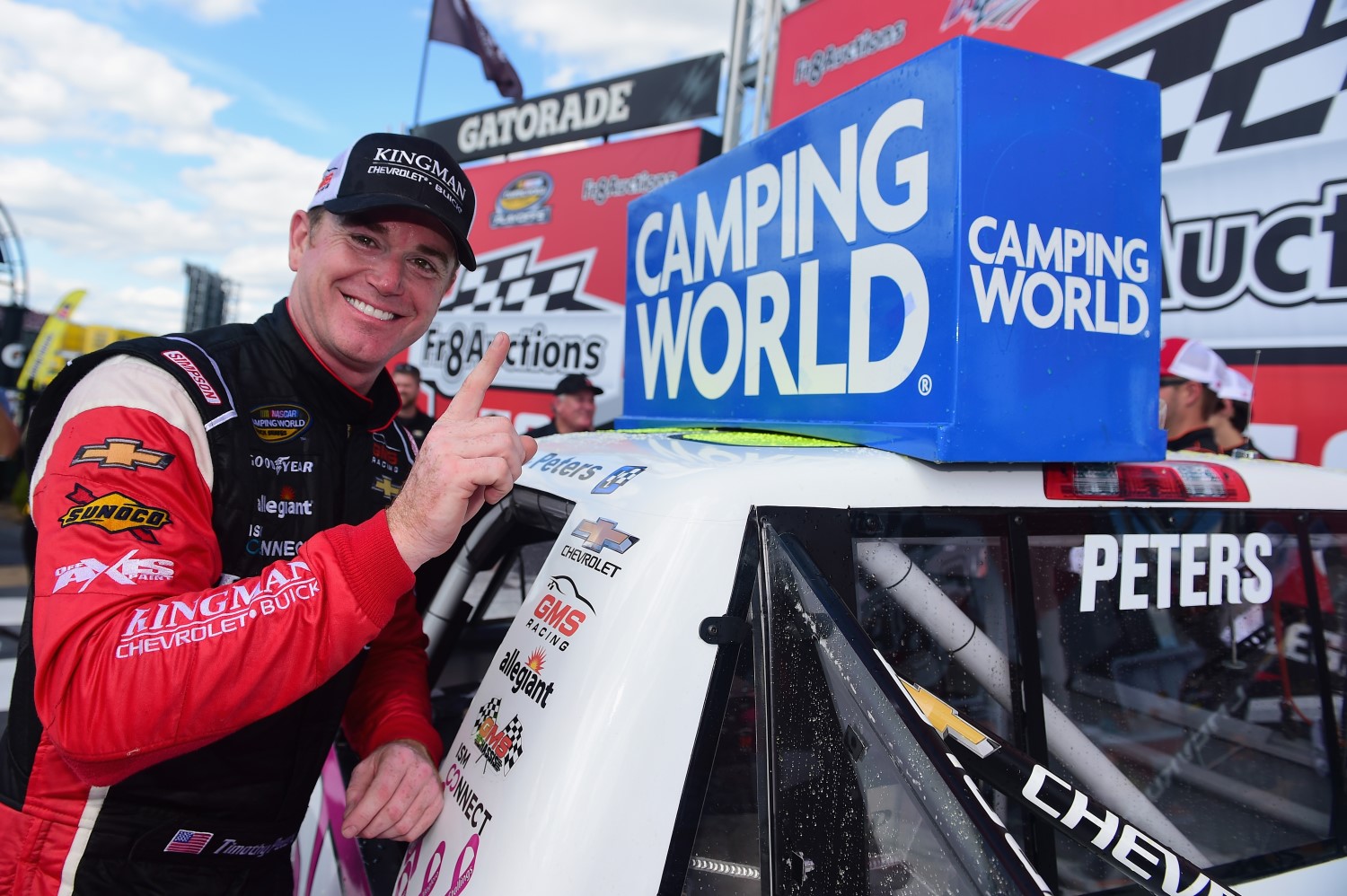 Timothy Peters after winning the NASCAR Camping World Truck Series Fr8Auctions 250
Getty Images for NASCAR
Timothy Peters took the lead when leader Noah Gragson wrecked on the final lap of the Fr8Auctions 250 at Talladega Superspeedway on Saturday and held on for his first Camping World Truck Series victory of the season.
Peters won for the third time at Talladega, and the 11th time in his Truck Series career.
David Gilliland finished second, while Myatt Snider, Justin Haley and Stewart Friesen rounded out the top five.
The race served as the cutoff for the Round of 8 for the Truck Series as two drivers were eliminated. Unofficially moving on to the Round of 6 are: Johnny Sauter, Justin Haley (win at Canadian Tire), Noah Gragson, Brett Moffitt, Matt Crafton and Grant Enfinger (win at Las Vegas).
True to Talladega's unpredictable reputation, wrecks and damage to trucks came early and late. Twice in the final six laps, the leader wrecked. First, Enfinger spun from the lead after making contact with David Gilliland on Lap 88 of 94. Then, Gragson did the same on the final lap, and Peters was able to squeak by for the checkered flag.
[adinserter name="GOOGLE AD"]In a race that featured seven cautions, one came when playoff driver — and four-time 2018 winner — Moffitt suffered damage to the right front of his No. 16 Toyota on Lap 38 when the No. 12 of Tanner Thorson spun in traffic and made contact.
Moffitt was forced to take his No. 16 to pit road for repairs, and by Lap 44 he found himself in 31st out of 32 drivers, one lap down. Though he remained in a precarious position throughout the race, he was helped just a few laps later.
That's when the "Big One" came on Lap 59 when the No. 47 of Chris Fontaine spun through traffic while he was running in second place. The wreck caught several playoff drivers, including the No. 88 of Matt Crafton and the No. 41 of Ben Rhodes and the No. 21 of Johnny Sauter. Crafton was forced to exit the race because of damage to his No. 88.
In all, 10 trucks were involved in the collision, which brought out the red flag for cleanup for 11 minutes, 42 seconds.
Spencer Gallagher, who led 15 of the first 59 laps, was among those forced from the race because of damage sustained in the "Big One."
Rhodes entered the race seven points below the cut line for the Round of 6, and the damage to his truck in the "Big One" did not help his cause for advancing in to the Round of 6.
Results
| | | | | | | |
| --- | --- | --- | --- | --- | --- | --- |
| Fin | Str | Trk | Driver | Team | Laps | Status |
| 1 | 3 | 25 | Timothy Peters | Kingman Chevrolet Chevrolet | 94 | Running |
| 2 | 28 | 13 | Myatt Snider # | RideTV Ford | 94 | Running |
| 3 | 1 | 51 | David Gilliland | Pedigree Toyota | 94 | Running |
| 4 | 16 | 24 | Justin Haley (P) | Fraternal Order of Eagles Chevrolet | 94 | Running |
| 5 | 32 | 49 | Wendell Chavous | SobrietyNation Chevrolet | 94 | Running |
| 6 | 11 | 52 | Stewart Friesen (P) | We Build America Chevrolet | 94 | Running |
| 7 | 21 | 3 | Jordan Anderson | Rusty's Off Road Chevrolet | 94 | Running |
| 8 | 27 | 28 | Bryan Dauzat | FDNY Chevrolet | 94 | Running |
| 9 | 30 | 20 | Max Tullman(i) | YurPal.com Chevrolet | 94 | Running |
| 10 | 10 | 02 | Austin Hill | Young's Building Systems/Randco Chevrolet | 94 | Running |
| 11 | 22 | 10 | Jennifer Jo Cobb | Osage Contractors Chevrolet | 94 | Running |
| 12 | 24 | 22 | Austin Wayne Self | GO TEXAN Chevrolet | 94 | Running |
| 13 | 13 | 18 | Noah Gragson (P) | Safelite AutoGlass Toyota | 93 | Running |
| 14 | 26 | 33 | Robby Lyons | Sunwest Construction LLC Chevrolet | 93 | Running |
| 15 | 15 | 7 | Korbin Forrister | TruClear Toyota | 93 | Running |
| 16 | 14 | 41 | Ben Rhodes (P) | Carolina Nut Co. Ford | 93 | Running |
| 17 | 8 | 16 | Brett Moffitt (P) | Toyota | 92 | Running |
| 18 | 25 | 30 | Scott Lagasse Jr.(i) | Strutmasters.com Toyota | 92 | Running |
| 19 | 4 | 98 | Grant Enfinger (P) | Champion Power Equipment/Curb Records Ford | 92 | Running |
| 20 | 6 | 4 | Todd Gilliland # | Pedigree Puppy Toyota | 82 | Accident |
| 21 | 29 | 45 | Justin Fontaine # | ProMATIC Automation/Superior Essex Chevrolet | 82 | Electrical |
| 22 | 5 | 21 | Johnny Sauter (P) | ISM Connect Chevrolet | 73 | Accident |
| 23 | 23 | 63 | Bobby Gerhart | Lucas Oil Chevrolet | 61 | Electrical |
| 24 | 19 | 47 | Chris Fontaine | Glenden Enterprises Chevrolet | 58 | Accident |
| 25 | 2 | 2 | Spencer Gallagher(i) | Allegiant Chevrolet | 58 | Accident |
| 26 | 9 | 88 | Matt Crafton (P) | Fisher Nuts/Menards Ford | 58 | Accident |
| 27 | 31 | 8 | John Hunter Nemechek(i) | Fleetwing Corporation Chevrolet | 58 | Accident |
| 28 | 20 | 75 | Parker Kligerman | Food Country USA Chevrolet | 58 | Accident |
| 29 | 12 | 54 | Bo LeMastus # | Fred's/Crosley Brands Toyota | 58 | Accident |
| 30 | 7 | 87 | Joe Nemechek | Fleetwing Corporation Chevrolet | 50 | Vibration |
| 31 | 17 | 12 | Tanner Thorson | K & L Ready Mix Chevrolet | 48 | Suspension |
| 32 | 18 | 68 | Clay Greenfield | AMVETS Please Stand Chevrolet | 47 | Suspension |
# DENOTES ROOKIE