Penalty hands Alonso Toyota pole in Fuji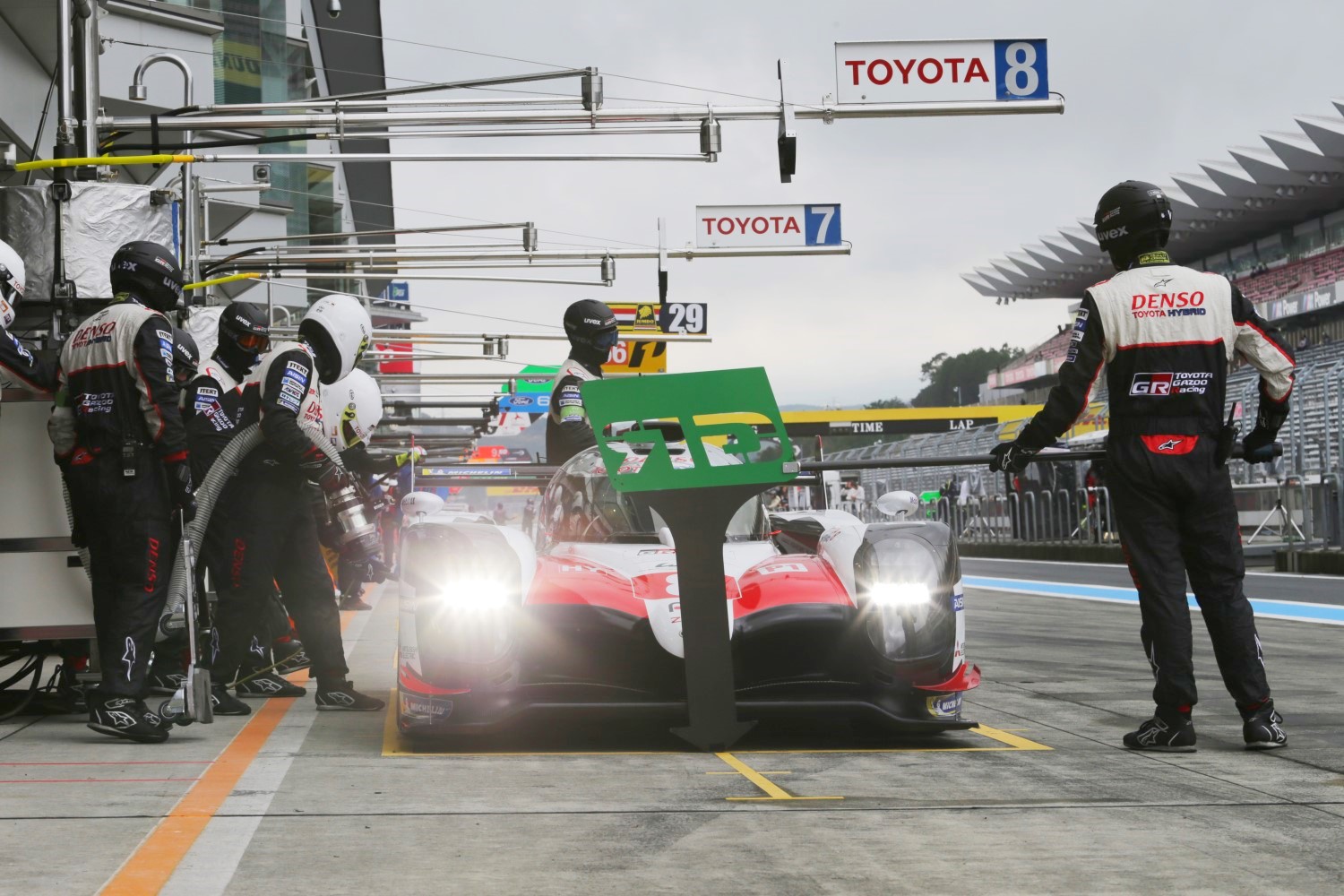 The pole winning No. 8 Toyota in the pits
The No.8 Toyota Gazoo Racing LMP1 car of Fernando Alonso, Kazuki Nakajima and Sebastien Buemi will start from pole position for tomorrow's 6 Hours of Fuji.
Mike Conway, Kamui Kobayashi and Jose Maria Lopez initially earned pole position in their #7 TS050 HYBRID but were stripped of that honour, and the World Championship point it brings, due to a pit lane speeding violation.
As he came into the pits following his flying lap, Jose did not correctly engage the speed limiter before the pit lane entrance meaning he entered the pit lane 8.7km/h too quickly, causing his lap to be cancelled 90 minutes after the session.
That elevated the #8 of World Championship leaders Sebastien Buemi, Kazuki Nakajima and Fernando Alonso to pole position ahead of the #1 Rebellion, which was 0.711secs slower. The #7 will start from eighth place, at the back of the LMP1 grid.
The #8 car had already suffered drama of its own during the session. Fernando set the fastest lap of the weekend so far before handing over to Sebastien Buemi, who appeared to have earned pole position only for his lap to be deleted moments later as a result of a track limits violation.
Starting from second position on the grid will be the No.1 Rebellion Racing R13-Gibson car driven by Andre Lotterer and Neel Jani.
Now in third position is the No.3 Rebellion car of Mathias Beche, Thomas Laurent and Gustavo Menezes.
LMGTE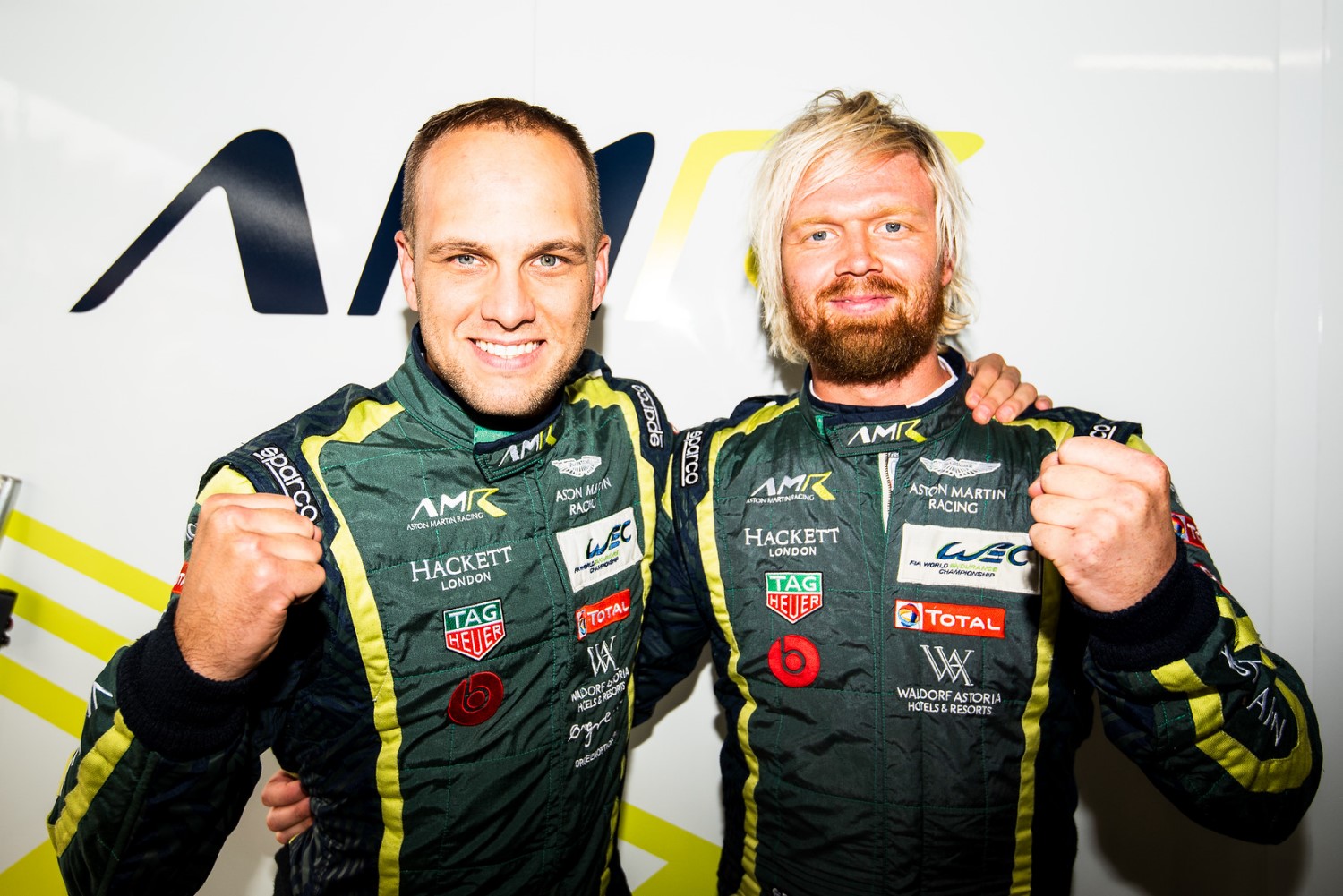 Marco Sorensen and Nicki Thiim
LMGTE Pro pole went to the No.95 Aston Martin Racing Vantage of Nicki Thiim and Marco Sorensen – first for AMR in Pro since Shanghai last season and also maiden P1 for the new model.
Thiim set fastest time of session on a 1m35.884s and Sorensen followed it up for an unbeatable average of 1m36.093s
BMW Team MTEK with Tom Blomqvist and Antonio Felix da Costa will start 2nd in the No.82 M8 GTE
The British/Portuguese alliance combined to set an average of 1m36.275s
Good day for Aston Martin as they also take third with Maxime Martin and Alex Lynn setting an average of 1m36.362s
LMP2
LMP2 pole went to Anthony Davidson and Roberto Gonzalez for DragonSpeed. The Anglo/Mexican pair set an average of 1m28.906 to claim the first pole for the American team.
Second and third in LMP2 went to Jackie Chan DC Racing as No.37 heads No.38 ORECA 07 in third
LMGTE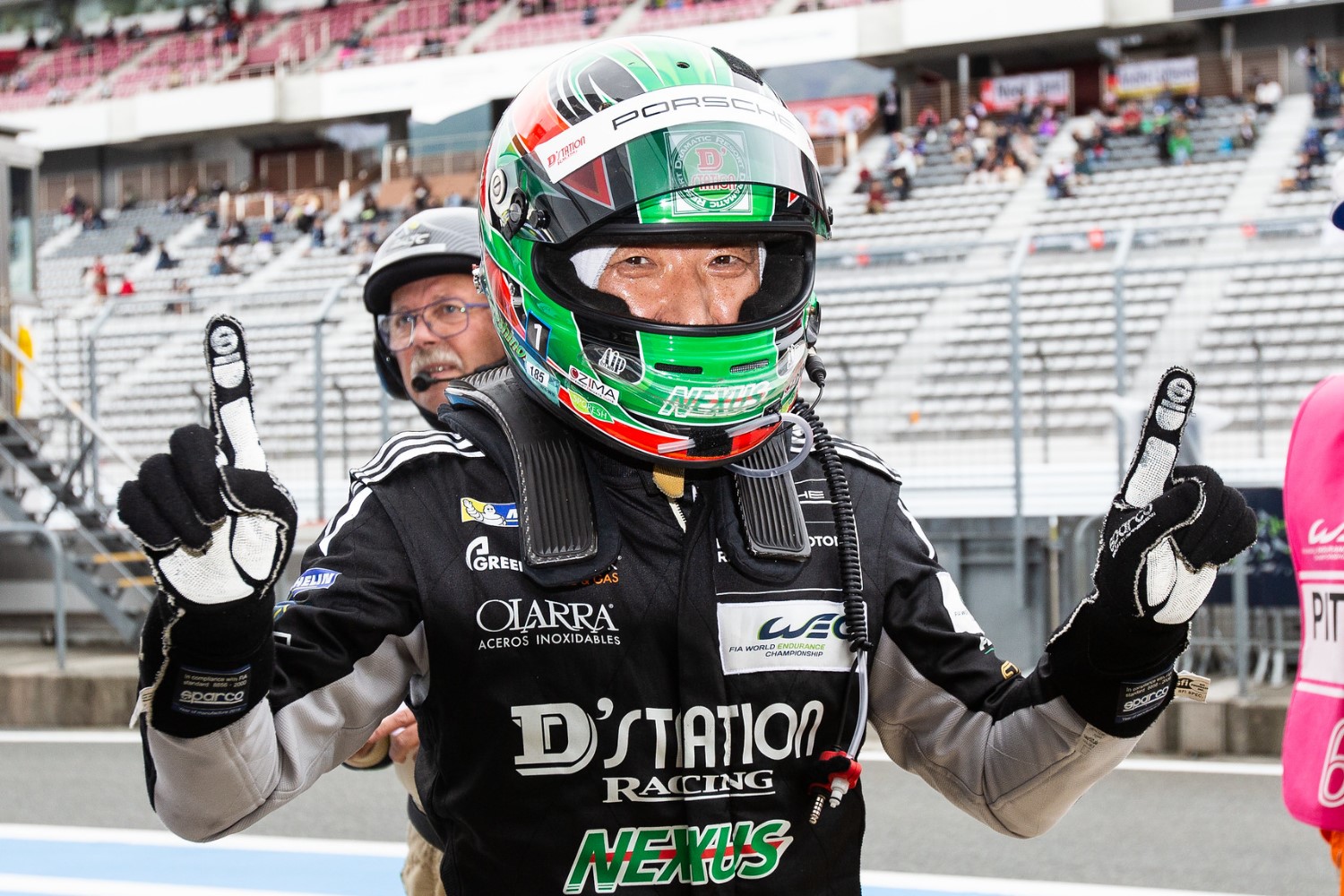 Satoshi Hoshino from Dempsey Proton Racing
LMGTE Am saw the second pole position of Super Season for Dempsey Proton Porsche as Matteo Cairoli and Satoshi Hoshino averaged 1m38.366s – the Japanese driver's first race in the WEC.
The No.98 Aston Martin Racing car placed second with Pedro Lamy and Paul Dalla Lana just 0.064s off pole.
The No.77 Dempsey Proton Porsche was third with Matt Campbell and Christian Ried qualifying.
The 6 Hours of Fuji scheduled to start at 11.00 local time tomorrow
Toyota Quotes
Kamui Kobayashi (TS050 HYBRID #7): "It's really disappointing to lose pole position, particularly here at Fuji Speedway. The team did a great job all through the week and the car felt great today, much better than on Friday. We never give up and we will try to have a strong performance in the race for the team and for all the fans who are supporting us."
Jose Maria Lopez (TS050 HYBRID #7): "It happened and from my side I have learned from this and will avoid a similar situation in the future. My biggest mistake is not reporting the issue because I had a little doubt. I didn't know it could affect my lap time, which had been completely legal. If I had known that I would have reported it and for sure we would have done another lap but I will learn from this. It's a pity but there is still a long race ahead of us."
Sebastien Buemi (TS050 HYBRID #8): "This is not exactly the way you would like to have a pole position but the only thing that makes me feel better is that on the track we had the fastest lap and had one lap taken away for track limits which I felt was a little bit harsh. It's a pity because the #7 guys had done a good job. Now we focus on our race like always and see what we can achieve tomorrow."
Fernando Alonso (TS050 HYBRID #8): "It's disappointing for the team to lose the one-two in qualifying and it's a pity for Mike, Kamui and José. We had pole position for a moment and then lost it following the track limits issue and now we have pole again. It will be a long race on Sunday, particularly as we saw the non-hybrid LMP1 teams are very close to us, but we are determined to win in front of our home crowd."
Lineup
| | | | | |
| --- | --- | --- | --- | --- |
| POS | CLASS | DRIVER | CAR | BEHIND |
| 1 | LMP1 | S.Buemi, K.Nakajima, F.Alonso | Toyota | 0.000s |
| 2 | LMP1 | N.Jani, A.Lotterer, B.Senna | Rebellion/Gibson | 0.711s |
| 3 | LMP1 | M.Beche, T.Laurent, G.Menezes | Rebellion/Gibson | 0.885s |
| 4 | LMP1 | S.Sarrazin, E.Orudzhev, M.Isaakyan | BR Engineering/AER | 1.096s |
| 5 | LMP1 | M.Aleshin, V.Petrov, J.Button | BR Engineering/AER | 1.498s |
| 6 | LMP1 | O.Webb, T.Dillmann, J.Rossiter | ENSO CLM/NISMO | 2.931s |
| 7 | LMP1 | J.Allen, B.Hanley | BR Engineering/Gibson | 4.559s |
| 8 | LMP2 | R.Gonzalez, P.Maldonado, A.Davidson | ORECA/Gibson | 5.258s |
| 9 | LMP2 | J.Jaafar, W.Tan, N.Jeffri | ORECA/Gibson | 5.555s |
| 10 | LMP2 | H-Pin Tung, G.Aubry, S.Richelmi | ORECA/Gibson | 5.646s |
| 11 | LMP2 | N.Lapierre, A.Negrao, P.Thiriet | Alpine/Gibson | 5.784s |
| 12 | LMP2 | F.Perrodo, M.Vaxiviere, J-E.Vergne | ORECA/Gibson | 7.147s |
| 13 | LMP2 | F.van Eerd, G.van der Garde, N.de Vries | Dallara/Gibson | 7.792s |
| 14 | LMP2 | E.Creed, R.Ricci, K.Ihara | Ligier/Gibson | 9.029s |
| 15 | GTE Pro | M.Sorensen, N.Thiim | Aston Martin | 12.445s |
| 16 | GTE Pro | T.Blomqvist, A.F.da Costa | BMW | 12.627s |
| 17 | GTE Pro | A.Lynn, M.Martin | Aston Martin | 12.714s |
| 18 | GTE Pro | A.Priaulx, H.Tincknell | Ford | 12.805s |
| 19 | GTE Pro | D.Rigon, S.Bird | Ferrari | 12.894s |
| 20 | GTE Pro | A.P.Guidi, J.Calado | Ferrari | 12.896s |
| 21 | GTE Pro | M.Tomczyk, N.Catsburg | BMW | 13.089s |
| 22 | GTE Pro | R.Lietz, G.Bruni | Porsche | 13.128s |
| 23 | GTE Pro | S.Mucke, O.Pla | Ford | 13.319s |
| 24 | GTE Pro | M.Christensen, K.Estre | Porsche | 13.461s |
| 25 | GTE Am | S.Hoshino, G.Roda, M.Cairoli | Porsche | 14.688s |
| 26 | GTE Am | P.D.Lana, P.Lamy, M.Lauda | Aston Martin | 14.752s |
| 27 | GTE Am | C.Ried, J.Andlauer, M.Campbell | Porsche | 14.876s |
| 28 | GTE Am | J.Bergmeister, P.Lindsey, E.Perfetti | Porsche | 14.930s |
| 29 | GTE Am | S.Yoluc, J.Adam, C.Eastwood | Aston Martin | 14.950s |
| 30 | GTE Am | Mok W.S., K.Sawa, M.Griffin | Ferrari | 15.682s |
| 31 | GTE Am | M.Wainwright, B.Barker, T.Preining | Porsche | 15.707s |
| 32 | GTE Am | T.Flohr, F.Castellacci, G.Fisichella | Ferrari | 15.723s |
| 33 | GTE Am | M.Ishikawa, O.Beretta, E.Cheever | Ferrari | 16.237s |
| 34 | LMP1 | M.Conway, K.Kobayashi, J.M.Lopez | Toyota | 0.030s |
[adinserter name="GOOGLE AD"]