David Gilliland on Truck pole at Talladega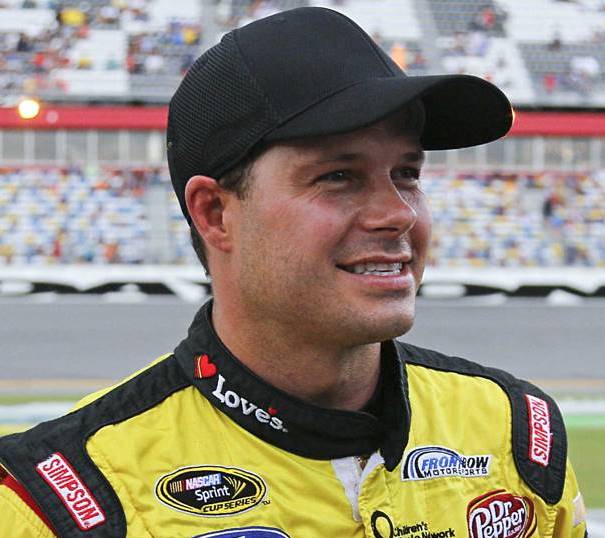 David Gilliland
42-year old David Gilliland captured the pole position for the Fr8Auctions 250 on Friday at Talladega Superspeedway, setting the stage for Saturday's critical NASCAR Camping World Truck Series Playoff race.
The Fr8Auctions 250, set for Saturday at noon CDT, is the last race of the first NASCAR Playoff round for the truck series – and will trim the field of championship contenders to six. After three more events, the series will have its "Championship 4" finalized for the season's last race at Homestead-Miami Speedway.
For the eight drivers currently alive in the championship battle, a victory Saturday will award automatic advancement to the next round. But the "wild card" nature of Talladega's 2.66-mile tri-oval means that in terms of a race victory, virtually everyone is a contender.
And that high-banked reality is personified by Gilliland (No. 51 Pedigree Toyota), racing in the truck series at Talladega for the first time, for Kyle Busch Motorsports. His overall Talladega resume, though, bodes well for Saturday. Gilliland won the pole for the track's October 2006 Monster Energy NASCAR Cup Series race, and started second in April 2007. He also has four top-10 'Dega finishes in Monster Energy Series competition.
Gilliland topped qualifying at 180.570 mph. Spencer Gallagher (No. 2 Allegiant Chevrolet) will start alongside on the front row. Gilliland's son Todd (No. 4 Pedigree Puppy Toyota) will start sixth.
Also Saturday, at 10:05 a.m. CDT, the Monster Energy NASCAR Cup Series will have its only practice session. Foodland/Food Giant Qualifying is set for 3:35 p.m. CDT, to establish the starting lineup for the weekend's main event – Sunday's 1000Bulbs.com 500.
NASCAR disallowed Bo LeMastus' second round time after he dipped below the yellow line on the frontstretch during his run. He will start 12th.
DAVID GILLILAND, No. 51 Pedigree Toyota Tundra, Kyle Busch Motorsports
Qualifying Position: 1st
What's it going to take to get to Victory Lane?
[adinserter name="GOOGLE AD"]"I have to thank Pedigree and all the folks at Kyle Busch Motorsports, Toyota and TRD (Toyota Racing Development). We have a really fast Toyota Tundra here. Pedigree is making this all happen. Letting me race with my son (Todd Gilliland) on his first superspeedway race is absolutely incredible. It's the most meaningful race I've ever raced in. Here we are on the pole. We rescued this guy (dog) from the Birmingham Humane Society. Everyone should go to the Pedigree Foundation and help rescue some of these dogs. There is all kinds of puppies that need good homes. We were there yesterday and we're taking one home. An awesome weekend already and we're going to be starting where you want to. At Daytona, we were close. We ran upfront and won a stage. We just came up a bit short. We have to finish it off. We need to get that checkered flag this weekend."
Tell us about the dog you have here with you.
"Winston (dog) is a sweetheart. The Pedigree Foundation we did an appearance with yesterday at the Birmingham Humane Society. We got to see a lot of dogs and cats who need to be rescued. My family went and we rescued Winston from there. A very special day. What Pedigree has done is really special. We had to bring him home. He matches the truck my son is racing this weekend. Very special weekend and one we'll remember forever with Winston and being able to race with my son Todd on his superspeedway debut is super special. I can't thank Kyle Busch Motorsports, Toyota and Pedigree for the opportunity."
Is restrictor-plate racing like riding a bike for a veteran like you?
"I enjoy it. It seems like people either love coming here or hate it. I love it. I don't know if that's why we seem to run better but I enjoy it. To be out there on the track with Todd for his first time. We've been watching races and going over video the last few weeks. To be able to try to help him and be there with him is super special. To be in a truck that looks like his is even more special for me."
Would NASCAR clear you to take this dog with you around the track?
"I don't think he's ready for that yet. We have him on the quarter panel. Todd and I both do. I think that's as close as we'll get."
What's it been like playing all of the roles you're playing this weekend?
"It's been busy. Bo LeMastus is driving our DGR-Crosley truck. Going back and forth, I am helping him. We work on the pull down all week and tried to get that thing as much speed as possible. Then working with Todd. He went out with his first pack today. We went back and forth, and I answered his questions. It's been a busy weekend. It's been fun. It's one I will remember forever."
Do you push Todd to win tomorrow or do you help him if the situation presents itself?
"I don't know. At first, I thought it would be really cool to help him win. Every interview he's done, though, he says he's going to dump me and do everything he can to win. I don't know. I might have to rethink that. If it can be our two Tundra's going for the win, that will be a win."
How many teams is DGR-Crosley going to have next year?
"More than we had this year for sure. I'm really excited and we're working on more announcements. Our DGR-Crosley team is growing very, very quickly. We just acquired another 30,000 square feet on the building next door to expand next year. I'm really excited and I love NASCAR. NASCAR is all I've ever done – my Dad raced, myself and now my son. I'm really excited to get out here and drive, but I'm excited to be on the ownership side too. In the K&N Series this year, we got first and second in the owner's championships, which was a huge accomplishment and next year I feel very confident that we're going to be running for a Truck championship too. Hopefully we can announce the rest of that soon."
What has been the biggest difference between the driver and owner side?
"The bills. Lots of bills, but it's been a lot of fun. On the driver's side, normally you get a check and on the owner's side you have to write a lot of checks. Probably the most surprising thing is the tire bill. We've spent a lot of money in tires over all these series, but Goodyear provides a good tire and obviously they're worth it. Just chasing partners, new partners and sponsors and all that stuff that it takes to be a successful race team and have the resources that it takes to come out here and be as competitive as a team as we want to be. It's tough, but I knew it wasn't going to be easy, but it's a good challenge."
How familiar are you with NASCAR combining all of the touring series and ARCA?
"I think it's good. I'm not 100 percent familiar with it, but I was at the owner's meeting they had about it in Dover and I think it's going to be really good for the series. I think ARCA needs more cars and K&N needs more cars. They're both on radial tires now, which has been really good for both series and I think combining them is going to be good. There's still some details they need to work out, but I think in the long term its going to be really good. We have ARCA cars and K&N cars under DGR-Crosley so I feel really good about it and I think its going to be a great step for these young kids coming up to give them the experience they need to develop them and for them to be able to come and run in the Truck Series at the level they need to."
If you got the opportunity to run full-time again in NASCAR's national series, would you?
"I don't know. That's a tough one. I like owning the team and stuff and I've enjoyed racing this year. Racing with my son has been very special, but I enjoy helping him too and being on the radio and helping him. Something I've done over the last couple years that I've enjoyed. Not only him, but all the young drivers coming through our program. Our program at DGR-Crosley, we try to work really hard to make it different and everybody says we want our program to be different, but to truly develop these young drivers and help them and to do that I can't race and do that properly. If I do that, it's going to take away from what we're trying to do with our team so probably not."
Lineup
| | | | | | |
| --- | --- | --- | --- | --- | --- |
| Pos | No. | Driver | Team | Time | Speed |
| 1 | 51 | David Gilliland | Pedigree Toyota | 53.032 | 180.570 |
| 2 | 2 | Spencer Gallagher) | Allegiant Chevrolet | 53.038 | 180.550 |
| 3 | 25 | Timothy Peters | Kingman Chevrolet Chevrolet | 53.056 | 180.489 |
| 4 | 98 | Grant Enfinger (P) | Champion Power Equipment/Curb Records | 53.146 | 180.183 |
| 5 | 21 | Johnny Sauter (P) | ISM Connect Chevrolet | 53.218 | 179.939 |
| 6 | 4 | Todd Gilliland | Pedigree Puppy Toyota | 53.272 | 179.757 |
| 7 | 87 | Joe Nemechek | Fleetwing Corporation Chevrolet | 53.286 | 179.709 |
| 8 | 16 | Brett Moffitt (P) | Toyota | 53.328 | 179.568 |
| 9 | 88 | Matt Crafton (P) | Fisher Nuts/Menards Ford | 53.337 | 179.538 |
| 10 | 02 | Austin Hill | Young's Building Systems/Randco Chevrolet | 53.337 | 179.538 |
| 11 | 52 | Stewart Friesen (P) | We Build America Chevrolet | 53.499 | 178.994 |
| 12 | 18 | Noah Gragson (P) | Safelite AutoGlass Toyota | 53.451 | 179.155 |
| 13 | 41 | Ben Rhodes (P) | Carolina Nut Co. Ford | 53.528 | 178.897 |
| 14 | 7 | Korbin Forrister | TruClear Toyota | 53.645 | 178.507 |
| 15 | 24 | Justin Haley (P) | Fraternal Order of Eagles Chevrolet | 53.675 | 178.407 |
| 16 | 12 | Tanner Thorson | K & L Ready Mix Chevrolet | 53.690 | 178.357 |
| 17 | 68 | Clay Greenfield | AMVETS Please Stand Chevrolet | 53.716 | 178.271 |
| 18 | 47 | Chris Fontaine | Glenden Enterprises Chevrolet | 53.964 | 177.452 |
| 19 | 75 | Parker Kligerman | Food Country USA Chevrolet | 54.029 | 177.238 |
| 20 | 3 | Jordan Anderson | Rusty's Off Road Chevrolet | 54.137 | 176.885 |
| 21 | 10 | Jennifer Jo Cobb | Osage Contractors Chevrolet | 54.193 | 176.702 |
| 22 | 63 | Bobby Gerhart | Lucas Oil Chevrolet | 54.200 | 176.679 |
| 23 | 22 | Austin Wayne Self | GO TEXAN Chevrolet | 54.271 | 176.448 |
| 24 | 30 | Scott Lagasse Jr. | Strutmasters.com Toyota | 54.272 | 176.445 |
| 25 | 33 | Robby Lyons | Sunwest Construction LLC Chevrolet | 54.319 | 176.292 |
| 26 | 28 | Bryan Dauzat | FDNY Chevrolet | 54.364 | 176.146 |
[adinserter name="GOOGLE AD"]