Derani puts Nissan on Petit Le Mans Pole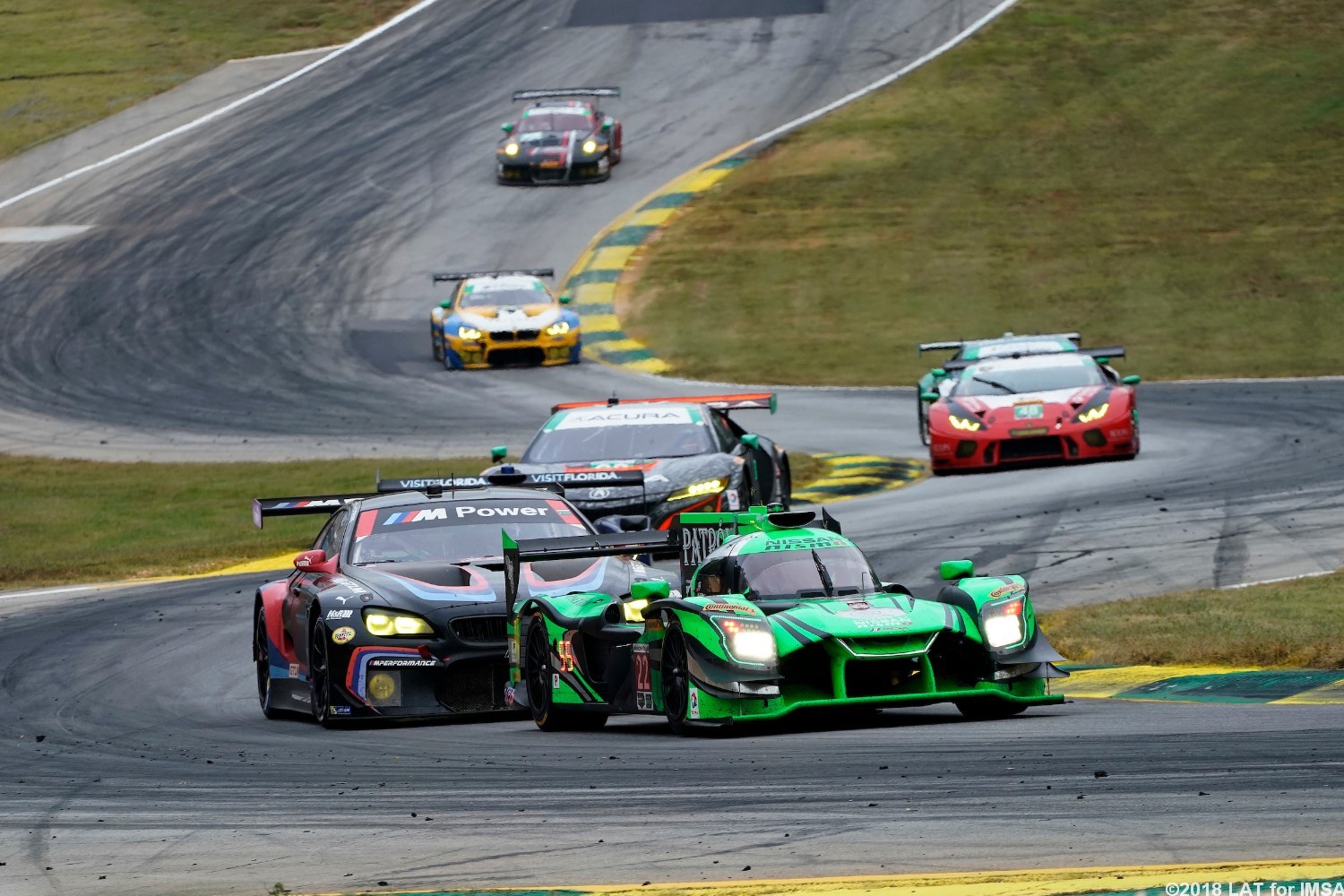 The polesitting prototype leads the #24 BMW – on pole in GTLM
Tequila Patron ESM driver Pipo Derani celebrated his 25th birthday in high fashion Friday at Road Atlanta by winning pole position in the No. 22 Nissan Onroak DPi for Saturday's 21st Motul Petit Le Mans. Teammate and IMSA WeatherTech SportsCar Championship newcomer Norman Nato qualified the No. 2 Nissan Onroak DPi in fourth.
Derani grabbed pole position early in the session, setting a fast timed lap on his first flyer lap. Olivier Jarvis and the No. 77 Mazda proved to be a strong competitor and followed suit with his own fast time to launch him to the top of the charts. Derani stayed on track and brought the No. 22 Nissan Onroak DPi to provisional pole a final time, and pitted with three minutes remaining on the clock. Jarvis stayed on track and continued to submit additional lap times, but failed to be quick enough to beat Derani's Nissan. The Brazilian earned his third IMSA WeatherTech SportsCar Championship pole position, and will lead the field to green on Saturday morning's start.
New to Tequila Patron ESM, Road Atlanta, and the IMSA WeatherTech SportsCar Championship, WEC driver Norman Nato showed an impressive qualifying run as well, jumping as high as third place in the fifteen minute session. The 55 Mazda of Jonathan Bomarito put in a flying lap in the final laps, moving him down to fourth place for his IMSA debut..
Derani ultimately ended up 0.124 seconds quicker than the No. 77 Mazda Team Joest entry of Jarvis, with Bomarito 0.039 seconds behind in third.
It marked Derani's second pole of the season, coming in the final race for the team in Tequila Patron colors.
The sister No. 2 Nissan DPi of GP2 star Norman Nato qualified fourth, with Ricky Taylor completing the top-five in the No. 7 Team Penske Acura ARX-05.
GTLM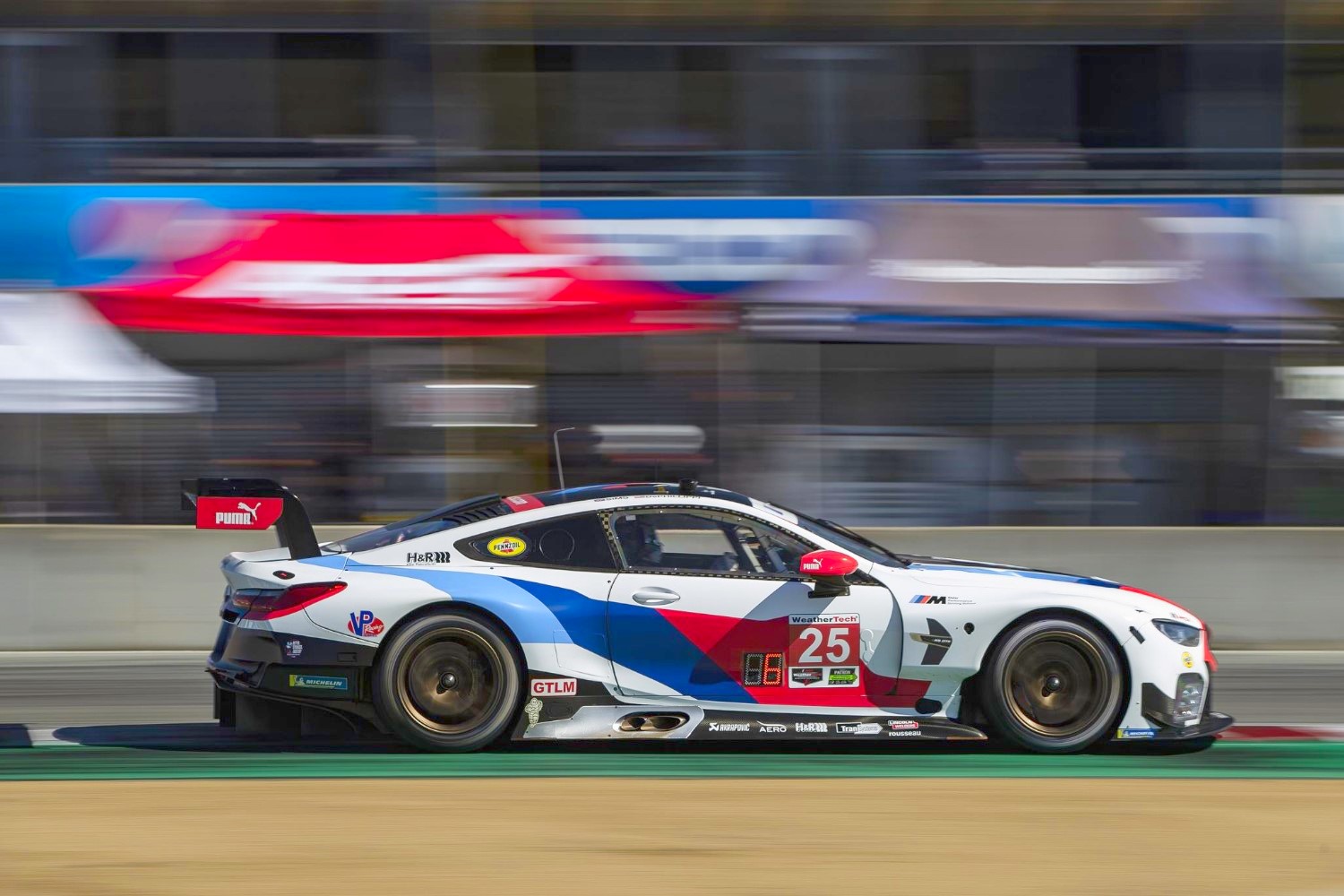 The 25 BMW – sister car to the polesitting #24
John Edwards will start the IMSA WeatherTech SportsCar Championship season finale, Motul Petit Le Mans, from the GTLM class pole position. Driving the No. 24 BMW M8 GTE to a 1:17.006 minute lap around the 2.54-mile, 12-turn Road Atlanta circuit, Edwards recorded his second pole of the 2018 season and will lead the 9-car GTLM class to the green flag tomorrow. Edwards will share the No. 24 machine with season-long co-driver Jesse Krohn and Australian Supercars Championship regular Chaz Mostert, who will be driving in his first race for BMW Team RLL.
It marks the first class pole for the Bobby Rahal-led organization in the IMSA WeatherTech SportsCar Championship season finale and the 26th in program history.
Edwards' 1:17.006 lap in the No. 24 BMW M8 GTE, a Road Atlanta class qualifying record, was fractionally better than Garcia in the No. 3 Chevrolet Corvette C7.R, who lost out on the pole by just 0.024 seconds.
Corvette Racing's Antonio Garcia and Jan Magnussen will start their race toward a second straight IMSA WeatherTech SportsCar Championship title from the front row. Garcia qualified second in the GT Le Mans (GTLM) class with a lap of 1:17.030 (18.706 mph in his No. 3 Mobil 1/SiriusXM Chevrolet Corvette C7.R on Friday afternoon – missing out on pole position by just 0.024 seconds. He and Magnussen, who will drive with Marcel Fässler, can repeat as champions with a fourth-place finish or better. But make no mistake: the goal is "better."
A victory Saturday would be the first for the Garcia/Magnussen pairing this season. However, the No. 3 Corvette has finished on the GTLM podium in seven consecutive races and eight of 10 events.
Tommy Milner qualified eight in class with the No. 4 Mobil 1/SiriusXM Chevrolet Corvette C7.R that he will share with Oliver Gavin and Fässler, who is pulling double duty Saturday. Milner, who qualified with a lap of 1:17.451 (118.061 mph), had been fastest in class during Thursday's night practice and Friday's final practice session. The closeness of the GTLM class was evident as he was just 0.445 seconds off pole position.
GTD
[adinserter name="GOOGLE AD"]Cooper MacNeil (Hinsdale, Ill.), Gunnar Jeannette (Salt Lake City, Ut.) and Daniel Serra (Brazil) will start the season finale from pole on the GTD grid tomorrow.
Serra had the wheel of the No. 63 WeatherTech Racing Ferrari for the 15-minute qualifying session around the 2.5-mile, 12-turn Road Atlanta track located an hour north of Atlanta. The Scuderia Corsa team had the car up to fourth in last nights practice session. The Brazilian was able to post a time of 1:19.695 in qualifying which bested the field for the GTD Class pole.
"This is one of the best tracks," Serra said. "I really like running here, the last time I raced here was in 2016 with Scuderia Corsa. You really need to have confidence in the car. The first part of the circuit is really on the edge, one mistake and you could be out. The WeatherTech Ferrari is really good, it works well here. In four races I have done, I have three pole positions on different tracks with the Ferrari. Now us drivers have to do our jobs in the race."
MacNeil is currently fourth in the GTD driver's points standings. The team is keen to get him to Sunday's IMSA Night of Champions banquet to take third place honors. It will take 10-hours of competitive driving once the green falls tomorrow morning at 11 a.m. ET.
"We have been trying a lot of different set-up things this weekend," MacNeil said. "It looks like we have the WeatherTech Ferrari right and Daniel put it on the pole. He had a great lap. Obviously, it is ten hours of racing, but we are starting up front. We will be pushing hard for the win tomorrow."
"We have a good car for a short run," Jeannette said. "We have had the tires falling off in short runs, so we have been focusing on the long run set-up of the WeatherTech Ferrari to maximize our tires. Hopefully it works out, we have a good day tomorrow and have our black and white Ferrari on the podium."
The 21st Motul Petit Le Mans gets underway Saturday at 11:05 a.m. EDT with live coverage on FS1.
Lineup
Pos
Pic
No.
Class
Drivers
Car
Time
Behind
Gap

1

1

22

P

J. van Overbeek / P. Derani, T. Bernhard

Nissan DPi

1:10.437

+0.000

+0.000

2

2

77

P

O. Jarvis / T. Nunez / L. Di Grassi

Mazda DPi

1:10.561

+0.124

+0.124

3

3

55

P

J. Bomarito / M. Franchitti / S. Pigot

Mazda DPi

1:10.600

+0.163

+0.039

4

4

2

P

S. Sharp / R. Dalziel / N. Nato

Nissan DPi

1:10.775

+0.338

+0.175

5

5

7

P

H. Castroneves / R. Taylor / G. Rahal

Acura DPi

1:10.780

+0.343

+0.005

6

6

5

P

F. Albuquerque / T. Vautier, C. Fittipaldi

Cadillac DPi

1:10.892

+0.455

+0.112

7

7

85

P

S. Trummer / R. Alon / D. DeFrancesco

ORECA LMP2

1:10.912

+0.475

+0.020

8

8

6

P

D. Cameron / J. Montoya, S. Pagenaud

Acura DPi

1:10.947

+0.510

+0.035

9

9

31

P

F. Nasr / E. Curran / G. Chaves

Cadillac DPi

1:10.981

+0.544

+0.034

10

10

54

P

J. Bennett / C. Braun / R. Dumas

ORECA LMP2

1:11.071

+0.634

+0.090

11

11

99

P

C. Miller / S. Simpson / M. Goikhberg

ORECA LMP2

1:11.151

+0.714

+0.080

12

12

10

P

R. Van Der Zande / J. Taylor, R. Hunter-Reay

Cadillac DPi

1:11.468

+1.031

+0.317

13

13

52

P

S. Saavedra / J. Gutierrez / W. Owen

ORECA LMP2

1:11.708

+1.271

+0.240

14

14

38

P

J. French / K. Masson / N. Boulle

ORECA LMP2

1:11.859

+1.422

+0.151

15

1

24

GTLM

J. Krohn / J. Edwards / C. Mostert

BMW M8 GTE

1:17.006

+6.569

+5.147

16

2

3

GTLM

J. Magnussen / A. Garcia / M. Fassler

Chevrolet Corvette

1:17.030

+6.593

+0.024

17

3

912

GTLM

E. Bamber / L. Vanthoor / M. Jaminet

Porsche 911 RSR

1:17.209

+6.772

+0.179

18

4

67

GTLM

R. Briscoe / R. Westbrook / S. Dixon

Ford GT

1:17.220

+6.783

+0.011

19

5

911

GTLM

P. Pilet / N. Tandy / F. Makowiecki

Porsche 911 RSR

1:17.369

+6.932

+0.149

20

6

66

GTLM

J. Hand / D. Mueller / S. Bourdais

Ford GT

1:17.383

+6.946

+0.014

21

7

25

GTLM

A. Sims / C. De Phillippi / B. Auberlen

BMW M8 GTE

1:17.428

+6.991

+0.045

22

8

4

GTLM

O. Gavin / T. Milner / M. Fassler

Chevrolet Corvette

1:17.451

+7.014

+0.023

23

9

62

GTLM

T. Vilander / A. Bertolini / M. Molina

Ferrari 488 GTE

1:17.774

+7.337

+0.323

24

1

63

GTD

C. MacNeil / D. Serra / G. Jeannette

Ferrari 488 GT3

1:19.695

+9.258

+1.921

25

2

15

GTD

J. Hawksworth, D. Heinemeier Hansson / S. Rayhall

Lexus RC F GT3

1:19.732

+9.295

+0.037

26

3

29

GTD

C. Mies / D. Morad / S. van der Linde

Audi R8 LMS GT3

1:19.744

+9.307

+0.012

27

4

93

GTD

J. Marks / L. Aschenbach, M. Farnbacher

Acura NSX GT3

1:19.877

+9.440

+0.133

28

5

48

GTD

B. Sellers / M. Snow / C. Lewis

Lamborghini Huracan

1:20.079

+9.642

+0.202

29

6

86

GTD

K. Legge / A. Parente / T. Hindman

Acura NSX GT3

1:20.095

+9.658

+0.016

30

7

64

GTD

T. Bell / M. Cressoni / F. Montecalvo

Ferrari 488 GT3

1:20.297

+9.860

+0.202

31

8

14

GTD

D. Baumann / K. Marcelli, P. Frommenwiler

Lexus RC F GT3

1:20.366

+9.929

+0.069

32

9

33

GTD

B. Keating / J. Bleekemolen / L. Stolz

Mercedes-AMG GT3

1:20.587

+10.150

+0.221

33

10

71

GTD

J. Perez / F. Fraga / M. Buhk

Mercedes-AMG GT3

1:21.580

+11.143

+0.993

34

11

96

GTD

D. Machavern / M. Palttala / D. Yount

BMW M6 GT3

1:21.650

+11.213

+0.070

35

12

44

GTD

J. Potter / A. Lally / A. Davis

Audi R8 LMS GT3

1:21.895

+11.458

+0.245

36

13

73

GTD

S. Pumpelly / W. Henzler / T. Pappas

Porsche 911 GT3 R

1:22.610

+12.173

+0.715

37

14

58

GTD

P. Long / C. Nielsen / R. Renauer

Porsche 911 GT3 R

No Time

No Time

No Tim

e