Passing is the Name of the Game at Talladega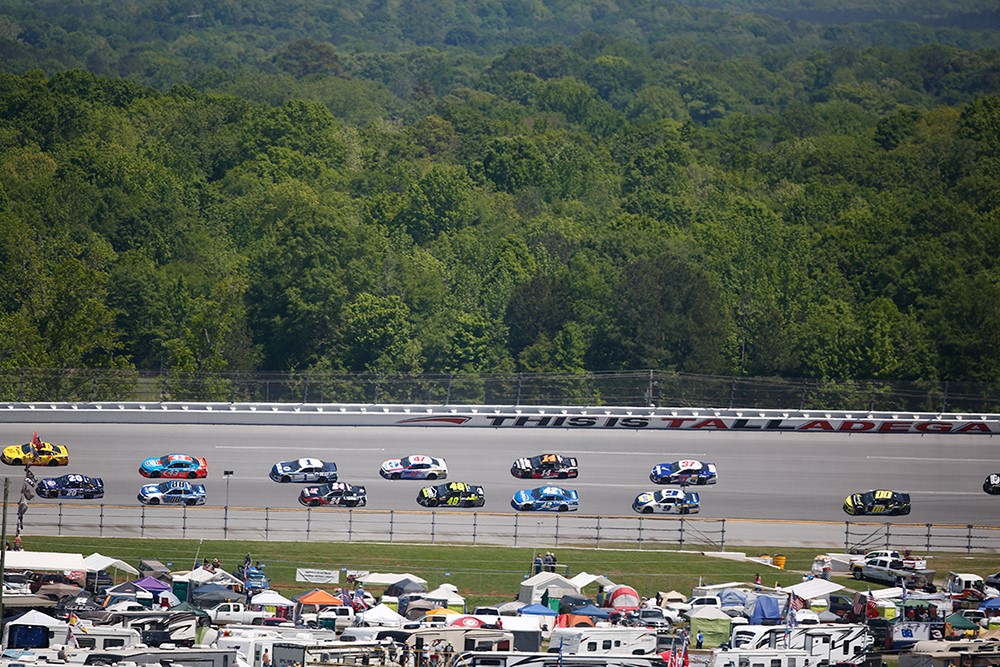 Talladega action
Since September of 1969, Talladega Superspeedway has been the place for heart-stopping racing entertainment. With the draft keeping drivers tightly together at 200 mph, it is no surprise that the track has earned a name for itself as NASCAR's Most Competitive track. The 2.66-mile tri-oval boasts several of the sport's records, including 88 lead changes (twice) and a tie for the closest finish in a points race when Jimmie Johnson beat Clint Bowyer by 0.002 seconds in the 2011 GEICO 500. The competition is so intense that races at Talladega are often considered unpredictable as the mammoth track has produced its share of the most unexpected winners, and a few crazy "Big One" incidents along the way.
One fascinating statistic that truly shows how fierce the racing is at Talladega is the number of passes for position that occur through the field during a 500-mile event. It does not receive much attention, but it offers some extraordinary insights.
If we take a look at a compilation of races, below are some spectacular tidbits of green flag passes:
In the last 10 Cup races at Talladega, nine of them have featured over 12,000 green flag passes for position per event.
Over the last 25 races since the 2006 spring race, Cup drivers have completed 333,321 passes for an average of more than 13,330 passes per race!
[adinserter name="GOOGLE AD"]We can break it down even further to per lap averages in Talladega's 188-lap events.
In last year's 1000Bulbs.com 500, there were 13,961 green flag passes or a little more than 74 passes/lap.
Let's narrow the scope to how many green flag passes are made by individual drivers:
In the last 25 Talladega Cup races, at least one driver has made more than 300 green flag passes in every single event.
When it comes to green flag passes for the lead, it is important to distinguish the number from official lead changes. While official lead changes only count passes for the lead based on how drivers cross the start/finish line every lap, green flag passes for the lead are counted every time a driver makes a pass for the lead at any point in any green flag lap. Green flag passes for the lead are always exciting, but they happen more often than people might realize.
By looking at green flag passes specifically for the lead, it is easy to see why maintaining a lead at Talladega is difficult:
In the last 25 Talladega Cup events, 16 of them have included over 100 green flag passes for the lead, including two races where the lead was exchanged under green more than 200 times!
It is also noteworthy to mention how Talladega has maintained its dominance at creating a variety of different official leaders over the years. Each year from 2002 through 2014, at least one of Talladega's Cup races had more official lead changes than any other series event, and in nine of those years, both Talladega races topped the chart for official lead changes!
In-depth facts like these prove why Talladega is known for some of the world's best racing. Whether fans are watching drivers compete for the lead or for 30th position, there is so much parity and action throughout the field during every lap NASCAR runs at Alabama's famous motorsports complex that it's hard to decide which battles to watch!
Fans can come experience this nonstop thrill ride for themselves in just a few days during Talladega Superspeedway's doubleheader NASCAR Playoff weekend from Oct. 12-14, which will feature the Monster Energy NASCAR Cup Series 1000Bulbs.com 500 and Fr8Auctions 250 NASCAR Camping World Truck Series events! And after it's over, they will know why Talladega sports the prominent title of NASCAR's Most Competitive track!