Final Thoughts on CART Reunion
Paul Leyton, CART Reunions President
It was a whirlwind weekend in Indy for the CART Alumni that attended the 3rd reunion. The weather was perfect, the atmosphere was much like the Friday night barbecues held after the first day of competition at the given track of the weekend. Friendships were rekindled after years of not seeing with each other.
Paul Leyton, president of the CART Reunions, sat down with me as the last people were leaving the Ganassi Race shop in Indy to discuss how he felt things went this weekend and the future plans for another reunion.
'We were hoping for more people to attend but we are glad that we got the group that did attend. We are most concerned that those that attended have a good time. And I have heard more positive feedback about this one than I heard about the first two, which quite honestly I did not think could be topped. Maybe there is something to be said for a smaller, more intimate crowd. Being here at Ganassi Racing shop made the difference. "
"We want to thank Chip Ganassi, owner of the team, Mike Hull, Managing Director, Grant Weaver, Shop Manager and Kris Keech, Director of Special Events, for making this event simple and easy to put on. We can't thank them enough. The atmosphere for people who had never been at a race shop was outstanding. There are people that are involved in racing series that saw a side of the racing series they had never seen before. Which was so cool. Just looking at the truck bay with all the racks of cars. It was just special."
"We are sitting in Ganassi shop lobby and I keep repeating Ganassi because they deserve all the credit in the world for the success of this event. We are sitting here next to show cars, championship cars and trophies galore, a lot of them back from the CART era."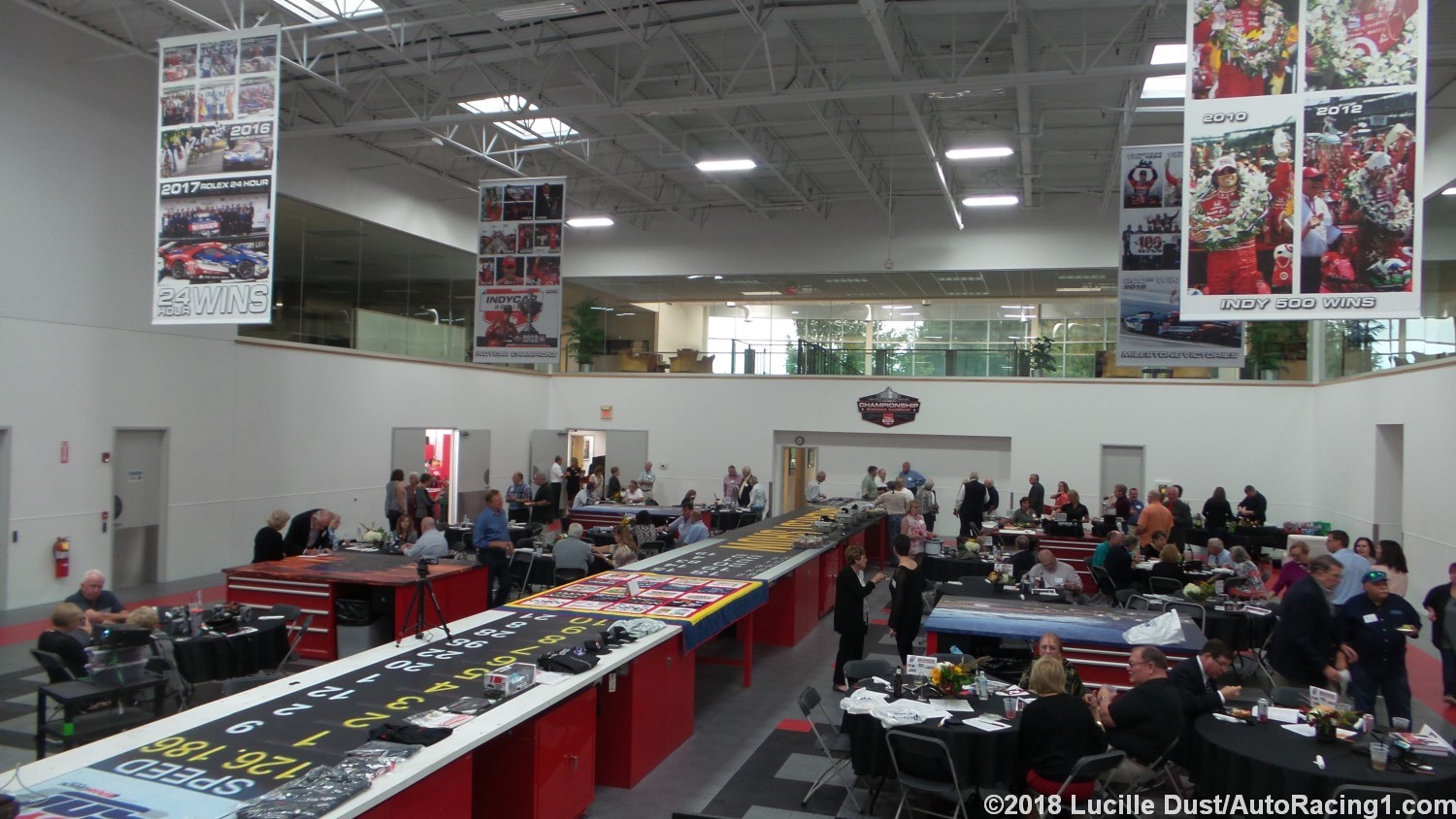 Saturday Night at Ganassi Racing
"We will probably plan another reunion in two years. We will take all the suggestions from the attendees and see what they feel is best for the group. There is a possibility like a cruise or a get together in Las Vegas. This family seems to enjoy getting together. So we will take any ideas and see what people want. If Michael Andretti were to extend the invitation for us to have the next event at his shop, we would certainly consider it", Leyton said with a big smile on his face.
"I would like to see more drivers from this era attend. I just talked with Pancho Carter, who attended tonight. We would like to create ways to get more drivers from the CART teams era to participate. I think they would really enjoy seeing the people that worked to keep them safe back in the day."
"I want to thank Chip Ganassi for extending their hospitality. To them, the CART days are gone and yet they remember where they came from. My sincere thanks to Chip for his blessing on an event like this. I want to thank our other sponsors, Team Penske, Fritz Enterprises Inc, PTSC, Andrew Craig's company, The Craig Company LLC and AR1."