Road to Indy eSeries Continues Saturday at Circuit of The Americas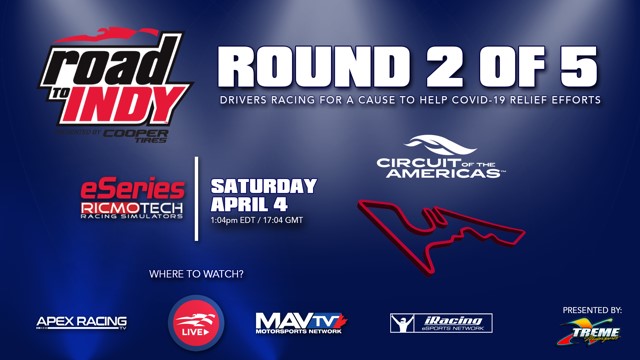 36 car entry field
While the entire auto racing industry is virtually shut down in the midst of the global coronavirus pandemic, almost three dozen young racers from around the world will have an opportunity to contest Round Two of the inaugural Ricmotech Road to Indy Presented by Cooper Tires iRacing eSeries at a virtual rendition of Circuit of The Americas this Saturday. Pre-race activities will kick off at 12:45 pm EDT with the green flag scheduled for 1:04 pm.
Link: https://www.youtube.com/watch?v=maPZUev0NHw
An exciting opening round last Saturday at Barber Motorsports Park ended with RP Motorsport USA's Indy Pro 2000 Championship Presented by Cooper Tires contender Phillippe Denes, from Carmel, Calif., scoring an emphatic victory over last year's Cooper Tires USF2000 Champion Braden Eves, from New Albany, Ohio, and second generation Brazilian racer Eduardo "Dudu" Barrichello.
All three will be among an expanded field on Saturday, with 21-year-old Denes seeking to maintain or even extend his championship lead. Denes has already laid down a marker by posting the fastest time during a pair of pre-event practice sessions on Tuesday, and again in last night's session.
"Heading into the second round of the RTI eSeries I don't have any expectations," said Denes. "I'll be giving it 100 percent and focusing on my own driving. So far in practice I've gotten the idea that the race at COTA will shape up to be a pack battle because of all the long straights and draft involved, so whoever can race the smartest and keep it clean will come out on top.
"So far the eSeries has felt almost like real life," Denes continued. "The battling is very intense and calculated just like it would be in a real race. We are also driving the car to the absolute limit so the feeling is almost there just without the G forces. Personally, I think the iRacing success comes from me being able to drive freely without having to worry about those demons in the back of my head – like crash damage or consequences — so I can give my driving 100 percent focus.
"I might have more online experience than some of the others but ultimately I think that being able to drive a car to the absolute limit is the same concept on the sim as it is in real life. I don't take any special or different approaches heading into a race, so at least for me they are very similar. Above all I'm most excited to have some great racing with everyone and try my best to get that racing itch scratched online!"
Denes will face a horde of challengers looking to unseat him, including USF2000 youngsters Andre Castro (Legacy Autosport), from New York, N.Y., and Reece Gold (Cape Motorsports), from Miami, Fla., both of whom also impressed last weekend.
"The first race positively surprised me with just how competitive it was and how frantic the opening laps were," said Castro, who was embroiled in a titanic battle for second place with fellow iRacing veteran Eves until spinning out on the final lap. "I was genuinely excited to see how much the level of competition had been raised from the practice race to the real race, and I had a great time battling several drivers throughout the event. I also was impressed with the quality of the broadcast, and I was very happy as I had family and friends tune in who all enjoyed the production.
"[Braden] anticipated the crossover move I was making, as I had pulled off the same move one lap prior, but he just misjudged his defensive maneuver and cut across my front wing, sending me into the wall. We talked it out and there's no hard feelings; we've raced on the same team and against each other for many years now, in iRacing and in real life, and I know it wasn't intentional. It's all in good fun, and we'll continue to race hard throughout the rest of the championship.
Gold, one of the youngest competitors at just 15, also enjoyed a race-long battle with Colin Kaminsky (Pabst Racing), from Homer Glen, Ill., before finishing fourth, despite starting 23rd.
"The first race went well," said Gold, who earned his place on the USF2000 grid last year after winning the Lucas Oil School Formula Car Series title in 2018. "I was very happy with where I finished and it was a really fun race. I started far in the back because my best lap time got invalidated in qualifying for dropping a wheel. I was able to work my way back quickly by avoiding all the wrecks and passing slower cars pretty fast. My battle with Colin was really fun. We raced each other really clean and we were back and forth for many laps. Fortunately, I was able to jump him in the pits.
"I think the key to success in COTA is getting really good exits onto the long straightaway. The straightaways make up so much of the track so it is very important not to overdrive the entry, but to focus on exit. I hope to have another great race this Saturday."
A total of 36 drivers, representing nine different nations and all three levels of the "real world" Road to Indy, will be chasing virtual glory on Saturday. Also among the quality line-up are a few veteran racers turned team owners, including Irishman Peter Dempsey (Turn 3 Motorsport), who claimed the first SimMetric Driver Performance Labs Pole Award last weekend and led the race until tangling with a lapped car, former INDYCAR racer David Martinez (DEForce Racing), from Monterrey, Mexico, and Indiana's Louis Meyer (Legacy Autosport), whose great-grandfather, also Louis Meyer, in 1939 became the first ever three-time Indianapolis 500 winner.
All competitors will be racing for a cause as all registration fees to enter will be donated into a fund to support COVID-19 relief efforts. Utilizing the current Road to Indy points system, a champion will be crowned who will direct the distribution of the money raised to a good cause. TSOLadder.com Presented by Cooper Tires has also stepped up with an additional donation for the fastest lap of the race.
Saturday's race will be preceded by an 80-minute final practice session at 11:00 a.m., followed by 15 minutes of qualifying at 12:45 p.m.
Fans can follow the weekly action on a series of outlets including the Cooper Tire Facebook page, Road to Indy TV website and App, ApexRacingTV's YouTube, Twitter and Facebook, the iRacing eSports Network and the series' respective Facebook platforms. In addition, live coverage will be carried by MAVTV Canada, which will be airing all Indy Lights races live in 2020 when the series returns to action as well as Indy Pro 2000 Championship Presented by Cooper Tires and Cooper Tires USF2000 Championship highlight shows.
Entry List
| | | | |
| --- | --- | --- | --- |
| No. | Driver | Residence | Team |
| 1 | Braden Eves (IP2) | New Albany, OH | Exclusive Autosport |
| 01 | Prescott Campbell (USF) | Oxford, UK | Exclusive Autosport |
| 2 | Josh Green (USF) | Mount Kisco, NY | Cape Motorsports |
| 3 | Peter Dempsey (TO) | Vernon Hills, IL | Turn 3 Motorsport |
| 03 | Reece Gold (USF) | Miami, FL | Cape Motorsports |
| 003 | Flinn Lazier (IL) | Vail, CO | Lazier Racing |
| 4 | Michael d'Orlando (USF) | Hartsdale, NY | Cape Motorsports |
| 5 | Phillippe Denes (IP2) | Carmel, CA | RP Motorsport USA |
| 6 | Christian Rasmussen (USF) | Copenhagen, Denmark | Jay Howard Driver Development |
| 7 | Kory Enders (IP2) | Austin, TX | DEForce Racing |
| 07 | David Martinez (TO) | The Woodlands, TX | DEForce Racing |
| 9 | Nolan Siegel (USF) | Palo Alto, CA | Jay Howard Driver Development |
| 09 | Jacob Loomis (IP2) | Corinth, TX | BNRacing |
| 10 | Mathias Ramirez (USF) | Bradenton, FL | DEForce Racing |
| 011 | Antonio Serravalle (IL) | Unionville, Canada | HMD Motorsports |
| 12 | Kiko Porto (USF) | Recife, Brazil | DEForce Racing |
| 14 | Louis Meyer (TO) | Pittsboro, IN | Legacy Autosport |
| 19 | Colin Kaminsky (IP2) | Homer Glen, IL | Pabst Racing |
| 20 | Cameron Shields (USF) | Toowoomba, Australia | Legacy Autosport |
| 21 | Yuven Sundaramoorthy (USF) | Guilderland, NY | Pabst Racing |
| 22 | Eduardo Barrichello (USF) | Orlando, FL | Pabst Racing |
| 23 | Nico Christodoulou (USF) | Toronto, Canada | DEForce Racing |
| 24 | Michael Myers (USF) | Lizton, IN | Legacy Autosport |
| 27 | Robert Megennis (IL) | New York, NY | Andretti Autosport |
| 027 | Ayrton Ori (USF) | Orlando, FL | Legacy Autosport |
| 40 | Jack William Miller (USF) | Carmel, IN | Miller Vinatieri Motorsports |
| 41 | Max Kaeser (USF) | Keystone, CO | Miller Vinatieri Motorsports |
| 42 | Artem Petrov (IP2) | Saint Petersburg, Russia | Juncos Racing |
| 44 | Christian Brooks (USF) | Santa Clarita, CA | Exclusive Autosport |
| 48 | Devlin DeFrancesco (IL) | Miami, FL | Andretti Steinbrenner Racing |
| 68 | Danial Frost (IL) | Singapore | Andretti Autosport |
| 69 | Nate Aranda (IP2) | Albuquerque, NM | Juncos Racing |
| 77 | Andre Castro (USF) | New York, NY | Legacy Autosport |
| 79 | David Malukas (IL) | Chicago, IL | HMD Motorsports |
| 83 | Charles Finelli (IP2) | Locust Valley, NY | FatBoy Racing! |
| 95 | Lucas Kohl (IP2) | Miami, FL | Turn 3 Motorsport |