Andretti Autosport eyes F1 entry in 2021 (3rd Update)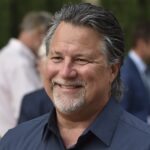 Will Michael Andretti put a deal together?
UPDATE
Joe Saward writes – "There continues to speculation about the future of Force India, as a result of the legal problems of its two owners. The team has had some financial help from Liberty Media in recent months and Mercedes had not pulled the trigger on the $17 million of debt that the team owes, but it is still clear that the Indias and going to have to hand the team over to a new owner at some point.
"The best they can now hope for is not to be embarrassed by the team going into administration, but the longer they drag on the process the more problems they are creating because money is needed to get on with the 2019 programs and if the team continues to weaken one can see Sergio Perez and Esteban Ocon heading off elsewhere, which would mean that the team might get into the Williams situation and have to compromise on drivers, which is never a good idea.
"The team is not very forthcoming on the subject of the buyers but my spies in the paddock have managed to add a little more weight to the fluff that is floating about. Certainly Andretti Autosport would like to be involved but it needs some certainty in terms of the F1 budget cap and glide path before it can get funding from the private equity world.
"I have heard that a private equity firm based in New York called Castle Harlan is also interested, but I am not sure whether this is linked to the Andretti bid, or separate.
"I can find no real evidence that the Stroll and Latifi families are making any moves and Toto Wolff says that rumors that he will buy the team himself are not to be believed.
There is another bid, apparently, which involves two British businessmen: David Sullivan and David Gold. Let's not spend too much time looking at their background in publishing but let's just say that they were involved in art photography and cinema (nudge, nudge, wink, wink, say no more) in their younger days. They then launched the The Sport and Sunday Sport newspapers, which won fame with headlines such as "WW2 bomber found in space". The idea seems to be have been to lampoon tabloid newspapers and one might suggest that it was one of the places where "fake news" began.
"Anyway, the two men went on to buy the Premier League football team West Ham United, which has vague links with the Rich Energy drink company, which has been mentioned as a possible buyer.
"If I was a gambler I would suggest that they probably own rather a lot of Rich Energy shares and that the hairy person who is fronting the company might have come up with the idea for them to make more money, given what Red Bull has done. Of course, Red Bull started in F1 a long, long, long time ago, but the sport can put companies on the map, if the money is available.
"We will have to see if this turns into a deal but one can imagine that Liberty Media would be more interested in PE firms and American brands rather than these colorful individuals. Still, the decision is down to Vijay Mallya and Subrata Roy. Joe Saward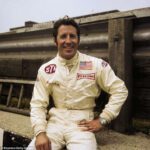 Mario Andretti at Brands Hatch for the 1970 British GP
06/23/18 The Andretti name could return to the Formula One grid after 1978 world champion Mario Andretti revealed that son Michael is in talks to enter a team in the championship.
Michael owns Andretti Autosport which competes in several series, including IndyCar and Formula E. Ahead of this weekend's French Grand Prix – which he won in 1977 and 1978 – Mario told Sportsmail that the family are looking to add an F1 team to their portfolio.
'He [Michael] has that ambition to be an owner in F1,' said Mario. 'It's one of his goals at the moment for sure. We talk about it and he's serious. That's what he wants.
'It's part of Michael's ongoing growth goals. He keeps all options open and F1 is not just talk. There are some tangibles but it's still early days, it's going to be a couple of years.'
Formula One's owners, Liberty Media, are currently in discussions with the constructors over the sport's regulations from 2021 onwards.
A cost cap and fairer distribution of revenue are at the top of the agenda, and Andretti said those decisions will decide whether Michael goes ahead with his plans.
'Michael's waiting for the financial situation and distribution element to become clear,' said Mario. 'It's being evaluated now but he's thinking about it for sure. He's very ambitious.
'This has been our life. This is what we know and love. We are in the business and Michael's been successful. He knows how to put people together.'
Michael already has links to an F1 team after partnering McLaren at last year's Indianapolis 500 where Fernando Alonso failed in his attempt to win another leg of motorsport's 'Triple Crown' of the Monaco Grand Prix, Indy 500 and the 24 hours of Le Mans races.
Victory at Le Mans last weekend means the Spaniard now only needs to win in Indianapolis to become just the second man after Graham Hill to achieve the feat.
Alonso's current deal with McLaren expires at the end of this season, and the British marque's struggles could see both team and driver enter the IndyCar championship full-time next year.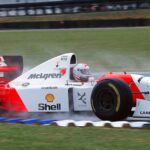 Michael Andretti at Silverstone in 1993. He drove alongside Aryton Senna for McLaren but was thoroughly screwed over by Ron Dennis and left F1 after the Italian GP, his only podium. He has unfinished business in F1
Mario – the only man to win the Indy 500, Daytona 500 and F1 world championship – says that is likely to be in conjunction with the Andretti team once again.
'It's McLaren's choice but we know the relationship they had with Michael was very positive,' he said. 'I think in good time they will make an official announcement.
'If McLaren decides to have a team in IndyCar I think it's likely to be in conjunction with Michael. It makes a lot of sense for everyone involved.
'Fernando knows what the future will be at McLaren. He doesn't have many other options in F1 at the moment for other teams and that's the problem.
'Unless he can be a winner with McLaren in the next year or two then it's decision time for him to do something else.
'He's certainly not ready to retire. He loves driving too much and that's evident.
'He wants to spread his wings and say he won all the majors, not just be someone who specialised in their own discipline.
'That was the most satisfying part of my career when I look back. It's great to say you've been there and done that.
'We talked about it a bit and Fernando's in the same frame of mind.' DailyMail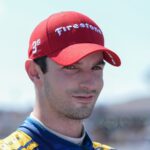 Will Andretti Autosport buy Force India and run Alexander Rossi in F1? Sure sounds like that's on the table for discussion.
06/13/18 Updating our rumor from last November, Michael Andretti was present in Montreal, most believing his presence to be related to McLaren's plans to expand into Indycars as soon as 2019, but seasoned reporter Joe Saward is reporting an alternative reason for the American's visit to the Formula 1 paddock.
After the Canadian Grand Prix, Saward noted in his wrap of the weekend the "appearance in the paddock of Michael Andretti, who was obviously up to his neck in negotiating a deal to run Fernando Alonso in Indycars next year."
But added, "However, it was clear that this was not Michael's only purpose for being in Montreal, as he was accompanied by his company president J-F Thormann and the familiar figure of Pieter Rossi, father of Andretti driver, Indy 500 winner and sometime F1 driver, Alexander Rossi."
"You wouldn't need the other two to get a deal with Alonso to race an Andretti-run, McLaren-badged Indycar, so it was obvious that they were also up to other things."
"Visits to Liberty Media and Force India suggested that they were there to sniff around and see if a deal could be put together to acquire the troubled team. It seems, from multiple sources, that a financial solution is required VERY quickly if Force India is going to avoid getting into financial and legal trouble."
He added, "Having an Andretti team in F1 would be a terrific thing as the World Championship seeks to make a bigger impression in the United States."
"[Force India] is a great opportunity as there is a competitive turnkey F1 operation, which would simply require a bit of rebranding, but Andretti and is unlikely to jump in unless he knows what it is going to cost, and that is not going to be certain until we get an answer to the question of the F1 budget cap – and the length of its glide path. "
On the subject, Saward concluded, "But speed is now essential or else we may start losing F1 teams that can no longer fly along on empty. And Force India is not the only team in financial peril."
Andretti is arguably motorsport's most famous name, if not globally, definitely in the United States. Mario Andretti was Formula 1 world champion and with his family has built a massive racing dynasty on the back of their enormous success in Indycars and most other levels of the sport.
With IndyCar floundering due to its hideous TV deal, and with F1 costs set to reduce in 2021, Michael eyes F1 team. Why not merge with Haas F1, kick anti-American Steiner out and make it a true all-American power team?
11/08/17 (GMM) Former F1 driver Michael Andretti has admitted he would like to re-enter the sport as a team owner.
Last year, Fernando Alonso tackled the Indy 500 in a joint operation between McLaren and former team driver Andretti's US based outfit Andretti Autosport.
And now, amid speculation a budget cap could be coming in F1, Andretti has admitted his interest in the pinnacle of motor sport.
"Obviously it comes down to having a backer, as I can't afford to do it myself," Andretti told DW Motorsport.
Andretti Autosport races not only in Indycar but also Formula E, rallycross and V8 Supercar.
As for F1, Andretti admits he has come close to putting a team together in the past.
"There's been a few deals that started to go somewhere and then they didn't," he said. "We're always keeping our eyes open."