France Family to sell NASCAR (3rd Update)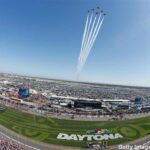 Will the tracks go too? ISC is a public company so the shareholders would all have to be bought out
UPDATE As speculation continues on this rumor some sources say the France family will only sell a 49% stake in the company, but some are skeptical about NASCAR finding a buyer without providing majority control and a final say on decision making. Comcast is said to be one of the interested buyers, as is Chinese giant Zhejiang Geely Holding Group. Geely is building tracks in China and invested in some sports venues in the USA.
05/08/18 The France family, the majority owners of NASCAR, is "exploring options including the sale of a majority stake," according to sources cited by Baker, Toonkel & Roumelitotis of REUTERS.
Sources added that the family is working with investment bank Goldman Sachs to "identify a potential deal for the company." The possibility of a sale was first reported by SportsBusiness Journal in February. Sources cautioned that the deliberations "are at exploratory stage and no agreement of any kind is certain."
Sources added that NASCAR "could attract interest from media companies and private equity firms." The company's exact valuation "could not be established." But sources said that it "could be worth several billions of dollars." Liberty Media in '17 spent more than $8B, including debt, to acquire F1. REUTERS, 5/7.
In Daytona Beach, Zach Dean in a front-page piece notes the France family also owns ISC, but the report "did not indicate whether ISC would be a part of the discussions" (Daytona Beach NEWS-JOURNAL
ESPN.com's Pockrass & Rovell noted one "potential hurdle in negotiations" could be that the NASCAR charter agreement with the teams only runs through '20.
The teams "have the option to extend it" through '24, the end of the current 10-year television deal that is worth an average of $820M each year. Any buyer "likely would need assurances from the teams that they would continue to participate, and team owners could see this as their opportunity to obtain a bigger percentage of the television money." ESPN.com.
WHO IS INTERESTED? In Indianapolis, Ayello & Velin note IndyCar CEO Mark Miles suggested that "some of the same players who were involved in the bidding" for F1 could "theoretically be involved if NASCAR were being sold, including Liberty."
Miles said, "With Liberty, I don't know how much dry powder (liquid assets and cash reserves) they have." He added Liberty has a "lot of work to do to get where they want to be" with F1, and noted it is "very international-based." Miles: "But maybe they'd be interested in a complementary property in the U.S."
However, he said, "I couldn't guess who will really get seriously into the chase." Miles also said that "though many will see the France family's reported willingness to sell NASCAR as a pessimistic response to the organization's recent struggles, that might not be the case." Miles: "If they want to sell, there will be major enterprises taking a look." INDIANAPOLIS STAR.
ALL ABOUT TIMING: In Daytona Beach, Ken Willis writes these are "transformative times for NASCAR, and not all of it is in NASCAR's control." Like some other sports-entertainment properties, NASCAR's fan base is "aging out, without enough replacement troops filling the ranks."
Among the teams, there is "more and more grumbling about the cost of racing and how that TV money is dispersed to teams." Daytona Beach NEWS-JOURNAL
In Charlotte, Marks & Peralta note news of NASCAR's potential sale "comes at a time when the industry has been grappling with declining sales."
NASCAR's current TV agreements with NBC and Fox expire in '24, and the company has "explored developing its own media network rather than licensing its content out again."
NASCAR has "cited a number of reasons for the decline of its TV ratings and race-track attendance numbers in recent years, including the retirement of fan favorites such as Dale Earnhardt Jr. and a slow economic recovery for its middle-class fan base." CHARLOTTE OBSERVER.
DIDN'T SEE THIS COMING: MOTORSPORT.com's Jim Utter reports many people in the racing industry "find it surprising that the current France family members would actually consider a sale." NASCAR Vice Chair Jim France last month was part of the announcement that NASCAR "would be purchasing the ARCA Racing Series in a deal that will be completed by 2020" MOTORSPORT.com
FS1's Bobby Labonte said the report of the France family looking to sell is "definitely a shock." He said he has "never heard this happen or them talk about it or any inclination."
Labonte: "As far as the driver goes, I think NASCAR is going to continue on, whether it's a different owner or not."
FS1's Larry McReynolds noted he has worked in NASCAR for 38 years and said, "I have never heard rumblings of anything like this. … I've got to say, the story that I heard today, I had not heard any rumors whatsoever over the last weeks, months, or since the season started." However, McReynolds said predicted fans "don't care" who owns the organization ("NASCAR Race Hub," FS1
TWITTER REAX: CBS Sports' Matthew Mayer: "This could very well be a move to grow NASCAR as the lone titan in the racing industry. … Instead of the narrative being that the Frances are giving up on NASCAR, it may very well be that they're trying to kickstart growth."
Motorsports feed The Catch Fence: "Honestly the best thing for NASCAR might be if the Frances didn't control it anymore."
Motorsports journalist Aaron Bearden: "A new ownership group could bring immediate, significant change. See Liberty Media with F1."
Syndicated radio host Crash Gladys: "What I don't get is McReynolds and others saying the exploration of selling #NASCAR is a shock? Seriously? Brian France has ALWAYS wanted to own an #NFL team. When the @Panthers sale sign went up, the writing was on the wall for me."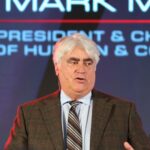 Mark Miles was involved in the Hulman George family decision to shun Liberty Media before they turned and bought F1
05/07/18 Mark Miles, the CEO of IndyCar and Indianapolis Motor Speedway's parent company Hulman & Company, told Jim Ayello of the Indianapolis Star that he had no direct information about (the reported sale), "but I'd heard rumors it was possible some time ago. Maybe a couple months ago. In that sense, because of that, it's not a surprise. But it's not unusual for companies to look. Family-owned companies have different considerations than public companies. So, no, it's not really a shock."
Miles said that if the Reuters report proved to be true, "I find it hard to believe that Brian France and the other NASCAR owners don't believe they can reverse the current trends and grow it. But I don't know what their mentality is about a sale.
"I'm not fatalistic about NASCAR's prospects. I think they'll find a way to do positive things and grow NASCAR. As to IndyCar, we've been growing for the past few years. We're bullish about continued growth in the future for lots of reasons."
NASCAR has struggled since the boom years of the mid-1990s through about 2007 with a shrinking fan base and falling TV ratings. However, several aging race tracks across the U.S. have undergone multi-million dollar renovations in recent years to make them more fan-friendly.
"I don't see (the dips in attendance and TV ratings) as a motor sports trend," Miles said. "Or if it is, it's a headwind we think (IndyCar) can buck."
Brian France
05/07/18 Just over a week after NASCAR acquired another major racing series (ARCA), Reuters reports that the France family (who have been in control of NASCAR since Bill France Sr. founded it in 1947) is in talks of potentially selling its stake in the sport. It's thought they want to sell all 'stock car' racing as a package deal to a potential big buyer. AR1.com is not clear yet whether the deal will also include IMSA.
Reuters' report is short, citing only unnamed sources in saying that the France family is looking into options for its stake in NASCAR–one of those options being a sale of the family's entire stake. The report said the Frances are working with investment bank Goldman Sachs on a potential deal, but the sources, who asked not to be identified by Reuters because discussions are confidential, said the talks are at the "exploratory stage and no agreement of any kind is certain."
Reuters reports that a NASCAR spokesperson said "We don't have anything to add," and that Goldman Sachs was not immediately available for comment.
The Frances have been in charge of NASCAR since founder Bill France Sr., who was president from 1947 to 1972. Bill France Sr. also started the International Speedway Corporation, which owns and/or operates a dozen of the tracks on the schedule in NASCAR's top series. Bill France Jr. took over as president after Bill France Sr., from 1972 until 2003. Brian France, his son, became Chairman and CEO of NASCAR that year, and is still acting as both.
There have also been Anne Bledsoe France, Betty Jane France, Jim France and Lisa France Kennedy, who all were or still are executives and high-ranking employees with NASCAR and the International Speedway Corporation. Lisa France Kennedy's son, Ben Kennedy, is a driver turned NASCAR executive.