Newey now denying Renault switch rumors (Update)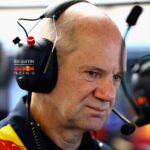 Adrian Newey won't leave Red Bull for Renault
UPDATE This rumor is downgraded to 'false' today.
(GMM) Adrian Newey has scoffed at rumors that suggest he could switch to Renault.
The Red Bull technical boss, who is arguably the most famous F1 designer of all time, told Auto Bild: "That will not happen."
Red Bull's Dr Helmut Marko agrees, saying Newey in fact wants to stay put for a longer term.
"It is no longer about the if, but only the how of the new contract," he said.
Renault, too, denies that rumors about signing up Newey are accurate.
"I deny it completely and don't know where it comes from. I think it's a misunderstanding," team boss Cyril Abiteboul told AS newspaper.
"I think Adrian is extremely loyal to Red Bull, so I don't know where that information comes from."
06/18/18 (GMM) Adrian Newey has declined to confirm or deny rumors he is looking to leave Red Bull.
Rumors suggest the famous F1 designer is contemplating an offer from Renault to join the French marque at the end of his current contract later this year.
"I still work with Red Bull and, through the partnership with Aston Martin, them as well," he is quoted by Russia's Championat as saying at Le Mans.
Newey's son Harrison competed at Le Mans for the Russian team SMP.
"I'm at Le Mans with my son, who is with SMP Racing, and I have nothing more to say for now," Newey added.