Harding Racing to run 2 cars in 2019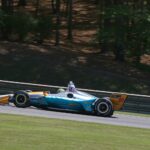 Gabby Chaves in the Harding Racing Chevy
They have stated it previously and Harding Racing still looks to expand to a 2-car team in 2019. They hope to run a 2nd car at Sonoma to give a potential candidate a tryout at the end of the 2018 season.
There are a number of Indy Lights drivers looking to move up and Andretti Autosport already has a full slate of drivers, so someone like a Colton Herta may take his $1 million, if he wins the Lights championship, to a team like Harding Racing instead.
Harding Racing president Brian Barnhart acknowledged the team's youth-driven interest, but did not limit the conversation to Indy Lights pilots.
"We have a goal of becoming a two-car team in 2019 so we are talking to several drivers, including some current Lights drivers about interest and availability," he told RACER.
"Of course, budget drives all of that, including whether we can run a second car at Sonoma this year."