McLaren F1 team face employee revolt (3rd Update)
Eric Boullier under fire and called clueless
UPDATE Things got slightly heated during today's press conference when Jonathan McEvoy, the journalist behind the recent stories in the Daily Mail about McLaren, clashed with team boss Eric Boullier.
Last weekend, McEvoy quoted former team boss Martin Whitmarsh as saying that there is unrest within the company, and that he himself had expressed his fears for the team to (shareholder) Mansour Ojjeh during a visit to the Spanish Grand Prix.
Today, McEvoy quoted a source within the team who described the atmosphere at Woking as "toxic" and senior management, including Boullier, as clueless.
It all started well enough this afternoon at the official FIA press conference, when McEvoy asked Boullier if he felt a responsibility for the team's failings, the Frenchman replied: "That's a good question…
"Obviously, we are all responsible for the car performance," he continued. "No, I will not resign, to answer your question. I know you have written some articles. I've got my twentieth year now in racing, I've won races and championships with every team I've managed before, including Formula One, so this is some record that you cannot take away from me.
"I think we're on a journey. We are not where we want to be, we are not happy with where we are – but with the journey, with the new Renault engine partner, and obviously we have a good team of people, we just need to make sure we are finding the issues with the car and correct them. We know where the issues with the car are, and make sure… when you build a car, when you believe in a concept, you have to develop the concept and make sure you correct if for the next one."
"To go back to the Freddo thing, will you be reviewing how you hand out Freddos at the factory?" asked McEvoy. "Will you stick with the Freddo rewards or do they stop?"
"I think if you did a course in management we can organize this for you," replied Boullier. "And if you're really desperate to test the Freddo chocolate, we can send a box to you, don't worry.
"Thank you. Thank you for that offer," said McEvoy. "Could I just say…
"That's enough of it," snapped Boullier. "You're looking after something, we will give you any answers later but I think it's enough.
"No, no, it's not enough," insisted McEvoy. "Do you expect to still be in your job at Silverstone?"
"Yes. Of course," came the reply. "It's a journey. It's not a plug and play story. It's a journey when you have to work too. You're after me, apparently…
"But you're being briefed against, by your own staff, by your management…" said McEvoy.
"I think you are lying now," said the Frenchman.
At this point the FIA's communications director, Matteo Bonciani stepped in: "Sorry (Eric) Jonathan, we do not want to have a one to one. I'm trying to give a word to everybody. Eric, if you need so say something else?"
"No, I am fine," said Boullier.
"I'm not lying," insisted McEvoy.
Stay tuned as we suspect we have not heard the last of this story. Pitpass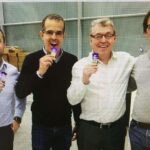 Matt Morris (left) and David Probyn (third in) – others are Renault engineers – all eating Freddos
06/22/18 As McLaren is linked with a $20m bid for the service of Daniel Ricciardo, workers at the team's Woking HQ complain they are finding their life at the legendary British team a lot less rewarding.
Just days after McLaren issued a brief statement denying (former boss) Martin Whitmarsh's claim that there is unrest within the team, workers have contacted a British tabloid voicing their fears and grievances.
Among other things, they complain that their reward for extra-long shifts and "sweating blood" was a chocolate bar.
"The management hand them to the supervisors to divide them out to employees in their team. Strictly one each," one employee is quoted as saying of the Freddo chocolate bars by Sportsmail.
"The Freddos are handed out when a package is produced on a tight schedule," added the employee. "For example, we were given two weeks to produce the Spain upgrade package in May. We all worked 24/7 to meet the deadline. We got it done in time. So a week later a Freddo was handed out to all staff involved as 'a bonus'. Supervisors are embarrassed to hand them out. We also got a Freddo last year after building the car."
Claiming that in a bid to improve the MCL33 engineers have been called on to build wooden prototypes of anything that might improve the car, the source said: "That shows how clueless they are.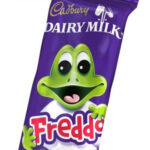 Freddos
"They told us at the post-Canadian Grand Prix debrief that they knew what was wrong with the car but not how to fix it," they added. "They ask us when they are on six-figure salaries.
"We call four of the management the 'Untouchables', they revealed.
"There is Eric Boullier, Matt Morris, chief engineer, Simon Roberts, chief operating officer, and David Probyn, operations director. Some of them just walk about chatting. We have no respect for them. People are beginning to boycott the debriefs because they are a joke. The atmosphere is toxic. We would like to go on strike but people fear for their jobs."
Reacting to the claims, McLaren is quoted as telling Sportsmail: "McLaren has one of the most loyal and long-serving staff in the entire motorsport industry.
"Our team leaders are free to reward their staff with spontaneous, thoughtful and fun gifts whenever they feel that a job or task is worthy of extra recognition and reward. This was just such an example, alongside so many others that happen on a daily basis."
Whitmarsh was axed years ago
06/21/18 McLaren have now responded to the reported comments from Martin Whitmarsh.
"Martin worked for McLaren for many years, but has been outside the business for some time and is not part of our future," a McLaren spokesman said in a statement to Sky Sports' F1 Report.
"What he said was ill-judged and ill-informed in our view but he is entitled to his opinion.
"There are high expectations in the team and we won't compromise those high expectations.
"Everyone at McLaren is working tremendously hard and is focused on the future, not the past."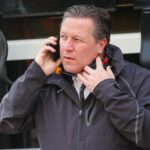 Are Zak Brown and Eric Boullier running McLaren into the ground?
06/17/18 McLaren's beleaguered management are facing a revolt from disgruntled staff who are putting together a delegation to vent their frustrations to former boss Martin Whitmarsh.
Sportsmail understands that patience broke earlier in the week when racing director Eric Boullier led the usual post-race debrief in the Woking factory at which it was admitted they were at a loss to explain the car's lack of performance.
Members of the shop floor were so furious at what they saw as the incompetence of their leaders that they plan to enlist Whitmarsh's support as a last-ditch attempt to help turn around the ailing team.
'Enough is enough,' said one source. 'A delegation is being pulled together.'
Whitmarsh, who spent 25 years at McLaren before being leaving as team principal in 2014, is a potentially influential ally because of his close links to the company's shareholders, especially his long-time friend, the French-Saudi Arabian billionaire Mansour Ojjeh.
This is not the first time Whitmarsh has been contacted by staff since Zak Brown took charge 19 months ago. Whitmarsh revealed: 'People at McLaren said they would send me a letter about the situation. I told them not to send it to me, but to Mansour.' The anonymous letter was sent last year.
Since then McLaren — winners of the 20 world championships that make them the most successful British team in Formula One history — have split from engine partners Honda, costing the team a £60million severance payment.
However, their performance has barely improved since switching to new suppliers Renault. They were desperately slow in qualifying for the Canada Grand Prix a week ago today, starting 14th and 15th.
The lean streak has left Boullier's position under threat, with one source saying the Frenchman has 'lost the dressing room'.
Whitmarsh made his dissatisfaction known to Ojjeh on a rare return to the paddock at the Spanish Grand Prix last month. 'I piled in a little bit,' said Whitmarsh, who is speaking publicly about McLaren's malady for the first time. 'I love the team and I am desperately sad to see what it has become.
'It needs a big change of approach. There is too much politics between the main figures. I think a number of them have to go. I have explained my view to Mansour and it is for the shareholders to decide what to do.
'The team used to be all about winning in Formula One. Now they are looking at other avenues — going to race in IndyCar and Le Mans, for example. They are great things in themselves, but McLaren going in that direction, rather than making grand prix racing their sole priority, makes me shudder.
'I live locally and I bump into friends who work at McLaren. They are disappointed with what is happening and remonstrate with me.'
One of Boullier's senior engineers, Tim Goss, has already been sidelined as a reaction to the problems, which date back to the team's last win through Jenson Button in 2012.
'Tim Goss's departure pitched me over the edge,' said Whitmarsh, whose own tenure as team principal provokes mixed feelings at Woking. 'Tim has a fantastic intellect, and is a hard-working, non-political, value-adding member of the team. He was scapegoated. He may not have all the answers, but he would work on a solution from first principles.'
Whitmarsh will be at Le Mans this weekend watching McLaren's Fernando Alonso and former driver Button compete in the 24-hour race before heading back to England early next week.
'If a delegation showed up at my door, I wouldn't turn them away,' added Whitmarsh. 'They know where I am.' dailymail