MotoGP to race in Brazil in 2021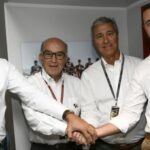 Tentative agreement reached
Dorna Sports has signed a "preliminary agreement" with Rio Motorsports that could see the series return to Brazil for the first time since 2004 in 2021.
Grand Prix racing took place at the Jacarepagua circuit in Rio de Janeiro from 1995 to 2004, while recently returning MotoGP to South America with the Argentine Grand Prix at Termas de Rio Hondo in 2014.
Dorna is eyeing its return to Brazil to take place at a new purpose-built circuit in the "bustling metropolis" of Rio, after former venue Jacarepagua was demolished during preparations for the 2016 Rio Olympic Games.
An initial agreement is in place between Dorna and Rio Motorsports, with a press release confirming the event will join the calendar as soon as 2021 should it be built and homologated in time.
"We would be thrilled to see MotoGP return to Brazil and this memorandum of understanding is fantastic news for the Championship and South American fans," Dorna CEO Carmelo Ezpeleta said.
"We have a truly global sport, paddock and grid and to add another country to our calendar – especially one such as Brazil – is always something to aspire to.
"It would be a pleasure for MotoGP to race in a country and continent known for its passion and incredible atmosphere."
COO of Rio Motorsports JR Pereira added: "People from Rio have always received MotoGP events with great enthusiasm.
"We are pleased with Dorna's serious interest in going back to Brazil and their trust in promoting the race at the racetrack we hope will be built in the city.
"Rio de Janeiro has a vocation to receive major motorsports events, with the same level of expertise shown with major sport and cultural events held in the city."
The addition of Brazil on top of Thailand joining this year and Finland in 2019 would see the current calendar swell to 21 races.
Dorna has previously expressed its wish to keep the number of races per year limited to 20, while the riders have also stated their concern at adding more events to an already punishing calendar.
The last Brazilian rider to win a grand prix was Alex Barros, who secured the last of his seven premier class victories in the 2005 Portuguese Grand Prix, when he rode for the Camel Pons Honda team.