Liberty Media gives loan to Force India (Update)
Otmar Szafnauer
UPDATE
This rumor is downgraded to 'false' today. Speaking to Reuters, Force India's chief operating office, Otmar Szafnauer not only denies that, contrary to media reports, Liberty Media did not dig into its own pockets to aid the team, but rival outfits blocked any hope of cash advances at what is traditionally a tough period for the smaller outfits.
"It's no secret we asked for a bit of money up front so that gets us through the winter," said Szafnauer. "This year, that money wasn't forthcoming because I think some of the teams said 'You can't do that' and blocked it.
"So that put a bit of a financial strain on us over the winter, if you don't have the cash-flow. But now we're past the winter months it should be easier for us.
"If you have ten million extra in November or December, then you can build the car parts," he added. "If you don't, you can't.
"We didn't have a lot of spares," he reveals, referring to pre-season testing, so we couldn't push the car, you couldn't go off, you make sure you didn't hit anything, the car wasn't to the latest specification."
On the other hand, having not received the advance, now through that difficult cash-flow period there is nothing to pay back.
"The nice thing is that the ten million advance we used to always get, that used to come off at one million every month, that's not happening now. So we're better off," admits the American.
Dismissing reports of Rich Energy's supposed buy-out of the team that some media outlets are still giving credibility to even though the energy drink company does not have the money, Szafnauer also down played the move which saw team co-owner Vijay Mallya step down as a director.
"From day-to-day, Vijay didn't do anything anyway," he says. "That's not a derogatory thing, it's a factual thing. We run it like we think we need to run it, and it's rare that Vijay interfered. So stepping down as a director I see as having zero impact on how we run the team."
Asked about sponsor BWT making a bid for the Silverstone-based outfit, he replies: "I think they've had discussions with Vijay, but I don't think that's gone anywhere.
"You can buy a team that's capable of finishing fourth and being on the podium but spend the least," he adds, admitting that Force India could be a steal for the tight buyer. "So if you're coming into Formula One and you want to own a team, who do you look at first? Where are you going to go? Are you going to go buy Ferrari, Mercedes or Red Bull?"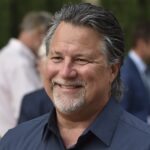 Is Michael Andretti lining up to buy financially strapped Force India
06/14/18 (GMM) Force India, the leading independent F1 team, is struggling for survival.
That is the claim of Germany's Auto Motor und Sport, following the departure from the Silverstone based team's board of boss and founder Vijay Mallya.
"It doesn't really have any impact on the team. The day to day operations continue on under the management, as they've always done over the years," said deputy boss Bob Fernley.
"Vijay's decision is purely a personal one, but from a Force India point of view it really is business as usual."
However, that may not be precisely true. Auto Motor und Sport claims that Formula One Management, controlled by Liberty Media, is "currently helping out with a loan".
The report added that Mallya stepped down "in return".
Auto Motor und Sport said "five buyers" are shaping up to buy the embattled team, and they may include IndyCar team Andretti Autosport, British energy drink Rich Energy, Mercedes and Force India title sponsor BWT.