Mike Tirico to host NBC's coverage of Indy 500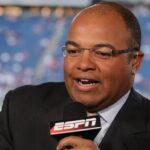 NBC had to choose former ABC/ESPN announcer Mike Tirico
Mike Tirico will host NBC's coverage of the 103rd Indianapolis 500.
IndyStar learned the well-known NBC personality, who recently hosted the network's coverage of horse racing's Triple Crown, as well as the Stanley Cup Final, will headline the group responsible for broadcasting the "Greatest Spectacle in Racing."
After finalizing an exclusive deal with IndyCar in March, NBC will be broadcasting the event after the 500's 50-plus year relationship with ABC came to a close. This year's 500 received its lowest Nielsen TV rating (3.4) since the race started airing live in 1986.
According to a source, IndyCar learned Tirico would serve as host during the series' annual partner summit a few days before this May's Indianapolis 500. Tirico was in attendance with Jon Miller, president of programming for NBC
An NBC spokesperson declined to confirm Tirico's appointment as 500 host, only saying, "We will be announcing our commentators for the 2019 Indianapolis 500 much closer to the start of the event." IndyStar