Hamilton deal set for Paul Ricard?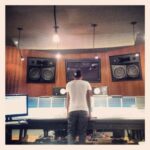 Hamilton in his recording studio. He won't leave the best team in F1.
(GMM) Lewis Hamilton and Mercedes may finally be ready to announce the continuation of their marriage.
A deal has long been delayed, amid rumors the British driver is seeking more money or a shorter than three-year contract duration.
There have even been suggestions he might switch to another team or quit F1 altogether.
"I think beyond 2020 there's every likelihood he may well be releasing his first (music) album which he's been working on," former F1 driver David Coulthard said on Graham Norton, a BBC talk show.
But now Germany's Auto Motor und Sport says the contract might finally be done and ready to announce to the public ahead of next weekend's French grand prix at Paul Ricard.
"It's all about common ground," Mercedes team chairman Niki Lauda said.
"The lawyers are sending the documents back and forth. It takes a lot of time. But we are in no hurry.
"If you know that you want to marry, the wedding date does not matter," he added.
It is believed that once a deal with Hamilton is signed, Mercedes will quickly follow up by re-signing Valtteri Bottas.