Will 2020 be Hamilton's last?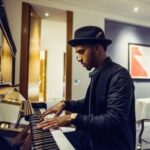 Hamilton on his piano
With his delay in re-signing with Mercedes everyone thought it was over money, but maybe not, Lewis Hamilton has been tipped to quit Formula One in 2020 and begin a new career in music.
The four-time world champion is well known for his love of fashion, but it appears he has a keen ear for tuning up a piano too.
And former F1 ace David Coulthard has suggested Hamilton, 33, could jump into the recording studio after parking the car.
He said on the Graham Norton show: "I think it's got to be on his mind.
"I think that he'll go to 2020 which is [the end of] the current Concorde agreement.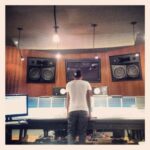 Hamilton in his own recording studio
"That's the agreement between the commercial rights holder, the FIA and the teams.
"It defines how the sport looks and feels.
"But I think beyond 2020 there's every likelihood he may well be releasing his first album, which he's been working on."
New F1 supremo Chase Carey is keen to change a lot of the sport's regulations when the next agreement comes up and make the sport more competitive.
Hamilton is currently the front runner in the F1 standings this season, after six races as Sebastian Vettel closed the gap as he finished second ahead of the Brit in Monaco.
Both German Vettel and Hamilton are vying for their fifth F1 title, which would put them joint second on all-time wins with Juan Manuel Fangio and two behind legend Michael Schumacher. The Sun