Rahal team to hire axed SPM engineer?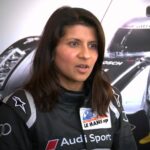 Leena Gade
Race engineer Leena Gade, who abruptly left the Schmidt Peterson Motorsports team last month, has met with Rahal Letterman Lanigan Racing, Bobby Rahal has confirmed to Motorsport.com.
The Briton who made her name in the Audi World Endurance Championship team, engineering the 24 hours of Le Mans-winning car on three occasions, joined Schmidt Peterson Motorsports' IndyCar team last off-season, replacing Allen McDonald as James Hinchcliffe's race engineer.
However, although Hinchcliffe lay fifth in the championship after the Indianapolis Grand Prix in mid-May, his failure to qualify for the Indianapolis 500 was perceived by many to be a tipping point in the relationship, their split being confirmed on May 24.
However, within 24 hours, Rahal expressed an interest in talking with Gade about her plans for the future, and she later confirmed with Motorsport.com she'd had talks with RLLR technical director and Graham Rahal's race engineer Tom German.
Rahal Sr., however, was at pains to stress that for now they are "just talks."
Bobby Rahal looking for good talent
He said: "We haven't done anything yet, but we are continuing to communicate. I think Eddie Jones (Takuma Sato's race engineer) was in the room with us, too, and Leena is an impressive person.
"I think clearly the European model for engineering is very different from the U.S.. They have performance engineers in WEC who report to chief engineers, whereas here there is less resource and fewer people so the engineers are in the trenches a lot more. And I think with Leena not having any oval experience, it must have made it tough. But obviously Schmidt Peterson's performances have been good on the road and street circuits. So there's value there, for sure.
"So, no decision yet, but yes, we've had contact with Leena."
Asked if he was talking to Gade purely with IndyCar in mind, or whether he saw potential in her working on his works BMW team in the IMSA WeatherTech SportsCar Championship, Rahal replied: "Well, obviously the IMSA model is a lot closer to the WEC model, so we're open to that idea.
"But honestly, we're always open to good talented people and I don't think you can have too many of them, whatever series you run. So we'll see."