Toyota plans to run Supra in XFINITY in 2019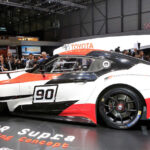 2019 Toyota Supra prototype
Rumor has it that Toyota plans to introduce its fifth-generation Supra model to NASCAR's Xfinity Series in 2019, per Sports Business Daily sources, the latest switch by an OEM from a sedan to a sports car.
Ford now runs Mustangs and Chevy now runs Camaros in NASCAR's Xfinity Series and Chevy has already moved the Camaro up to the Cup Series. Ford will bring the Mustang to the Cup Series in 2019.
Toyota is getting ready to bring back its Supra road car, last produced in 2002 and having a Mustang vs. Camaro vs. Supra competition makes sense for NASCAR and the manufacturers.