IndyCar Sonoma GP Friday Press Conference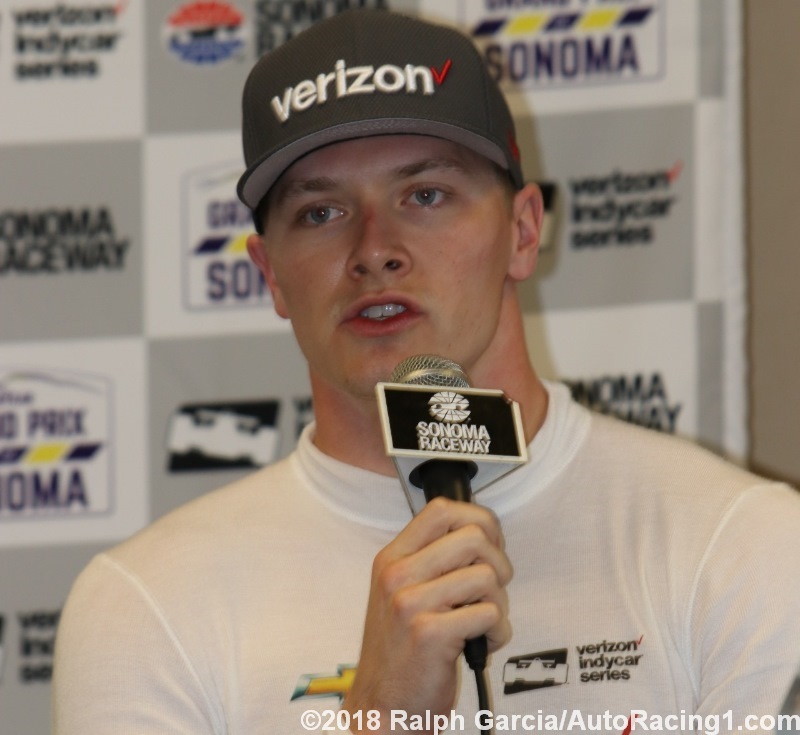 Josef Newgarden
Drivers:
Josef Newgarden – Penske Chevy
Alexander Rossi – Andretti Honda
Scott Dixon – Ganassi Honda
Will Power – Penske Chevy
Press Conference
THE MODERATOR: We'll welcome in Josef Newgarden, driving the No. 1 Verizon Team Penske Chevrolet, second fastest overall on the time sheets this morning and afternoon. I know you didn't get any practice time, actually, in practice 1 today. It seems like you guys were able to work past that issue and actually set a pretty fast lap in practice 2.
JOSEF NEWGARDEN: Yeah, I think we were okay. We tested here last week, so we were pretty ready to go. It was difficult this afternoon to be honest. When I first went out I wasn't very happy the first run, and then we made really good progress the second run, and seemed pretty decent compared to last week. We were happy with our cars when we tested here last Thursday, so we felt optimistic coming into the weekend, and now we're just trying to go through the motions and make the right steps all the way up through the end of Sunday. That's kind of what you do on a race weekend. You try and make the right decisions every day.
So it was a pretty decent start. Now we've just got to put it together tomorrow and Sunday on race day.
[adinserter name="GOOGLE AD"]THE MODERATOR: Joined also by Alexander Rossi, driving the No. 27 NAPA Auto Parts Honda for Andretti Autosport, 11th fastest on the overall time sheets this afternoon. Alex, I know that you probably wished you were a little higher up on the speed charts, but are you happy with what you're seeing from the car so far and heading into qualifying tomorrow?
ALEXANDER ROSSI: No, but the whole combined thing is weird because they overtake in the morning, so I don't really pay attention to that. I think this afternoon is the representation. I think we made a step forward this afternoon from this morning, and we had the test yesterday, which I thought was really good for us, but this place changes so quickly, and so often that what you have one day doesn't necessarily transfer completely to the next day. We definitely have some work to do overnight and need to put our heads together. It's not the first time we've had a bad Friday, so I have a lot of confidence in the 27 NAPA team that come tomorrow afternoon we'll be all right.
Q. Alex, you say the place changes so much. Do you learn anything or do you need to test seven times to have seven different conditions to try and chase it back and forth?
ALEXANDER ROSSI: Probably, yeah. I mean, the wind makes a big difference to the car balance. Obviously with there being dust on the edge of all the track surfaces, I mean, that contributes. Yeah, the temperature obviously at every track we go to makes a difference. Yeah, the test is very important because you definitely cross things off your list. But in terms of your setup options, I think here it's a pretty wide range, which is honestly kind of similar to Portland, I think, so it's strange that we've had two races like that sort of back-to-back, but we have four cars to kind of lean off of and pick apart the good things, so that's a positive of being on a big team, and we'll get it done tonight and tomorrow.
Q. What about the wind? Do you almost need a meteorologist here because that changes this racetrack considerably?
JOSEF NEWGARDEN: Yeah, I think compared to other tracks, it's a big variable here with just the wind direction. It really changes the balance of the car here dramatically compared to other racetracks. You're always watching it. It normally flips on you halfway through the race, and then sometimes in qualifying it does that, too, so you need to pay attention because it can catch you out if you don't catch it when it does change, it can cause a problem for you. So you're always watching it. The team is trying to keep you up to date on it, too, just to make sure you get it right.
Q. Josef, what was the problem this morning?
JOSEF NEWGARDEN: Some sort of fueling issue. I don't know specifically, but we weren't able to get our fueling sorted out. We didn't even realize it because we were going to run pretty late, so we didn't have a lot of time to work on it I think was the big deal. I think when we were going to run there was 20 minutes to go, and then we realized we had a problem. Not a huge setback in my opinion just because we were able to test, and that makes a world of a difference. You sort of already know what you have and what you want to do. So I felt like getting back on it this afternoon wasn't really a big deal.
Q. I also heard you're ill. Those two events of you not starting —
JOSEF NEWGARDEN: It's funny, so I had food poisoning last night for sure and have been up all night, and my girlfriend texted me as soon as the end of the first session, she goes — because she thought I was too ill to drive, and I go, it's just a coincidence, like it just looks funny. But no, it wasn't because of the sickness, it was more because of a car problem. Just a coincidence, yeah.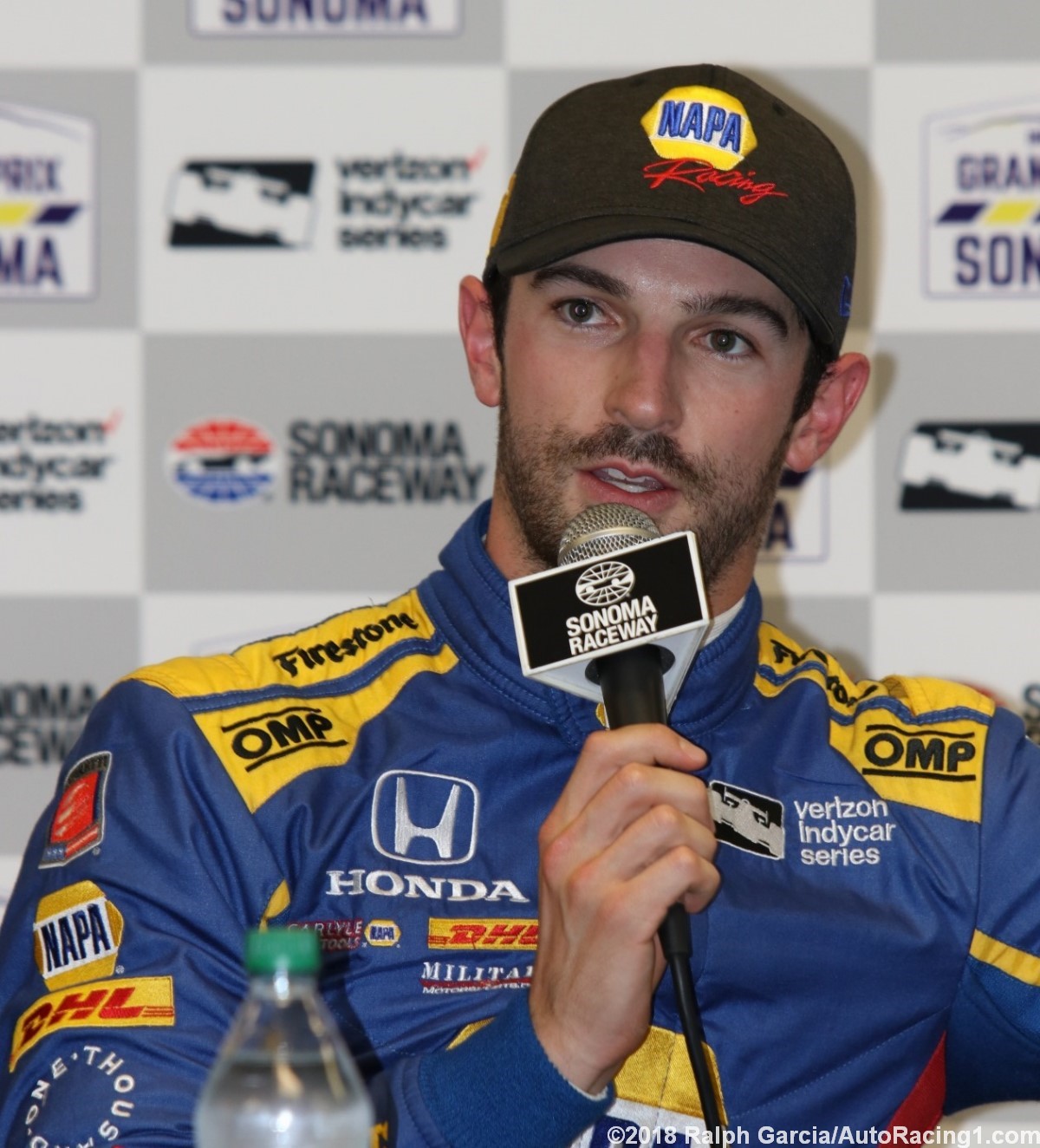 Alex Rossi
Q. Alexander, we always talk about the degradation of the tires. Less downforce, is that good or bad for tire wear?
ALEXANDER ROSSI: Very bad. Terrible for tire wear. Yeah, it's something that we're all thinking about, we're all concerned about. Fortunately it's the same for everyone, right? So it's just about kind of finding a way to hopefully make the tires last. It's difficult without a warmup for sure so you're kind of going through practice sessions trying to do both things, work on the qualifying car and the race car at the same time. But no, it's definitely going to be a challenge on Sunday for sure.
Q. Alex, the importance of qualifying, winning the pole, this is a tough track to pass on; how important is it to really start up front?
ALEXANDER ROSSI: I mean, I think qualifying is important at every track that we go to aside from probably Texas or Iowa. So I think that it doesn't really change. I mean, you try very hard and you lay it all on the line to get a pole in Portland, Toronto, Long Beach, here. It doesn't really change.
There's a lot more options that you have available to you when you start up front, so regardless whether or not it's hard to pass here, so you want to be on the front row and prefer to be on pole.
THE MODERATOR: Joined also by our points leader, Scott Dixon, driving the No. 9 PNC Bank Honda for Chip Ganassi Racing team, third overall in the speed charts today, combining first and second practices, a three-time race winner here and also a pole winner here at Sonoma Raceway. Scott, we've been talking about this championship contention, points battle, everything, for over a week now since we exited Portland, so now you're here, you're on track, you got your first and second practices in today. What are some things that you're noticing from the car heading into this weekend?
SCOTT DIXON: It's definitely difficult. I think everybody has probably mentioned that the conditions are tough. I don't think the track has changed too much. It's weathered a little bit over the years. The surface I think is getting pretty slippery, but then to have maybe 30 percent on downforce here, it definitely exposes the car a lot. So mechanical situation is something that we really tried to focus on, I think, throughout the year, even in development stuff coming into Sonoma, which at the moment seems to have helped. Tomorrow could be different. It all depends, we'll see how the competition does.
But yeah, really hard to get braking correct, and even the difference from your first, second to third, fourth lap is pretty intense. Hopefully we get it right tomorrow. It's going to be tough. We can see a pretty good spread already in the speeds today, which is pretty good. It's pretty good to see an Indy Lights champion up there, too.
Q. You did a quick spring change there at the end on the rear. What were you guys trying to accomplish?
SCOTT DIXON: A faster car. Always going for a faster car, man. No, I think we're just trying to put tomorrow — I think the temperature here is pretty critical. Even from this morning to this afternoon, we noticed some pretty big balance shifts, and it was more just to try and understand if we can manipulate it a little bit more, whether it's for the reds or the blacks or weather tomorrow. Yeah, just trying to get through the motions and try and find some more gains if we can.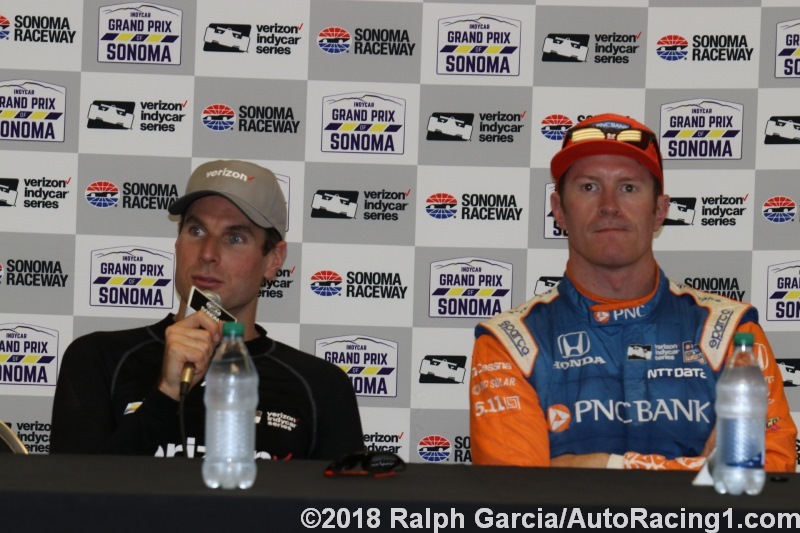 Power and Dixon
Q. It's been quite a year of unparalleled reliability for you. You had a bad run at Iowa, but generally it's been great. In terms of the odds of something happening at some point in the season, does that leave you waiting for the axe to fall tomorrow?
SCOTT DIXON: I was trying not to think about things like that. Thank you. We had some pretty miserable races at the start of the year and some pretty big mistakes and some pretty bad luck, I think, in strategy, where we had a podium going in Long Beach, same in Barber, Indianapolis we handled it in qualifying but the car was good in the race. I think you can ask any driver; there's many scenarios and situations throughout the season that, yeah, we could have done that better or we could have had some more luck here and there. I found during the course of the year it kind of evens its way out.
But yeah, I can't change that, so I'm not going to really think about it. We'll just keep our heads down and try and make the most of it.
THE MODERATOR: Needing no introduction after he just serenaded us, we're now joined by Will Power, driving the No. 12 Verizon Team Penske Chevrolet for the team this weekend here at Sonoma Raceway, a three-time winner here at the track, also a five-time pole winner. Will, so far a pretty good weekend for you, fourth overall on the overall time charts, considering both first and second practices, and obviously moving into qualifying, which is something you're very experienced and successful at here at Sonoma. What in your opinion makes the perfect qualifying lap here at the track?
WILL POWER: Yeah, it's going to be very difficult. The track is very low grip. Obviously we have less downforce this year, and it's just so hard to put a mistake-free lap together. I'm not sure anybody did. Maybe Josef did. So yeah, it'll be a very interesting qualifying session. As you can see it's very tight at the front, then the middle pack is very tight. It's just tight all the way through, and that's just IndyCar now. You can't pick a bad driver out of that lot. You look at the rookie award, that's super impressive first time out. That guy has definitely got some talent.
THE MODERATOR: You see your fellow championship contenders also up there on the time charts; what are some things that you're noticing from them just as you were running out there in practice with them today?
TONY KANAAN: Yeah, obviously Dixon and Rossi are very strong. It's just a matter of who got a clean lap and who didn't. You've literally got two laps on tires and then it's done. If you didn't get it done at that point you're never going to get it. So it's hard to time that perfectly to get a run without mistakes and get in traffic. It's sort of hard to tell who's where, but it gives you a pretty good indication.
THE MODERATOR: I know you've been asked this a thousand times, but it's no secret you need a lot of things to go very right for you in the race in order to clinch your next series championship. What are your thoughts heading into this weekend in general? You never know what can happen, we saw a race in Portland where Scott Dixon was being almost taken out on the first lap. Are you prepared for that to happen and to take advantage of an opportunity like that?
WILL POWER: Yeah, it would be just an amazing occurrence for that to happen, like to have an engine issue or a gearbox issue. Yeah, it could happen. I've had both this year, and then you need Rossi to have a bad day, as well. So obviously it's pretty stacked against us, but all we can do is just focus on putting ourselves in a position to win, which yeah, the others we can't control.
Q. If one of the four drivers was going to win the pole, run the table, lead the most laps and win the race, don't you think you more likely would do that other than the other three?
WILL POWER: No, if you look at Newgarden is very good around here and he's in the same car, and he won last year — no, he didn't win last year, Pagenaud did, and Simon, obviously, my other teammate. But yeah, that's what needs to happen. We need it put it all together to be on pole, lead the laps, all that stuff. But got some fierce competition. So just got to focus on my job and see if I can nail that.
Q. Do you pretty much feel like Scott Dixon did in 2015 when Montoya came in here with the big lead and Dixon had to pretty much go out there and run the table and win the championship?
WILL POWER: Yeah, I mean, Dixon, I remember that. He was able to take risks on restarts and went for it while we kind of got in each other's way, actually. But yes, from that respect, can be quite aggressive, nothing to lose. Obviously Scott has got the most to lose, and then Rossi really has nothing to lose, too. I mean, he's probably just going to have to get after it, as well, because he probably has to win the race to win.
Q. Sector 2 is where you were missing out to Josef on your best run. Did you make a mistake, or —
WILL POWER: Yeah, I did. Yeah, it must be Turn 4. I just have terrible brakes at the moment, just losing everything on brakes. Like it's just a bad set of brakes, and it's really frustrating that you've got to go through brakes and find a good set, but that's what I have right now.
Q. Have you detected any difference between Chevys and Hondas so far regarding strengths at different parts of the track?
WILL POWER: No, not really. I mean, it's such a handling track. The engine hardly comes into play. It's just such a drivability handling track, it's just such low grip.
Q. Is there anything they could really do tire-wise to make this track, give you a little more grip back, or is it just kind of you've got what you've got?
WILL POWER: Yeah, well, you could resurface the track. That would give you a lot of grip. But it's just that doesn't necessarily mean it's bad. It just means it's challenging, which is good for drivers, and it's hard to get the setup right and put the lap together. Yeah, I don't mind that. That's a good thing. Hopefully it creates good racing.