Derani takes #22 Nissan to victory at Laguna Seca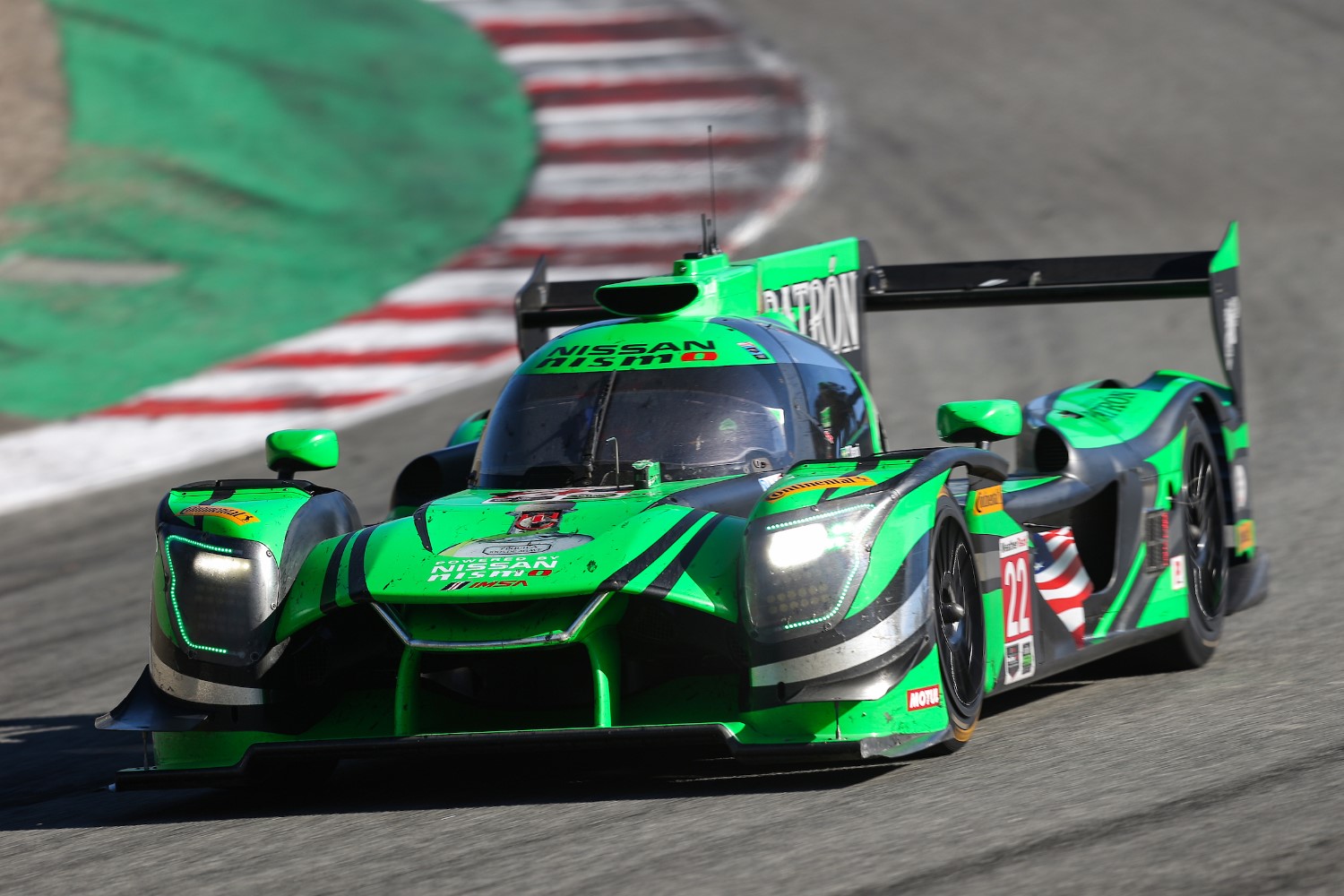 Pipo Derani brings the #22 home in front
All photos LAT for IMSA
In a wild two-hour and 40-minute penultimate round of the 2018 IMSA WeatherTech SportsCar Championship at WeatherTech Raceway Laguna Seca, No. 22 Tequila Patrón ESM Nissan DPi co-drivers Pipo Derani and Johannes van Overbeek rebounded from early setbacks to score their second victory of the season in the America's Tire 250.
Van Overbeek started the car from the rear of the Prototype grid as he missed Saturday's qualifying session due to illness, and he managed to avoid an opening-lap incident that removed the No. 5 Mustang Sampling Cadillac DPi-V.R driven by Joao Barbosa before the starting line and damaged several other cars.
Van Overbeek pitted to turn the car over to Derani just 22 minutes into the race. After a restart following the race's third full-course caution just 46 minutes into the race, Derani spun in Turn 2, but his Nissan DPi avoided serious damage. The Brazilian methodically worked his way forward following the spin, moving into the top five for the first time an hour and eight minutes into the race and staying there for most of the remainder of the race.
He was running second with 35 minutes remaining when race leader Harry Tincknell spun the No. 55 Mazda DPi while attempting to pass the lapped car of Gustavo Yacaman. Derani inherited the lead as a result and never was challenged for the rest of the race en route to victory. He won by 10.9 seconds over Colin Braun in the No. 54 CORE autosport ORECA LMP2 machine.
"My team is amazing," Derani said. "If it wasn't for them, we wouldn't have finished where we finished today. We had a tough race with contact and spin. They kept pushing me over the radio. Save fuel, save tires, but kept pushing me all the time.
[adinserter name="GOOGLE AD"]"It was an amazing day. I had an overtake on the Corkscrew, which is nice. This team, no matter what happens they keep fighting and fighting. We've had a tough season, but here we are with two wins. We've had a lot of DNFs, but a nice race today, and an amazing finish here."
It was the first win for Derani and van Overbeek since March's Mobil 1 Twelve Hours of Sebring Presented by Advance Auto Parts. For van Overbeek, it was his 15th IMSA win (six WeatherTech Championship, 8 American Le Mans Series, 1 GRAND-AM), and it was Derani's fifth IMSA win, all coming in WeatherTech Championship competition.
"Hats off to the Patron guys today," said van Overbeek, who also won at WeatherTech Raceway Laguna Seca in 2014. "They did a fantastic job. There was a lot of attrition and an uncharacteristic number of yellows today. But we fought through and Pipo did an amazing job as usual.
"The stops were spot on, the car was great, he Continental tires were great and the Nissan motor made good power. I couldn't be happier."
Braun and co-driver Jon Bennett made huge gains in the Prototype championship chase with their runner-up result, their fourth consecutive top-two performance. With only the 10-hour Motul Petit Le Mans at Road Atlanta on Oct. 13 remaining on the schedule, Braun and Bennett now trail leaders Eric Curran and Felipe Nasr by four points, 254-250. Curran and Nasr finished fifth in Sunday's race in the No. 31 Whelen Engineering Cadillac DPi-V.R.
Juan Pablo Montoya and Dane Cameron finished third in the No. 6 Acura Team Penske ARX-05 DPi car for their fourth podium result of the season. Tincknell battled back to finish fourth following the spin to finish fourth in the No. 55 Mazda DPi with co-driver Jonathan Bomarito.
After coming into the race just seven points out of the Prototype points lead, Barbosa's co-driver, Filipe Albuquerque, is now a near insurmountable 33 points behind his points-leading teammates from Action Express Racing. As the No. 5 Cadillac did not cross the start-finish line on the opening-lap incident, the car and its drivers did not earn any points.
BMW wins GTLM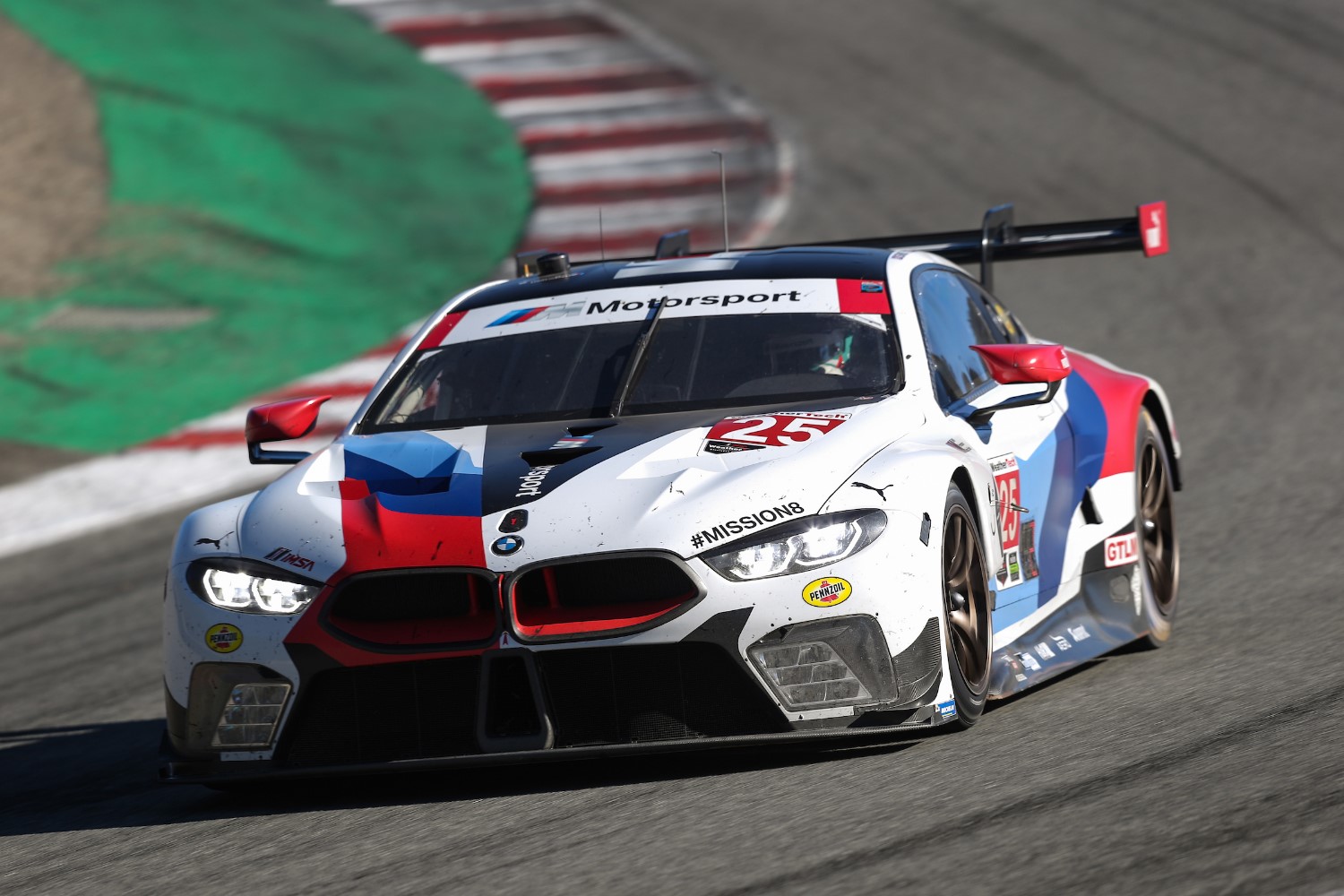 GTLM winning #25 BMW
One race after scoring the first global win for the BMW M8 GTE, BMW Team RLL delivered an encore performance Sunday in the America's Tire 250 at WeatherTech Raceway Laguna Seca.
Connor De Phillippi and Alexander Sims co-drove to their second consecutive IMSA WeatherTech SportsCar Championship victory in the No. 25 BMW, although unlike its maiden win at VIRginia International Raceway three weeks ago, it took every drop of fuel to bring home the checkered flag.
De Phillippi managed to stretch his fuel over the race's final 77 minutes, taking the lead with eight minutes remaining when teammate John Edwards – who was on a similar strategy in the No. 24 BMW – was forced to pit road for a splash to get to the finish. From there it was not only about conserving fuel, but also holding off the No. 912 Porsche 911 RSR of Laurens Vanthoor who finished second, 2.488 second back.
The win continues an impressive stretch for BMW Team RLL. Coincidentally, the only thing keeping the team from three consecutive wins was a similar race at Road America when De Phillippi appeared on his way to victory only to be forced to pit lane for fuel with two laps to go.
"We won at VIR on pace, but here I wouldn't say we were the fastest car," said De Phillippi. "But we drove smart, mistake free and won on strategy. To get two wins in a row shows the team is learning every weekend and building momentum.
"Maybe we were able to be more fuel efficient than the other car. Maybe they didn't think they could make it with their mileage or pace and covered both options. If we had another yellow, they had fresher tires and we didn't. All the cards went our way. We're not super in the fight for the championship, so we're just trying to learn so we can be a bit more aggressive."
Vanthoor was on a similar strategy in a runner-up effort alongside Earl Bamber in the No. 912 Porsche.
With a potential GTLM championship on the line, the No. 3 Corvette C7.R team of Antonio Garcia and Jan Magnussen opted for a more conservative strategy, making an additional pit stop with 45 minutes to go and finishing third for their seventh consecutive podium finish.
It was already a strong points day for the No. 3 Corvette with Ford Chip Ganassi Racing's pair of Ford GTs – who entered WeatherTech Raceway second and third in the class standings – running into early issues.
An accident at the green flag effectively ended the race for the No. 66 Ford GT of Dirk Mueller and co-driver Joey Hand before it even started. The duo entered the race third in points, nine points back, and leaves WeatherTech Raceway down 15 points, 299-284, after finishing seventh.
The No. 67 Ford GT of Richard Westbrook and Ryan Briscoe, meanwhile, finished sixth after contact between Westbrook and the No. 4 Corvette of Oliver Gavin broke the steering rack 49 minutes into the race.
With only the season-ending Motul Petit Le Mans at Road Atlanta remaining, the No. 3 Corvette Racing team and Garcia and Magnussen lead the No. 67 Ford GT of Westbrook and Briscoe by nine points, 299-290.
"For the championship, another podium is great," said Magnussen. "It's not at all what we thought we were going to be able to do here. To be completely honest, I'm a little bit disappointed, but it is what it is. The other cars went really, really long on the last tank – over half of the race distance which is pretty incredible.
"We are in a better position in the points than when we came here, so that's positive. Off to the last one at Road Atlanta and go for a win there."
Parente's Performance Yields Acura GTD Victory, Championship Momentum for Co-driver Legge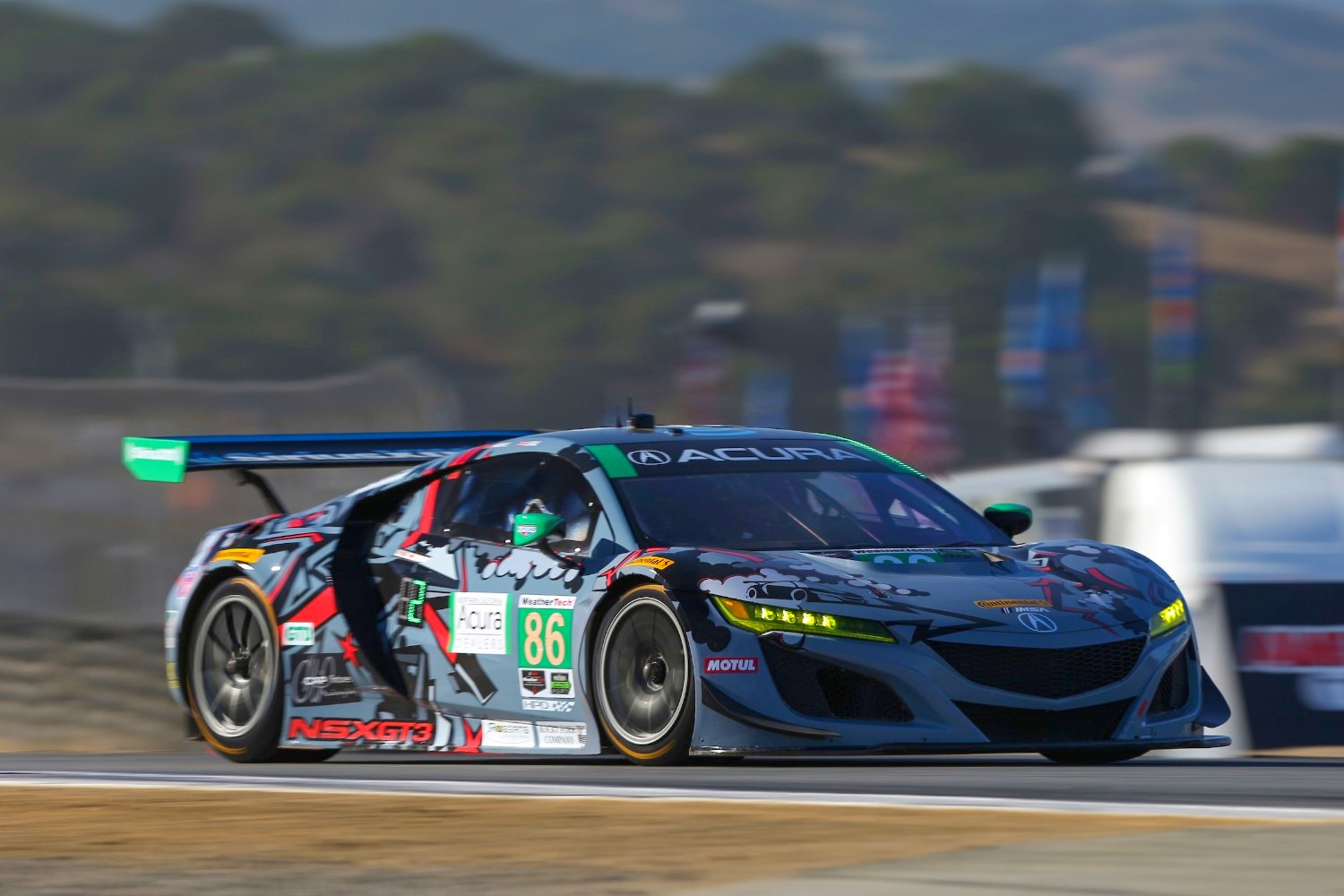 Winning GTD Acura
With a hard-charging performance on Sunday at WeatherTech Raceway Laguna Seca, Alvaro Parente helped deliver another IMSA WeatherTech SportsCar Championship victory for Meyer Shank Racing and bring co-driver Katherine Legge closer to a potential GT Daytona (GTD) championship.
Following the team's final pit stop with 30 minutes remaining in the America's Tire 250, Parente powered the No. 86 Acura NSX GT3 from fourth position to the lead during the final 10 minutes of the race.
"When you've got a competitive car like that, such a competitive car, it makes it a lot easier," said Parente. "I think we took the right risks on the setup. We were super quick. Kat putting it on pole and doing a perfect first stint. When I went out with the gap to the front guys and I was a bit worried, but I knew we could go faster…I managed to pass the guys in the front, they had their tires a little bit more used than mine. What a great weekend for everyone. I look forward to (Motul) Petit (Le Mans)."
While the victory marked Meyer Shank Racing's 10th victory in IMSA – six WeatherTech Championship, four GRAND-AM Rolex Sports Car Series – it also allowed Legge to make strides in the GTD championship hunt. Legge entered the Continental Tire Monterey Grand Prix weekend second place in the standings, 13 points behind Madison Snow and Bryan Sellers. She now sits just six marks back (303 – 297) heading into the season-ending Motul Petit Le Mans at Road Atlanta on Oct. 13.
"He kept my championship hopes alive," said Legge, whose Motul Pole Award on Saturday was the first of her IMSA career. "I think we deserved this one. We all went completely nuts on the timing stand. That was the difference between having a championship and not having a championship. Thanks AP. Six points. It's still some work to do. But we're still in it. It's not over until the fat lady sings."
Legge also dedicated the race victory to Sheena Monk, who is recovering at a local hospital following an accident in the Lamborghini Super Trofeo North America race on Saturday and whom Legge coaches.
Playing a fuel strategy game that ultimately paid off was the runner-up No. 73 Park Place Motorsports Porsche 911 GT3 R of Patrick Lindsey and Joerg Bergmeister. The team – based in Bakersfield, California – has run a partial schedule in 2018 and while the car will be on the grid at the Motul Petit Le Mans, Lindsay and Bergmeister will not be behind the wheel due to a prior commitment. The team's lineup will be announced in the coming weeks.
The last spot on the podium went to Ben Keating and Jeroen Bleekemolen in the No. 33 Riley Motorsports Mercedes-AMG GT3, who are also still in mathematical contention for the championship being 27 points back in third.
It was another GTD race highlighted by manufacturer diversity in the final results – Sellers and Snow finished fourth in the No. 48 Paul Miller Racing Lamborghini Huracán GT3; the No. 44 Magnus Racing Audi R8 GT3 of Andy Lally and John Potter finished fifth; the No. 51 Sqaudra Corse Garage Italia Ferrari 488 GT3 of Ozz Negri and Francesco Piovanetti wound up sixth; and the No. 15 3GT Racing Lexus RC F GT3 of Jack Hawksworth and David Heinemeier Hansson finished seventh.
Results
| | | | | | | | | |
| --- | --- | --- | --- | --- | --- | --- | --- | --- |
| Pos | PiC | No. | CL | Drivers | Team | Car | Laps | Behind |
| 1 | 1 | 22 | P | J. van Overbeek / P. Derani | Tequila Patron ESM | Nissan DPi | 103 | 0.000s- |
| 2 | 2 | 54 | P | J. Bennett / C. Braun | CORE autosport | ORECA LMP2 | 103 | 10.900 |
| 3 | 3 | 6 | P | D. Cameron / J. Montoya | Acura Team Penske | Acura DPi | 103 | 13.396 |
| 4 | 4 | 55 | P | J. Bomarito / H. Tincknell | Mazda Team Joest | Mazda DPi | 103 | 16.872 |
| 5 | 5 | 31 | P | F. Nasr / E. Curran | Whelen Engineering Racing | Cadillac DPi | 103 | 30.034 |
| 6 | 6 | 99 | P | M. Goikhberg / S. Simpson | JDC-Miller Motorsports | ORECA LMP2 | 103 | 40.775 |
| 7 | 7 | 85 | P | S. Trummer / R. Alon | JDC-Miller Motorsports | ORECA LMP2 | 103 | 51.236 |
| 8 | 8 | 52 | P | S. Saavedra / G. Yacaman | AFS/PR1 Mathiasen Motorsports | ORECA LMP2 | 102 | 1 Lap |
| 9 | 9 | 77 | P | O. Jarvis / T. Nunez | Mazda Team Joest | Mazda DPi | 101 | 2 Laps |
| 10 | 1 | 25 | GTLM | A. Sims / C. De Phillippi | BMW Team RLL | BMW M8 GTE | 100 | 3 Laps |
| 11 | 2 | 912 | GTLM | E. Bamber / L. Vanthoor | Porsche GT Team | Porsche 911 RSR | 100 | 3 Laps |
| 12 | 3 | 3 | GTLM | J. Magnussen / A. Garcia | Corvette Racing | Chevrolet Corvette C7.R | 100 | 3 Laps |
| 13 | 4 | 24 | GTLM | J. Krohn / J. Edwards | BMW Team RLL | BMW M8 GTE | 100 | 3 Laps |
| 14 | 5 | 4 | GTLM | O. Gavin / T. Milner | Corvette Racing | Chevrolet Corvette C7.R | 100 | 3 Laps |
| 15 | 10 | 7 | P | H. Castroneves / R. Taylor | Acura Team Penske | Acura DPi | 99 | 4 Laps |
| 16 | 1 | 86 | GTD | K. Legge / A. Parente | Meyer Shank Racing w/ Curb-Agajanian | Acura NSX GT3 | 97 | 6 Laps |
| 17 | 2 | 73 | GTD | P. Lindsey / J. Bergmeister | Park Place Motorsports | Porsche 911 GT3 R | 97 | 6 Laps |
| 18 | 3 | 33 | GTD | B. Keating / J. Bleekemolen | Mercedes-AMG Team Riley Motorsports | Mercedes-AMG GT3 | 97 | 6 Laps |
| 19 | 4 | 48 | GTD | B. Sellers / M. Snow | Paul Miller Racing | Lamborghini Huracan GT3 | 97 | 6 Laps |
| 20 | 5 | 44 | GTD | J. Potter / A. Lally | Magnus Racing | Audi R8 LMS GT3 | 96 | 7 Laps |
| 21 | 6 | 51 | GTD | F. Piovanetti / O. Negri | Squadra Corse Garage Italia | Ferrari 488 GT3 | 96 | 7 Laps |
| 22 | 7 | 15 | GTD | J. Hawksworth D. Heinemeier Hansson | 3GT Racing | Lexus RC F GT3 | 96 | 7 Laps |
| 23 | 8 | 63 | GTD | C. MacNeil / G. Jeannette | Scuderia Corsa | Ferrari 488 GT3 | 96 | 7 Laps |
| 24 | 9 | 64 | GTD | F. Montecalvo / T. Bell | Scuderia Corsa | Ferrari 488 GT3 | 96 | 7 Laps |
| 25 | 10 | 14 | GTD | D. Baumann / K. Marcelli | 3GT Racing | Lexus RC F GT3 | 96 | 7 Laps |
| 26 | 11 | 58 | GTD | P. Long / C. Nielsen | Wright Motorsports | Porsche 911 GT3 R | 96 | 7 Laps |
| 27 | 11 | 2 | P | S. Sharp / R. Dalziel | Tequila Patron ESM | Nissan DPi | 90 | – |
| 28 | 6 | 67 | GTLM | R. Briscoe / R. Westbrook | Ford Chip Ganassi Racing | Ford GT | 71 | – |
| 29 | 12 | 96 | GTD | R. Foley / B. Auberlen | Turner Motorsport | BMW M6 GT3 | 41 | – |
| 30 | 12 | 10 | P | R. Van Der Zande / J. Taylor | Konica Minolta Cadillac DPi-V.R | Cadillac DPi | 18 | – |
| 31 | 13 | 93 | GTD | J. Marks / L. Aschenbach | Meyer Shank Racing w/ Curb-Agajanian | Acura NSX GT3 | 6 | – |
| 32 | 7 | 66 | GTLM | J. Hand / D. Mueller | Ford Chip Ganassi Racing | Ford GT | 2 | – |