Power beats Newgarden for Portland pole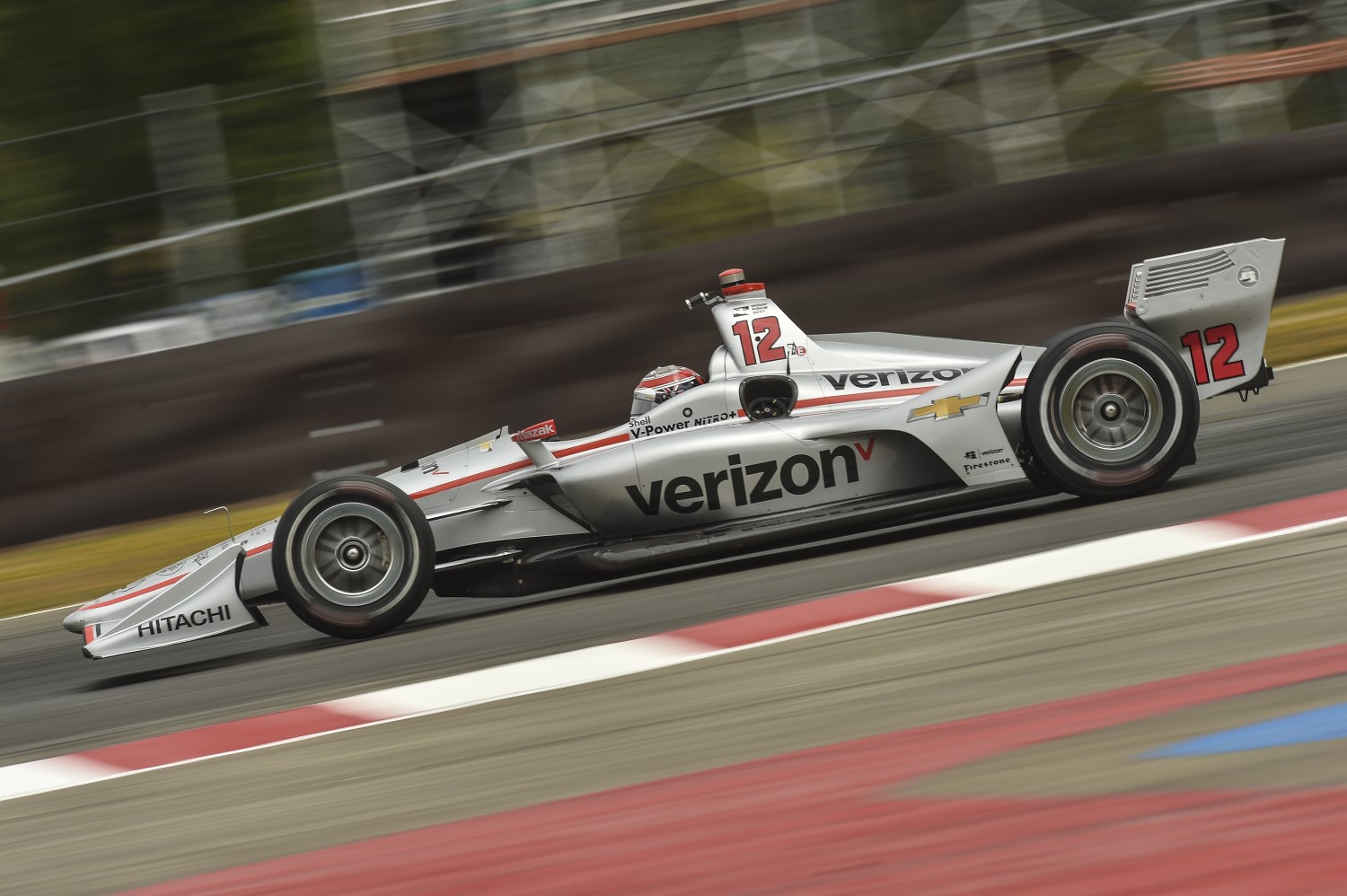 Will Power on pole, again
With a lap time of 57.347s, Will Power put the No. 12 Verizon Team Penske Chevrolet on pole for tomorrow's Grand Prix of Portland. It was the Toowoomba, Australia native's 54th career pole and 4th of 2018. Power's Team Penske teammate Josef Newgarden was second 0.34s behind Power, with Alexander Rossi the lead Honda in third. Sebastien Bourdais managed to qualify fourth following a practice crash this morning while Ryan Hunter-Reay and Zach Veach rounded out the Firestone Fast Six.
Qualifying began with Ed Jones putting the No. 10 NTT DATA Chip Ganassi Racing Honda atop the time sheets in Round 1 Group 1, a mere two-thousandths of a second ahead of Rossi. Jordan King was the lone Chevrolet to advance from the first group, while Veach, Graham Rahal and Marco Andretti would also go through.
Power led a very stout second group in the opening round with a speed of 123.577 miles per hour. Series championship leader Scott Dixon was second with Bourdais posting the third fastest time. Hunter-Reay, Newgarden and James Hinchcliffe also advanced.
A heroic effort by the Dale Coyne Racing with Vasser-Sullivan crew, and a major assist from teammates of the No. 19 and No. 39 cars, allowed Sebastien Bourdais to overcome a huge crash in morning practice and qualify the No. 18 Gorilla Automotive Products car a solid fourth for tomorrow's Portland Grand Prix at Portland International Raceway.
With just minutes remaining in the morning practice, Bourdais turned the fastest lap of the session. Shortly thereafter he entered the Turn 10-11 complex when suddenly he spun and slammed into the wall causing major damage to the rear of the car. The crew immediately flew into action and teammates from the other two Dale Coyne Racing cars jumped in to help. The extensive damage was repaired in under three hours allowing Bourdais to compete in the qualifying session. He went out in Group 2 in the first round of qualifying and despite not knowing the condition of the car advanced into the second round by placing fourth in Round 1. In Round 2 he logged the third quickest lap to advance to the Firestone Fast Six (the final round) where he notched the fourth fastest lap.
The session was a major disappointment for 2016 series champion Simon Pagenaud, who managed only the 22nd fastest time, 0.88s behind Power.
Power would also post the fast time in Round 2 Qualifying with Rossi, Bourdais, Hunter-Reay, Veach and Newgarden joining him in the Firestone Fast Six.
And from there, no one seemed to have anything for Power. The 2018 Indianapolis 500 winner enters tomorrow's race 67 points behind Dixon in the championship standings. Rossi is second, 26 points behind the Kiwi.
Quotes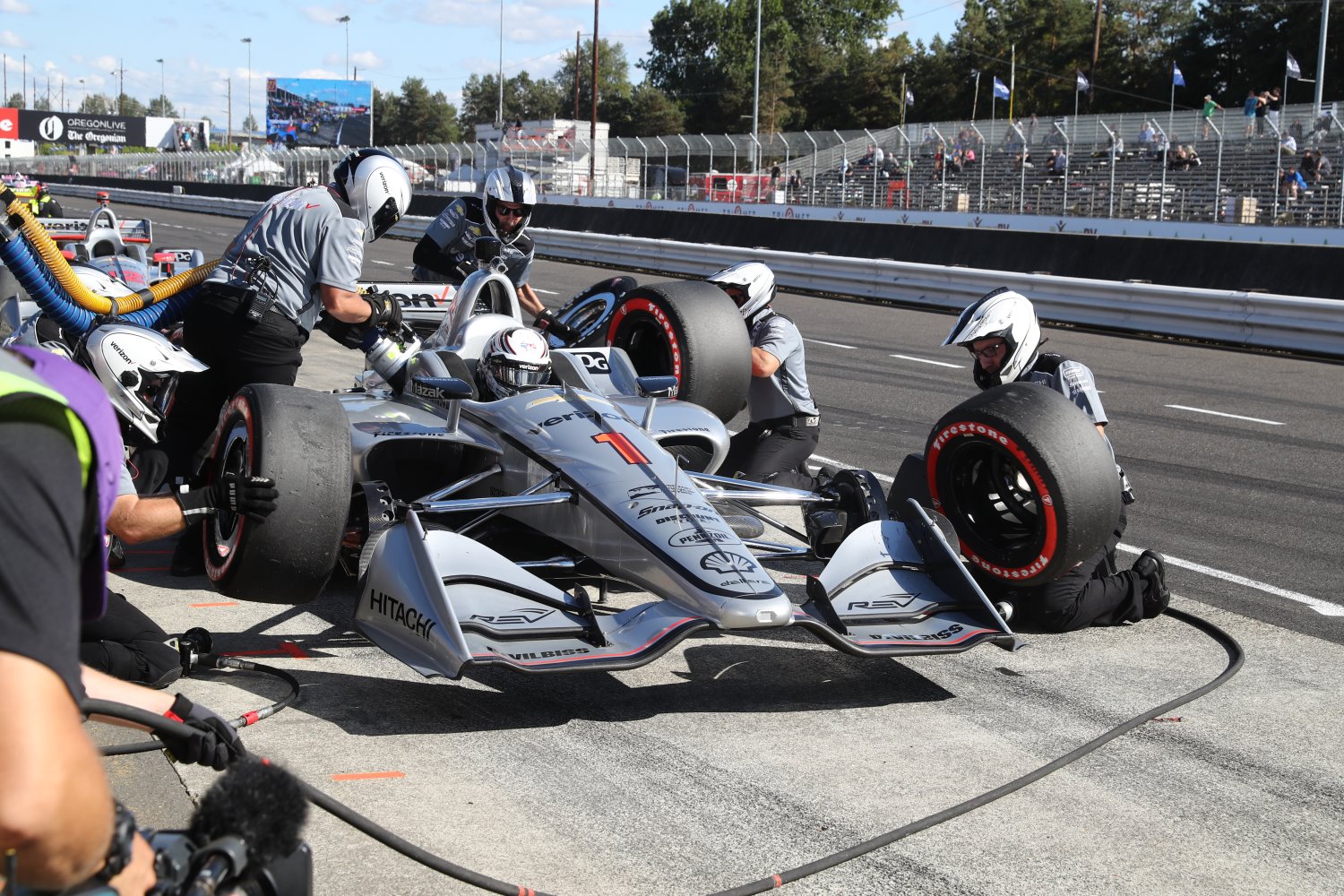 Josef Newgarden
JOSEF NEWGARDEN (No. 1 Verizon Team Penske Chevrolet): "I think for the most part (we got all we could out of the car). I thought we would be top five. I felt like we had that speed, so did Will (Power), for sure. I didn't know if we would have enough for the pole. I hoped so. We had been there, flirting with that top spot. It was just difficult to read the timesheets with how many yellows (flags) we've had, how many checkups we've had. I don't think anyone has posted the best time in practice. We expected to be up there close, at least challenge for it in the Firestone Fast Six. We just had a better car on black (Firestone primary) tires, to be honest with you. Seems like the red (Firestone alternate) tires, we weren't tuned well enough for. This whole weekend we built ourselves into a box of a better race car. I think our race car is going to be pretty good for tomorrow, but not as strong qualifying on red compound tires. That was our downfall. Missed a tenth or two (seconds) in five, six, seven corners from Will. That's where he had a little bit of speed on us. But it's a 1-2 for the team, can't be disappointed."
MATHEUS "MATT" LEIST (No. 4 ABC Supply AJ Foyt Racing Chevrolet): "Qualifying was difficult. We are just struggling a little bit with the car. We didn't find a great pace in the setup. We have to keep working hard and try to make the right choices for tomorrow. We're going to debrief tonight and see what we can do for tomorrow."
JAMES HINCHCLIFFE (No. 5 Arrow Electronics SPM Honda): "Honestly, after what happened this morning and really not getting any laps in Practice 3, I'm really proud of the Arrow Electronics guys. We had a lap that was going to make it into the Firestone Fast Six, but I made a little mistake going into Turn 7 – someone dropped a wheel in front of me and I overcompensated. We haven't been stellar all weekend, to be honest, but we're starting seventh and we're right in the mix there. Proud of these guys, proud of the team and we'll see what we can do tomorrow."

CARLOS MUNOZ (No. 6 Lucas Oil SPM Honda): "It's not the best way to be in the Lucas Oil car, for sure. I know this is Robbie's (Wickens) car and I just wish him a really speedy recovery. Hopefully, he's back here soon. I'm thankful to Sam (Schmidt, team co-owner), Ric (Peterson, team co-owner) and the whole team. Everyone has welcomed me with super open arms. I've been feeling like I've been with the team for a long time now, even though I've only been with them for two days, so that's been really nice. Everyone has been working really hard. I'm thankful to be here and I'm feeling good. Qualifying was a close one, just barely missed moving on to the next round. It's been one year since I've been in the (road course) car, so I'm proud of what we did today."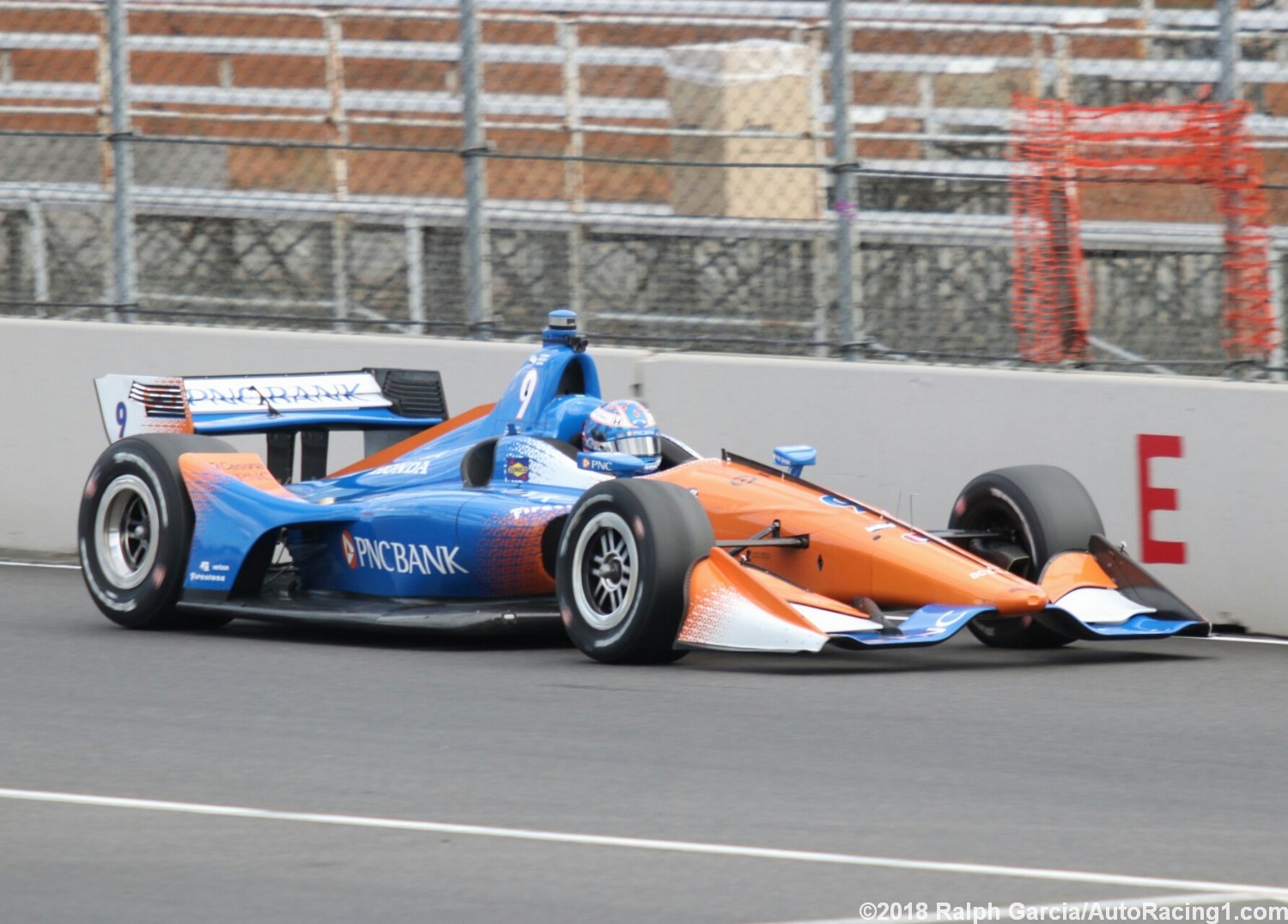 Scott Dixon could only manage 11th
SCOTT DIXON (No. 9 PNC Bank Chip Ganassi Racing Honda): "We were struggling definitely on the blacks (Firestone primary tires) with the car being really loose, and then we knew going to the reds (Firestone alternate tires) that it would flip flop a little bit. The No. 1 car (Josef Newgarden), came out of the pits, so we aborted the first lap and that's when the tires are best. Then we actually started to catch him again a little bit, but I think he was trying to back up from someone else. It makes you hit it right with the reds and get the max out of it on one or two laps. You're going to be out to lunch (if you don't hit it right), and that's what happened to us in the PNC Bank car today."
ED JONES (No. 10 NTT DATA Chip Ganassi Racing Honda): "Obviously, it was a tough qualifying session. The first group in Round 1, we were fastest with the NTT DATA car, so that was good. I think the way the track played out, we just may have gone the wrong way with the balance. We just didn't go enough in the right direction with the balance and that hurt. We just got too much understeer in the car in that second session and didn't have enough to advance."
WILL POWER (No. 12 Verizon Team Penske Chevrolet): (About if his experience at the track played a role in his speed this weekend): "No, I can't even remember that far back (laughter). I mean, it's a very different track. A lot of grip, the car is different. But it's a lot of fun. Really enjoying it out there. I think it's the most grip we've had all year on a track. Cars are really hooked up." (About passing A.J. Foyt for second on the all-time poles list): "Yeah, I mean, obviously to be up with names like Foyt, pretty special and humbling. I need to catch Mario (Andretti) now. I don't think that will happen, that's a lot of poles. But, yeah, unbelievable. I would never have dreamed of being up there with names like A.J. Foyt."

TONY KANAAN (No. 14 ABC Supply AJ Foyt Racing Chevrolet): "It's been a difficult weekend for us. We've tried absolutely everything we could with the setup since Thursday and nothing seems to give the No. 14 ABC Supply car a direction. I'm not sure exactly what to expect from the race. The only thing I can say is that I'll give my 110 percent, like always."
GRAHAM RAHAL (No. 15 Mi-Jack Honda): "It's ultra-competitive, as everyone can see. If you gain a tenth (of a second), you gain four spots. We didn't have quite enough in the heat. This morning in the cool, the car was pretty hooked up, but in the afternoon, we struggled a little bit. We're starting 10th in the One Cure machine and we will put our heads down and work hard and try to stay out of the championship battle, but we have a lot to gain too. We can get in the top five in the points, so we'll be charging. Tomorrow's race is a little bit earlier, being a noon start, and it will be a little cooler, track-temp-wise, which will help. You can see that Takuma (Sato) and I ran about the same times. We definitely need to work on improving the cars a little bit and saving the rears (tires) for the race a little bit. I think it's going to be a physical race, a lot of laps around here with very little break."

SEBASTIEN BOURDAIS (No. 18 Team Gorilla Automotive Products Honda): "That Gorilla Automotive Products Honda No. 18 crew did an amazing job. Honestly, I'm not entirely sure what happened, but I probably just missed the apex by a foot and got myself in the dirt and that was that. Didn't realize that line was that narrow, but when I got out of that car I didn't see a chance that we were going to be able to get back out there (for qualifying), and the entire team, three crews that we have here on site for Dale Coyne Racing and Dale Coyne Racing with Vasser-Sullivan pulled it together, and man, it was pretty impressive. The car was as good as it was this morning, so it's pretty amazing. Hats off to those guys. Hopefully, we can get a good result out of this one."

PIETRO FITTIPALDI (No. 19 Paysafe Honda): "It was a tough group, but that's not an excuse. I think the No. 19 Paysafe car was good. It was good yesterday in practice and Thursday at the test. We're just missing that last little tenth. I'm happy with the performance of the car and the Dale Coyne Racing team has done a great job. I'm feeling a lot better than at Mid-Ohio, still a little bit of pain, but I'm looking forward to the race tomorrow. It's a long race and we'll be pushing to the front."

JORDAN KING (No. 20 Ed Carpenter Racing Fuzzy's Vodka Chevrolet): "The first session, we did a good job and I was quite happy with the car. The track really changed between Rounds 1 and 2. I was two or three tenths slower than I was in the first session, so I'm a bit annoyed. We should have been solidly inside the top 10. The difference between blacks (Firestone primary tires) and reds (Firestone alternate tires) seems quite big here, so it will be interesting to see who has a good car on what tire during the race. Portland is good fun."

SPENCER PIGOT (No. 21 Ed Carpenter Racing Fuzzy's Vodka Chevrolet): "It's frustrating, the car felt a little strange. It just really didn't have the grip to lean on the fronts (tires) or the rears. I was just all over the place. We really didn't change the car too much, so we'll have to look at everything and see what we can do for tomorrow. We've been quick at points over the weekend, so hopefully, we can get the car fast again for the race."

SIMON PAGENAUD (No. 22 Menards Team Penske Chevrolet): "The Menards Chevy is still just super tight. I didn't have enough speed to make it through to the next round. I just need to keep working on understanding the track and getting the best out of the car. We are starting at the back, but we have some red Firestone (alternate) tires for tomorrow. Some good strategy could bring us back to the front and that's what we will try and do."

CHARLIE KIMBALL (No. 23 Tresiba Chevrolet): "Obviously, I'm disappointed with how we qualified today. We made some big strides forward yesterday with the No. 23 Tresiba Chevrolet after Thursday's test. Even this morning, I was still feeling pretty good with where we were, but we just missed the window on tires and qualifying didn't go our way. I'm still confident in our race pace and I think with a little bit of strategy we could still come out of Portland with a good result."

ZACH VEACH (No. 26 Group 1001 Honda): (About when things have started clicking for him in his rookie season with Andretti Autosport): "I think it's a little bit of confidence, understanding the car and knowing where the speed is at. I'm very lucky to have the teammates I do. Every weekend they set the bar insanely high. I'm trying to close the gap. Each weekend, it gets easier and easier. You see where that level is going to be, that's what you strive to get to. I'm lucky. The past three places that we ran at, I think a lot of it's an experience gap between rookies and guys that have been doing this. I was lucky to test at Gateway, Pocono, here about a month ago. That really helps you get up to speed a little quicker and have a better understanding of how to get towards the top of the charts, I think."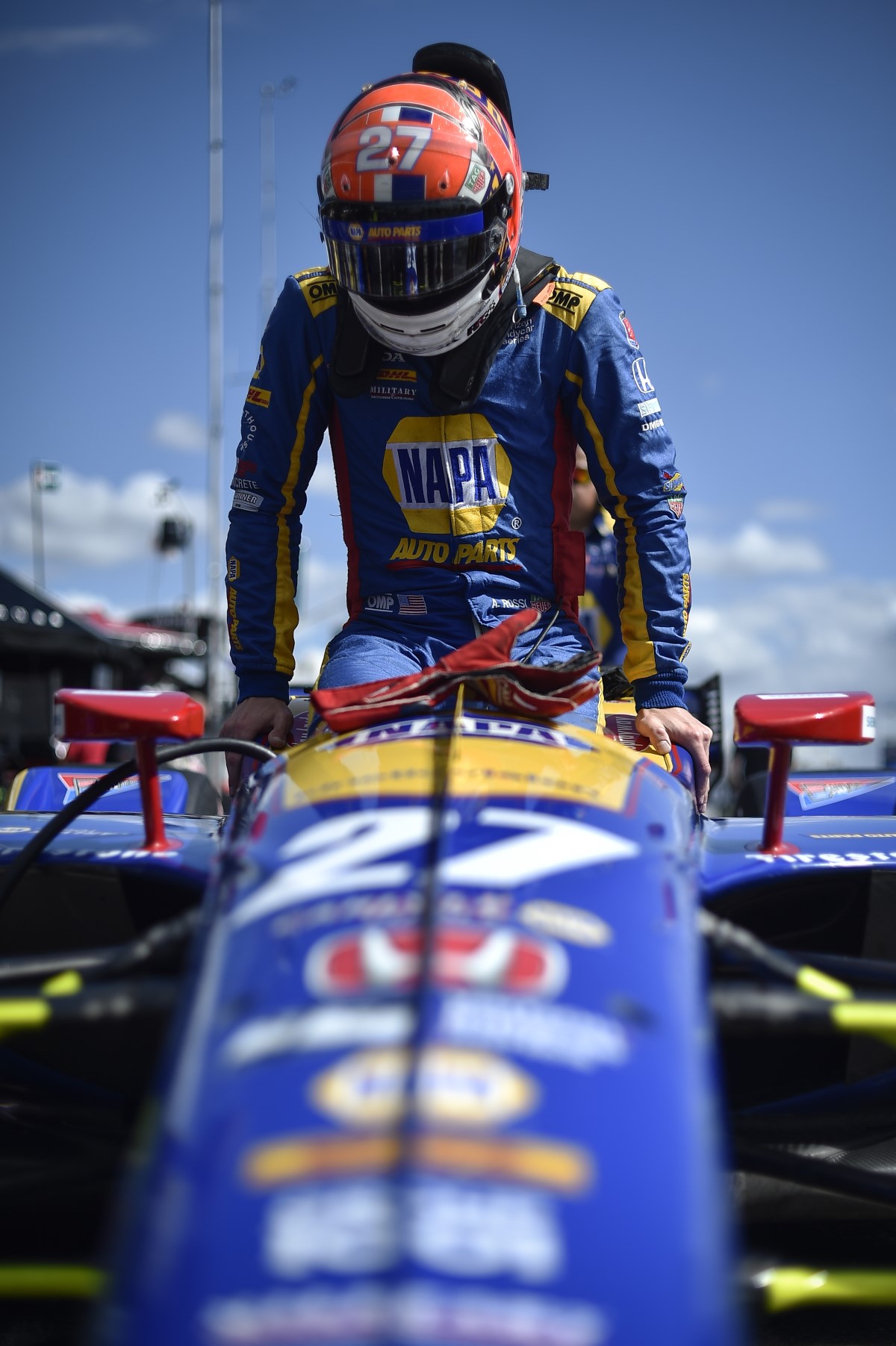 Can Rossi close the points gap to Dixon on Sunday
ALEXANDER ROSSI (No. 27 NAPA AUTO PARTS Honda): "I think at the end of the day, you have to take the good with the bad and it's unfortunate. It's disappointing because I don't think our car had the pace that Will (Power) did, and he's been kind of the car to beat all weekend and we're struggling to find that extra little bit. The positive is, obviously, we are ahead of Scott (Dixon), so we have to maximize that tomorrow as best we can. Hopefully, being on the inside for Turn 1 is a good thing because I know it's definitely tight down there and it's a long run down. On the outside, you are exposed and that's not a good thing. Third is better than second, but definitely worse than first, so we'll put our heads together and try to come up with a car to run up front."
RYAN HUNTER-REAY (No. 28 DHL Honda): "Thanks to the team, teammates, we've been working really well together. We had a good turnaround coming from yesterday. The day before never just really had what we needed from the car. We worked together. Marco (Andretti) has been really quick. We worked with him on a setup for today. He put us on the right track. Thanks to him, as well. Yeah, it was a pretty good day. We went with kind of a funky strategy for the final Firestone Fast Six. Didn't quite pan out for us. We could race from fifth, though. Should be a good race tomorrow. Interesting to see how it all unfolds and what kind of setup is going to be needed to make these Firestones last."
TAKUMA SATO (No. 30 Mi-Jack / Panasonic Honda): "We had a very strong package this morning. The car felt good with the changes we made overnight, so we were very positive about qualifying. Obviously, the temperature was very different between practice and qualifying. It was cold this morning and we had a great session, and then in qualifying, it was the hottest so far of the weekend and changed our speed a lot. Unfortunately, the balance wasn't there and I wasn't able to clock a fast enough time to progress, so I am very disappointed. There are some places to pass, but it will be very challenging. We will continue to work on improving the car and give it our best effort in the race."
ALFONSO CELIS JR. (No. 32 Juncos Racing Chevrolet): "Qualifying has finished and Day 2 has gone by. I would say, in general, I am happy with the direction we went in today and the pace we picked up. Even though we did not qualify where we wanted to be, I think we made a lot of progress as a team this weekend. The car is the best it's been so far. We will keep improving, and tomorrow I think we have some great pace to battle with everyone in the pack. It's a big step forward, so we will now focus on the race."
SANTINO FERRUCCI (No. 39 Cly-Del Honda): "We had a great car, but we unfortunately got caught up in some slower traffic and I couldn't build more of a gap because I had another car behind me. It's a shame because I think we could have gone a couple of tenths faster with our No. 39 Cly-Del Manufacturing Honda to make it into (Group 2). I feel bad for the guys because they've done a great job preparing the car, but it's a long race tomorrow and we'll try to get it up front. I think we have something good for the race."
MAX CHILTON (No. 59 Gallagher Chevrolet): "It's a very fast, challenging circuit and it's such a short lap that it's hard to avoid traffic even with the field split into two groups. We didn't have the pace coming into qualifying today, so we went red, red for tires (Firestone alternate tires), which we've done a few times before this season. I think that strategy has worked well for us because it has put us a few places higher than we would've been otherwise. It's so hard to overtake on this track, so the chance that anyone will move forward that much because they have an extra set of red tires is unlikely, in my opinion. I feel like we made the right strategy call. We'll keep working tonight and try to find a bit more speed in the No. 59 Gallagher Chevrolet for tomorrow's race."
JACK HARVEY (No. 60 AutoNation SiriusXM MSR with SPM Honda): "I had hoped that we could have pulled off a better qualifying result than that. Yesterday, we had a really good handle on the car and I think today it slipped away from us just a little bit. We've shown top-10 speed, so not to transfer is pretty disappointing. It's tough to be on the bubble like that and be the guy to not transfer, but it is going to be our highest start of the year. We are making progress, but just a little disappointed that we couldn't show our pace in qualifying."

GABBY CHAVES (No. 88 Harding Group Chevrolet): "Frustrated with our qualifying session because we have had a pretty good car all weekend. We were just getting ready to open up our fastest lap, and unfortunately, got traffic right ahead of us and it was really hard to get the right gap. Well, that was it. We have some work to do before the race tomorrow now, so far we've had a good car, so we'll keep positive with that."
MARCO ANDRETTI (No. 98 MilitaryToMotosports.com / Curb Honda): "The car today didn't have the potential that it had yesterday. We were battling with both ends of the car today, and I'm bummed we didn't stay with the track because we went from running the best all weekend to the worst on the team when it counts. So I'm pretty disappointed, but we'll come back fighting tomorrow."
RESULTS
| | | | | | | |
| --- | --- | --- | --- | --- | --- | --- |
| Rank | Car | Driver Name | Engine | Time | Speed | Session |
| 1 | 12 | Power, Will | Chevy | 57.3467 | 123.292 | Round 3 / Firestone Fast Six |
| 2 | 1 | Newgarden, Josef | Chevy | 57.6877 | 122.563 | Round 3 / Firestone Fast Six |
| 3 | 27 | Rossi, Alexander | Honda | 57.7361 | 122.461 | Round 3 / Firestone Fast Six |
| 4 | 18 | Bourdais, Sebastien | Honda | 57.8881 | 122.139 | Round 3 / Firestone Fast Six |
| 5 | 28 | Hunter-Reay, Ryan | Honda | 57.9699 | 121.967 | Round 3 / Firestone Fast Six |
| 6 | 26 | Veach, Zach (R) | Honda | 58.1057 | 121.682 | Round 3 / Firestone Fast Six |
| 7 | 5 | Hinchcliffe, James | Honda | 57.6429 | 122.659 | Elimination Round 2 / Top 12 |
| 8 | 10 | Jones, Ed | Honda | 57.6499 | 122.644 | Elimination Round 2 / Top 12 |
| 9 | 98 | Andretti, Marco | Honda | 57.7277 | 122.478 | Elimination Round 2 / Top 12 |
| 10 | 15 | Rahal, Graham | Honda | 57.7772 | 122.374 | Elimination Round 2 / Top 12 |
| 11 | 9 | Dixon, Scott | Honda | 57.8554 | 122.208 | Elimination Round 2 / Top 12 |
| 12 | 20 | King, Jordan (R) | Chevy | 57.9010 | 122.112 | Elimination Round 2 / Top 12 |
| 13 | 60 | Harvey, Jack (R) | Honda | 57.9620 | 121.983 | Elimination Round 1 / Group 1 |
| 14 | 6 | Munoz, Carlos | Honda | 57.6748 | 122.591 | Elimination Round 1 / Group 2 |
| 15 | 59 | Chilton, Max | Chevy | 57.9865 | 121.932 | Elimination Round 1 / Group 1 |
| 16 | 19 | Fittipaldi, Pietro (R) | Honda | 57.7321 | 122.469 | Elimination Round 1 / Group 2 |
| 17 | 21 | Pigot, Spencer | Chevy | 57.9939 | 121.916 | Elimination Round 1 / Group 1 |
| 18 | 39 | Ferrucci, Santino (R) | Honda | 57.7735 | 122.381 | Elimination Round 1 / Group 2 |
| 19 | 4 | Leist, Matheus (R) | Chevy | 58.0036 | 121.896 | Elimination Round 1 / Group 1 |
| 20 | 30 | Sato, Takuma | Honda | 57.7848 | 122.357 | Elimination Round 1 / Group 2 |
| 21 | 88 | Chaves, Gabby | Chevy | 58.1635 | 121.561 | Elimination Round 1 / Group 1 |
| 22 | 22 | Pagenaud, Simon | Chevy | 58.0983 | 121.697 | Elimination Round 1 / Group 2 |
| 23 | 32 | Celis Jr, Alfonso (R) | Chevy | 58.2735 | 121.331 | Elimination Round 1 / Group 1 |
| 24 | 14 | Kanaan, Tony | Chevy | 58.2531 | 121.374 | Elimination Round 1 / Group 2 |
| 25 | 23 | Kimball, Charlie | Chevy | 58.3219 | 121.231 | Elimination Round 1 / Group 2 |