Will Power wins Gateway IndyCar race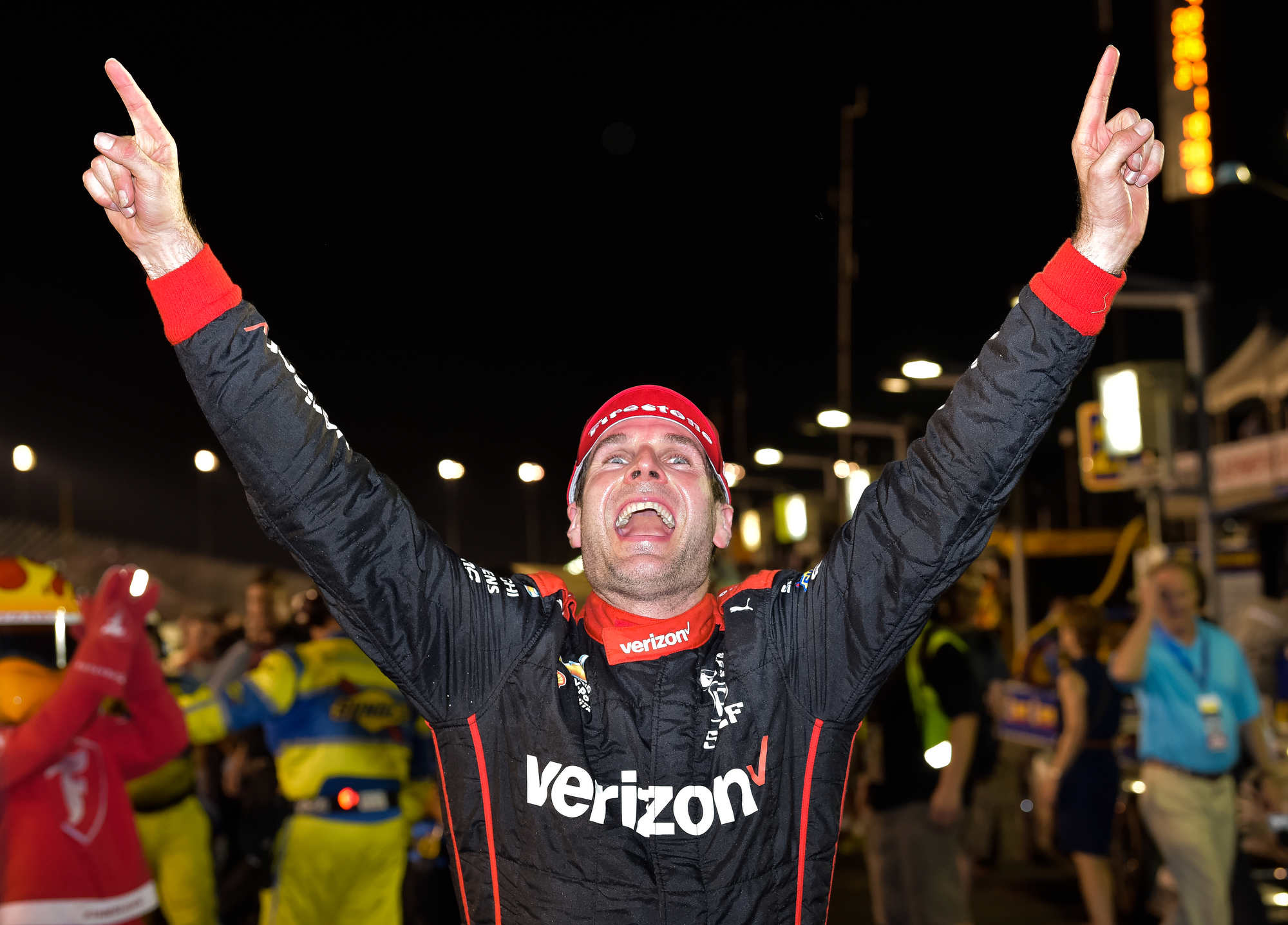 Will Power
Will Power held off a fuel saving Alexander Rossi to win the Bommarito Automotive Group 500 on the 1.25-mile Gateway oval in Madison, Illinois. Rossi finished 1.31 sec back and just 1.4 sec. ahead of points leader Scott Dixon who he is battling with in points. Rossi ran the final stint without pitting and Power ran full rich after pitting to pass Rossi, who was a sitting duck, and win.
****
For the second year in a row, pre-race concern centered on the ability to pass on the Gateway egg-oval. To begin with the track is narrow and barely banked. And of course the thing is newly paved, meaning that everyone has lots of grip. Compounding that is the new aero kit, which threw most teams for a loop until they figured it out. And of course half of practice was rained out.
The race was started on points, which really messed over the Dale Coyne crew. Both cars showed speed, with Pietro Fittapaldi even holding the fast lap for much of the last practice session — a Coyne front row might've been possible? But Bourdais started 9th, and Pietro shotgun on the field. Worse yet, Bourdais found himself in the middle of a 3-car sandwich on the first lap in turn two, with his car skidding sideways into the wall as a result, finishing in dead last on the night.
[adinserter name="GOOGLE AD"]Pietro, however, moved through the field fairly quickly, and hung around the lead lap most of the night. He finished 11th, one lap down, but ran a very respectable race. Coyne has a winner here, and Coyne knows it.
The other feel-good story of the night was Gabby Chaves. Gabby started off 19th, moved into the top 10, but ended up falling 4 laps down with some sort of "we can't tell you" issue. Even after he rejoined the race he ran lots of clean laps at speed, and returned Mr. Harding's car back to him in one piece. BTW, no word on a team mate for Chaves for next year.
Back to our race…
The race ran under green flag for most of the night. In fact, other than Bourdais, the only other yellow came out when Ryan Hunter-Reay's car lost power (fuel pressure) and didn't make it back to the pits on lap 173. (RHR finished 20th). Beyond that, there were a few exiting moments when cars got a bit squirrely. Alexander Rossi made "the father and mother of all saves" (question during the post-race presser) and Pagenaud did scrape the wall.
Before the Hunter-Reay yellow, the track had gone into a one-lane tack in the corners as the marbles accumulated. IndyCar cleaned off the corners during this yellow and probably saved another yellow.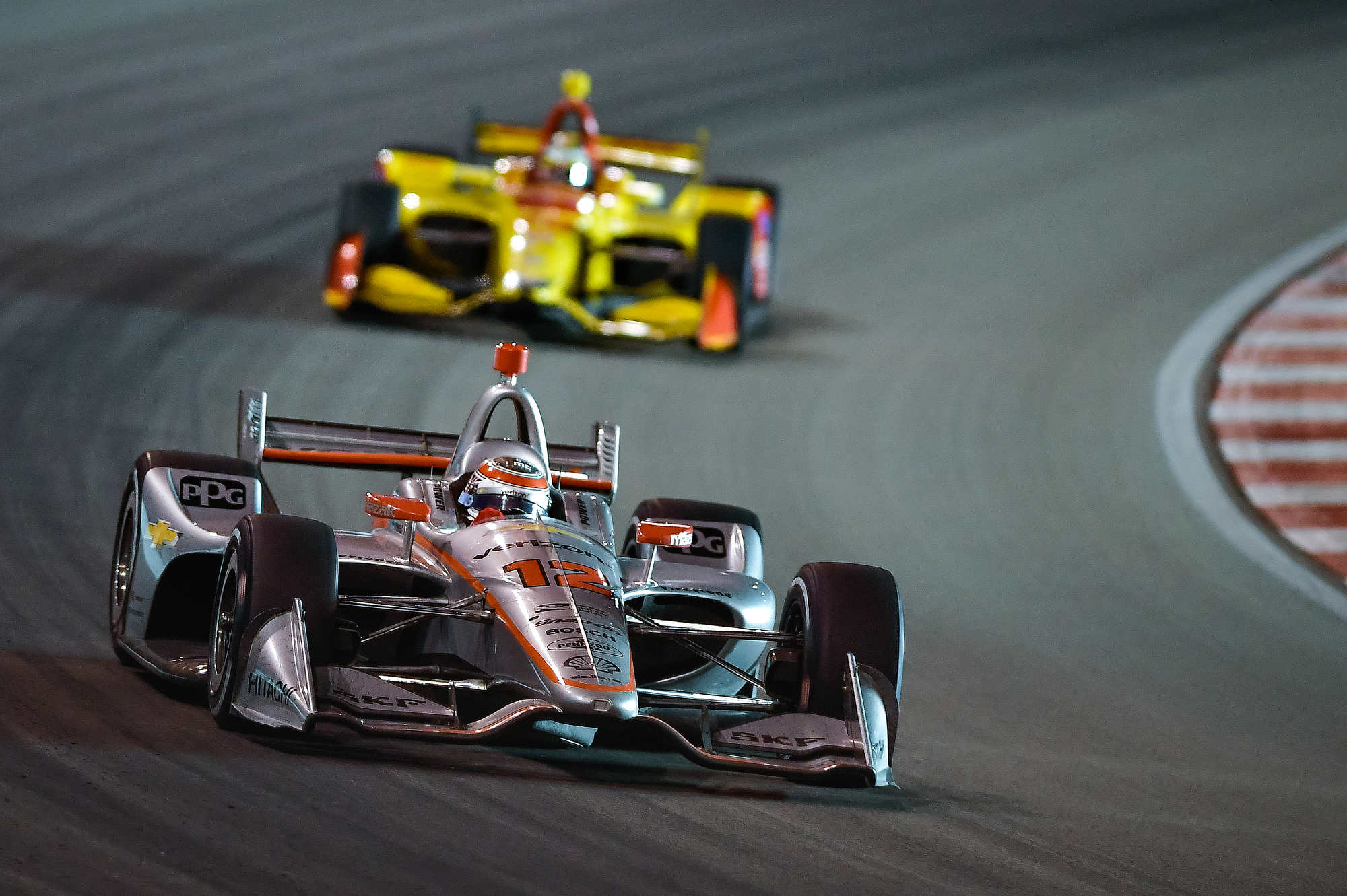 Power battles Hunter-Reay
However, the yellow came with 70 or so laps to go before the end. Surely no one could make it to the end — but then again, Alexander Rossi was one of the better cars. Figuring that they didn't have a top-3 car otherwise, they opted to make a fuel run Rossi ran the race on 3 stops while those he was battling made 4 stops and while that strategy has worked for Rossi in other races, this time he came up 1 spot short. By finishing in front of Dixon, Rossi closed the point lead slightly to 26, while Power is in third 68 points behind the leader with two races to go.
Back up front, Scott Dixon's crew also almost decided to have a fuel run. They tried it for a few laps, but realizing that they weren't a Rossi when it came to mileage, they turned on the power again. However, by then, they'd fallen down in the standings, and probably cost themselves a spot for the night.
Power came out of his splash and go, and in his words, "never passed so many cars before." We asked him during the press conference about that passing thing, since at least half of the field left the track in disgust when they couldn't pass worth a dang all nite. "No overtaking, NONE!" said Sato, for instance. Power explained that the beauty of the current aero package is that you couldn't mask mechanical shortcomings with pure aero, and in races like tonight, a few cars "got it", and a few more were close, and the others just weren't competitive. "That's racing" he said. Indeed, Veach, Fittipaldi and Chaves also showed that passing was indeed possible.
In the end, no one really had anything for Power. "I couldn't believe how much grip I had, especially in turns 3 and 4" he said later. And this gem — "I love ovals!". Power's victory was the 35th of Power's Indy car career, moving him ahead of Al Unser Jr. and into a tie with Bobby Unser for sixth all time. It was also the fifth win for Team Penske in nine races at Gateway.
*************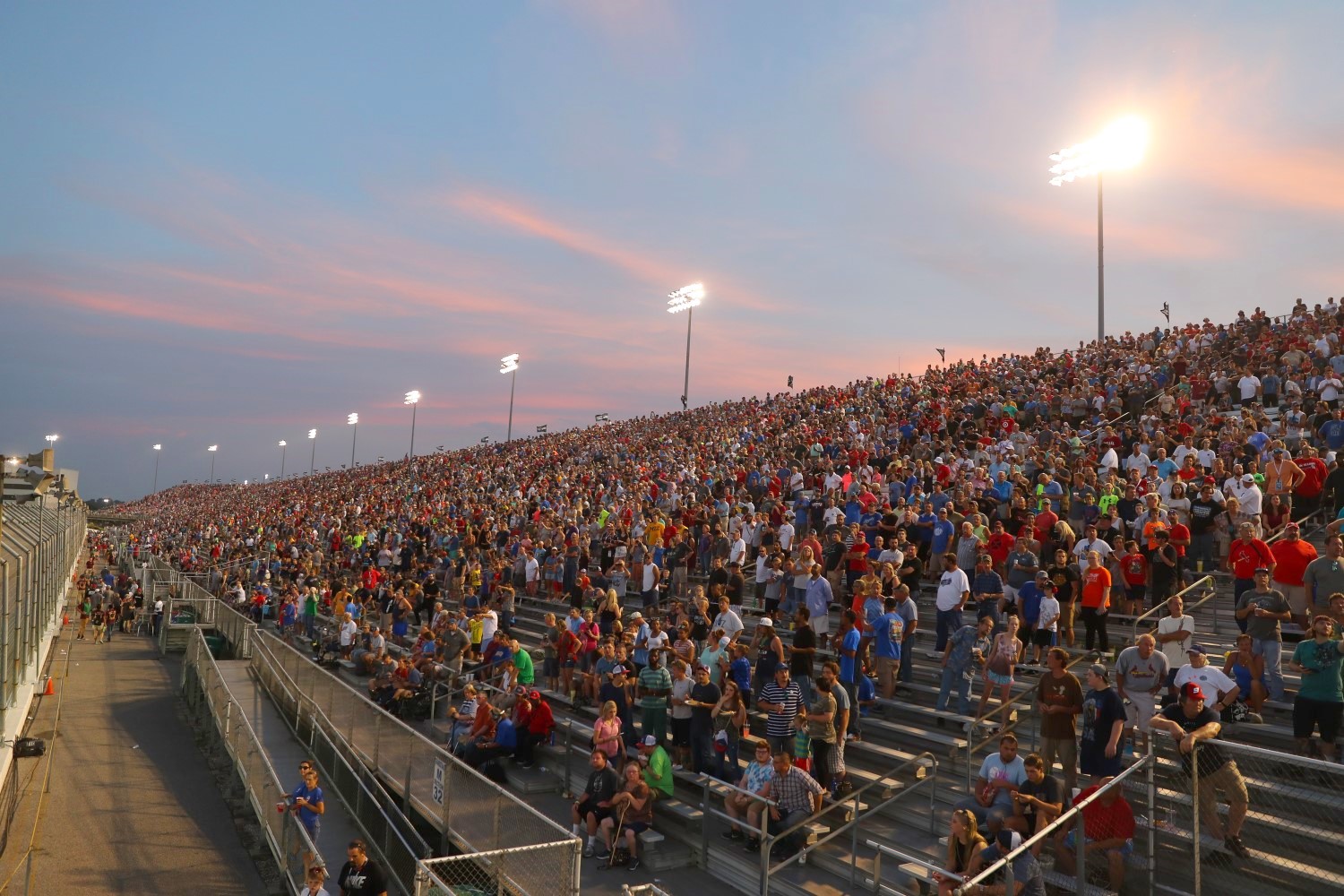 It's amazing how well IndyCar draws if it is not an ISC or SMI owned NASCAR track
The race crowd size was fantastic. It might just become the second largest event of the IndyCar schedule at this rate. NASCAR owned tracks (incl ISC and SMI tracks) might want to check out what is possible instead of (seemingly) wanting IndyCar to fail.
*******
Should Robbie Wickens read this — Dude, your tee shirt and hat sales are off of the charts! Everyone who could buy one (before they sold out) was wearing a Wickens hat or tee. Not saying that you should've gotten hurt sooner — or at all — but it's done wonders for your shirt sales! Oh, and get well soon…..
Quotes
JOSEF NEWGARDEN (No. 1 Verizon Team Penske Chevrolet): "Tough night. We kept in it, we tried to make the most of it. We just lost too many positions there at the end. The whole race long, we just didn't get the timing right. We got caught out in a couple of different times. Will (Power) got stuck up in the gray and we lost some speed when we caught him and lost a couple of spots there. We tried to make a fuel number there at the end and it ended up biting us. We worked hard. We had great pit stops; the guys did a great job. We just couldn't get the timing right tonight and had to settle for the Verizon Chevy finishing seventh. But we have a car in one piece, so we go on to Portland and try and redeem ourselves."
MATHEUS LEIST (No. 4 ABC Supply AJ Foyt Racing Chevrolet): "Very difficult race, very tough to run in traffic. Most of the race we were trying to figure out what to do to run faster. I was playing with my tools inside the car, bars and weight jacker. At the end of day, I think it was a good race. We made some improvements throughout the weekend, which is good, so we're getting there. The pit stops were good, so good job to all my team – the guys have been working hard since Day 1. The ABC car was good. Thanks to all the fans that came here tonight. Now onto Portland."
JAMES HINCHCLIFFE (No. 5 Arrow Electronics SPM Honda): "Pretty disappointing day, obviously. We just didn't have the pace in the fuel save mode and had to have been in a fuel-save strategy twice, which kind of puts in you the worst of both worlds. It was a tough day for us and not the result we were hoping for. We have had a good short oval package so far this year. I think if the race played out differently with the cautions, we could have still had a good finish in the Arrow Electronics car, but ultimately it wasn't in the cards today. Now we regroup and move onto Portland and the last two races."

SCOTT DIXON (No. 9 PNC Bank Chip Ganassi Racing Honda): "I think it was a good race for us and the PNC Bank team. It was great to lead a bunch of laps and have a good car, especially after not testing here. There were two different strategies that played out and I'm a bit mad at myself tonight for not making a decision quicker on which one to take. I'm not sure if it would have made a huge difference in the end, but it's a solid result and we lost just a small bit to (Alexander) Rossi."
ED JONES (No. 10 NTT DATA Chip Ganassi Racing Honda): "Obviously, we had a decent pace, and if we had run qualifying, we would have been in the top five all race. It's tricky to pass cars at this track, but we made the most of what we had and I even raced up to third at one point. When we caught the backmarkers, I got pushed up a bit high and lost a lot of grip when I got up into the marbles. It was not a bad result for the NTT DATA car considering we started 12th, but for sure, I think there was more in there."
WILL POWER (No. 12 Verizon Team Penske Chevrolet): The car was not that good last night. We had to work, have a really good think about it and spend a little time speaking with my engineer. We came up with a really good setup, or what we thought would be a good setup, and it ended up being one. It was just a lot of fun out there. I was so happy to win my first race with Roger (Penske, as my race strategist). I was just wondering when that was going to come because I didn't get to work with him in Indy and obviously won two races there. That was my first win with Roger (as my race strategist) and when he told me I could go wide open and not save fuel, that was a great call and a lot of fun to chop through the field. I've never passed so many cars in a shorter period of time. I have to thank INDYCAR for a great package, as well. As you could see, last year it was very difficult to pass and they came up with a package this year where you could definitely pass and run close."

TONY KANAAN (No. 14 ABC Supply AJ Foyt Racing Chevrolet): "We gambled with the strategy and it didn't work out. I'm disappointed because the No. 14 ABC Supply was fast all night and we were running in the top 10 when we got caught out by that yellow."

GRAHAM RAHAL (No. 15 Mi-Jack Honda): "If the yellow hadn't come out, we were sitting beautifully. I think there was only a few of us that were going to be able to actually make it in three stops. We were average, but better than those we were around, but we couldn't get track position. We couldn't get track position through strategy and we couldn't get track position on track by passing, so we were kind of stuck behind Takuma (Sato) and Spencer (Pigot), who we were definitely better than, but there was nothing we could do. Then the yellow came out and really hurt us. We just tried to salvage our strategy and to do that last run that long. The fuel number we had to get was so extreme that I couldn't keep up with the pack. It's frustrating."

SEBASTIEN BOURDAIS (No. 18 Team SealMaster Honda): "I have no idea what happened. I think Graham (Rahal) was getting a little loose inside, so I moved into the second grove. Then in the middle of Turn 2, the car got loose as (Ed) Jones made it three wide and I lost it. It's frustrating and a shame. The SealMaster Honda No. 18 guys worked really hard and we had a good car. We will just have to regroup, and hopefully, have a better weekend at Portland."

PIETRO FITTIPALDI (No. 19 Paysafe Honda): "I'm really happy with how our race went tonight. The whole No. 19 Paysafe Dale Coyne Racing crew did an amazing job on the pit stops. We knew our pace was good going into the race, but since we were starting last, we thought that if we finished 15th or 16th that it would be a good race for us because it's so difficult to pass here. But we got some good runs and passed a couple of cars and we did a fuel-saving strategy that worked in our favor and we finished 11th. I'm really happy with that, especially after coming back from my injury and now finally getting my first solid finish. I'm excited for the next two races."
ED CARPENTER (No. 20 Ed Carpenter Racing Fuzzy's Vodka Chevrolet): "I was hoping for a little better night. I just didn't have a very good balance on cold tires and I lost too many positions at the start of the race. After the first stop, we went long with everyone else. We didn't really feel like we were going to get it done doing that, so we started short pitting and trying to get track position with quick lap times. I feel like we would have been inside the top 10 if A, I could have stayed in front of Will (Power) on the lead lap, or B, that yellow didn't come out. That's just the way it goes when you go with that strategy when you pit early; that's what you put yourself at risk for. I'd hoped to put the Fuzzy's Vodka car on the podium again for my last race of the season, but it didn't work out that way. On the other hand, Spencer (Pigot) had a really good drive and continues to show well in the second half of the season. Hopefully, my 'children' can do well at Portland and Sonoma and give ECR a good finish to the season."
SPENCER PIGOT (No. 21 Ed Carpenter Racing Fuzzy's Vodka Chevrolet): "We definitely got stronger throughout the race. The guys made some good changes for me during the stops and they were good pit stops, as well. We were able to jump some people on the pit cycles, which was great. The last 80 laps were a lot of fun. There were people on different strategies and we were just going flat out, going as quickly as possible and passing as many people as we could. It was a lot of fun with so many close battles and a lot of dicing. I am happy to have finished sixth from where we started. It's a shame we didn't get to qualify. It would have been nice to try and start a little higher up. Overall, I'm really happy with the result and for my Fuzzy's Vodka guys."
SIMON PAGENAUD (No. 22 Menards Team Penske Chevrolet): "I think we had a winning car. When Will (Power) passed me, I was saving fuel and I tried to hold the high lane. It didn't work. So, we lost about, I don't know, six or seven positions. But we came back because the car was so good. What a shame. But, in the meantime, I had a blast. There was some awesome racing out there, especially at the end. With the strategies, I think it just threw a curve for everybody and made the racing really good at the end. So, I think we had a winning car. But, that's good. That's really good. My guys did a phenomenal job in pit lane."

CHARLIE KIMBALL (No. 23 Tresiba Chevrolet): "I've said it all year and I'll continue to say it, I'm really proud of these Carlin guys. We fought the balance, and when I was pushing on an out lap, I tagged the wall and bent a toe link. The guys had never done a hot change like that in a race in the pits, but they made the repair and sent me back out with a car that was still just as rock solid as it'd been before. We've got a lot to learn not just with pace, but also with what we can do in traffic and how to be a little bit more competitive. I think the highlight for the night for us as a team is how the guys did in the pits. We'll learn from tonight, like we always do, and be better next time."
ZACH VEACH (No. 26 Group 1001 Honda): "I really wish we could go back to St. Petersburg right now and start this season over. I've got to give credit to my Group 1001 guys and, of course, my Andretti Autosport teammates. Those guys have helped me so much this year, just teaching me little by little. It's finally starting to come together and I'm just so thankful for that."

ALEXANDER ROSSI (No. 27 NAPA AUTO PARTS Honda): "Every weekend we just have to try and beat Scott (Dixon). Will (Power) was amazing today, so congrats to him. I'm a little lost for words. I'm not sure how we made that happen today, that's unbelievable. I wasn't full throttle at all for the last 70 laps. It was a huge ask when Rob (Edwards, race strategist) came over the radio and told me the fuel number. I was like, 'Here we go again.' I couldn't have done it without a great NAPA Andretti Honda. I don't know that we had enough for Will, even if it was a flat-out race to the finish. But the important thing is we beat Scott and closed the (points) gap a little bit."
RYAN HUNTER-REAY (No. 28 DHL Honda): "Really bummed to end the race from the garages. We had a problem with fuel pressure – the car just shut off on the frontstraight and we weren't able to recover. It's a shame because we were really making the No. 28 DHL Honda fly. The track just kept getting more and more grip and we were able to get more aggressive. We were just getting into the mix, the car was coming to us. We were going to fight Will (Power) for the win at the end."
TAKUMA SATO (No. 30 Mi-Jack / Panasonic Honda): "It was a frustrating night, to be honest. Yesterday, we almost lost the first session due to a mechanical problem and virtually only got one practice session which put us behind. There was no qualifying, no data and you have to guess the setup. Coming into today, we had an opportunity with a three-stop strategy and we were looking good. We were one of the latest to pit and it was looking good, but the last yellow, the only yellow, basically, blew our strategy. We had an option to go for it like everyone else or try to save fuel and stretch the stint. We tried to stretch the stint, but the car didn't have enough pace for the fuel and that's why we lost a position after the restart. We tried and the guys did a good job. Clearly, we need to find speed, but it was a solid night."

MAX CHILTON (No. 59 Gallagher Chevrolet): "That was another long, hard-fought race for the No. 59 Gallagher Chevrolet and the whole Carlin team. It was going to be challenging for us to improve too much, no matter how the race played out, just with it being so difficult to pass and us starting so far back on entrant points. I'd say we're still not where we want to be as far as results, but on a positive note, we have another oval race worth of experience that we can build on for next year."
GABBY CHAVES (No. 88 Harding Group Chevrolet): "I'm really gutted tonight because we had a really fantastic and competitive race car. We worked our way on track and we easily should have been a top-10 finish car. I'm not sure what happened, I think it was into our third or fourth stint. Everything was fine, I went into Turn 1 and felt the car bottom out a little bit and just went completely straight off the track, came off the corner and had a lot of slack on the wheel. I thought that something was for sure damaged. Unfortunately, I came into the pits and we looked at it and didn't find anything, so I went back out to finish the race. We had such a good car, I'm really gutted how it ended because it could have been so much better."
Results
| | | | | | | | | | | |
| --- | --- | --- | --- | --- | --- | --- | --- | --- | --- | --- |
| Pos | No | Name | Laps | Diff | Gap | Pits | ST | Engine | Points | Team |
| 1 | 12 | Will Power | 248 | 0.0000s | 0.0000s | 4 | 4 | Chevy | 500 | Team Penske |
| 2 | 27 | Alexander Rossi | 248 | 1.3117 | 1.3117 | 3 | 2 | Honda | 542 | Andretti Autosport |
| 3 | 9 | Scott Dixon | 248 | 2.8092 | 1.4975 | 4 | 1 | Honda | 568 | Chip Ganassi Racing Teams |
| 4 | 22 | Simon Pagenaud | 248 | 3.1336 | 0.3244 | 4 | 6 | Chevy | 400 | Team Penske |
| 5 | 26 | Zach Veach | 248 | 7.2693 | 4.1357 | 4 | 16 | Honda | 270 | Andretti Autosport |
| 6 | 21 | Spencer Pigot | 248 | 10.5509 | 3.2816 | 4 | 14 | Chevy | 281 | Ed Carpenter Racing |
| 7 | 1 | Josef Newgarden | 248 | 10.6003 | 0.0494 | 4 | 3 | Chevy | 490 | Team Penske |
| 8 | 10 | Ed Jones | 248 | 22.1362 | 11.5359 | 4 | 12 | Honda | 297 | Chip Ganassi Racing Teams |
| 9 | 30 | Takuma Sato | 247 | 1 LAPS | 6.8708 | 3 | 13 | Honda | 290 | Rahal Letterman Lanigan Racing |
| 10 | 15 | Graham Rahal | 247 | 1 LAPS | 2.9916 | 3 | 7 | Honda | 371 | Rahal Letterman Lanigan Racing |
| 11 | 19 | Pietro Fittipaldi | 247 | 1 LAPS | 4.4754 | 4 | 21 | Honda | 11 | Dale Coyne Racing |
| 12 | 20 | Ed Carpenter | 247 | 1 LAPS | 13.1520 | 4 | 11 | Chevy | 187 | Ed Carpenter Racing |
| 13 | 14 | Tony Kanaan | 246 | 2 LAPS | 3.9387 | 4 | 15 | Chevy | 257 | AJ Foyt Enterprises |
| 14 | 98 | Marco Andretti | 246 | 2 LAPS | 5.6599 | 4 | 10 | Honda | 327 | Andretti Herta Autosport with CA |
| 15 | 5 | James Hinchcliffe | 246 | 2 LAPS | 1.2556 | 4 | 8 | Honda | 353 | Schmidt Peterson Motorsports |
| 16 | 4 | Matheus Leist | 246 | 2 LAPS | 13.2660 | 5 | 18 | Chevy | 2 | AJ Foyt Enterprises |
| 17 | 59 | Max Chilton | 244 | 4 LAPS | 1 LAPS | 5 | 20 | Chevy | 21 | Carlin |
| 18 | 88 | Gabby Chaves | 242 | 6 LAPS | 1 LAPS | 6 | 19 | Chevy | 23 | Harding Racing |
| 19 | 23 | Charlie Kimball | 235 | 13 LAPS | 7 LAPS | 6 | 17 | Chevy | 15 | Carlin |
| 20 | 28 | Ryan Hunter-Reay | 172 | 26 LAPS | 15 LAPS | 3 | 5 | Honda | 421 | Andretti Autosport |
| 21 | 18 | Sebastien Bourdais | — | 0.6092 | 0.0809 | | 9 | Honda | 334 | Dale Coyne Racing with VS |
Race Statistics
Winner's average speed: 155.644 mph
Time of Race: 1:59:30.1972
Margin of victory: 1.3117 seconds
Cautions: 2 for 16 laps
Lead changes: 10 among 5 drivers
Lap Leaders:
Dixon, Scott 1 – 59
Power, Will 60 – 62
Sato, Takuma 63 – 64
Dixon, Scott 65 – 119
Rossi, Alexander 120 – 123
Sato, Takuma 124 – 125
Dixon, Scott 126 – 149
Power, Will 150 – 230
Dixon, Scott 231 – 237
Veach, Zach 238 – 239
Power, Will 240 – 248
Verizon IndyCar Series point standings: Dixon 568, Rossi 542, Power 500, Newgarden 490, Hunter-Reay 421, Pagenaud 400, Wickens 391, Rahal 371, Hinchcliffe 353, Bourdais 334.