IndyCar ABC Supply Pocono 500 postscript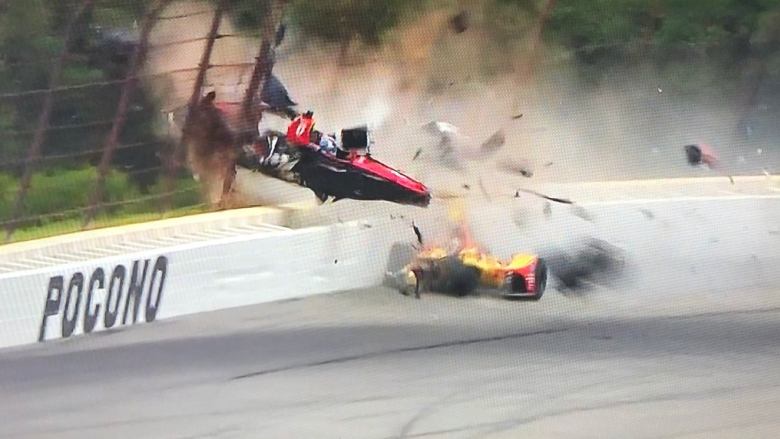 Wickens hits catch-fence post which breaks his back, both legs and right arm
It was undoubtedly a difficult weekend for the Verizon IndyCar Series at Pocono Raceway. Surely, by now, you have seen the video and are following the news regarding Schmidt Peterson Motorsports driver Robert Wickens. And while Wickens is in stable condition, certainly the updates we have received thus far suggest that his long-term health remains at this point, uncertain.
On behalf of AutoRacing1, I would like to extend our prayers and best wishes to the friendly, talented Canadian.
While Alexander Rossi won Sunday's ABC Supply 500 at Pocono Raceway in dominant fashion, the story to come from the weekend was undoubtedly the safety discussion sparked by Wickens' accident. In particular, debris fencing and its prevalence in racing has come under scrutiny. And this issue of safety will be the primary focus of today's article.
Now, I think it's important to establish the very broad, yet important, premise that the subject of debris fencing and well safety in general is a very complex one with many different considerations. Furthermore, those considerations often aren't merely misaligned but in direct competition with one another which we will see as we move ahead. And for now, I'm going to try and hit on a few bullet-point type matters, with perhaps a longer, more detailed piece at some point down the road.
To begin, it is very important to understand that the first goal of debris fencing is to protect spectators not race car drivers. Yes, I know that there were no spectators in the area of Wickens' crash, and we'll get to that. Also, this is not to say that race car drivers are simply sacrificial lambs to whom no considerations are afforded. But race car drivers are merely part of the equation and not the only consideration.
Second, any safety system that protects spectators must take into account minimizing any impact on spectator viewing. Racing is a very sensory experience; the sounds, sights, smells, etc. are crucial to the overall product. If spectators don't have reasonable access to these sensations, they will come in significantly lesser numbers or not come at all. And if they don't come, there is no race. And if there is no race…..you get the picture.
Of course, while still meeting the criteria above, debris fencing should be designed in a way that minimizes potential injury to a driver. But again, it's not exactly that simple.
[adinserter name="GOOGLE AD"]For one, different debris fencing inevitably suits different racing series better than others. However, it isn't practically or financially realistic to expect a permanent facility such as Pocono Raceway to have different systems for the different series they host. And in the case of Pocono Raceway, or any other facility, their permanent safety system is going to be built with its biggest revenue producer in mind. We know for Pocono, which hosts two NASCAR races, that is NASCAR.
Without going into the details of the fence, a heavier, boxy stock car requires catch fencing that is strong, rigid and impenetrable. Furthermore, relatively large holes in the mesh part of the fencing do not pose the danger to stock cars that they do for angular Indy cars. Indy cars going into the mesh means they are more likely to hit the poles (which are relatively closer together in this type of fencing) at deeper angles. And while we don't have all the data from Wickens' crash yet, it is hitting the poles in the fence where the real danger comes in.
Allow me to be clear: this is not a criticism of any track, safety system, or sanctioning group. My intention here is to look at the realities, practical, financial and otherwise, of the situation as it is. And the simple truth is that if IndyCar is going to run on high speed ovals, the safety systems on those high speed ovals are not built with IndyCar's current formula in mind.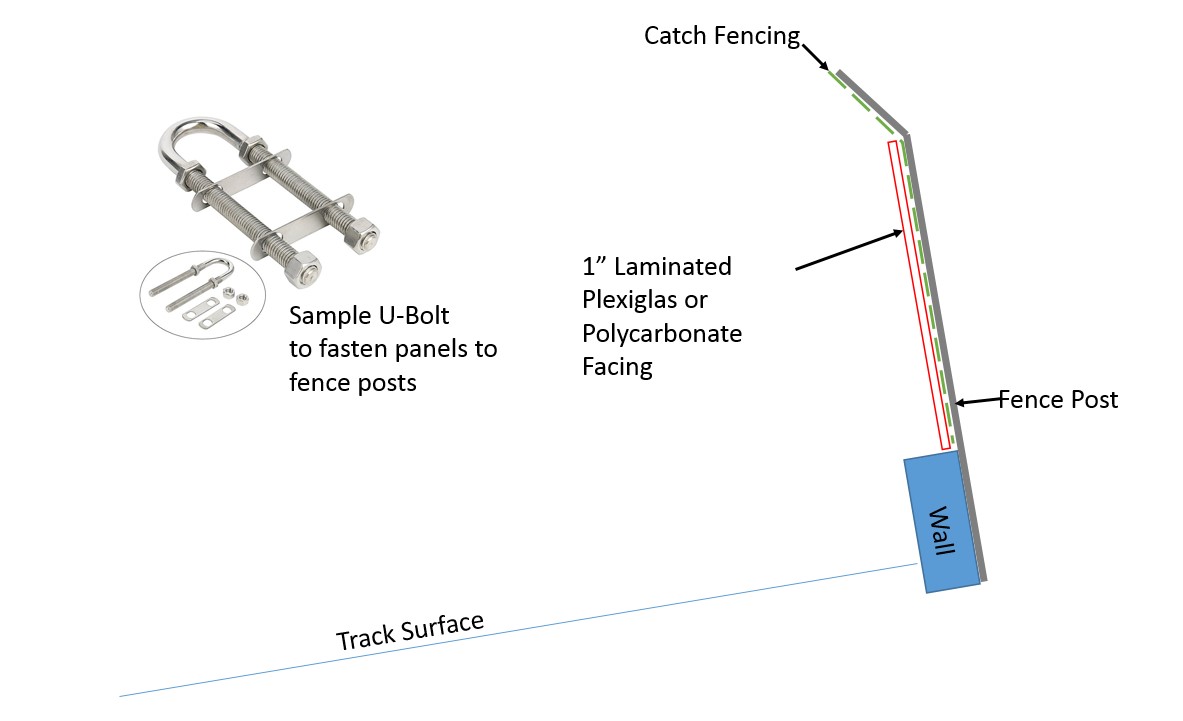 Had the fence at Pocono been lined with 1" thick plexigass panels his car would not have impacted the fence poles and he would be racing at Gateway this weekend
Another complication for the series is the fact there is really no motivation globally to develop a system suited for Indy cars on ovals. While there have been measures to get the FIA to approve systems that provide more give on impact yet are still strong and impenetrable, there isn't much in the way of motivation. For one, even if someone had the resources to develop a system, IndyCar is really the only single-seater series running on high speed ovals. And let's face it: it's not as if IndyCar is packing the stands with tons of fans for an oval race (save for the Indy 500).
In short, developing a system specific to IndyCar on ovals would require lots of investment with very little, if any return.
So, a picture should have emerged here. Domestically, IndyCar is racing on ovals with safety systems built with NASCAR in mind. Globally, there is little impetus from the FIA to develop a better system, as they are not really in the business of oval racing. Therefore, if IndyCar is to continue on ovals, it will need to accept running on tracks as they are.
Let it be noted, the above merely scratches the surface of an incredibly complicated subject. I did not even go into some of the many suggested alternatives we have seen since Wickens' crash. Of course, many of those have practical complications in addition to the obvious financial concerns.
However, I do feel the points highlighted above provide a more than adequate working outline should you have the desire to delve further into the matter.
Dixon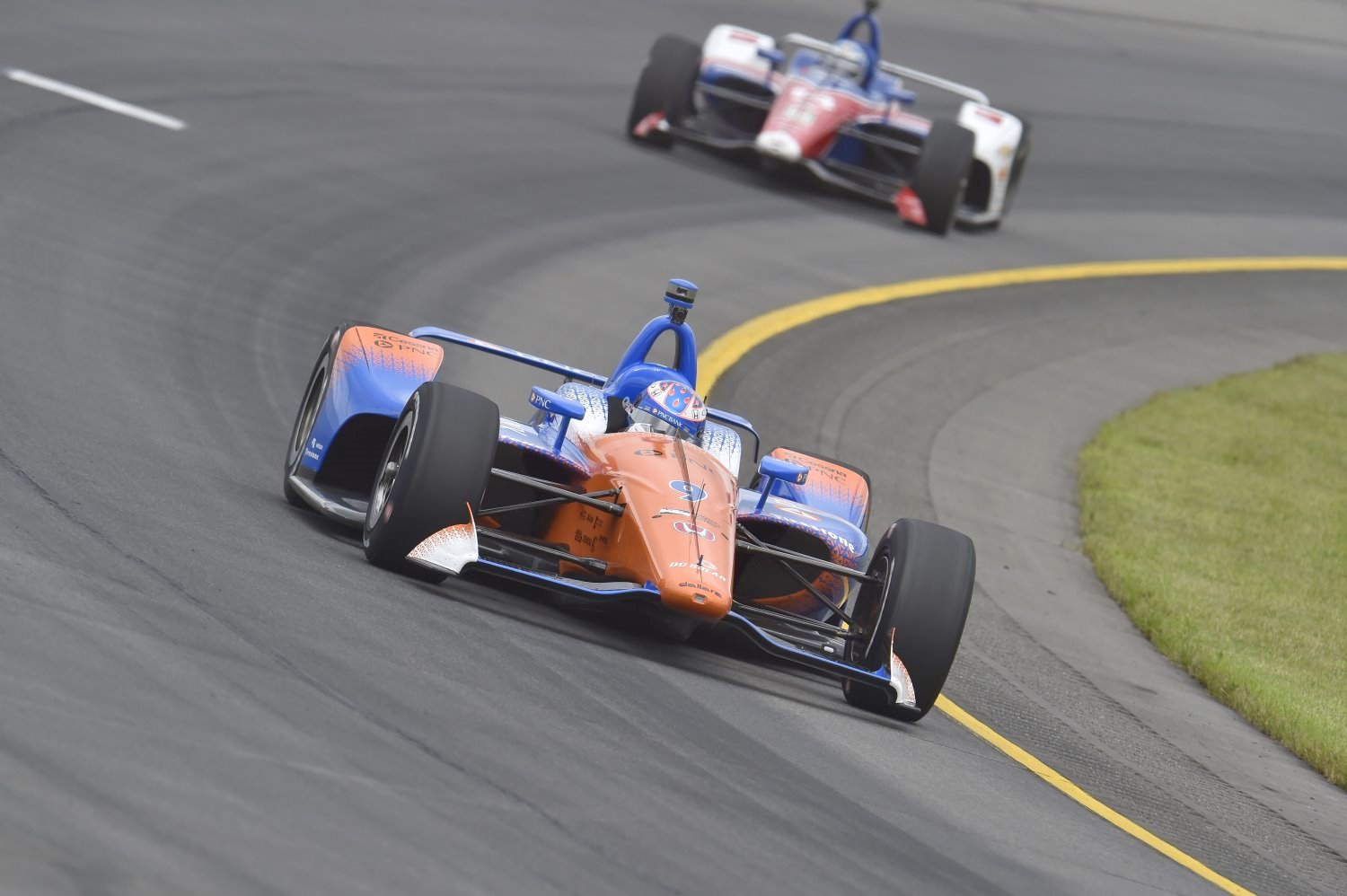 Scott Dixon
Last week, Scott Dixon announced he would be returning to Chip Ganassi Racing in 2019 and beyond. There had of course been speculation that Dixon would depart the team either for a McLaren start up effort or a ride with Roger Penske. And Dixon confirmed that at the very least, conversations took place about him joining his longtime nemesis Team Penske.
Of course, we don't know the financial terms offered from any of the parties above. However, all things being equal or even close to equal, there would have had to be a knock-your-socks-off offer for Dixon to leave what he has at Ganassi. Aside from the near-two decades of equity built up from being with the same company, Dixon is the only IndyCar driver to have undisputed number 1 driver status at a top team. At Penske, he would have, at 38 years old, figured out how to mesh himself in to an already established culture, with other very accomplished drivers; joining the will-it-won't-it start up McLaren operation would have posed numerous uncertainties.
In short, Dixon is back exactly where he belongs, and one of the great partnerships in American Championship Racing history has yet to write its final chapter.
Bourdais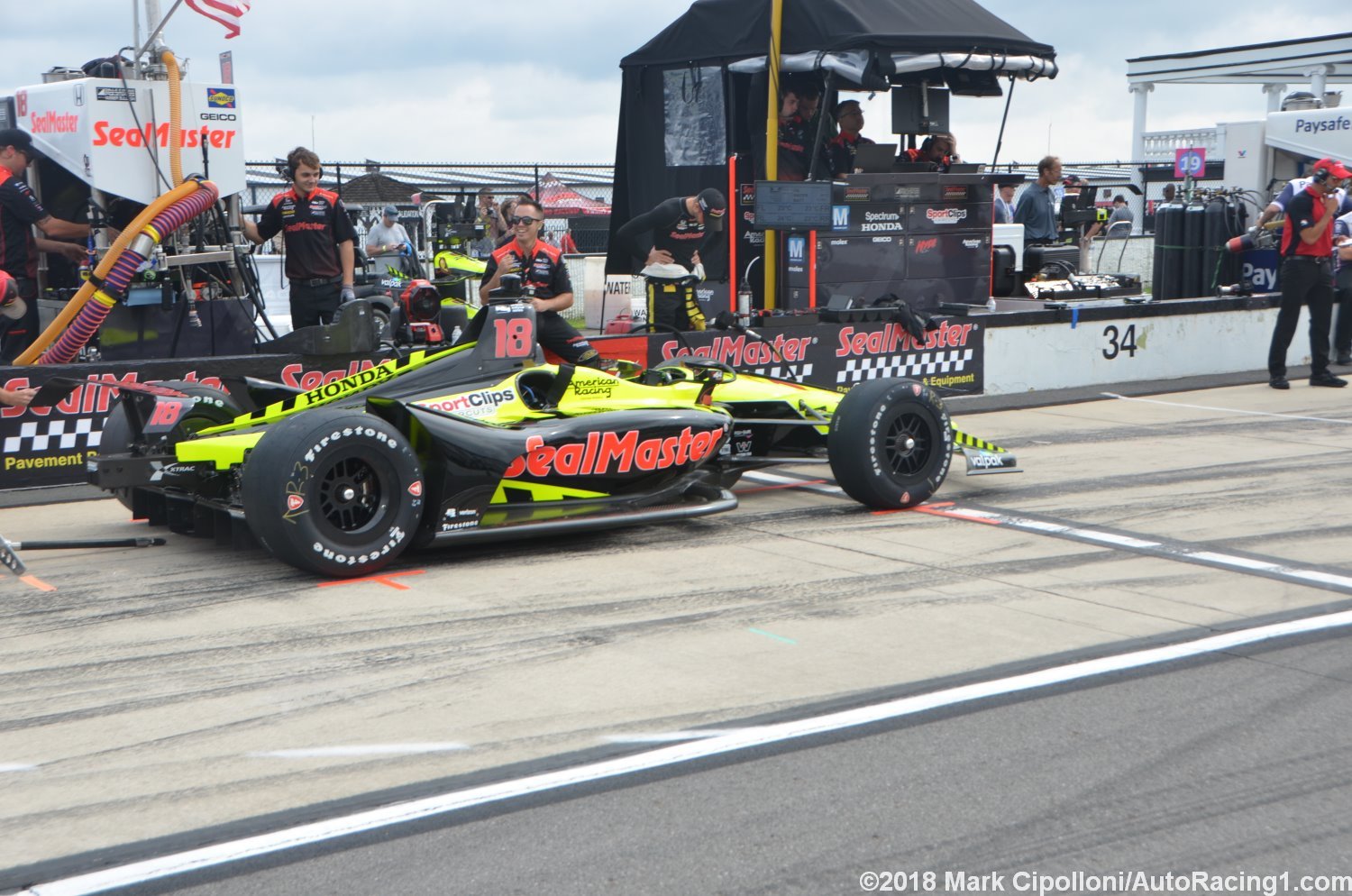 Bourdais' car
Following the Red Flag Sunday, there was hesitation from Dale Coyne Racing driver Sebastien Bourdais to get back in the No. 18 SealMaster Honda for the resumption of the race. The four-time Champ Car champion was apparently concerned about the quality of the fence repair following Wickens' crash, a matter he expressed to Race Control.
To be clear, I do not criticize Bourdais even a little bit for the hesitation he expressed. If anything, I applaud him for speaking up not only for himself, but for fellow drivers who may not have the resume Bourdais has, and therefore be more hesitant.
Now, it would have been interesting to see how the team would have handled the matter had Bourdais put up more resistance. But to me, the big takeaway from the Bourdais matter was not that 1 race car driver expressed some hesitation about getting in the car following Wickens' wreck'; rather it was the fact 15 of them seemingly couldn't wait for the race to resume.
Furthermore, say for a moment Bourdais held his ground and didn't want to get back in the car. Not that the rules or practical considerations would have allowed it, but there were probably 10 drivers in the paddock at Pocono that would have jumped in the 18 Car with giddy delight in place of Bourdais.
My point is that I think we sometimes forget the bravery and ability to compartmentalize of race car drivers on a regular basis. Moments after they saw Robert Wickens leave the track in a Medivac with great uncertainty surrounding his condition they were all ready to jump back in the car and go racing. And that's just not how most people are wired.
Aero Package
When the race did resume Sunday, it was another shall we say, less than enthralling show. Don't get me wrong: I'm still 100% in the camp that IndyCar is going down the correct path conceptually with a technical package that places greater premium on the driver. Furthermore, the simple reality is that not every race is a great race, and not every lap has lots of passing. Sometimes, well, one driver just kicks everyone's butt and that is that.
The above noted, the ability to overtake has to exist. And when lead lap cars are spending laps multiple stints behind back markers you have a problem. And hopefully, the series can work to improve the quality of the show.
Rossi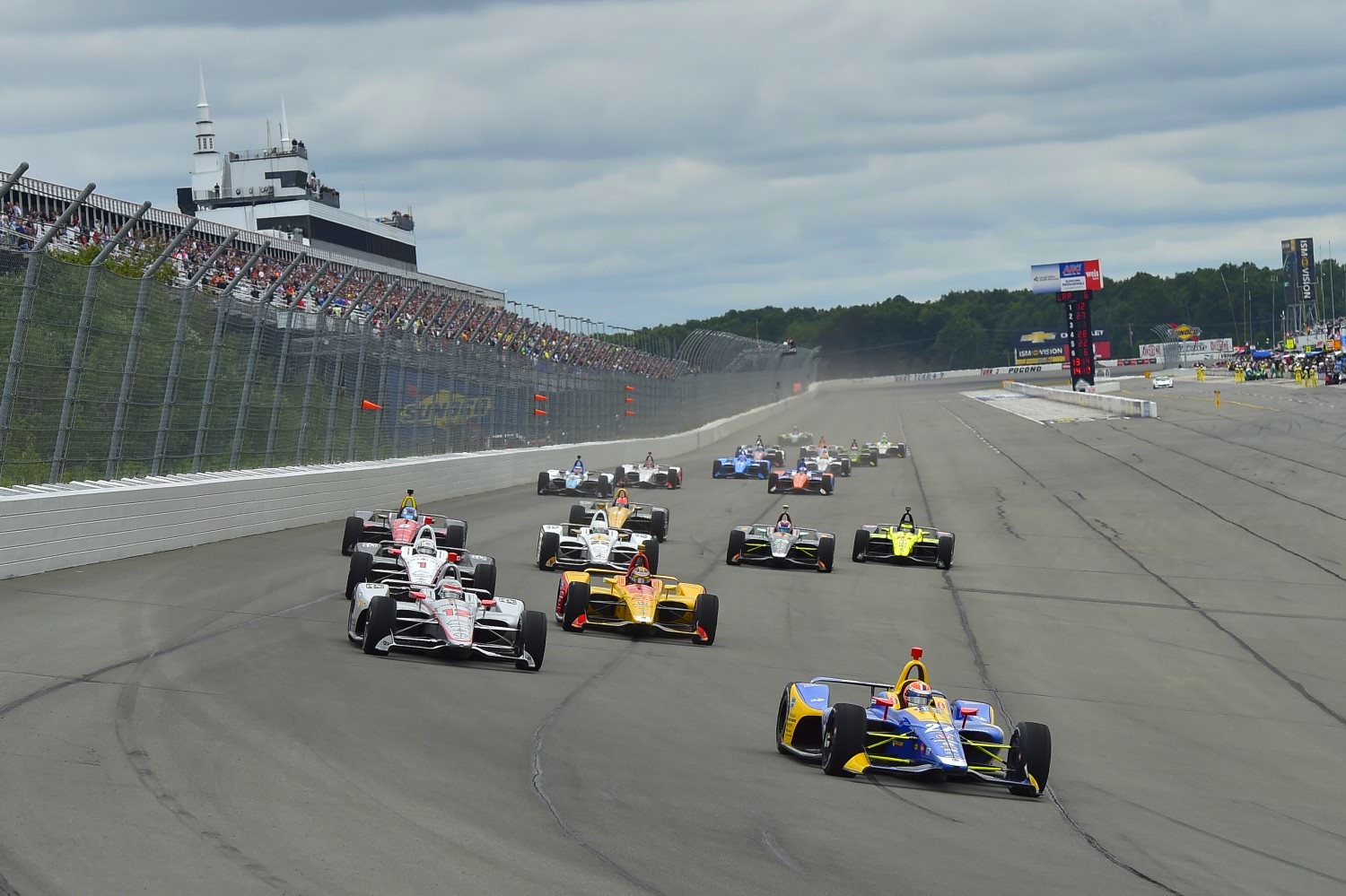 Rossi blew off the Penske front row and dominated the race from there
I have incredibly high regard for the abilities of young Rossi. And with his dominant performances at Mid-Ohio and Pocono, the 2016 Indianapolis 500 winner has turned what was shaping up to be a Dixon runaway for the championship into a legitimate fight. Furthermore, Rossi has embraced the fact he knows Dixon is so formidable, essentially saying "I have to go win races to beat him."
These last three races should be very intriguing. Whereas many of these championship battles are often one driver on the rise battling another clinging to a lead, this appears to be shaping up as a titanic clash of two heavyweights in top form refusing to give an inch.
Brian Carroccio is a senior columnist for AutoRacing1. He can be contacted at BrianC@AutoRacing1.com