Rossi cruises to easy win at Mid-Ohio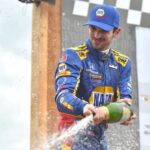 Rossi led 66 of 90 laps for an easy win
Pole sitter Alexander Rossi turned in a dominant performance to win today's Honda Indy 200 at Mid-Ohio. It was the fourth career win and second of 2018 for the driver of the No. 27 NAPA AUTO PARTS Honda. Robert Wickens made it a Honda 1-2 bringing the No. 6 Lucas Oil SPM entry home 12.2 seconds behind Rossi. Team Penske's Will Power was the lead Chevy coming home third.
2017 Mid-Ohio winner Josef Newgarden was fourth, with five-time Mid-Ohio winner Scott Dixon completing the top-5.
Perhaps, the drive of the day came from Sebastien Bourdais who drove from 24th-place all the way to sixth without the help of a caution.
Today's victory at the Honda Indy 200 is the latest to be added to the American driver's already impressive resume, which includes wins at Long Beach this season, Watkins Glen International in 2017 and the 100th Running of the Indianapolis 500 in 2016.
A large crowd, including approximately 11,000 Honda associates from multiple central Ohio Honda facilities, filled the 2.258-mile Mid-Ohio road circuit as multiple battles raged throughout the 24-car starting field.
***************
[adinserter name="GOOGLE AD"]Mid Ohio, rightly or wrongly, has a reputation that one can't make their way through traffic — you either start on the front row, or just understand that you won't win. And while Alexander Rossi's pole-winning win was another chapter in that history, I suspect that today's race results weren't the fault of a venue that doesn't favor passing.
Take, for instance, Sebastien Bourdais. Bourdais locked up the brakes in qualification and started dead last, in spite of having a dominant car in Friday's practice. Brake issues have plagued the team this year — St.Pete comes to mind — and this time they just locked up at the top of the Keyhole turn. However, driving like a man possessed, he charged through the field, and despite a race that lacked any caution periods, gained 18 spots to finish sixth.
Getting out to applause at the end of the race, an exhausted and emotional Bourdais told us that he was both satisfied and disappointed. "I had to make up for a f*** up" he told us. "The car looks like a winner to me." It's hard to tell if he could've made it around Rossi at the end, but at least it would've been interesting.
Fellow Frenchman Simon Pagenaud also made up 9 spots after a disappointing qualification attempt. "It's the best package I've ever had here" he told us, adding that he was much more satisfied with his run here than previous attempts.
In fact, the hot stove leagues (chat boards) might even make the claim that the finishing order today was a fairly accurate guesstimate of the current talent levels of IndyCar, and that the best drivers who got the setup correct were rewarded with the best spots.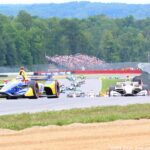 Rossi and Power at the start
Right off of the bat, though, going was tough. Takuma Sato went from 8th to 5th before being collected by Max Chilton. Sato was spun out, and rejoined the race at the end of the field. He found himself in the middle of various battles for the rest of the day, including being stuck between the first and second place drivers for many laps (more on that later). He finished 17th, 1 lap down, after an 8th place start.
Max Chilton got a drive-through penalty for the shunt, but the race from hell was only beginning for Max. The collision boogered up the threads on Chilton's wheel nut, resulting in a 40-second pit stop. Later one he was involved with at least one more tangle, this time with Conor Daly ("It cost me about 10 seconds in one lap" Conor told us) and Chilton finished dead last in 24th after starting 6th.
However, in spite of predictions, there were no yellow flags during the race. The race seemed to boil to driving ability, the right setup, and lucky pit strategy. The first series of pit stops seemed like it was planned so that the last car went in first, and so on until finally the leader (Alexander Rossi) pitted on lap 26th. Rossi was the lone driver who employed the 2-stop strategy, something that left him exposed during the race had there been an ill-timed caution.
Also helping Rossi's cause was that Robert Wickens (why do we always seem to come down to Rossi and Wickens these days.) came out of the pits on his black tire stint right behind an on-going battle between the lapped cars of Tony Kanaan and Takuma Sato. Both of the lapped cars were on fresh red tires, and the three of them were stuck for some 10 laps in that formation. Wickens couldn't make the time he needed to make up for his third stop, and with that, his chance at battling Rossi at the end was gone. "I think that destroyed the race for me" he commented. Since a pit stop entailed a 25 second loss, not being able to lap fast on a light fuel load sealed his doom against 2-stop Rossi.
The last pit stops for everyone were done on lap 70, and when the dust settled the running order was Rossi, Wickens, Power, Newgarden, Dixon, Hunter-Reay, Pagenaud, Bourdais, Rahal and Veach.
Hunter-Reay was totally deflated after the race. Starting third, he struggled to a 7th place finish. "It was a frustration day" he told us. "I felt like a fish out of water" he told his engineers. The car was loose, tight, all over the place. Bourdais passed him for 6th at the end of the race, adding insult to injury.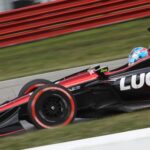 Wickens had nothing for Rossi but he scored a strong second
MIA in the entire weekend was Scott Dixon. Dixon is normally the meister when it comes to Mid Ohio, but this weeked things with Ganassi just didn't seem to click — Ed Jones finished 15th after starting 11th.
In the end, Rossi nursed a 20+ second lead for most of the race, ending with 126 seconds (out of 200) of Push 2 Pass left. Sebastien Bourdais kept moving up, passing Pagenaud and Hunter-Reay in the stint, but out of Push to Pass and unable to make a move on Dixon in 5th. But otherwise, in the words of Rossi, "It was a boring race… the best kind!"
About the only wheel Alexander Rossi turned wrong in Sunday's Honda Indy 200 at Mid-Ohio came when he attempted a victory doughnut in the No. 27 NAPA AUTO PARTS Honda. His car slid off track and became stuck in the grass.
Rossi also advanced one position in the championship standings, moving into second place, 46 points behind Scott Dixon after 13 of 17 races.
"It's what we needed. We said coming into this weekend that we have to execute for five (race) weekends in a row; this is the start of that, hopefully," Rossi said. "The NAPA Andretti team was so on it today. They gave me an amazing race car, and this one's for them."
"It was great strategy all day," Rossi said. "We knew we could two-stop it if we committed early, and that's what we did. Great fuel mileage from Honda, great tire life from Firestone, so really an all-around perfect day.
"On races like that, you've just got to be really patient. It's hard sometimes, but Rob is a very calming force and just talked me through it, and we were able to manage it. We were planning on seeing if we could hit a (fuel) number. Then if we could, we were going to do two stops. It was a little bit up to me to see if we could manage it. When we were able to hit it pretty easily, then, yeah, we committed."
Quotes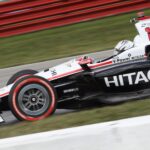 Josef Newgarden
JOSEF NEWGARDEN (No. 1 Hitachi Team Penske Chevrolet): "We just seemed to catch traffic and I don't think our strategy worked quite as well as we wanted it to, but you make a plan and go with it. It didn't quite all work today for us. But it was a very good effort from everybody today. I think the Hitachi Chevrolet was good today. We gave a good shot at it today. We will go back and analyze it and go on from here."
MATHEUS LEIST (No. 4 ABC Supply AJ Foyt Racing Chevrolet): "Today was a tough day. We just didn't have the pace the entire race. We just tried to bring home the car and I did the best that I could. We are still struggling to find the speed on road courses. We will focus on figuring this out for next year and for the rest of the season. We will keep working hard and figuring out how to be quick."
JAMES HINCHCLIFFE (No. 5 Arrow Electronics SPM Honda): "It was a pretty disappointing day for us. We had to roll the dice on strategy a little bit given where we were starting. Unfortunately, it just didn't play out for us. We had a rough day in pit lane which didn't help; it lost us some track position that cost us a ton of time behind (Zach) Veach in the second stint. From then on, we were just doing damage control. It's unfortunate. We had to take a bit of a risk starting 10th and today just didn't play out. The Arrow Electronics crew will regroup, pull a tear-off on this one and go for it in Pocono."
ROBERT WICKENS (No. 6 Lucas Oil SPM Honda): "We stuck to our guns and I thought our strategy worked well. The problem is, on my third stint, I just got stuck in a whole gaggle of cars. Unfortunately, they were on reds (Firestone alternate tires) and I was on blacks (Firestone primary tires), and I couldn't make it through and just lost loads of time. I was probably losing about a second a lap for a good 10-15 laps. It's unfortunate. Nevertheless, the Lucas Oil car went from P5 to P2, I can't complain."
SCOTT DIXON (No. 9 PNC Bank Chip Ganassi Racing Honda): "Basically, a frustrating day. I think the car had some good speed. We were really quick early on in a stint, we kind of faded a little bit. The track condition was just not great. We would pit and one of the cars in front of us, or right around us, would pit, too, and we'd fall behind them and it just kind of put us back. It was one of those days where one little, tiny move could have jumped us another two or three spots."
ED JONES (No. 10 DC Solar Chip Ganassi Racing Honda): "A frustrating day. I think we had the pace and we should have been around seventh or eighth. We called the wrong strategy and got on the wrong tires. Unfortunately, everything we did made the race worse for us. We also had a (tire) puncture to add to that. Just seems like recently everything has gone against us and everything we try to do. It makes everything look a lot worse than it is. Surely, things will change around and we will come back stronger."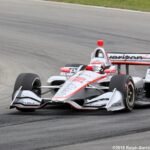 Will Power
WILL POWER (No. 12 Verizon Team Penske Chevrolet): (About if he had anything else for the leaders): "No, man, everyone else is so good in this series that you just have to have everything perfect. We just weren't quite good enough on blacks (Firestone primary tires). We really struggled to get up to speed on those, but were pretty good on reds (Firestone alternate tires). But still a good day for the No. 12 Verizon Chevrolet. Obviously, another full green race and I can't believe it. It's just a series full of really good drivers now, and no one makes mistakes and it just came down to strategy."
TONY KANAAN (No. 14 ABC Supply AJ Foyt Chevrolet): "Tough weekend for the No. 14 ABC Supply car. No matter what we changed, we couldn't get a good direction on our setup, so it ended up being a survival race. We're going to regroup this week and analyze what we're missing in order to make it better. Looking forward to going to Pocono in a couple of weeks and putting on a good show for our sponsors."
GRAHAM RAHAL (No. 15 Fifth Third Bank Honda): "I'm disappointed. We just weren't good enough today. The pace just wasn't there in the car and the rear was so unstable. We struggled with too much oversteer most of the race, which put us a ways behind the 8-ball. I just couldn't get close enough to anybody without losing a lot. We had to just manage the rest of the day. I was hoping for a better result for the Fifth Third Bank team."
SEBASTIEN BOURDAIS (No. 18 Team SealMaster Honda): "Today was making up for a big mess up yesterday. It's sad, as this car could have been a winner today with our pace. It was a heck of drive and I don't think it gets much better than that going from 24th to 6th in a straight-up fight on a track that's difficult to pass. Obviously, it was a lot of 'what ifs' that come to mind. Really happy with the day, but quite disappointed for the group as far as the weekend is concerned, as I think we could have been on the podium."
PIETRO FITTIPALDI (No. 19 Paysafe Honda): "Obviously I feel tired. It's my first race back and it's a tough one at Mid-Ohio. It's really physically demanding here. We started the race and we didn't have that much pace at first in our No. 19 Paysafe car, so we ended up pitting early, and then I had to let the leaders go by, so we lost a lot of time there. That said, I finished the race and that was my goal with my leg still hurting a bit. It's still healing. I'm sure that by the time we get to our next road course in Portland, we'll be a lot better and I'll be back at a 100 percent, but I'm happy I was able to come here and finish the race. Now we can focus on our upcoming tests and our next race."
JORDAN KING (No. 20 Ed Carpenter Racing Fuzzy's Vodka Chevrolet): "I sent it on the first couple of corners. That was really good fun, a bit of wheel-banging and running side-by-side with a few people. We got up to ninth in those first two laps. Our pace was pretty good during the race. I don't think we were a million miles off at all. We had a bit of a slow first pit stop and lost a few places there, then we just seemed to struggle a bit on out laps. Those are the two areas where we lost the time; otherwise, I think we would have been a bit higher up. We still have a bit of work that we need to do, but overall, it was a good race."
SPENCER PIGOT (No. 21 Ed Carpenter Racing Fuzzy's Vodka Chevrolet): "It was a bit of a tough start of the race. We didn't get a great start and got kind of boxed in. We weren't able to move up early on like we had hoped for. We struggled with the black (Firestone primary) tires, but once we put the reds (Firestone alternate tires) on again, the car was pretty good. We were able to make passes and fight our way up to 13th. The second half of the race wasn't too bad, but we would have liked to have a different first half. We've had a very solid last five or six weekends and a lot of positives to take away. We will work to put it to good use for the last races."
SIMON PAGENAUD (No. 22 Menards Team Penske Chevrolet): "Without a warmup this morning, it was going to be a bit of a guessing game as far as race setup. Luckily, the No. 22 Menards Chevrolet team guessed right. I could really be myself and attack during this race. We've just got to keep working in that direction. I think we were able to make huge gains in our street circuit package in Toronto. The whole team is super-fast on ovals and the last bit is getting where we need to be on these road courses. Today was very satisfying to prove that our showing during qualifying is not the true performance of the No. 22 Menards team."
CHARLIE KIMBALL (No. 23 Tresiba Chevrolet): "I think it was a tough day for everybody out there. The track conditions meant that it was going to be pretty slippery and the cars were going to be quite a handful. We really struggled in that first stint and I just wasn't able to get the lap time out of the No. 23 Tresiba Chevrolet. The guys did a great job in pit lane and we flipped up the strategy on the last stint when we went with the Firestone alternate tires, which helped us out a lot. We'll go back to the drawing board and evaluate what we did here, and hopefully, be able to learn from it."
ZACH VEACH (No. 26 Relay Group 1001 Honda): "I'm slightly happy to bring home another top-10 finish. The last half of the season, we wanted to be consistently in the top 10 and I want to prove that I belong here. I think we're doing more and more of that every weekend. With no yellow (flags) today, I think we needed to qualify a little bit better to be able to race towards the front. But I'm just so happy that our Relay car had the speed, but we just got caught in some traffic. It's just hard racing out there, especially on the blacks (Firestone primary tires). We were falling back, so we were fighting with everything we could with those guys on the red (Firestone alternate) tires, but I think, overall, it was a pretty good day for us. We learned a ton and I'm excited to go on to Pocono, and hopefully, we finish a few spots higher."
ALEXANDER ROSSI (No. 27 NAPA AUTO PARTS Honda): "We said coming into this weekend that we have to execute for five weekends in a row, this is the start of that, hopefully. The NAPA Andretti team were so on it today. They gave me an amazing race car and this one's for them. It was great strategy all day. We could make a two-stop if we committed early and that's what we did. Great fuel mileage from Honda, great tire life from Firestone, so an all-around perfect day."
RYAN HUNTER-REAY (No. 28 DHL Honda): "It wasn't our day; it was kind of a mess. I felt like I was running around on crutches out there. We started out on the first set of sticker reds (new Firestone alternate tires) and had a left-front (tire) that was falling apart. I had a huge vibration, so we had to pit early. There was no way around it and that committed us to the strategy. Unfortunately, pitting early like that, then you just put yourself at risk for everybody to overcut you, continuing to run and we just got out of everybody's way that way, unfortunately. I was just doing whatever I could to hold the floodgates back there at the end. I was on primary (Firestone) black tires racing everybody on sticky, alternate reds. I was doing whatever I could to keep it from coming around at the end. We definitely needed today to go better. It's unfortunate it went this way today for the DHL, AutoNation and Butterball turkey team. It's a bummer. We started third and we thought we had a better shot at it today, but congrats to the No. 27 team and to Alex (Rossi). He had a good run doing the ol' two-stopper and it worked out. Everybody said that if it went green all day today, two stops wasn't going to work, but he showed them."
TAKUMA SATO (No. 30 Mi-Jack / Panasonic Honda): "It's extremely disappointing not to be able to compete competitively. The start was good. I overtook a couple of cars and was P6, and there were only a few cars in front and it all looked good, but on the second lap in Turn 4, I know (Max) Chilton was on push-to-pass and was coming, so I left one car space into Turn 4 and it was all good. On the exit of Turn 4, somehow he clipped me from behind and I got spun from that. After that I never recovered in the race. Unfortunately, in the middle of the stint the pace wasn't very good, so it was difficult to gain any positions back. I think I dropped to 21st and only gained a few positions in the end, so it is very disappointing. We had high hopes today, but that was the race."
RENE BINDER (No. 32 HD Pellets Chevrolet): "It was a tough race and it was a really long one. We had a decent race and a good start at the beginning. Our strategy was working well with the Firestone red tires and we were able to make up some positions. Even though we did not finish where we hoped to, I am pleased overall and this has been a great experience running in the Verizon IndyCar Series."
MAX CHILTON (No. 59 Gallagher Chevrolet): "That was just a really disappointing way to end this weekend at Mid-Ohio after hitting such a high note yesterday with our Firestone Fast Six qualifying effort. We had a good start at green flag, but it turned for us pretty quickly after Race Control gave us a drive-through penalty for avoidable contact with (Takuma) Sato. We were hoping with how quick the No. 59 Gallagher Chevrolet was that we would be able to recover and fight back through the field, but with no yellows (flags) and some issues in pit lane, we just couldn't move forward at all."
JACK HARVEY (No. 60 AutoNation Sirius XM MSR with SPM Honda): "We had a high-risk, high-reward type of strategy. The race summed up our weekend, in that at sometimes we were OK, but then others we were struggling a lot. Our day was a combination of not being quick and not getting the yellows (flags) we needed. The team has been working hard and I think that only doing a few races this year is a challenge, but we are making the best of it and I know we will make progress during Portland."
CONOR DALY (No. 88 Harding Group Chevrolet): "I think we had a reasonable pace all race long. We put in a little too much wing on the first stop, so the second stint was really tough because the car was really loose. After that, we started making up some good ground on track and the car was pretty quick. The (Max) Chilton machine really messed with us when he was already a couple laps down. I'm sort of unsure as to why that was acceptable, but it is what it is. It's a shame what happened by running out of fuel, but these things happen. Racing is a wild sport. The guys did really good in the pits, the pit stops were great and the No. 88 Chevy was great. Now we just move on."
MARCO ANDRETTI (No. 98 Ruoff Home Mortgage / Curb Honda): "I'm a bit bummed for the Ruoff Home Mortgage team. We had (Sebastien) Bourdais beat, and then I'm not sure what happened, but he was able to gap us there on the second stint. We only had clear track on the second stint and we were flying, so we were one of the fastest cars out there, but the circumstances just didn't work out."
Results
| | | | | | | | | | | | |
| --- | --- | --- | --- | --- | --- | --- | --- | --- | --- | --- | --- |
| Pos | No | Name | Laps | Diff | Gap | Pits | Led | ST | Engine | Points | Team |
| 1 | 27 | Alexander Rossi | 90 | 0.0000s | 0.0000s | 2 | 66 | 1 | Honda | 448 | Andretti Autosport |
| 2 | 6 | Robert Wickens | 90 | 12.8285 | 12.8285 | 3 | 15 | 5 | Honda | 380 | Schmidt Peterson Motorsports |
| 3 | 12 | Will Power | 90 | 14.7086 | 1.8801 | 3 | 9 | 2 | Chevy | 407 | Team Penske |
| 4 | 1 | Josef Newgarden | 90 | 18.0065 | 3.2979 | 3 | 0 | 4 | Chevy | 434 | Team Penske |
| 5 | 9 | Scott Dixon | 90 | 18.9382 | 0.9317 | 3 | 0 | 9 | Honda | 494 | Chip Ganassi Racing Teams |
| 6 | 18 | Sebastien Bourdais | 90 | 19.5312 | 0.5930 | 3 | 0 | 24 | Honda | 10 | Dale Coyne Racing with VS |
| 7 | 28 | Ryan Hunter-Reay | 90 | 21.4614 | 1.9302 | 3 | 0 | 3 | Honda | 399 | Andretti Autosport |
| 8 | 22 | Simon Pagenaud | 90 | 21.8246 | 0.3632 | 3 | 0 | 17 | Chevy | 14 | Team Penske |
| 9 | 15 | Graham Rahal | 90 | 23.1494 | 1.3248 | 3 | 0 | 7 | Honda | 335 | Rahal Letterman Lanigan Racing |
| 10 | 26 | Zach Veach | 90 | 24.3930 | 1.2436 | 3 | 0 | 12 | Honda | 211 | Andretti Autosport |
| 11 | 98 | Marco Andretti | 90 | 36.5906 | 12.1976 | 3 | 0 | 13 | Honda | 285 | Andretti Herta Autosport with CA |
| 12 | 20 | Jordan King | 90 | 41.4002 | 4.8096 | 3 | 0 | 16 | Chevy | 126 | Ed Carpenter Racing |
| 13 | 21 | Spencer Pigot | 90 | 43.3340 | 1.9338 | 3 | 0 | 18 | Chevy | 13 | Ed Carpenter Racing |
| 14 | 5 | James Hinchcliffe | 89 | 66.2237 | 21.3573 | 3 | 0 | 10 | Honda | 328 | Schmidt Peterson Motorsports |
| 15 | 10 | Ed Jones | 89 | 69.0945 | 2.8708 | 4 | 0 | 11 | Honda | 255 | Chip Ganassi Racing Teams |
| 16 | 23 | Charlie Kimball | 89 | 1 LAPS | 13.7104 | 3 | 0 | 15 | Chevy | 212 | Carlin |
| 17 | 30 | Takuma Sato | 89 | 1 LAPS | 1.2658 | 3 | 0 | 8 | Honda | 258 | Rahal Letterman Lanigan Racing |
| 18 | 14 | Tony Kanaan | 89 | 1 LAPS | 23.0079 | 3 | 0 | 19 | Chevy | 8 | AJ Foyt Enterprises |
| 19 | 4 | Matheus Leist | 89 | 1 LAPS | 3.7104 | 3 | 0 | 21 | Chevy | 2 | AJ Foyt Enterprises |
| 20 | 60 | Jack Harvey | 89 | 1 LAPS | 2.5861 | 3 | 0 | 20 | Honda | 22 | Meyer Shank Racing with SPM |
| 21 | 88 | Conor Daly | 88 | 1 LAPS | 15.1883 | 4 | 0 | 14 | Chevy | 44 | Harding Racing |
| 22 | 32 | Rene Binder | 88 | 1 LAPS | 17.3383 | 3 | 0 | 23 | Chevy | 20 | Juncos Racing |
| 23 | 19 | Pietro Fittipaldi | 88 | 2 LAPS | 22.2357 | 3 | 0 | 22 | Honda | 11 | Dale Coyne Racing |
| 24 | 59 | Max Chilton | 88 | 2 LAPS | 6.4707 | 4 | 0 | 6 | Chevy | 162 | Carlin |
Race Statistics
Winner's average speed: 116.957 mph
Time of Race: 1:44:15.2137
Margin of victory: 12.8285 seconds
Cautions: 0 for 0 laps
Lead changes: 5 among 3 drivers
Lap Leaders:
Rossi, Alexander 1-29
Wickens, Robert 30-39
Power, Will 40-48
Rossi, Alexander 49-59
Wickens, Robert 60-64
Rossi, Alexander 65-90
Verizon IndyCar Series point standings:
Dixon 494, Rossi 448, Newgarden 434, Power 407, Hunter-Reay 399, Wickens 380, Pagenaud 344, Rahal 335, Hinchcliffe 328, Bourdais 293