Sage Karam helps fellow competitors after his dominating Watkins Glen win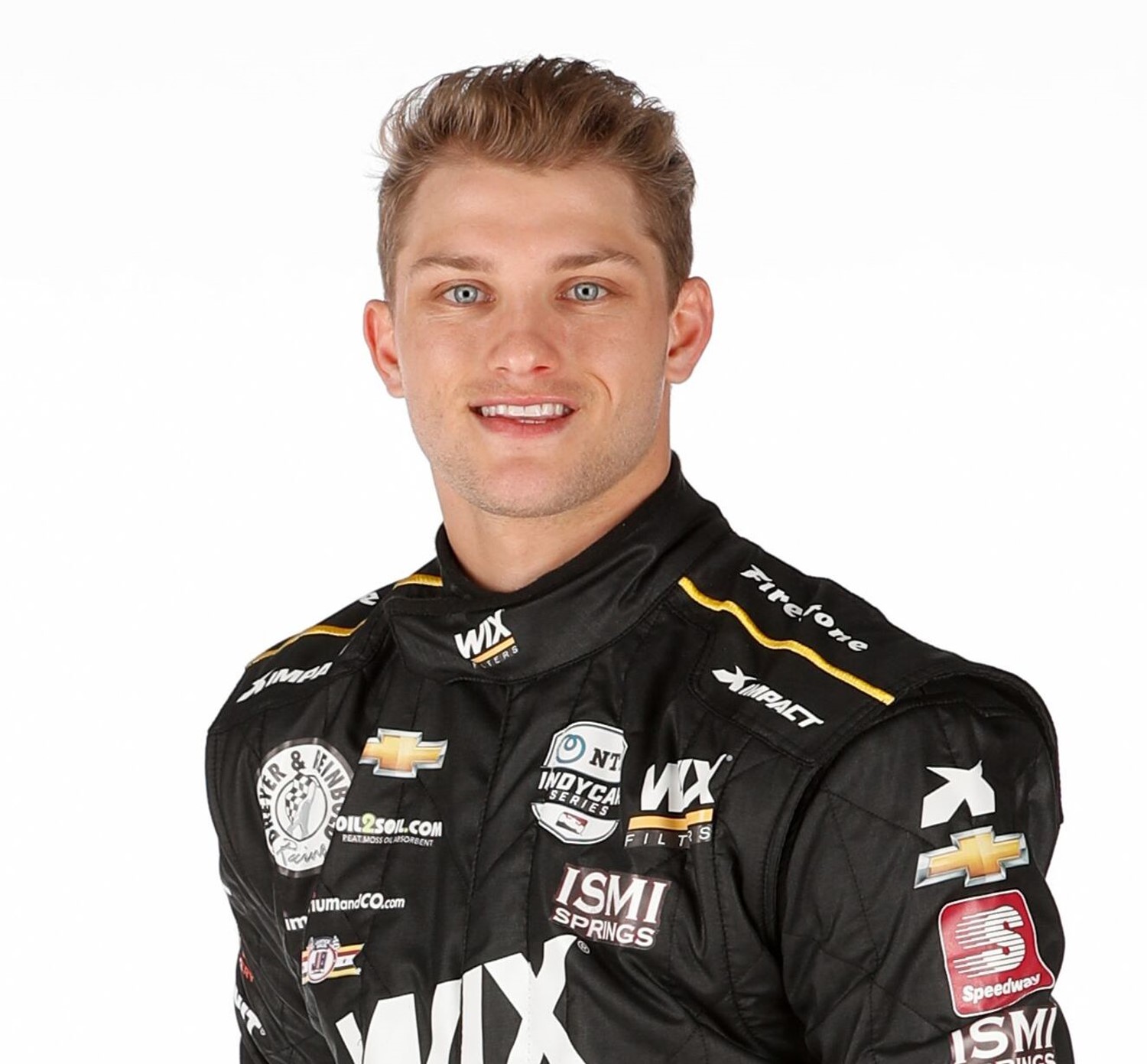 Sage Karam
After his dominating performance last Saturday in the inaugural INDYCAR iRacing Challenge event, American Red Cross Grand Prix at Watkins Glen International, Sage Karam prepares for this Saturday's second round of IndyCar iRacing competition set for the picturesque Barber Motorsports Park, the 2.38-mile, 16-turn road circuit.
As Karam trains on his simulator for this week's IndyCar iRacing Challenge, Honda Grand Prix of Alabama presented by AmFirst at Barber Motorsports Park, he continues to answer questions from the media and coach several of his NTT INDYCAR SERIES rivals on the virtual racing flatform.
"It's fun to help them get up to speed in iRacing," Sage admits. "I just don't want to give them too much information as I am still competing against them each week from my home. If I can help make the overall product more competitive, it will be great for the racing on the screen and the racing fans."
Driving the No. 24 Dreyer & Reinbold Racing WIX Filters Chevrolet, Karam won the pole position and led 43 of 45 laps Saturday in the virtual racing event that featured a 24-car lineup with some of the top NTT INDYCAR SERIES drivers in action with their personal simulator rigs. Like many of the racers racing in the event from their homes, Karam drove his three-monitor visual simulator setup in his house in Nazareth, Pa.
Karam, the 25-year-old former Indy Lights and F2000 series champion, has utilized the virtual racing format since 2007 when he went from karting to the Skip Barber formula cars at age 12. Mostly working with a basic steering wheel and pedals for his iRacing competition, the former high school wrestling star expanded his simulation rig in recent years and even built his own computer this winter for his sim rig.
"As a part time driver in the NTT INDYCAR SERIES, I needed to be sharp with my reflexes and car control when I wasn't on track," explains Karam, who has been an Indy 500 starter since 2014 when he won the 'Hard Charger Award.' "I discovered iRacing quite a while back and I truly believe it has helped me with my racing career. I'm currently a driver in the Lionheart Racing Series named for Dan Wheldon. So, it keeps me pretty sharp when it's time to get into a real race car."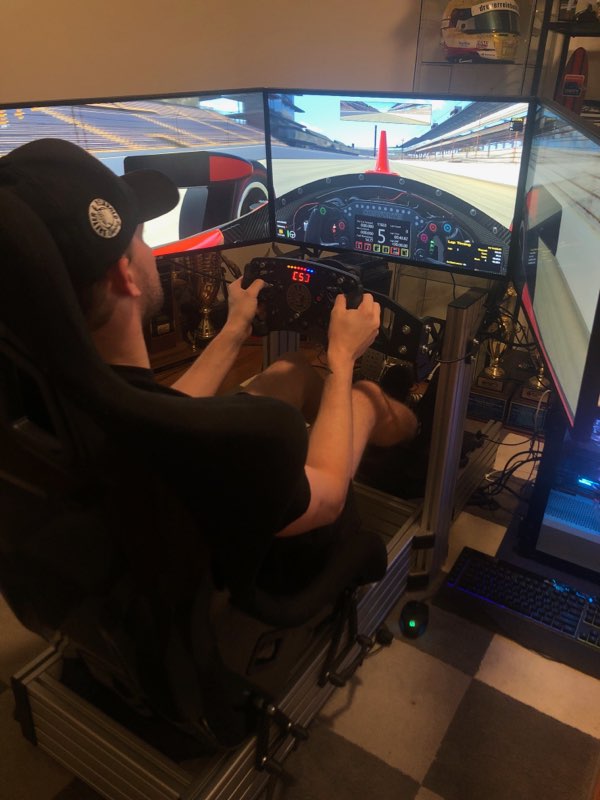 Karam on his simulator
Karam's experience showed against other NTT INDYCAR SERIES drivers in the inaugural 45-lap event held at the famed 3.4-mile Watkins Glen International road course. Now, the next race will take place Saturday from the Barber track at 2:30 p.m. EDT and can been seen on NBC Sports, www.indycar.com, YouTube and Twitch.
"It was funny entering the Watkins Glen race and now the Barber event as I have been a mentor to many of the IndyCar guys who were new to iRacing," Sage said. "It's a little bit of the reverse of when I came into the real series. Now, I'm helping a bunch of guys who have been regular series competitors."
Karam does admit that the iRacing competition can be tough on a driver mentally.
"I was pretty worn out after Saturday's race," he said. "I had been practicing and coaching other guys for the Watkins Glen race. It was very mentally draining. In iRacing, we don't have the fear factor of crashing or wrecking the car. But you are racing on the edge with proper steering and pedal pressure as in an IndyCar and you are racing wheel-to-wheel in a competition. And all of the drivers are extremely competitive. You have to continue to concentrate like a regular race."
Sage wasn't racing in front of thousands of race fans as usual last Saturday. It was just his girlfriend, Abby, and their two dogs, Fetty and Drake, at his home.
"After I won the Watkins Glen race, it felt so much different," he said. "I could only hug them. You are usually greeted by your crew, sponsors and fans after the race. It felt funny. But did have a pro-race video party with some of my Dreyer & Reinbold Racing/WIX Filters race team."
The media jumped on the IndyCar iRacing Challenge event as well with a big post-race interview session for Karam and a live ESPN Sportscenter interview Saturday night.
"When I was a kid, one of my dreams was to be interviewed on ESPN Sportscenter after winning a big race," he said laughingly. "And then last Saturday, I was on the 11 p.m. ESPN Sportscenter talking with John Anderson after winning the iRacing race. I always thought it would be after a regular IndyCar race, not from iRacing. But this current pandemic has caused the world to really turn upside down. And we are doing this racing for our fans too. With nothing happening in sports, it is a fun way for them to watch IndyCar racing in a different form. I'm happy that iRacing is getting the exposure and giving fans some fun competition."