2020 a first for Indy 500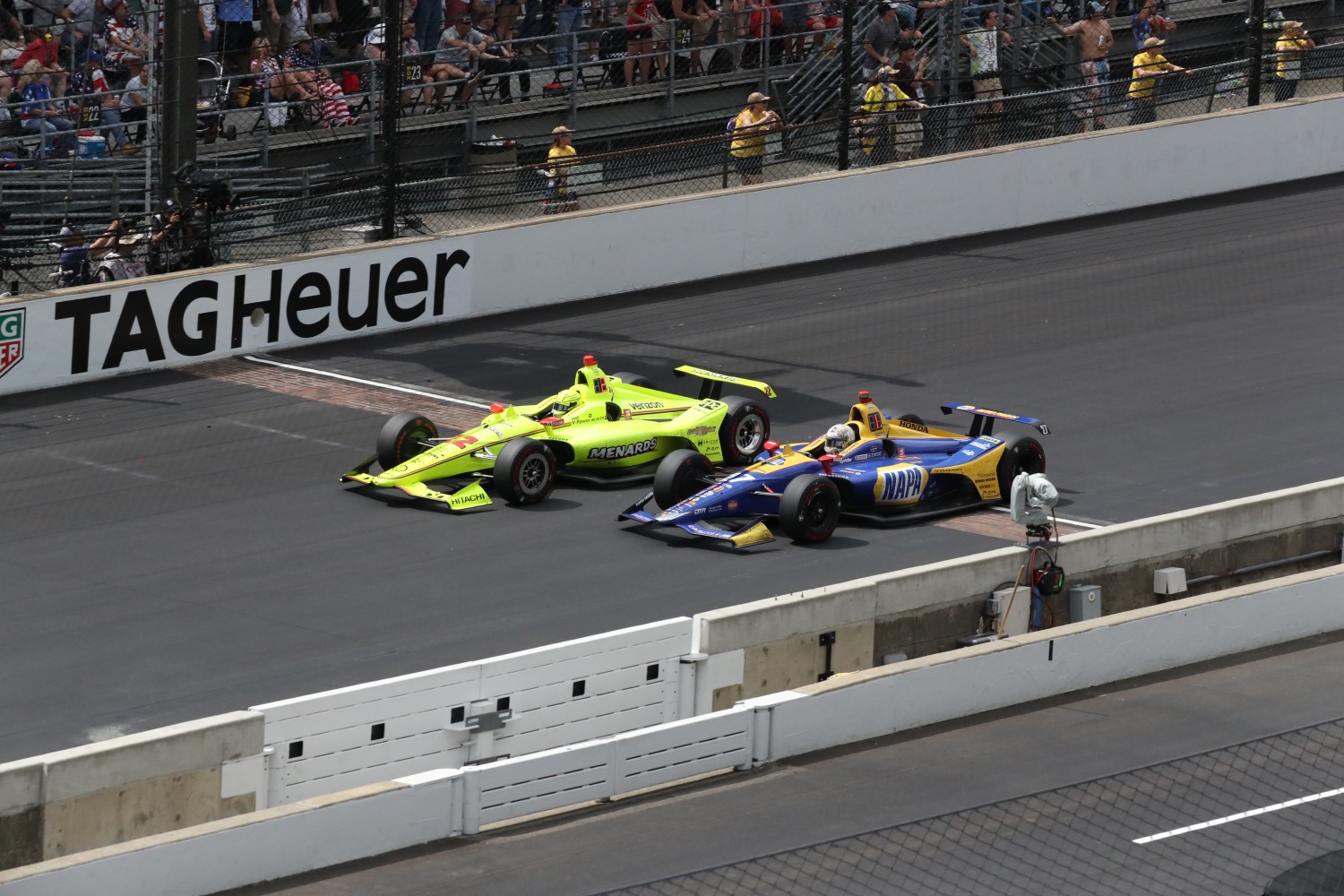 Pagenaud beats Rossi in 2019
Since the first race until last year, the Indy 500 was always run on either May 30th or on Memorial Day Sunday. This is the first year the race has ever been run other than in May.
From 1911 to 1970, the race was always run on May 30th, or May 31st if a rain out.
Starting in 1971 Memorial Day was celebrated on the last Monday in May and the Indy 500 moved to that weekend.
So, after 103 year of running, this year's race in August is a first.
Indy 500 Dates
| | | |
| --- | --- | --- |
| Year | Date | Winning Driver |
| 1911 | May 30 | Ray Harroun |
| 1912 | May 30 | Joe Dawson |
| 1913 | May 30 | Jules Goux |
| 1914 | May 30 | René Thomas |
| 1915 | May 31 | Ralph DePalma |
| 1916 | May 30 | Dario Resta |
| 1917 | World War 1 | No Race |
| 1918 | World War 1 | No Race |
| 1919 | May 31 | Howdy Wilcox |
| 1920 | May 31 | Gaston Chevrolet |
| 1921 | May 30 | Tommy Milton |
| 1922 | May 30 | Jimmy Murphy |
| 1923 | May 30 | Tommy Milton |
| 1924 | May 30 | Lora L. Corum |
| 1925 | May 30 | Peter DePaolo |
| 1926 | May 31 | Frank Lockhart |
| 1927 | May 30 | George Souders |
| 1928 | May 30 | Louis Meyer |
| 1929 | May 30 | Ray Keech |
| 1930 | May 30 | Billy Arnold |
| 1931 | May 30 | Louis Schneider |
| 1932 | May 30 | Fred Frame |
| 1933 | May 30 | Louis Meyer |
| 1934 | May 30 | Bill Cummings |
| 1935 | May 30 | Kelly Petillo |
| 1936 | May 30 | Louis Meyer |
| 1937 | May 31 | Wilbur Shaw |
| 1938 | May 30 | Floyd Roberts |
| 1939 | May 30 | Wilbur Shaw |
| 1940 | May 30 | Wilbur Shaw |
| 1941 | May 30 | Floyd Davis Mauri Rose |
| 1942 | World War 2 | No Race |
| 1943 | World War 2 | No Race |
| 1944 | World War 2 | No Race |
| 1945 | World War 2 | No Race |
| 1946 | May 30 | George Robson |
| 1947 | May 30 | Mauri Rose |
| 1948 | May 31 | Mauri Rose |
| 1949 | May 30 | Bill Holland |
| 1950 | May 30 | Johnnie Parsons |
| 1951 | May 30 | Lee Wallard |
| 1952 | May 30 | Troy Ruttman |
| 1953 | May 30 | Bill Vukovich |
| 1954 | May 31 | Bill Vukovich |
| 1955 | May 30 | Bob Sweikert |
| 1956 | May 30 | Pat Flaherty |
| 1957 | May 30 | Sam Hanks |
| 1958 | May 30 | Jimmy Bryan |
| 1959 | May 30 | Rodger Ward |
| 1960 | May 30 | Jim Rathmann |
| 1961 | May 30 | A. J. Foyt |
| 1962 | May 30 | Rodger Ward |
| 1963 | May 30 | Parnelli Jones |
| 1964 | May 30 | A. J. Foyt |
| 1965 | May 31 | Jim Clark |
| 1966 | May 30 | Graham Hill (R) |
| 1967 | May 30–31 | A. J. Foyt |
| 1968 | May 30 | Bobby Unser |
| 1969 | May 30 | Mario Andretti |
| 1970 | May 30 | Al Unser |
| 1971 | May 29 | Al Unser |
| 1972 | May 27 | Mark Donohue |
| 1973 | May 28–30 | Gordon Johncock |
| 1974 | May 26 | Johnny Rutherford |
| 1975 | May 25 | Bobby Unser |
| 1976 | May 30 | Johnny Rutherford |
| 1977 | May 29 | A. J. Foyt |
| 1978 | May 28 | Al Unser |
| 1979 | May 27 | Rick Mears |
| 1980 | May 25 | Johnny Rutherford |
| 1981 | May 24 | Bobby Unser |
| 1982 | May 30 | Gordon Johncock |
| 1983 | May 29 | Tom Sneva |
| 1984 | May 27 | Rick Mears |
| 1985 | May 26 | Danny Sullivan |
| 1986 | May 31 | Bobby Rahal |
| 1987 | May 24 | Al Unser |
| 1988 | May 29 | Rick Mears |
| 1989 | May 28 | Emerson Fittipaldi |
| 1990 | May 27 | Arie Luyendyk |
| 1991 | May 26 | Rick Mears |
| 1992 | May 24 | Al Unser Jr. |
| 1993 | May 30 | Emerson Fittipaldi |
| 1994 | May 29 | Al Unser Jr. |
| 1995 | May 28 | Jacques Villeneuve |
| 1996 | May 26 | Buddy Lazier |
| 1997 | May 26–27 | Arie Luyendyk |
| 1998 | May 24 | Eddie Cheever |
| 1999 | May 30 | Kenny Bräck |
| 2000 | May 28 | Juan Pablo Montoya (R) |
| 2001 | May 27 | Hélio Castroneves (R) |
| 2002 | May 26 | Hélio Castroneves |
| 2003 | May 25 | Gil de Ferran |
| 2004 | May 30 | Buddy Rice |
| 2005 | May 29 | Dan Wheldon |
| 2006 | May 28 | Sam Hornish Jr. |
| 2007 | May 27 | Dario Franchitti |
| 2008 | May 25 | Scott Dixon |
| 2009 | May 24 | Hélio Castroneves |
| 2010 | May 30 | Dario Franchitti |
| 2011 | May 29 | Dan Wheldon |
| 2012 | May 27 | Dario Franchitti |
| 2013 | May 26 | Tony Kanaan |
| 2014 | May 25 | Ryan Hunter-Reay |
| 2015 | May 24 | Juan Pablo Montoya |
| 2016 | May 29 | Alexander Rossi (R) |
| 2017 | May 28 | Takuma Sato |
| 2018 | May 27 | Will Power |
| 2019 | May 26 | Simon Pagenaud |
| 2020 | August 23 | To be determined |
* Race rain-shortened
(R) Indicates driver was a rookie