Nirei Fukuzumi tops final day of Super Formula test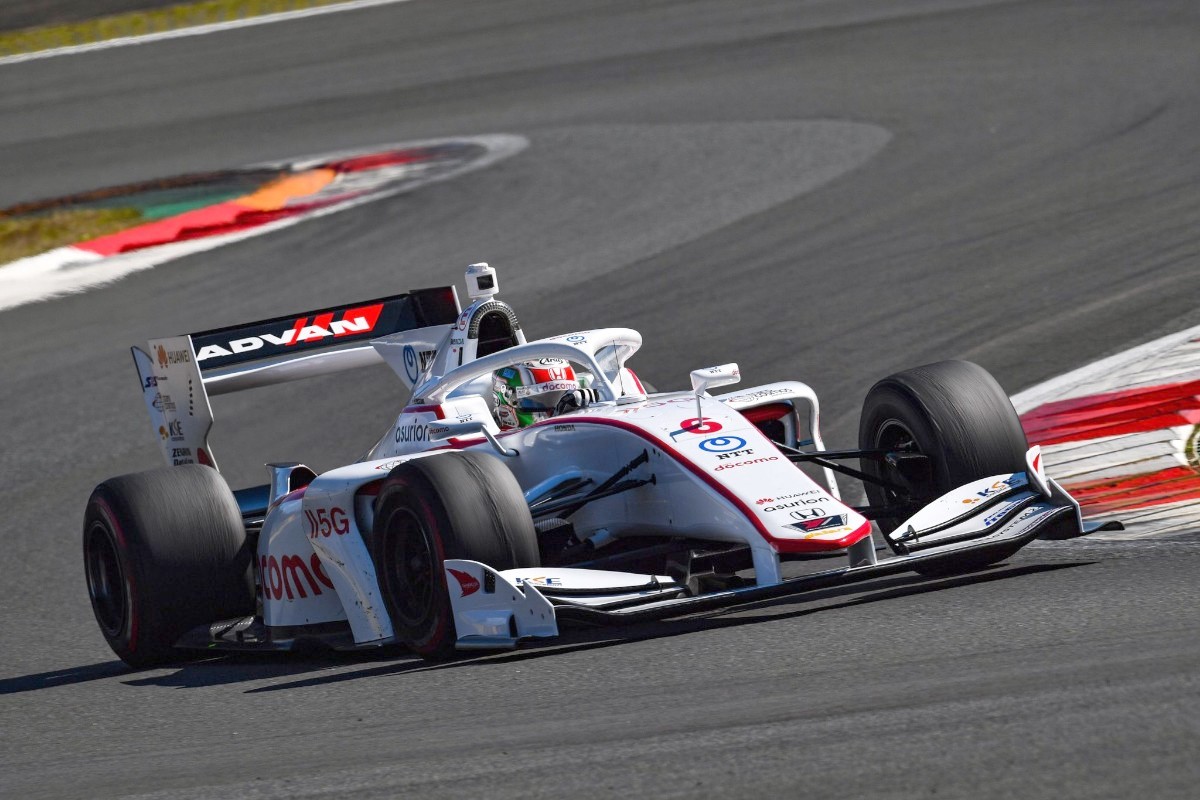 Nirei Fukuzumi
Nirei Fukuzumi was fastest on the second and final day of Super Formula pre-season testing at Fuji Speedway, topping both sessions.
The Dandelion Racing driver set his quickest time of the day in the morning session, his best time of 1m20.785s putting him 0.157 seconds clear of fellow Honda runner Tomoki Nojiri (Mugen).
However, Fukuzumi's time was slower than the effort that had put him second behind Impul Toyota driver Ryo Hirakawa on the first day of running.
AM Times
| | | | | | | |
| --- | --- | --- | --- | --- | --- | --- |
| Pos. | No. | Driver | Entrant | Engine | Time | Behind |
| 1 | 6 | Nirei Fukuzumi | Dandelion Racing | Honda/M-Tec | 1'20.785 | 0.000s |
| 2 | 16 | Tomoki Nojiri | Mugen | Honda/M-Tec | 1'20.942 | 0.157 |
| 3 | 20 | Ryo Hirakawa | Team Impul | Toyota/Trd01f | 1'21.203 | 0.418 |
| 4 | 65 | Toshiki Oyu | Tcs Nakajima Racing | Honda/M-Tec | 1'21.596 | 0.811 |
| 5 | 15 | Jüri Vips | Mugen | Honda/M-Tec | 1'21.620 | 0.835 |
| 6 | 1 | Nick Cassidy | Vantelin Team Tom's | Toyota/Trd 01f | 1'21.623 | 0.838 |
| 7 | 36 | Kazuki Nakajima | Vantelin Team Tom's | Toyota/Trd01f | 1'21.710 | 0.925 |
| 8 | 39 | Sho Tsuboi | Inging Motorsport | Toyota/Trd 01f | 1'21.729 | 0.944 |
| 9 | 4 | Sacha Fenestraz | Kondo Racing | Toyota/Trd01f | 1'21.783 | 0.998 |
| 10 | 3 | Kenta Yamashita | Kondo Racing | Toyota/Trd 01f | 1'21.791 | 1.006 |
| 11 | 50 | Sergio Sette Camara | B-Max Racing Team | Honda/M-Tec | 1'21.856 | 1.071 |
| 12 | 38 | Hiroaki Ishiura | Inging Motorsport | Toyota/Trd 01f | 1'22.042 | 1.257 |
| 13 | 5 | Naoki Yamamoto | Dandelion Racing | Honda/M-Tec | 1'22.132 | 1.347 |
| 14 | 7 | Kamui Kobayashi | Carrozzeria Team KCMG | Toyota/Trd 01f | 1'22.212 | 1.427 |
| 15 | 18 | Yuji Kunimoto | Carrozzeria Team KCMG | Toyota/Trd 01f | 1'22.236 | 1.451 |
| 16 | 64 | Tadasuke Makino | Tcs Nakajima Racing | Honda/M-Tec | 1'22.259 | 1.474 |
| 17 | 51 | Charles Milesi | B-Max Racing Team | Honda/M-Tec | 1'22.270 | 1.485 |
| 18 | 14 | Kazuya Oshima | Rookie Racing | Toyota/Trd 01f | 1'22.285 | 1.500 |
| 19 | 19 | Yuhi Sekiguchi | Team Impul | Toyota/Trd01f | 1'22.534 | 1.749 |
| 20 | 12 | Tatiana Calderón | Threebond Drago Corse | Honda/M-Tec | 1'23.111 | 2.326 |
PM Times
| | | | | | | |
| --- | --- | --- | --- | --- | --- | --- |
| Pos. | No. | Driver | Entrant | Engine | Time | Behind |
| 1 | 6 | Nirei Fukuzumi | Dandelion Racing | Honda/M-Tec | 1'21.207 | 0.000s |
| 2 | 20 | Ryo Hirakawa | Team Impul | Toyota/Trd01f | 1'21.448 | 0.241 |
| 3 | 4 | Sacha Fenestraz | Kondo Racing | Toyota/Trd01f | 1'21.642 | 0.435 |
| 4 | 5 | Naoki Yamamoto | Dandelion Racing | Honda/M-Tec | 1'21.662 | 0.455 |
| 5 | 19 | Yuhi Sekiguchi | Team Impul | Toyota/Trd01f | 1'21.676 | 0.469 |
| 6 | 65 | Toshiki Oyu | Tcs Nakajima Racing | Honda/M-Tec | 1'21.691 | 0.484 |
| 7 | 15 | Jüri Vips | Mugen | Honda/M-Tec | 1'21.819 | 0.612 |
| 8 | 50 | Sergio Sette Camara | B-Max Racing Team | Honda/M-Tec | 1'21.823 | 0.616 |
| 9 | 64 | Tadasuke Makino | Tcs Nakajima Racing | Honda/M-Tec | 1'21.832 | 0.625 |
| 10 | 7 | Kamui Kobayashi | Carrozzeria Team KCMG | Toyota/Trd 01f | 1'21.929 | 0.722 |
| 11 | 1 | Nick Cassidy | Vantelin Team Tom's | Toyota/Trd 01f | 1'22.005 | 0.798 |
| 12 | 36 | Kazuki Nakajima | Vantelin Team Tom's | Toyota/Trd01f | 1'22.043 | 0.836 |
| 13 | 39 | Sho Tsuboi | Inging Motorsport | Toyota/Trd 01f | 1'22.077 | 0.870 |
| 14 | 16 | Tomoki Nojiri | Mugen | Honda/M-Tec | 1'22.236 | 1.029 |
| 15 | 38 | Hiroaki Ishiura | Inging Motorsport | Toyota/Trd 01f | 1'22.320 | 1.113 |
| 16 | 3 | Kenta Yamashita | Kondo Racing | Toyota/Trd 01f | 1'22.446 | 1.239 |
| 17 | 18 | Yuji Kunimoto | Carrozzeria Team KCMG | Toyota/Trd 01f | 1'22.453 | 1.246 |
| 18 | 14 | Kazuya Oshima | Rookie Racing | Toyota/Trd 01f | 1'22.746 | 1.539 |
| 19 | 51 | Charles Milesi | B-Max Racing Team | Honda/M-Tec | 1'22.892 | 1.685 |
| 20 | 12 | Tatiana Calderón | Threebond Drago Corse | Honda/M-Tec | 1'23.475 | 2.268 |