What engine will Andretti run for McLaren and Alonso? (9th Update)
A McLaren team was a wet dream for IndyCar that was never going to happen
UPDATE This rumor is downgraded to 'false' today as we predicted. Zak Brown has confirmed in Austin that McLaren will not compete full-time in IndyCar next year. How could they when their F1 team is performing so badly.
We now expect Michael Andretti to announce Fernando Alonso will contest the Indianapolis 500 again as a one-off with his main team.
09/23/18 McLaren F1 chief Zak Brown is keen to set up an Indycar program and now, the one big hurdle he had of securing Honda power appears to be overcome, a decision regarding a Stateside partnership between the two organisations is on the cards.
This comes as a surprise in the wake of the bad blood spilt after their failed partnership in Formula 1 and more recently their star driver Fernando Alonso's affiliation with Toyota through his WEC program.
During their recent frustrating years together senior figures within the Woking outfit, including Alonso, were highly critical of the Japanese manufacturer, blaming them for all the team's shortcomings in Formula 1.
Hence McLaren management terminated the agreement, and all the perks that come with being a works outfit, to become Renault customers and the rest is history.
Now the problem is that McLaren are looking to partner with Andretti Autosport who are Honda powered, but despite the 'history' Brown told Racer that a deal is imminent, "We're close to a decision. We'd be happy to work with Honda, yes."
Honda and Chevrolet are the engine suppliers currently involved with Indycar, which Brown acknowledged when McLaren started flirting with the series, "There are two excellent manufacturers, both of whom do an excellent job, in IndyCar."
"We'd love to race with Honda again. They make great engines, they win a lot of races in IndyCar, so we wouldn't hesitate to race with Honda if that was ultimately the direction we were headed. We've spoken with both manufacturers in our process of exploring what we might want to do."
"We've been very flattered and moved by the enthusiasm we've seen and read about, from the IndyCar series and its fans to having McLaren back in the series, and maybe Fernando too."
Michael Andretti rumored to be talking to Chevy
09/19/18 Although the Harding Steinbrenner Racing team today said no decision has been made on the Andretti team's level of assistance, we know they cannot have one foot in the Honda camp and one foot in the Chevy camp.
"Right now we're at a place where we're entering the off-season, said Al Unser Jr. "There's a lot of work to be done. As far as the Andretti involvement in the future, that's a little unknown at this time. We're just going to work in the off-season and just try to be as competitive as we can at St. Pete at the season opener."
But we know Andretti will have an involvement, so, does that mean Andretti Autosport is switching to Chevy power next year, or does it mean Harding Steinbrenner Racing switches to Honda and Honda drops an under performing team like Meyer Shank Racing?
And we still do not know if McLaren will form a team at all, and if they do, will it be with Andretti, with Harding, or will they go it alone and who will supply them engines. Might we see Andretti Autosport, Harding Steinbrenner (with Andretti) and Andretti/McLaren all running Chevy power in 2019?.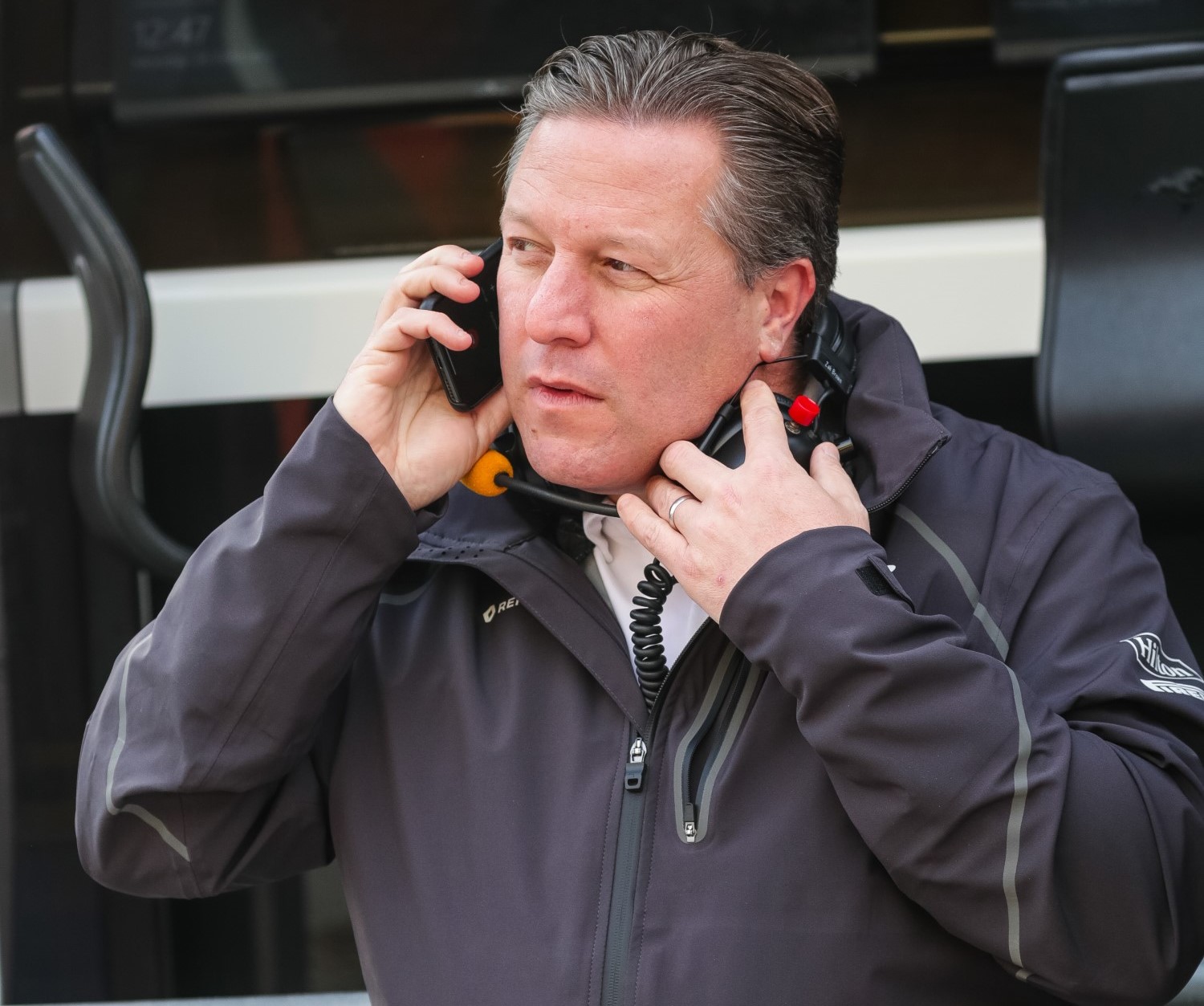 With rumors in F1 that Zak Brown's days are numbered as McLaren CEO, Miles cannot get too optimistic
09/19/18 SBD's Adam Stern tweeted that after having spoken to Zak Brown, McLaren F1 CEO, today (Tuesday) Mark Miles told SportsBusiness Journal from London (Miles is in Europe working on an international TV deal) that "McLaren is still working hard" on full-time IndyCar entry for next year.
While not going as far as to say he's optimistic, Miles did say he's still hopeful of full-time entry by McLaren for '19.
The question is whether Zak Brown will still have a job at McLaren. The investor's patience is running thin and he could be sacked at season's end due to poor performance of the team, and still empty sidepods.
09/18/18 The rumor in F1 circles in Singapore is that because the McLaren F1 team is doing so bad with Zak Brown at the helm, he may be fired at the end of this season and any notion of McLaren doing an IndyCar team will be over.
Brown knew nothing about running an F1 team, and he was brought on to find a primary sponsor for the blank McLaren sidepods.
They're still blank.
As for Alonso running the Indy 500, even if Brown gets the boot, Alonso could still drive for Andretti in the 500 in a 5th car.
08/19/18 We are told that Honda will not allow Andretti to have a Honda team and also have a Chevy team for Alonso, so that notion is off the table. We also hear Honda of Japan is really pissed at McLaren for how they belittled Honda in F1 and they do not want to supply McLaren Honda engines in IndyCar.
If this is true we do not see how Andretti is going to be able to run Alonso with a Honda and have McLaren involved. Will Alonso just run the 500 without McLaren? A lot of speculation and no one knows for sure.
Art St. Cyr did not rule out supplying Honda engines to McLaren and Alonso. They would be foolish not to.
08/16/18 AutoRacing1.com reached out to Honda HPD to see whether all this talk that Honda would not wanting to supply engines to McLaren or Alonso due to their parting of ways in F1, on not the best of terms, was true.
HPD's Art St. Cyr, said, "Fernando Alonso is one of the premier racing drivers of this generation, and we very much enjoyed working with him at the 2017 Indianapolis 500. He has shown that he can be very competitive right off the bat, and it would be great for IndyCar if he were to decide to drive here full-time after his F1 career. Having Alonso as a driver would be an obvious benefit for any team or manufacturer.
"Our engine lease agreements are made between HPD and specific teams. Several of our current IndyCar Series teams already have agreements in place with HPD for the 2019 season, and we have been operating near maximum capacity all year long to properly provide powerful, reliable engines for all of our teams. We have had discussions with several current and potential teams for 2019, and those discussions are ongoing."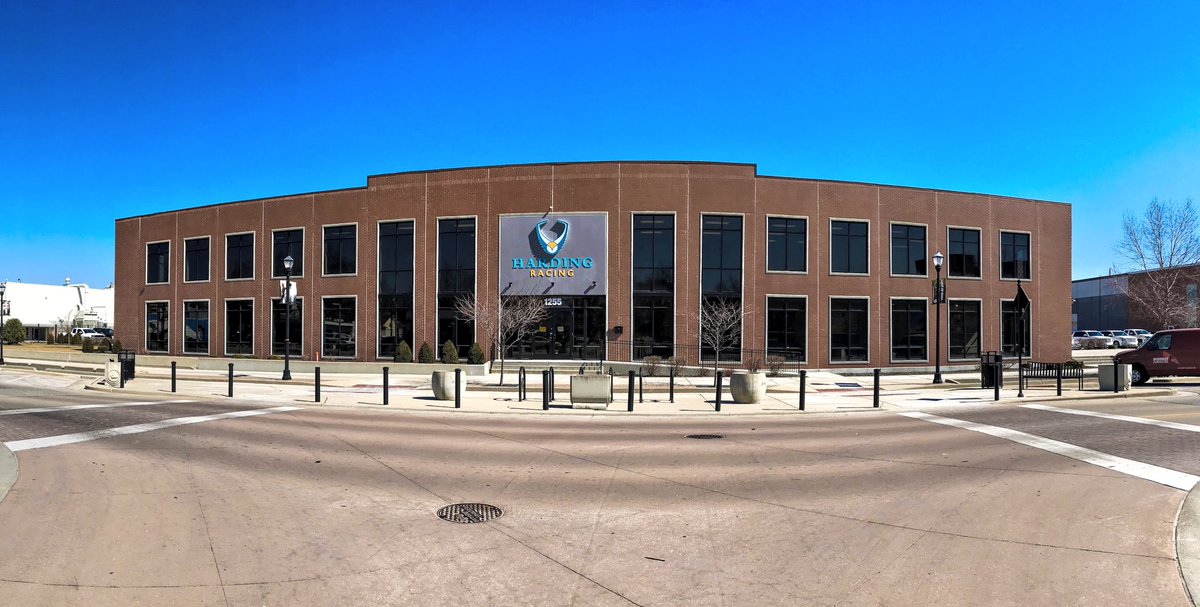 Harding Racing Shop – Future home of the Andretti-McLaren team
08/15/18 Rumor has it that the Wink Hartman-owned Harding Racing shop will become the Andretti-McLaren base of operations in North America. The shop is a short walk from the Indy Speedway.
Alonso and Andretti at Barber last year
08/15/18 The rumor of Andretti buying into the Harding Racing team for Alonso is gaining steam and is now 'strong'. Citing sources, Brazilian motorsports media outlet Grande Premio is reporting that Fernando Alonso "will be racing the entire season next year with the Harding team, in conjunction with Andretti Autosport, McLaren and Chevrolet." – Source
And AP hears that Alonso will test at Barber on Sept. 5th with Andretti to see how he likes the car on road courses. The Chevy part is likely true, as Honda possibilities for McLaren are not at this time favorable……which is absolutely dumb on Honda's part as they lose out on all the worldwide Alonso publicity. How stupid is that?
We have updated our 2019 IndyCar Silly Season Page accordingly.
Fernando Alonso will be driving an IndyCar, but with which engine?
08/15/18 It has been assumed that when McLaren comes to IndyCar with Fernando Alonso it would be in conjunction with Michael Andretti's team because Alonso wants to be in a winning car right away and Andretti's team has the setups and the IndyCar experience.
Only one problem, the Andretti team runs Honda engines and McLaren and Alonso badmouthed Honda so much in F1 (not that they did not deserve it at the time) that there are reports Honda won't supply McLaren or Alonso engines in IndyCar.
We think that would be a stupid move on Honda's part because if McLaren and Alonso win, and win a lot, in IndyCar, past bad feelings will quickly be forgotten. Honda is going to feel even worse when they beat them with a Chevy engine.
The other issue is how many more cars can Honda supply as they already supply more than Chevy.
In steps Michael Andretti who is rumored to be forming a team with Harding Racing – a struggling Chevy team – to run Colton Herta and Patricio O'Ward, up from Indy Lights next year. Andretti used to be a Chevy customer, so running a Chevy team again under a different roof could work.
But does McLaren and Alonso want to be part of Harding Racing, or do they and Andretti just buy out the team and take 100% ownership?
Of course Chevy would love to have a driver of Alonso's caliber running their engines.
Andretti also needs a seat for Colton Herta this Andretti-Chevy team rumor has some real teeth.
Anything is possible and we'll see how this plays out. We have updated our 2019 IndyCar Silly Season page accordingly with Andretti running a 2nd team for Alonso and McLaren with either Honda power or another with Chevy power.