IndyCar to return to Watkins Glen the right way this time (Update)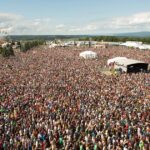 Don't think we know what we are talking about? Recent Phish concert crowd at The Glen
UPDATE A reader writes, Dear AR1.com, You missed a few. Add Elmira College, SUNY Alfred, Ithaca College, SUNY Oneonta, SUNY Delhi.
There are other NY schools like Nazareth, St. John Fisher, and Lemoyne.
Penn State, Keystone College, Mercyhurst, Marywood, Mansfield, and other Pennsylvania colleges are all close to the Glen. NY List PA List Mike Semel
Editor's Note: This is NOT rocket science folks. A race and a concert at The Glen would become an annual Labor Day tradition for concert goers and students returning to college and ready to party.
Why are they waiting until 2021 to do this?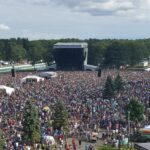 Another recent concert crowd at The Glen. Do as we say and the race will have 150,000 people and be packed to the gills
08/03/18 If Watkins Glen (N.Y.) International president Michael Printup has his wish, the IndyCar Series could return to the iconic road course within three years.
Printup was asked by a media member Friday during the NASCAR weekend about the possibility of the open-wheel series returning to the Glen and he indicated he was already involved in some very preliminary discussions with series officials.
"Jay (Frye, IndyCar's president of competition and operations) and I, we actually texted each other a couple of days ago. We promised each other we would get back in touch with each other in early 2019 in February and see if we can jump on the schedule maybe in 2021 if we can find a business deal.
The last IndyCar race at Watkins Glen was spectacular but had no concerts and no college students
"That's obviously the most important part."
Watkins Glen returned to the IndyCar schedule in 2016 after a street race in Boston collapsed, but it suffered low attendance in its two-year spell on the calendar and through a mutual decision by the track and the series its spot on this year's schedule was replaced by Portland.
"They had a three-year deal with us and we let them out of the third year, which would have been this year. It was the right thing to do," Printup said. "They were losing some heavy money and that's not the way racing should be. As a partner, we understood.
"I'm open to anything to talk to Jay about this. They belong here."
Doing the right way this time
Carb Day concert at Indy
Many race promoters today still think the old model of promoting a race works – runs some radio and print ads, a few billboards, and they will come. Well they "ain't coming."
How does COTA draw so many fans for its F1 race outside of Austin? When were Texans ever in love with F1? They weren't.
Unless your event has a special atmosphere, like a Road America with its beauty, speed and campgrounds, proper race promotion and big name concerts draw the fans – this year it's Brittany Spears and Bruno Mars for the USGP at COTA. It works. Long Beach and the Indy 500 have concerts and this contributes to the success of both events.
As we have said on this page in the past, they would fill Watkins Glen to capacity and beyond if they held an IndyCar race on Labor Day weekend and brought in Brittany Spears and Bruno Mars (or any big-name draw) and sold combined concert and race tickets to college students in NY state (we listed all the colleges previously below). It would be a huge college party weekend and expose many young people to IndyCar. Would ISC (NASCAR) ever do that for IndyCar? Of course not.
But IndyCar can self-promote it
Concert at USGP
Here are a list of colleges within driving distance of Watkins Glen. If you bring in some big concerts Labor Day weekend the kids (just as they return to school) will show up in droves to the track. Offer some bus service for those who don't have cars. Have concerts Friday night, Saturday night and Sunday right after the IndyCar race. One has to be a big name draw like Taylor Swift or Bruno Mars. The Glen will have to turn people away and they will setup tents and camp all weekend (provide them free pup tents) all over the hillsides. Many of these kids will become IndyCar fans after seeing IndyCar for the first time in their life.
1) Binghamton University, 2)Buffalo State College, 3) Clarkson University, 4) Cornell University, 5) Hobart and William Smith Colleges, 6 ) Rochester Institute of Technology, 7) St. Lawrence University, 8) SUNY Brockport, 9) SUNY Environmental Science and Forestry, 10) SUNY Fredonia, 11) SUNY Oswego, 12) SUNY Plattsburgh, 13) SUNY Potsdam, 14) SUNY Cortland, 15) SUNY Geneseo, 16) Syracuse University, 17) University at Albany, 18) University at Buffalo.
Many of the kids would stay Sunday night and party some more and use Labor Day Monday to return to school. DO NOT give up on WATKINS GLEN. It can work and be huge for IndyCar. It just needs the right race promoter. Forget ISC, rent the track and hire a proper race promoter.
The only reason why Watkins Glen failed is because ISC owns the facility. All IndyCar races fail at ISC facilities because ISC only cares about NASCAR and does not properly promote the IndyCar race. The Labor Day weekend was perfect for IndyCar but the promoter never bothered to market the race to all the colleges in NY State as a party weekend complete with a big name concert. It would be huge.