Overheard at Mid-Ohio – Sunday
Mark Miles
UPDATE It's about 25 minutes before the green flag and a cloud cover has made its way over the Mid-Ohio Sports Car Course. Word from the AR1 central Ohio Weather Bureau is that while there may be some showers with a 30-40 mile radius of the track, those showers will most likely miss the Mid-Ohio Sports Car Course.
Also, AR1 bumped into Hulman & Co. CEO Mark Miles about an hour ago, and we asked Miles about the rumors of Liberty Media possibly buying the Verizon IndyCar Series and the Indianapolis Motor Speedway.
"B.S.," said Miles, rather succinctly. He went on to say that INDYCAR/IMS had a relationship with Liberty that included regular dialogue. In particular, he noted that Liberty has inquired about some of the cost savings measures utilized by INDYCAR. But as for a Liberty buyout/takeover/whatever, Miles was emphatic in his denial.
Brian Carroccio and Tim Wohlford reporting for AutoRacing1
Expect differing strategies today
07/29/18
There's a little buzz in the paddock today regarding whether teams can do today's Honda Indy 200 at Mid-Ohio in only two stops. Differing strategies have been used in the past with success, and generally speaking, most seem to think three stops is the optimal strategy save for a decent amount of caution laps.
However, I did bump into one crew chief type, and asked whether the race could be done on two stops. "Maybe," was his not so specific, yet possibly revealing response.
My big-picture takeaway: with track position at an absolute premium, a few teams are going to reach deep into the bag of tricks to try and get their driver to the front. .
Lucille Dust and I had the pleasure of speaking with Juncos Racing owner Ricardo Juncos this morning at the Juncos Indy Lights garage area. The team will make its 10th IndyCar start of 2018 with Rene Binder behind the wheel today, and Juncos is looking at continuing to build its program in 2019.
Juncos did tell us the team will be at Portland International Raceway in September, something that was not originally planned. He would not tell us the driver, as the team is finalizing the deal, but expect an announcement in the coming weeks.
Juncos shared some thoughts on other subjects such as the Road to Indy, which we will pass along at a later point.
I was also able to gather a little more information regarding the seemingly never-ending McLaren to IndyCar rumor.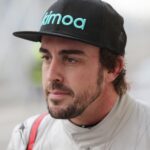 We all know that Fernando Alonso is one silly guy. Could he be up to his old tricks again?
To briefly summarize, the whole saga began last year when Fernando Alonso ran the Indianapolis 500. And I remember here at Mid-Ohio last year, it was once again front-and-center on what was a crazy weekend of rumors. The story picked up steam again this year when McLaren boss Zak Brown visited Detroit and indicated McLaren running IndyCar was a strong possibility. However, earlier this month reports out of Europe suggested the deal was dead as McLaren wanted to focus on their Formula One efforts.
Fast forward to this week, when a strange report came from RACER suggesting that Alonso may test an IndyCar this fall. Then yesterday, Michael Andretti noted that he needed an answer from McLaren and/or Alonso by the Pocono race in three weeks if they were to run some sort of collaborative full-time effort. This revelation from Andretti, seemed to indicate that the reports out of Europe suggesting McLaren had decided to not come to IndyCar were not true. If we are going off what Andretti said and what Hulman & Co. CEO Mark Miles said a few weeks ago at Iowa (in rumor thread) then we could reasonably conclude a decision has yet to be made.
Got all that?
Even if you haven't fully digested this seemingly never-ending buffet of motorsport gossip juiciness, you probably realize that there is definitely plenty of meat left to chew on this bone. And given that theorize and speculate is something we do really well here at AutoRacing1, the question becomes: where do we start chewing.
Well, we spoke with shall we say someone in the know to find out what exactly was going on. This individual told us that McLaren is willing to do IndyCar IF they can get the driver(s) they want. According to this person, if McLaren lands the driver(s) they want, they will be in IndyCar full-time with a 2-car effort in conjunction somehow with Andretti Autosport.
Now, one would reasonably conclude that one driver they would want would be Alonso, but could there be more than meets the eye here?
Well, if you read what Andretti said yesterday, the self-imposed deadline he gave seemed to be directed at Alonso. "IF (emphasis mine) he comes over here, there is a lot he will have to learn," said Andretti. "I think the team helped him a lot at Indy and if he comes here, he will have pace from the first race."
So, to Andretti, the idea of Alonso coming to IndyCar full-time remains very much in play. But could there also be something holding up Alonso?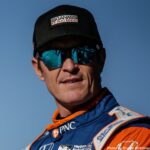 Much has gone quite on the Scott Dixon Silly Season front. Is the Kiwi still part of the McLaren-to-IndyCar puzzle?
Well, go back to our source who indicated that McLaren is trying to finalize the driver lineup. And we know that four-time IndyCar Series champion Scott Dixon was linked to the team earlier this year. We also know Dixon remains unsigned for 2018. Could it be that Alonso is waiting on Dixon? In other words, Alonso doesn't want to come to IndyCar and break in some 22-year-old kid. He wants Dixon in the fold. Or could it be that Dixon is waiting on the notoriously indecisive and cryptic Alonso?
I'm not going to sit here and say I know exactly. But in light of Andretti's comments, which were the first real news on this subject in quite a while, I think there are some conclusions we can draw:
Given what Andretti and our source said, a full-season McLaren-to-IndyCar deal probably isn't happening without Alonso.
There is something holding up the deal, and if you go by Andretti's quote that something is Alonso
So, if it is in fact Alonso holding up the deal, then what exactly is holding up Alonso
And where does Dixon fit into this, if he still fits in at all?
Fascinating stuff to be sure, and my guess is it will get even more fascinating in the coming weeks.
We'll have more later.
Brian C. Reporting from Mid-Ohio