Toto Talks Hungary
Track Highlights
We've had our fair share of bad luck this season, but it felt like our fortunes turned around in Hockenheim. A one-two is always a great result; to get it on Mercedes home turf after starting from P2 and P14 on the grid was absolutely incredible. However, in the cold light of day, we also know and recognize that we did not bring the quickest car to Hockenheim.
We've passed the halfway point of the season and we lead both championships by very close margins. Each and every member of our team has worked very hard to make this possible and the determination and energy in our factories seems to be ever-growing. We all know that no prizes are given out for half-time champions, so we will keep pushing to improve our performance.
Hungary will see another tough fight with both Ferrari and Red Bull. It's a high downforce track and on paper they should both be very fast in Budapest. However, if there's one thing the German Grand Prix taught us, it's the fact that predictions don't determine race results. We will give it everything to go into the summer shutdown with as many points as possible.
The Track
After a succession of 'power tracks', Formula 1 arrives at a circuit that is anything but. Built in a natural bowl on the outskirts of Budapest, the tight, bumpy Hungaroring is a track where, after the moderately long 800 metre-ish start-finish straight, the corners then just keep coming – in fact, it's often compared to an overgrown kart circuit.
That means that good chassis performance is rewarded here, hence Red Bull being touted as pre-race favourites. The team have already shown how strong their RB14 is this year at tracks like Monaco, where average corner speed and acceleration are key – and where Daniel Ricciardo managed to keep Sebastian Vettel's Ferrari behind despite having an engine hamstrung to the tune of around 160bhp. And at Hockenheim, it's believed that Max Verstappen became the first F1 driver to ever take the track's Turn 1 at full throttle during qualifying – a true test of aero if ever there was one.
Average speeds at the Hungaroring with the cars in qualifying trim are just over 200kph, compared to over 250kph at Monza. That's thanks to the 4.38km track squeezing in a full 13 proper corners – the similar-length Red Bull Ring has just eight by comparison. Overtaking is therefore tricky at the circuit, and with Turn 1 the best place to poach a place off your rivals, a good exit from the final Turn 15 is crucial.
Select Quotes
Sergio Perez:
"You always want to do well on the final race before the holidays. As a racing driver, you only remember your last race and you want to go into the break with some nice memories. It helps you have a better holiday if you score a good result.
"I enjoy the Hungaroring: it's a circuit with a lot of corners that can catch you out and it's a big challenge to get a clean lap together, especially in qualifying. The races, too, can get quite interesting. It's a narrow and twisty track but it still offers some opportunities for overtaking. The key for a good race in Budapest is to have a car with plenty of downforce but also that is not too hard on the tires. It tends to be very hot there so it's important to look after them.
"It's been a very hectic first part of the season, especially with five races in the last six weeks, and I am looking forward to the break. I am going to spend it at home, with my family, without too much travel."
Esteban Ocon:
"I want to go on holiday on a high and I am happy the final race before the break is on one of my favorite tracks. Budapest is one of the races that I enjoy the most and it's always a good weekend for me. The city is beautiful and there are a lot of fans there, but my highlight is the circuit itself. I fell in love with it the first time I drove on it.
"The track is quite narrow, but it's still very fast. There are a lot of quick changes of direction and the corners come one after the other with no chance to catch a breath. That's what I really like about it – you need to keep pushing all the time and make the most of the sequences of corners. You need to have a good rhythm there and if you make a mistake, you pay for it in the corners that follow.
"It will be nice to have a bit of time off after Budapest. I am looking forward to a nice holiday with my friends, but I am going to train hard as well. I am going back to my training camp in the Pyrenees so there will be a little bit of holiday and a lot of work!"
Vijay Mallya
"It's always important to do well in the final race before the break and this year is no exception. We have been scoring double-points finishes in the last three races so it would be nice to carry this momentum into the holidays. The midfield battle is as close as it has ever been and each race weekend can swing the balance one way or the other: we have shown in Germany how crucial it is to take your chances when they materialize, when perhaps earlier in the season luck wouldn't have favored us. Our target for the rest of the year doesn't change: we are still aiming to retain fourth place in the championship and we will give everything to make it happen."
Brendon Hartley:
"I've raced at the Hungaroring quite a few times over the years, in Formula Renault 2.0 and Renault 3.5. I also recall having a really good race there in LMP2. It's a track I enjoy and one at which I usually go well. I'm told that, in a Formula 1 car, it's one of the most physically demanding tracks of the year, as there are no straights where you can catch your breath. My fitness is good and I'm feeling up to the challenge in the hot conditions. The emphasis on qualifying will be even higher than usual here, because of the difficulty of overtaking, even if it's not quite as tight as Monaco. It is high downforce however, as well as being probably one of the least power-sensitive tracks on the calendar.
"The crowd has always been great at the Hungaroring with passionate racing fans, I'm looking forward to soaking up that atmosphere. It's a cool city to be at, I've spent a few days there in the past and I enjoy the city. After finishing in the points in Hockenheim I will do my best to keep the momentum and head into the summer break with good vibes."
Pierre Gasly:
"I won there in 2013 in Renault 2.0 liter, I was second in 2014 in 3.5, second in 2015 in GP2 and first, again in GP2, in 2016, so it's a track that seems to work well for me. It's one of my favorite tracks because it's very technical, which is something I like. It's important to get into a good flowing rhythm and on a track with so few straight sections, the driver can really make the difference. With one corner leading straight into another, it's important to get the flow working, because if you make a mistake at one turn, it has a big impact on the following ones. However, rather like Monaco, overtaking here complicated, therefore qualifying is even more important than usual. In terms of pure driving though, I love it, as there are all sorts of corner types: slow, medium and fast, long corners, heavy braking ones, so it has a bit of everything. Given that I really like it, I can't wait to find out what it will be like in an F1 car. I reckon it will be a pure pleasure! I'm not bothered about the fact it is going to be extremely hot this weekend, as I am in good shape, even though it has been a long and tough season so far. I'm well prepared for the conditions and I hope we will be able to get a good result to take with us into the summer break. It would be important psychologically for the entire team to pick up some points and we will all be working very hard to achieve that. I love racing, but I think the break will be a good thing, because everyone is quite tired and needs some time at home with the family. It's the perfect moment to cut the season in half and I will be going on holiday with my friends and those that are close to me. But before that, let's give it everything in Budapest!"
Featured this Week: Chasing Pit Stop Perfection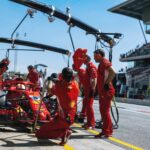 Vettel in the pits
It'll take longer for you to read this sentence than it takes a Formula One team to complete a pit stop. That's how quick modern-day tire changes are. Well, at least in theory – if you change the tire choice last minute, it can take slightly longer…
What is the most important factor for a good pit stop?
Achieving the perfect F1 pit stop is far from easy. It requires all of its intricate elements to be working in absolute harmony. This is a tough task, particularly when the pit stop falls in the midst of a tense on-track battle. Cars arrive and depart in a little over two seconds. Well, that's the aim, anyway. Anything over that mark is considered a 'slow stop', which is remarkable when you think about the amount of activity that happens in such a short space of time. Outright speed, however, is actually not the most important goal for the team – instead, it's all about consistency. A 1.9-second stop is great, but if you follow that up later in the race with a 3.6-second tire change that advantage is lost. Teams are looking for their pit stop times to be consistent across not only individual races but the season as a whole.
What exactly do the individual crew members do in a pit stops?
Within the tight timeframe of an F1 pit stop, the first step is the car coming into the box and stopping on the marks. One crew member will be holding a stop board, indicating where exactly the front tire should come to a stop. Once the car has reached its position, the sign will go up and it will then be lifted up by the people operating the front and rear jacks. It's at this point that the tire crew get to work. There are twelve people involved in changing the tires, three on each of the car's four corners: one operating the wheel gun, one taking the old tire off and another placing the new tire on. Once the wheel nuts have been loosened, the worn tires are taken off and new ones are then fitted. The wheel nuts are tightened and if the crew members are happy that they are safely on, they will hit a button on their wheel guns to confirm this. While this is going on, there are two crew members positioned at the front of the car to adjust the front wing flags, using electrically-operated guns. There are also two placed in the middle of the car, to steady it on the jacks, clear the radiators and clean the driver's visor and mirrors when required. Another team member is overseeing the pit stop and the pit lane traffic. This person has the final say as to whether the traffic light gantry system goes green, which releases the driver into the fast lane. If there's too much traffic, they'll keep holding down their button until a gap emerges.
How long do the individual tasks take?
It's tricky to break down just how long each element takes, because it goes by so quickly. But, from the car stopping on its marks to the wheel nut being taken off is around five tenths of a second. From there, you need another second for the tire change and securing it back on is roughly four tenths. Dropping the car takes around two tenths. But, of course, this all depends on whether everything goes to plan.
How does the pit crew practice for pit stops?
Naturally, with so much focus on consistency and the need for all of these people to be working in synchronization, practice most definitely makes perfect. The team completes around 60 practice pit stops over the course of the race weekend. On the Thursday, there's always a change-around, where people swap roles for a few of the stops. Every member of the pit crew has his set role and these are usually kept the same throughout the course of a season. But, people have experience in different task, so a change-around can take place if necessary. And the team doesn't just running through normal, everyday scenarios. They're also practicing possible situations that may come up, like changing a nose (which requires a special side-jack), switching to the spare wheel guns or using the starter motor if the car stalls. To make sure that the pit stops are as consistent as possible from the very first race of the season on, the team does about 60 pit stops per week during pre-season.
What else can a team do to get faster pit stops?
In addition to trying to prepare for most scenarios, there's a constant drive for improvement – from the positioning of the crew to the equipment itself (such as the wheel nut design). Fitness is another way to enhance pit stops and the team work hard in the gym to be in the best shape possible. The main focus is on strength, conditioning training and stretching, but there's also training specific to the different roles.