IndyCar Iowa Corn 300 Postscript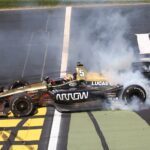 James Hinchliffe celebrates with donuts
Let's face it: entering this weekend's Iowa Corn 300 it had been a miserable season for James Hinchcliffe. This miserable season of course had been highlighted by Hinchcliffe's failure to qualify for the Indianapolis 500, and the arguably embarrassing fashion in which it occurred. You might remember Hinchcliffe seemed unaware of the 5:50 p.m. end time to Bump Day qualifying, which fairly might lead one to conclude the team was unaware of the time also. But the qualifying failure was from a certain standpoint just one of the blights on the 2018 resume for the self-proclaimed of Mayor of his own Cybertown.
Keep in mind, since joining Schmidt Peterson Motorsports in 2015 had for the most part been the face of the franchise. But until Iowa, Hinchcliffe had for the most part been buried by his good friend and rookie teammate Robert Wickens. Now in fairness, one could argue (I would) that Wickens has been the best IndyCar rookie since Juan Pablo Montoya or Nigel Mansell, so it's not as if Hinch was getting drilled by some wanker. Still, if you want to look at hard core data points, Wickens holds the edge 8-3 in qualifying. Even after Hinchcliffe leading 45 laps at Iowa, Wickens has the edge in laps led (172-65). Wickens has regularly been a contender for podiums, and I think everyone would agree might have a win or more with merely a little fortune.
In short, there's no question: Wickens has outperformed his more experienced, more heavily promoted teammate in 2018.
Perhaps, and I don't know this as a fact, but the combination of Wickens' success, the embarrassment at Indy, the fact Hinchcliffe had entered 2018 as part of a national Honda advertising campaign in a way we've seen so few IndyCar drivers promoted in recent years, and his own on-track performance had to be weighing on the Canadian.
[adinserter name="GOOGLE AD"]Now, given the disproportionate weight, IndyCar places on the Indianapolis 500 relative to the balance of the schedule, one win at Iowa is not going to erase what happened at Indy. That said, it would be hard to write a storyline for a better win than this weekend.
The driver of the No. 5 Arrow Electronics car started 11th and without the assistance of any yellow flags, or flukish strategy drove himself to a solid 2nd place by lap 41 – on a 7/8-mile track no less. He then ran solidly in second for most of the race slowly closing the gap on leader Josef Newgarden. Hinch moved past an apparently confused Newgarden, who believed the Canadian to be a lap down, and held on from there.
Keep in mind, Team Penske had led every practice and qualifying session of the weekend and were thought to have an advantage on the field due to their recent test at Iowa and their shock program. Hinch also beat the at-the-absolute-height of their-powers Newgarden/Tim Cindric combination, who have been quite formidable with a lead since uniting at the start of 2017.
In short, this was a win with no asterisk. Hinch passed men named Rossi, Dixon, Power, Pagenaud, Hunter-Reay and others at speed in route to a seemingly-dominant Newgarden. From there, Hinchcliffe would chase down the, ultimately pass then hold off the man who has unquestionably been the best driver on unquestionably the best team in the series over the last year.
To put it in boxing terms, Hinch didn't simply earn a hard fought decision; he spent 12 rounds going toe-to-toe with Muhammad Ali before knocking him flat on his back.
The end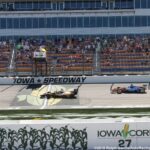 Hinchcliffe takes the checkered flag under yellow
While Hinch's win was emphatic, the series ending the race under caution was questioned by many.
Part of this questioning, I'd argue, is rooted in the fact many conflate the preference for a green flag finish into somehow arriving at the conclusion that any fan who witnesses a motor race end under caution is the victim of a human rights violation.
Anyway, let's take more level-headed approach and briefly at what actually happened Sunday to make a determination as to what, if anything, INDYCAR could have done differently.
On lap 294 (7 to go) Ed Carpenter lost control entering turn 1, when he was hit by Takuma Sato. The resulting debris on the racing line, prompted a yellow flag, which came out right as the leader (Hinchcliffe) was ending lap 294, beginning lap 295 (6 to go).
The pace car picked up Hinchcliffe out of turn 2 on lap 295, and from there it took about another two laps for the field to bunch together in formation This allowed the pits to open for the end of lap 297/beginning 298 (three to go) for lead lap cars. That resulted in non-lead lap cars pitting on lap 298/299 (two to go).
For the series to go back green, INDYCAR would have had to wave around the lapped cars per rule 7.7.1.2 on lap 299/300 (one to go), which the could have done, but would have meant that the series ran out of laps.
Now, you could argue that the series' caution procedure is unnecessarily convoluted (I would). However, given the procedure as currently constructed there wasn't enough time (remember this is a7/8-mile track) to line up the cars, open the pits, allow both lead lap and non-lead lap cars to pit, handle the wave around, line the field again and go green.
Yes, I agree it isn't ideal to finish under caution, and if you want to alter the rules I'm all ears. But there is no rational basis for criticism of how the series handled Sunday's finish.
Newgarden
Since the start of the 2017 season, the relationship between Newgarden and Team Penske has been nothing but daisies, unicorns, rainbows and sunshine. However, Newgarden was clearly not happy with whatever information he got from the team after Hinchcliffe passed him on lap 255.
This isn't to say he handled anything poorly. And Newgarden is way too smart to blast anyone publicly (remember how he responded to those pit gaffes in the Sarah Fisher Hartman Racing days). Unsurprisingly, he was nothing but class in his post-race comments yesterday, particularly when it came to lapping his teammates. He's also shown a real ability to get on with the program following mistakes in the past (think Watkins Glen last year).
But if Will Power and Simon Pagenaud fall out of the championship race, and Newgarden finds himself locked in a heavyweight battle with say, Scott Dixon, will the ever-cheerful, always polite Newgarden begin demanding more from his team and teammates? This will be an interesting story as the tension builds during this final stretch of the season.
Pigot
Spencer Pigot's second-place got buried a little with Hinchcliffe's fine win. But after a couple years of tough luck, and finding his way, this may have been a breakout performance for a rising star with TONS of potential. Keep in mind: that Ed Carpenter Racing entry has shown speed on both ovals and road courses in recent years. And it will be intriguing to see how Pigot continues to progress.
Growth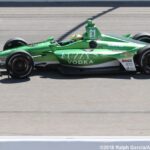 Spencer Pigot
One thing I constantly hear from fans and fellow media is that IndyCar is "growing." Now, I'm not disputing this notion per se, but I have ask: where is this notion coming from? If IndyCar is in fact growing, can someone please show me some metrics (BrianC@AutoRacing1.com) that support this notion that seems to have become Gospel? Because the numbers I'm looking at (again, I'm open to contrary evidence and will present in this space, if presented) do not support this notion.
Nightime is the Rightime
I didn't go this year, but I've been to Iowa a few times, and it is one of my favorite stops on the tour. However, it is a MUCH, MUCH BETTER stop when the race is at night. For one, a night race lends itself better to an agricultural community to attend. Second, Iowa can be oppressively hot during the day (at night too, but more so during the day).
The last three seasons, the race has been during the day largely to accommodate television as NASCAR has had night races at Kentucky and Daytona. However, the news that Iowa is expected to return to a nighttime show, is very welcome by this observer.
The Racing
There were many on social media, who did not care for Sunday's show at Iowa. Too few cars on the lead lap, and Newgarden dominating much of the race seemed to be the source of most complaints.
Look, I know people's demands for entertainment are greater now than they were 10 or 20 years ago. And I'm not going to tell anyone what they should enjoy or not. But, from where I was sitting, I thought Sunday's race was freaking awesome!!!!! There was a premium to staying on the lead lap, and cars had to fight to do so. Takuma Sato, for example, fought tooth and nail at one point and ultimately wound up on the podium. Also, all three podium finishers started that race outside the top-10. Watching Hinchcliffe, Spencer Pigot and Takuma Sato charge through the field was entertaining if you ask me.
McLaren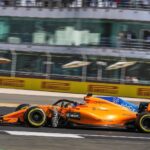 What does the McLaren F1 team get out of an IndyCar team?
I'm not going to sit here and claim I know what's going on. I've simply been reading AR1 like you and following the McLaren-to-IndyCar rumors.
However, it seems to me that what was looking like a strong possibility a month ago is beginning to fizzle somewhat. And I think it's fair to ask, what exactly would McLaren be getting out of an IndyCar program.
To me, the only way it would make sense is if Fernando Alonso wanted to move full-time to IndyCar. Now, Alonso in my view is done running 12th in Formula One, and he'll almost surely run the Indy 500 again. But does anyone really think Alonso wants to run wheel-to-wheel at Texas in front of 5,000 people for $30,000?
In other words, I've never thought Alonso was coming to IndyCar full-time. My guess (and again, I don't have any unique information on this story) is that McLaren is sick of being bullied by the factory teams in Formula One. This IndyCar flirtation, it seems, has fundamentally been an attempt to get the attention of the FIA. In particular, they're looking for the FIA and/or Liberty to somehow intervene and/or adapt the rules to allow them to secure a competitive power unit.
The problem for McLaren, I wonder, is the FIA and Liberty probably realize this too.
Brian Carroccio is a senior columnist for AutoRacing1. He can be contacted at BrianC@AutoRacing1.com