Vettel beats Hamilton to win British GP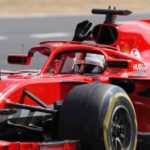 Vettel takes 51st career F1 win to tie Alain Prost
Ferrari ace Sebastian Vettel grabbed the lead at the start and led comfortably until two safety car periods closed the gap and put him in second after pitstops behind Valtteri Bottas and just ahead of Hamilton.
When the green flew Vettel measured up Bottas and made the winning pass with six laps to go then pulled away to win by 2.2 sec. ahead of Mercedes driver Lewis Hamilton while Kimi Raikkonen made a late pass of a struggling Bottas to grab the final podium position.
Lewis Hamilton drove from last to 2nd at the finish after being spun around by Kimi Raikkonen at the start, but he would not have finished 2nd if not for the safety cars that enabled him to gain all the track position back he lost.
[adinserter name="GOOGLE AD"]Raikkonen received a handful of boos from the British crowd when he accepted his trophy for third place.
"Absolutely fantastic," is Ferrari's response as Vettel sings back to them, laughing all the way as he waves to the fans.
It wasn't easy, he didn't have it all his own way but that was some race from the German, who has increased his lead in the Championship to 8 points.
"Obviously the safety car spiced it up, it was a nice battle with Valtteri – I think I surprised him to get past, wasn't sure I'd make the corner but I did. Great work by the team and the people supporting me. What an amazing day," said Vettel.
"This is the greatest crowd in the world, and I'm sorry I wasn't able to bring it home for them. I'll never give up," said Hamilton.
A fourth victory of the season for Vettel, and 8 point lead in the standings… and his home race up next. No wonder he is smiling.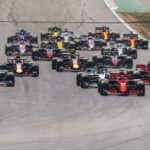 Vettel jumps Hamilton to lead at the start
Ferrari Photos
Mercedes gave themselves a chance of snatching back the win by leaving Hamilton and Valtteri Bottas out when the Safety Car was called into action late in the race, while Ferrari and Red Bull pitted for fresh tires. And for a few laps, it looked like it may work as Bottas held off Vettel, with Hamilton to third.
But ultimately, Vettel had too much pace on the softer tires and after eyeing his prey for a few laps, brilliantly snatched the lead from Bottas. Hamilton also moved past the Finn, but he didn't have the performance to attack Vettel and had to settle for second with Raikkonen third.
It was Vettel's 51st victory the season, moving him level with four-time world champion Alain Prost in third in the all-time list.
Race Summary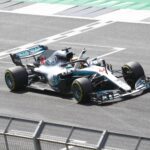 Hamilton grabs 2nd after near disaster at the start
Would the boiling hot tires give enough grip? Yes would seem to be the answer given the way Vettel shot from second on the grid into the lead. Raikkonen fought with Hamilton and it did not go well, with the Mercedes spinning and the Ferrari continuing in fourth place, before retaking Ricciardo at the end of the opening lap.
Raikkonen locked up, sliding into Hamilton and pitching the five-time British Grand Prix winner into a spin. Hamilton kept the engine running, rejoined in 18th and then set about stitching together one of his trademark comeback drives to limit the damage in the drivers' championship.
In the early stages, Vettel's SF71H was clearly the quickest car on track, while Raikkonen was right up Verstappen's exhaust pipes. However, after seven laps, the Stewards hit the Finn with a 10 second penalty for the collision at Turn 3, while the driver was radioing the team asking about suspected front wing damage. They decided to bring him in on lap 13 to change the tires and take the penalty. He rejoined tenth, between Sainz and Magnussen. He immediately dealt with the Renault and set the fastest lap. The aim was to stay ahead of Hamilton when he too would have to pit.
At one third distance, Raikkonen had moved up to sixth and Red Bull called in its drivers to avoid finding themselves behind the Ferrari. At the end of lap 20, Vettel pitted switching from Soft to Medium tires. He emerged ahead of Hamilton, as planned. Obviously, at that point, Bottas was told to pit, but Vettel still found himself leading, by the same margin of 4"4, as before the stop. However, now it was time for tire management.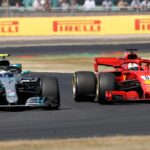 Vettel makes pass on Bottas for win
Hamilton pitted on lap 26, but surprisingly, Ricciardo hung on for a further five laps before handing fourth place to Raikkonen. With 20 laps to go, Ericsson crashed into the barriers at the first corner and the safety car came out, which changed the shape of the race. Ferrari pulled off a double pit stop, switching back to Softs, but the Mercedes duo stayed out, so that behind the Safety Car, Bottas led the way, from Vettel, Hamilton, Verstappen and Raikkonen.
At the end of lap 37, the race resumed with Vettel maintaining position and Raikkonen fighting with Verstappen. But almost immediately there was another crash, this time involving Sainz and Grosjean at Copse. So once again the Safety Car appeared, coming back in with ten laps remaining. The first three tore off and behind them, Raikkonen got the better of Verstappen and set his sights on Hamilton.
The next two laps were incredible with four cars fighting it out. Then, on lap 47, Vettel concealed his move to the very last moment and dived inside Bottas at turn 6. He was first! And for the second time in this race, those behind switched places. Only three laps left, but there was plenty of excitement still to come. Raikkonen attacked Bottas and passed him decisively at turn 6. First and third "here at their home" said Vettel on the radio.
Quotes
Mercedes AMG Petronas Motorsport
Lewis Hamilton (2nd): "It was a difficult race, but I gave it everything and I'm grateful to make it back up to second. It was eventful from the start, but in the final laps we just didn't have the pace of the Ferraris on the fresher tires. I'm very grateful that the car was in one piece after the incident in Turn 3 and that I could continue the race. I was last at that point, but I still believed that I could win – and I needed that mentality to make it back to where I finished. When the guys in front of me pitted under the Safety Car, it was an opportunity for me to get up into third. It was absolutely the right decision – if I had followed them into the pits I would have come out behind them on equal tires and I would have struggled to get by them and most certainly would not have been second. The fans have been incredible this weekend and I'm so grateful for all their support."
Valtteri Bottas (4th): "I'm very disappointed, leading the race and then dropping to fourth in the last few laps feels pretty bad. The others pitted under the Safety Car, but we took the risk and stayed out to get ahead of Sebastian. It worked out initially, everything felt fine in the beginning. I was giving it everything I could in the re-starts, I had to push like in qualifying, but with about five laps to go, the tires just could not take it anymore. I tried everything to not give up the lead, but there was nothing I could do at that point to defend against the others on the fresher tires. We knew a one-stop was not going to be easy, but we decided to take the risk. Unfortunately, that stint on the Medium tires was just a bit too long today. It's always easy to judge these things in hindsight, but at the point we made the call to stay out I was on the same page. I could have easily taken second place today, but we decided to go for it. I will continue to give it everything and I'm sure that one day it will work out."
James Allison, Technical Director: "This sport is at its very best when unpredictable and we saw that proven today with a thrilling spectacle for the aficionado and casual fan alike. However, as a Mercedes team member, it hurts a lot not to have Lewis on the top step of the podium where his blinding pace today should have put him. Leaving aside the misfortune of the first lap, it is intriguing to speculate how the final part of the race would have played out without the Safety Car. Valtteri was in very good shape on his tires, and closing on Vettel, who we had seen was more challenged on tire wear during the race. But it was not to be. Although we have endured a couple of difficult weekends, this has not been because the car was slow but for a host of other unconnected reasons. In the end, pace normally tells over the course of a season, and if we bring it to bear in the next 11 races, we will muscle our way back into a title race that is very much ours to win."
Toto Wolff: "That was an incredible race – thrilling right to the finish and full of drama. For Lewis, it was an awesome fightback to second after running dead last on lap one; and for Valtteri, we gave it everything to try and claim the win – and he arguably would have done so without the first Safety Car period, as he was closing fast on Sebastian at that point. First of all, we need to look at our own performance and what we can improve from today. We clearly have work to do on our starts, as we lost ground once again to Ferrari. But after yesterday's very close qualifying session, it was encouraging to see the underlying pace of the car – and that we had better tire usage than our competitors. We made the right call to leave both cars out under the Safety Car: we had planned to do the opposite to Ferrari, as it was our best chance to win, so when they pitted we stayed out on track with both cars. We took the improved track position and knew it would be tough to hold on. Valtteri defended like a lion but just couldn't hold off Sebastian as the tires were dropping away – and still did a great job to take P4. For Lewis, on fresher tires, it got him back to P2 and maximum damage limitation. Overall, though, we are left with the feeling of "what might have been" after one of our cars was taken out for the second time in three races on lap one. In the past three weekends, we have lost points through our own mistakes and those of others – now we need to get our heads down, keep developing and put the performance to good use in the next 11 races. It's all to play for."
Scuderia Ferrari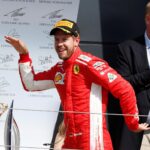 A happy Vettel on podium does Egyptian Walk
Sutton Images for F1
Sebastian Vettel (1st): "Today the gap to Hamilton was only less than half a tenth, so my lap was almost the same as his. I was happy with my first attempt in Q3, but then on my last run I lost a lot of time on the straight. I don't know why it happened, otherwise pole would have been there. However, tomorrow we should be ok in the race. Also, the pain in my neck was not nice today, but it should be gone by tomorrow. Even if we couldn't beat Mercedes today for pole, we made big steps forward as a team, so I wish to congratulate the whole Scuderia because everybody, on track and at home, has done their best. The car is working well and we are faster than last year"
Kimi Raikkonen (3rd): "On my last run in Q3" Kimi explained "I locked the front wheels a little bit on the second last corner and I definitely lost some time there. It's difficult to get the perfect lap together, for sure there's always room to improve, but this is what we have got today. So far it's been pretty ok with the car and the set-up and things have been running smoothly; let's hope that tomorrow is an even better day. Third position is not ideal but not too bad, either. It's impossible to know if the hot conditions will help us ; yesterday we did some long runs and after that we had a rough idea, but on Sunday it's a different story and the conditions might be slightly different .Tomorrow we'll do our best and see where we end up. It's going to be a long race and it will be quite tricky for the tires. We'll try to make a good start and then make the right decisions".
Maurizio Arrivabene, Team Principal:
Aston Martin Red Bull Racing
Daniel Ricciardo (5th): "We just didn't have the legs today. The first lap was fun and a bit crazy for sure, I don't know what happened to Lewis but I saw he was turned around. Then with Max and Kimi we had some good battles. The re-starts were intense but we just didn't have the speed on the straights to do much and behind Ferrari and Mercedes we were just too slow. I think the car in clear air was pretty good, particularly in the second stint on the medium tire when we were able to pull away from Kimi a bit and then start catching Max. The team then pulled the trigger on a two stop strategy for me and then the safety car came out. We just got unlucky and lost track position. We tried at the end to pass Bottas as he was struggling more with the tires but as soon as I got really close to him I felt like my tires were the same age as his, you just lose the downforce and really struggle. It was a bit like last week following Kimi and I really needed him to make a mistake, otherwise on the straights, even with DRS they have a lot more power. I guess since Monaco we haven't really had things going our way. I'll still take the Monaco win but I don't want that to be the last hurrah. I'm very excited to have a week off now, I like racing but I'm just going to put the car away for
Max Verstappen (15th): "It's not a nice way to finish the triple header but luckily last week was good and the two weeks before were also positive. That's racing sometimes. I've had it many times before and for sure it will happen also in the future, but of course I wish I would have finished fifth or at least collected some points. Because now we have nothing. It was quite weird, because on lap one I had a brake-by-wire issue, the pedal fell to the floor in Turn 3 but then it recovered and everything was going fine after that. Then after the second safety car I braked for Turn 16 and the pedal literally went to the floor, the rear brakes locked up and I spun off the track. We will now start to investigate what actually happened. Even without the brake issue we were just too slow on the straights to do anything today, you could see it even with Daniel when he was attacking Bottas; when we open the DRS we are the same speed as them without DRS, so you just cannot do anything. I think so far this season I have actually been okay with the reliability of our car, so it's just a shame that it happened here. When you know you have a difficult weekend, you of course want to take some points back home. But one positive aspect of the weekend is that I think we actually have a good car."
Christian Horner, Sporting Director: "A tough race today. Max initially got up to third place from the busy start with Daniel also moving up a place to run in fifth. Then after the safety car we felt that strategically we made the right call putting both drivers on the medium tire to the end of the race, though as you could see both of our drivers were unfortunately powerless to attack or defend against our opponents today and we were extremely exposed on the straights. Frustratingly Max retired late in the race after a suspected brake-by-wire related issue. In the following laps to the end of the race Daniel was able to put some pressure on Bottas but, as we knew all weekend, our straight line speed was no match for Mercedes or Ferrari. Overall it was disappointing not to get both drivers to the finish but we'll be ready to fight back in two weeks at Hockenheim. It was an exciting race for the many British fans here today, and it's great to see a record crowd at Silverstone."
Sahara Force India F1 Team
Esteban Ocon (7th): "I'm really happy with the result today. Seventh place feels good after such a difficult race. The safety car didn't make things easy because the tires were cold at the restarts and it was not easy to keep Fernando [Alonso] and Kevin [Magnussen] behind me in the last few laps. I feel very tired mentally because it was a really big fight until the end. It's important that we scored more points to add to the good points we picked up in Austria last week. The car is getting better and we are racing well so I have to say 'thank you' to the team for all their hard work. We keep pushing and the results are coming."
Sergio Perez (11th): "I cannot be totally happy about today's race. The incident at the start compromised my race: I lost the rear end trying to avoid the incidents ahead, spun and suddenly I was at the back of the field. After that, our race was pretty strong. We had good pace and overtook a lot of cars. We made the most of the various safety cars and made it back into the points. With two laps to go, Gasly pushed me off track. I gave him enough space but that was not enough: we still made contact and I lost the place. I believe it was an unfair move. I'm pleased that the FIA took action after the race to penalize Gasly, which gave me back the final point. My focus now is to rest after the triple header. We will analyze these races and come back strong for Germany."
Dr. Vijay Mallya, Team Principal: "To score seven points in our home race feels good. Esteban didn't put a wheel out of place today and showed excellent racecraft to hold off the cars behind which had a tire advantage. Sergio dropped to last on lap one after spinning at the first corner, which proved costly. It's the fifth time this year that one of our cars has suffered a first lap incident and it's hurting us in the constructors' championship. Despite the spin, Checo battled back, pushed hard, and overtook a lot of cars. To score the final point was a remarkable recovery drive."
Williams Martini Racing
Lance Stroll (13th): "At the start it was pretty close, especially for Sergey, who was in front of me starting from the pitlane. It was a different experience! I think I was unlucky and our race could have been a lot better, as I pitted on lap 31, one lap before the safety car. This was after I did a good stint on the prime, so it is a bit of a shame as if I had done another lap I would probably have gained some time by stopping under the safety car and we could maybe have finished in the points. Anyway, that is luck in motorsport and it is a matter of hit or miss. The rest was okay and we were following the train today. At the end I could see some cars ahead of me not too far away, so that was good."
Sergey Sirotkin (14th): "It was a very painful race. The first half didn't look that bad. I think we had reasonable tire management on the qualifying tire. Still, it was lacking quite a lot of pace but at least it was all under control. Then, we did quite a late pitstop with the hope to have a good second stint that was shorter and quicker, but then we were facing quite a few blue flags and the safety cars made things difficult for the tire. Afterwards, I was left with a harder compound whilst all the cars around me had a softer, warmer compound, it was just very painful to be there as a driver and to race it to the flag. All in all, very disappointing."
Paddy Lowe, Chief Technical Officer: "It was not a great situation to arrive at the British GP on race day with two cars starting from the pitlane. There are not many of us in the team that have started with one car in the pitlane, let alone two, so it was a new experience and involved some special logistics of its own, particularly to time the preparation of the launch. Both cars got away cleanly, emerging into the racing pack and settled down into a race which ran exactly according to the plan that we had set – Sergey on the shorter stint on the soft tire, and Lance on a longer stint on the medium tire. The plan was interrupted by the two safety cars but we chose to remain on plan so that the two cars could race each other according to their different strategies. During the second safety car, we gave Sergey the option to take another tire set as he was complaining of tire vibration but he chose to stay in the fight with Lance, however he ultimately lost the position in the restart. It was a good job by the team and the drivers to get two cars home, but once again, not in the positions that we would like."
Renault Sport Formula One Team
Nico Hulkenberg (6th): "I'm very happy, that was a positive day. I think it was the maximum result we could ask for here. We had a good start, then a solid first lap straight up to P6. There was obviously some chaos going on in turns two and three where I managed to sneak through and pick up some places. After that it was a case of managing the tires and the race. We'd elected to go on the Hard tire, which was maybe a bit slower on pace, but we wanted to go for the one stop. A strong race all in all, especially with picking up another position at the end when the Red Bull spun. I'm happy. Eight points for the team is a good day."
Carlos Sainz (DNF, Accident): "I had a great start jumping seven places from sixteenth to ninth. We lost some positions after the first pit-stop but then, after stopping again for the Soft tire during the Safety Car, we were looking good to get back in the points. It was a shame for it to end like that. Let's look forward to Hockenheim."
Cyril Abiteboul, Managing Director: "On a track we knew would be challenging for us we managed to outscore our direct competitors thanks to an excellent start, good strategy, well executed stops and an outstanding drive from Nico. It's a great reward, almost a relief after we were on the back foot following our difficult qualifying yesterday. It's too bad for Carlos, who probably had the right strategy called during the safety car to have an opportunity to gain a position. It was very clear that he was much more competitive than the car he was overtaking, but ultimately it was a race incident. With a good haul of points we can head to races where we hope to be more competitive, but the result should not distract us from looking at improving our pace on Saturday to give us an improved chance on Sunday."
Red Bull Toro Rosso Honda
Pierre Gasly (10th): "I'm super happy to be back in the points! We didn't expect to finish in the top 10 at this track as we struggled quite a bit with some issues and performance. I had a tough battle with Sergio towards the end of the race, I saw one chance in the last chicane which was really tight and we touched a bit, but in the end I managed to make the move. To leave Silverstone on a positive note is a great reward for the team after a difficult weekend, in which they have been working so hard. The car felt good today so I'm looking forward to getting back behind the wheel in Germany."
Brendon Hartley (DNF, Power Unit): "I'm not a believer in luck or superstition, but I think it's definitely fair to say that the last few weeks have been unlucky for me. It was all out of my control this weekend – the suspension failure yesterday in FP3, and another technical issue today before we could even start the race, so there's not too much to comment on the past two days. It's disappointing, but I'll hit the reset button now, take a couple of days to relax and prepare for the next race. I've got full trust that all of the people in Toro Rosso will be working hard over the next two weeks, as will I, to improve and show our maximum in Hockenheim."
Franz Tost, Team Principal: "We came here quite optimistic for a good result but unfortunately Silverstone was not the race weekend we expected. We had a big accident in FP3 with Brendon's car due to the failure of the left front suspension. We assume the lower wishbone broke, but as we didn't know what caused this incident, we decided to keep Pierre in the garage which cut his session short. As a consequence, it was very difficult for Pierre in Qualifying. Nevertheless, he did a good job to qualify P14 with just a handful of laps under his belt. As for Brendon, we had to change the monocoque on his car after the crash, therefore he had to start the race from pit lane. During the warm-up laps, we recognized a problem on his car which we weren't able to fully identify, so we called him back to the garage to try and fix the issue. Unfortunately, we had to retire him on the first lap, but I must make a big compliment to the team because yesterday at 8.30 in the evening Brendon's car was ready with the engine fired up. They put a lot of effort into this job so it was a big shame to see Brendon unable to race today. Pierre made a good start and showed a very strong performance, he kept his race pace consistent against our competitors and was able to finish in 10th position to bring home a point. After all of the troubles we had, it was great to repay the team for the hard work they have done this weekend – they really deserved this point. Now we look forward to the next race in Germany, where we can hopefully improve further on our results."
Toyoharu Tanabe, Honda F1 Technical Director: "This has been a very tough weekend, particularly for the Honda and Toro Rosso mechanics who had to work so hard in the limited time available, especially on Saturday after Brendon's accident, changing his PU and chassis and on Pierre's car changing the suspension. So it was a great reward for them that Pierre drove a determined race, never giving up, taking tenth place and therefore a point with two laps to go. Unfortunately, on the reconnaissance lap prior to the race, we could see that something was not right on Hartley's car. We tried to fix it and still sent him out, but it was clear there was a problem and we had to retire him. The problem has now been traced to a loose connector on the PU side."
Haas F1 Team
Kevin Magnussen (9th): "At the beginning of the race with Kevin, I think it was a mistake from both of us. It shouldn't happen, so we need to work on that to ensure it doesn't happy anymore. That obviously cost us a lot of positions on the first corner. After that, with Carlos (Sainz), I haven't studied the footage, to be fair. It felt like he turned in quite hard on the corner and didn't give me much room on the inside. I tried to go on the brake to avoid a contact, but there was not much room for me to go. It's a shame."
Romain Grosjean (DNF, Accident): We scored two points, and that's all that matters. It was the best we could do today. It could have been better, and it should have been, but here we are. We still scored points.
Guenther Steiner, Team Principal: "We should go away from here happier and with more points. I think we lost quite a few points. We need to go away and evaluate what actually happened at turn one and avoid this for the future. This is obviously not acceptable because we keep on losing points while having a good car. I think we just need to go sit down and see what we can do to come away better, or at least where we should be. In the end, we're not going home empty handed. The guys can be proud of what they achieved. In the end, we have two points. Three points-scoring finishes in a row is pretty good, but I wouldn't say I'm ecstatic about it, as it should be a lot more."
McLaren F1 Team
Fernando Alonso (8th): "It was a great race today, and a great show for the fans with a couple of Safety Cars that always mix things up. In a normal race, eighth would be great, but with the Safety Car and the yellow [Soft] tires we decided to put on – and the others who didn't pit – we had a clear tire advantage at the end of the race, but couldn't capitalize on that because we were stuck behind traffic. Kevin [Magnussen] pushed us off the track at Turn Seven, and without that I think we could have probably been fighting with Esteban [Ocon] and Nico [Hulkenberg] for P6. However, no penalty was given so we had to fight back, and overtook Kevin on the last lap. We have more points for the team, which is great, but hopefully we can reach that position in the future thanks only to our own performance. Saturday seems to be the lowest point of our weekend in terms of performance, but then on Sundays we are in the same group as Renault, Force India and Haas, so we definitely need to find more performance in qualifying."
Stoffel Vandoorne (12th): "It was a very tough race for us, difficult to close up the gap with some of the competitors in front, and disappointing not to come home with points. From the start, I had the same feeling in the car as yesterday, so the conditions out there were really tricky. On the positive side, the pace was probably a bit better today. We were able to stay with some of the points-scoring cars like the Force India and the Renault, and were more or less matching their pace. The team looked over everything to try to find the cause of the issues we were having, but obviously in parc fermé you can't really change anything unless you want to start from the pit-lane. It's been a tough triple-header, everyone is a bit tired at the end of these three races, so the mechanics deserve a good break. I'm sure they'll check over everything and we'll turn up in better shape in Germany."
Gil de Ferran, Sporting Director: "It's good to head home after the British Grand Prix with more points. We decided to go for an aggressive strategy on both cars to put the drivers in the best position to fight. Fernando put in a great, gritty drive to come home in P8. After a difficult Saturday, Stoffel regained some pace during the race, however he was still dealing with a lot of the same issues, and investigations will continue. Regardless, the focus continues on stepping forward at every event. Ultimately, the last part of the race after the Safety Car was very close. Hopefully the fans enjoyed all the on-track action. Finally, I'd like to acknowledge the immense effort from the whole team during this tough triple-header. They've all put in many hours of hard work with little rest, and I hope everyone enjoys a well-deserved weekend off before we head to Germany."
Alfa Romeo Sauber F1 Team
Marcus Ericsson (18th DNF): "It is disappointing that I did not finish the race today. It was going really well, we were following the strategy plan and had a good first stint. Then, the second stint also started well, and we were waiting to become stronger through the race. Unfortunately, I had to retire following my crash in turn 1. The DRS was open, and I lost the car. The positive is that we made further progress and I look forward to fighting back at the next Grand Prix in two weeks' time."
Charles Leclerc (19th DNF): "It is a pity that I had to retire from the race today. The start was exciting and I was able to gain a few positions during the opening laps. The car felt good, our pace was competitive, and things were running smoothly. Unfortunately, there was an issue during the pitstop, and we had to retire straight after. In any case, mistakes can happen, and the team has been doing a great job with the pitstops in the past races, so we will move on from this and go into the next race weekend feeling positive about the progress we are making."
Frederic Vasseur, Team Principal: "It was a tough race for us. We had a good start, with both of the drivers putting in a strong performance. Everything was going well, with Charles advancing to P7 and Marcus steadily catching up with the midfield. Unfortunately, things took a turn after Charles' pitstop. There was an issue and he had to retire from the race immediately after. Then, Marcus lost the car in turn 1. It is a tough outcome for us, but we have to stay positive. Despite the final result today, we have made another step forward since the last Grand Prix weekend, and are in shape to come back stronger for the next race at Hockenheim."
Results
| | | | | |
| --- | --- | --- | --- | --- |
| POS | DRIVER | CAR | LAPS | GAP |
| 1 | Sebastian Vettel | Ferrari | 52 | 0.000s |
| 2 | Lewis Hamilton | Mercedes | 52 | 2.264s |
| 3 | Kimi Raikkonen | Ferrari | 52 | 3.652s |
| 4 | Valtteri Bottas | Mercedes | 52 | 8.883s |
| 5 | Daniel Ricciardo | Red Bull/Renault | 52 | 9.500s |
| 6 | Nico Hulkenberg | Renault | 52 | 28.220s |
| 7 | Esteban Ocon | Force India/Mercedes | 52 | 29.930s |
| 8 | Fernando Alonso | McLaren/Renault | 52 | 31.115s |
| 9 | Kevin Magnussen | Haas/Ferrari | 52 | 33.188s |
| 10 | Pierre Gasly | Toro Rosso/Honda | 52 | 34.129s |
| 11 | Sergio Perez | Force India/Mercedes | 52 | 34.708s |
| 12 | Stoffel Vandoorne | McLaren/Renault | 52 | 35.774s |
| 13 | Lance Stroll | Williams/Mercedes | 52 | 38.106s |
| 14 | Sergey Sirotkin | Williams/Mercedes | 52 | 48.113s |
| 15 | Max Verstappen | Red Bull/Renault | 46 | Not running |
| – | Carlos Sainz | Renault | 37 | Collision |
| – | Romain Grosjean | Haas/Ferrari | 37 | Collision |
| – | Marcus Ericsson | Sauber/Ferrari | 31 | Spun off |
| – | Charles Leclerc | Sauber/Ferrari | 18 | DNF |
| – | Brendon Hartley | Toro Rosso/Honda | 1 | DNF |
Fastest Race Laps
| | | | | | | |
| --- | --- | --- | --- | --- | --- | --- |
| POS | NO | DRIVER | CAR | LAP | TIME | AVG SPEED |
| 1 | 5 | Sebastian Vettel | Ferrari | 47 | 1:30.696 | 233.831 |
| 2 | 7 | Kimi Raikkonen | Ferrari | 51 | 1:30.795 | 233.576 |
| 3 | 44 | Lewis Hamilton | Mercedes | 52 | 1:31.245 | 232.424 |
| 4 | 77 | Valtteri Bottas | Mercedes | 43 | 1:31.377 | 232.089 |
| 5 | 3 | Daniel Ricciardo | Red Bull Racing Renault | 46 | 1:31.589 | 231.551 |
| 6 | 33 | Max Verstappen | Red Bull Racing Renault | 42 | 1:32.007 | 230.499 |
| 7 | 27 | Nico Hulkenberg | Renault | 48 | 1:33.405 | 227.049 |
| 8 | 10 | Pierre Gasly | Toro Rosso Honda | 48 | 1:33.465 | 226.904 |
| 9 | 11 | Sergio Perez | Force India Mercedes | 48 | 1:33.472 | 226.887 |
| 10 | 14 | Fernando Alonso | McLaren Renault | 52 | 1:33.482 | 226.862 |
| 11 | 2 | Stoffel Vandoorne | McLaren Renault | 48 | 1:33.551 | 226.695 |
| 12 | 20 | Kevin Magnussen | Haas Ferrari | 48 | 1:33.604 | 226.567 |
| 13 | 31 | Esteban Ocon | Force India Mercedes | 48 | 1:33.606 | 226.562 |
| 14 | 9 | Marcus Ericsson | Sauber Ferrari | 26 | 1:33.675 | 226.395 |
| 15 | 18 | Lance Stroll | Williams Mercedes | 48 | 1:33.869 | 225.927 |
| 16 | 8 | Romain Grosjean | Haas Ferrari | 28 | 1:34.391 | 224.678 |
| 17 | 55 | Carlos Sainz | Renault | 25 | 1:34.602 | 224.177 |
| 18 | 35 | Sergey Sirotkin | Williams Mercedes | 52 | 1:34.620 | 224.134 |
| 19 | 16 | Charles Leclerc | Sauber Ferrari | 3 | 1:35.209 | 222.747 |
Drivers' standings
| | | |
| --- | --- | --- |
| POS | DRIVER | POINTS |
| 1 | Sebastian Vettel | 171 |
| 2 | Lewis Hamilton | 163 |
| 3 | Kimi Raikkonen | 116 |
| 4 | Daniel Ricciardo | 106 |
| 5 | Valtteri Bottas | 104 |
| 6 | Max Verstappen | 93 |
| 7 | Nico Hulkenberg | 42 |
| 8 | Fernando Alonso | 40 |
| 9 | Kevin Magnussen | 39 |
| 10 | Carlos Sainz | 28 |
| 11 | Esteban Ocon | 25 |
| 12 | Sergio Perez | 23 |
| 13 | Pierre Gasly | 19 |
| 14 | Charles Leclerc | 13 |
| 15 | Romain Grosjean | 12 |
| 16 | Stoffel Vandoorne | 8 |
| 17 | Lance Stroll | 4 |
| 18 | Marcus Ericsson | 3 |
| 19 | Brendon Hartley | 1 |
| 20 | Sergey Sirotkin | 0 |
Constructors' standings
| | | |
| --- | --- | --- |
| POS | CONSTRUCTOR | POINTS |
| 1 | Ferrari | 287 |
| 2 | Mercedes | 267 |
| 3 | Red Bull/Renault | 199 |
| 4 | Renault | 70 |
| 5 | Haas/Ferrari | 51 |
| 6 | Force India/Mercedes | 48 |
| 7 | McLaren/Renault | 48 |
| 8 | Toro Rosso/Honda | 20 |
| 9 | Sauber/Ferrari | 16 |
| 10 | Williams/Mercedes | 4 |