CORE Dominates Qualifying in Canada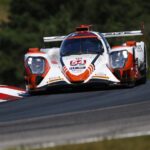 #54 on pole at the hands of Colin Braun
CORE autosport earned its second-straight IMSA WeatherTech Championship pole position in the Prototype class at Canadian Tire Motorsport Park. Driver Colin Braun crushed the track record with a pole time of 1:06.315.
Braun topped all three practice sessions at CTMP before earning the Motul Pole Award in the No. 54 Composite Resources / Flex-Box ORECA 07 LM P2. It is Braun's eighth career pole in the WeatherTech Series, 13th pole when added to his American Le Mans Series qualifying stats.
The ORECA 07 LM P2 has come on strong in recent IMSA rounds as the series returns to traditional road courses. CORE qualified on the pole and finished second in last weekend's Six Hours of the Glen, behind another ORECA entry.
Braun reeled off a 1:06.315 lap time in his No. 54 Oreca 07 Gibson, which was more than two-tenths clear of the competition in the Prototype class.
The No. 6 Team Penske Acura ARX-05 of Dane Cameron will start second, ahead of Robert Alon, who impressed at the wheel of the No. 85 JDC-Miller Motorsports Oreca to qualify third overall and only 0.301 seconds slower than Braun's pole-winning time.
[adinserter name="GOOGLE AD"]Renger van der Zande was fourth in the No. 10 Wayne Taylor Racing Cadillac DPi-V.R, with Jonathan Bomarito making it three different DPi manufacturers in the top-five in the No. 55 Mazda RT24-P.
Helio Castroneves, who suffered a sizable accident in Friday's second practice session, rebounded to qualify sixth, ahead of the No. 52 AFS/PR1 Mathiasen Motorsports Ligier JS P217 Gibson of Sebastien Saavedra
The CORE-operated Porsche GT Team also took a pole position at CTMP, with Nick Tandy securing the GTLM pole and setting a new track record in the No. 911 Porsche 911RSR.
Tandy recorded a best lap of 1:13.517 in the No. 911 Porsche 911 RSR to edge out the No. 67 Chip Ganassi Racing Ford GT of Ryan Briscoe by 0.327 seconds.
It marked the first IMSA WeatherTech SportsCar Championship class pole of the season for Tandy and the No. 911 Porsche, which he will share with Patrick Pilet in tomorrow's two-hour and 40-minute race.
The No. 3 Corvette C7.R of Jan Magnussen will start third, followed by the No. 912 Porsche of Laurens Vanthoor, who spun early in the 15-minute session but managed to rebound for a 1:13.955 lap time.
Tomorrow's Mobil 1 SportsCar Grand Prix will be a shorter affair, only two hours and 40 minutes.
The Mobil 1 SportsCar Grand Prix will air on FS1 at 4pm ET.
Colin Braun
Driver: No. 54 ORECA 07 LM P2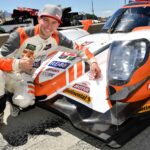 Colin Braun
"Our car was strong in the practice sessions and I think this track really suits the ORECA 07 LM P2. We saw that last year with the JDC car as well. We knew Watkins Glen and Mosport were going to be good tracks for us and knew we had to do our jobs and execute well. Hats off to the CORE autosport team for getting our car ready between the events. It's a great day for the team with Nick [Tandy] on the pole in GTLM; pole position in two classes is a very cool thing.
"For us, being a brand new team in Prototype, the first three races of the year—Daytona, Sebring and Long Beach—were so different in terms of setup. We've been learning a lot now that we've been at tracks that are more comparable. We've been building our notebooks and learning a lot. The fact that we had a good car at Watkins Glen meant we were able to make some adjustments and make it even better here at Mosport, a similar circuit."
RESULTS: Qualifying
VENUE
Track Length: 2.459 miles, 10 turns
Race Length: 2 hours, 40 minutes

SCHEDULE (All times Eastern)
Sunday, July 8
9:50am – 10:10am: Warm Up (All Classes)
11:15am – 12:00pm: Driver Autograph Session
12:45pm – 1:45pm: Open Grid
2:05pm – 4:45pm: Mobil 1 SportsCar Grand Prix
TV SCHEDULE (All times Eastern)
LIVE Race U.S.:
Sunday, July 8
4:00pm – 7:00pm: FS1
LIVE Race International:
Sunday, July 8
1:55pm – 4:45pm: IMSA.com