Hamilton pips Ferraris to win British GP Pole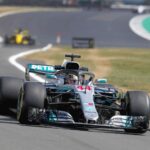 Hamilton digs deep to nip Vettel for pole
Lewis Hamilton won his 4th consecutive British GP pole by beating Sebastian Vettel's Ferrari by just 0.044s setting up an all front row for the two titans of F1 on Sunday.
Vettel set a new lap record and then Hamilton beat him with a time of 1m25.892s while Ferrari's Kimi Raikkonen also came close to take third just 0.098s behind the Mercedes.
Valtteri Bottas will start 4th in the 2nd Mercedes while Max Verstappen rounded out the top-5 for Red Bull.
"I gave it everything I could, it was so close with the Ferraris. I'm so grateful for the support, I couldn't have done it without you guys," said Hamilton.
"The last lap, I was happy with it but I seemed to lose a lot of time in the straights. Happy with second, gives us a good chance for tomorrow," says Vettel.
[adinserter name="GOOGLE AD"]"That's how it goes," was Raikkonen's disappointed response, after he failed to hook together the middle sector on his final flying lap. "The car should be good for tomorrow. If it is hot it will not be an easy race with the tires. We are aiming for the top for sure."
Recall how bad the Pirelli tires blistered the last race.
So Ferrari really took the fight to Hamilton, and with their race pace looking strong, there is still all to play for tomorrow.
But Hamilton delivered, under pressure, in front of his fans. His sixth Silverstone pole and fourth in a row was hard-fought, but laid down a marker to the others.
With the top 10 all qualifying on the soft tires, there are no alternative strategies at play for the start tomorrow, it will simply be a mouth-watering straight fight to the first corner.
Haas F1 Team drivers Kevin Magnussen and Romain Grosjean earned strong starting positions for Sunday's British Grand Prix by advancing to the final round of knockout qualifying Saturday at Silverstone Circuit. The duo qualified a best-of-the-rest seventh and eighth, respectively, behind the powerhouse teams of Mercedes, Scuderia Ferrari and Red Bull. It was the third straight race where Haas F1 Team advanced both its drivers into Q3, as well as the fifth time this season and the sixth time in the American squad's three-year history.
Grosjean set the ninth-fastest time in Q1 with a lap of 1:28.086 around the 5.891-kilometer (3.66-mile), 18-turn track. Magnussen was right behind his teammate in 10th with a lap of 1:28.143. Just .057 of a second separated the two pilots, with both handily inside the top-15 cutoff to advance into Q2.
In Q2, Grosjean earned the seventh-fastest time with a lap of 1:27.522 and Magnussen was only .208 of a second behind in eighth with a lap of 1:27.730, allowing each driver to eclipse the top-10 cutoff and join Q3.
Brendon Hartley missed qualifying for this weekend's British Grand Prix after his big crash in final practice.
The Kiwi suffered suspension failure at high-speed during FP3 on Saturday morning, pitching him into the barriers and causing extensive damage to his car. With his team unable to provide fixes in time for qualifying, Hartley – who escaped the accident unscathed – will start Sunday's race at the stewards' discretion from the rear of the field.
Quotes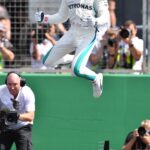 Hamilton leaps for joy
Mercedes AMG Petronas Motorsport
Lewis Hamilton (1st, 1:25.892): "That lap took everything out of me, it was the toughest lap I've ever had to do in a qualifying session. I had to go over the limit to get that time out of the car and I could have easily not pulled that lap together, so I'm thankful that I was able to do it. I knew that the fans were right there with me; every time I go out I see them cheering. The support I get at this track is phenomenal; it means the world to me and it really lifts me up. The start and the tyre management will be key for the race; I'm going to see my guys tonight and tell them to keep pushing so that we're as good as we can get tomorrow."
Valtteri Bottas (4th, 1:26.217): "I'm disappointed – our pace was good today and it was all going well for me, but I lost it in the last two corners. I went a bit too deep into Turn 16, lost a few tenths there and dropped to fourth. Without that mistake I think I would have been fighting for pole today. The Ferraris looked strong yesterday already and it was very close today between us and them, so I expect a similarly close fight tomorrow. It's not going to be easy to pass them tomorrow, but we've seen overtaking on this track before, so there's still opportunity for more. We saw blistering last week in Austria, so keeping the tyres in good condition is going to be the key tomorrow given the high temperatures. It is going to be a long and hot race, a tough battle, but I'm looking forward to it."
James Allison, Technical Director: "Yesterday's free practice running proved an extremely accurate portent of what we saw today. It looked very tight at the front on Friday and so it proved in qualifying: it needed a very good lap from Lewis to put the car on pole and, save for an error in the final corners, Valtteri would have been just behind. If Friday's running proves as accurate a gauge of tomorrow's relative performance as it did for today's, then we are in for a tight and tough afternoon, when strategy and tyre management will play vital pasrts in who gets to the lift the silverware at the end. The car performed well in the heat on the long runs and we hope we can achieve the same level of performance, or more, when it counts."
Toto Wolff: "You probably can't ask for anything more from a qualifying session than to have three cars within a tenth of a second at the front. The atmosphere this afternoon was incredible: every time Lewis passed, you could hear the crowd cheering above the noise of the cars, and that support probably made the difference today. In the end, he was just 44 thousandths ahead of Sebastian – and Valtteri could have been right in the mix as well, apart from a mistake in the last corners that cost him over two tenths. We know already that it will be a tough race tomorrow, and especially so with two Ferraris starting right behind Lewis. There is everything still to play for and we will have to be at our very best as a team if we wish to come out on top."
Scuderia Ferrari
Sebastian Vettel (2nd, 1:25.936): "Today the gap to Hamilton was only less than half a tenth, so my lap was almost the same as his. I was happy with my first attempt in Q3, but then on my last run I lost a lot of time on the straight. I don't know why it happened, otherwise pole would have been there. However, tomorrow we should be ok in the race. Also, the pain in my neck was not nice today, but it should be gone by tomorrow. Even if we couldn't beat Mercedes today for pole, we made big steps forward as a team, so I wish to congratulate the whole Scuderia because everybody, on track and at home, has done their best. The car is working well and we are faster than last year.
Kimi Raikkonen (3rd, 1:25.990): "On my last run in Q3 I locked the front wheels a little bit on the second last corner and I definitely lost some time there. It's difficult to get the perfect lap together, for sure there's always room to improve, but this is what we have got today. So far it's been pretty ok with the car and the set-up and things have been running smoothly; let's hope that tomorrow is an even better day. Third position is not ideal but not too bad, either. It's impossible to know if the hot conditions will help us ; yesterday we did some long runs and after that we had a rough idea, but on Sunday it's a different story and the conditions might be slightly different .Tomorrow we'll do our best and see where we end up. It's going to be a long race and it will be quite tricky for the tires. We'll try to make a good start and then make the right decision.
Maurizio Arrivabene, Team Principal:
Aston Martin Red Bull Racing
Max Verstappen (5th, 1:26.602): "I was actually very happy in Qualifying and we made a good step with the car but if you lose one second or more on the straights it's going to be difficult around here. This track is getting less and less favourable for us which is a shame. In the end we were eight tenths behind but can actually be quite happy with what we did and the car was performing really well. No regrets, but I just wish that we had a bit more horsepower. It's going to be hard tomorrow and I think with no luck we will most likely finish fifth as that's the pace we have in the car but with a bit of luck of course we can move forward. I hope it's not going to be a boring race but at the moment I think we may be in a bit of a no-man's land. For sure in the race we will lose less on the straights, but maybe still five or six tenths which is still way too much. This year showed that sometimes when you expect the race to be boring it is actually quite entertaining, so I hope everyone keeps their televisions on."
Daniel Ricciardo (6th, 1:27.099): "Today was challenging and a bit frustrating. On the best run in Q3 I didn't have DRS working between turns four and six so we lost a bit of time there but we were missing a lot already. Silverstone has proven to be a real horsepower circuit these days, a lot of the corners are full throttle, turns one, two and nine are not really corners anymore, it's all about horsepower. Knowing how much we lose on the straights and then losing DRS was pretty frustrating. We kind of knew yesterday that we were going to struggle to be better than the third row, so we've set the car up more for the race, so let's hope that pays dividends tomorrow. I'm hoping it gets hotter and hotter so the tyres become a factor, if it's a one stop race then it obviously limits our chances but if it's on the cusp then it could be interesting. Let's hope the fans need factor 75 tomorrow, if that even exists (laughs). We're still a long way off Ferrari and Mercedes but in the race things can change so hopefully tomorrow provides something a bit different. In Austria we didn't really seem that fast but in the race we turned it around which gives us some optimism."
Christian Horner, Sporting Director: "To have locked out the third row is representative of our qualifying ability here at Silverstone. We do not have the one lap pace of our main rivals on Saturday afternoons at a circuit like Silverstone where power dominates so much now. Max extracted the best he could from the car for P5, and while Daniel's DRS malfunctioned during Q3, we had permission to manually override it for his final run to cross the line in P6. Nevertheless, as we have seen for much of this season, we have a good race car and our race pace puts us much closer to both Ferrari and Mercedes and with the heatwave temperatures set to rise even higher tomorrow, it could still be an exciting British Grand Prix. The story of the day though is the England football team, congratulations to them. Maybe it's coming home!"
Sahara Force India F1 Team
Esteban Ocon (10th, 1:28.194): "I am pretty happy to be back in the top ten after missing out on Q3 in the last two races. We have made a step forward and we can be satisfied with our performance gains, but we need to keep pushing. We start tomorrow's race in the points already and I feel confident because we usually have better race pace compared to our single lap speed. The middle of the field is so close at the moment so it's going to be a big battle tomorrow, especially with a Renault behind me and my teammate, Sergio, who will both be pushing hard."
Sergio Perez (12th, 1:27.928): "There was the potential to be a bit quicker, but the track didn't improve as much as I was expecting. The margins were very close and unfortunately I missed out on a place in Q3. P12 is not the worst place to be starting tomorrow: we can race well from there and points are achievable. I have a free choice of tyres for the start and we have new tyres available. The hot track temperatures have the potential to make things interesting tomorrow. With high degradation it could make a one-stop race difficult to achieve."
Otmar Szafnauer, Chief Operating Officer: "P10 and P12 is probably a fair reflection of our performance level this weekend. The middle of the grid is incredibly close and we've been inside the top ten or on the cusp of it through all the sessions leading up to qualifying. Both Esteban and Checo delivered clean and tidy laps, so there wasn't much more available for us today. It seems like it's always about the weather at the British Grand Prix and tomorrow the heat will play an interesting role because it's certainly impacting tyre degradation and could see some different strategies unfold in the race."
Williams Martini Racing
Sergey Sirotkin (18th, 1:29.252): "Today was very disappointing for us. The progress in the team is very visible as in certain conditions we are able to put things together and get better pace out of the car. In qualifying, we had the worst possible track and air conditions for us as the sun was out and it was hot. We knew the conditions weren't going to be ideal, which was obvious when you can see the car behaving how it was. It's difficult to put together a nice balance around the corner. Lance and I were caught out by spinning, but it's part of the story. This weekend, even with an ideal lap, we would still be six tenths off making it into Q2. That is the probably the most disappointing thing for us."
Lance Stroll (19th, No Time): "I did the exact same thing I had been doing all weekend into corner six and the car just snapped, really aggressively. We have been fighting stability problems all season as the car is very unpredictable and we have to look into it in more detail. It was just odd, as it was so aggressive and I was quite shocked at how it happened so suddenly. Then, I was buried in the gravel and there was nothing that I could do."
Paddy Lowe, Chief Technical Officer: "Unfortunately, we had a big problem in qualifying which caused both cars to spin. In Lance's case it ended his session, but in Sergey's case, he managed to recover to the pits and was able to post one laptime on the board. We have a phenomenon which we have not seen all year, or indeed ever before, whereby the DRS activation intermittently causes a complete loss of aerodynamic floor loading which does not recover at the entry to the subsequent corner. In the case of both spins, the cars entered the corner with no load in the floor which had obvious consequences. We came to this event with a number of new bodywork items which we evaluated during FP1 and FP2. This new DRS-related phenomenon was seen only once in FP1 on one of the cars but was incorrectly diagnosed to be related to a particular configuration which we chose not to carry forward into FP2 and for qualifying and the race. We must now understand exactly what change in the cars caused this phenomenon which is entirely related to the use of DRS."
Renault Sport Formula One Team
Nico Hulkenberg (11th, 1:27.901): "I'm okay with P11 in the grand scheme of things. It's been a tricky weekend for us with the car so far as we haven't been so competitive. The strength of our car is more in the low-speed corners and we lost out here with the flowing high-speed corners. Q3 was a tall order, but if you can't be seventh you may as well be eleventh with a free tyre choice. P11 gives flexibility for strategy which could be valuable and useful; we can still have a strong race here."
Carlos Sainz (16th, 1:28.456): "It's been a challenging weekend so far. Every detail was key to make it into the top ten today. Unfortunately, we made some small set-up changes from FP3 to qualifying which didn't work as I expected and together with a bit of traffic, this was enough to miss Q2. It's a shame that my 100% Q3 record comes to an end, but I knew at some point, with this tight midfield, it could happen despite our best efforts. We'll analyse all the data and decide on the best strategy for tomorrow. It can be a tricky race, but with opportunities to get back into the points, so I look forward to that challenge!"
Alan Permane, Sporting Director: "We are disappointed for Carlos as it's the first time he has been out in the first session of qualifying since he joined us in Austin last year. We obviously need to look at why this happened because the two cars have been very closely matched all season. Nico got the best from the car, but it's been a challenging weekend where we haven't been quick enough so far. Nico starting eleventh does open up some strategy options as we can choose our tyres, so we will be having a close look at this and seeing what we can do in the race."
Red Bull Toro Rosso Honda
Pierre Gasly (14th, 1:28.343): "Not bad today, especially after a more difficult beginning to the weekend, as we had some issues which didn't allow us to run much. After Brendon's crash in FP3, we changed the whole front suspension and consequently also the setup, which meant we went into Qualifying a bit blind. The team was awesome as they finished the job so quickly for Qualifying, and in the end it was great! I felt really good with the car, so let me thank all the guys in the garage – great effort, fantastic job! Looking at the GPS, we're good in the corners but we're losing some time on the straights compared to our main competitors, so it's difficult to fight against these guys. However, the race is tomorrow and we'll try and take opportunities as they come."
Brendon Hartley (20th, No Time): "Today's crash is another testament to these modern Formula 1 cars and safety. The fact that I was able to walk away from such an incident with no consequences just shows how far safety has come in the sport. I'm fine, but the car definitely wasn't! I'm disappointed I missed out on Qualifying, as yesterday we gathered a lot of data preparing for today, and the first couple of corners the car was feeling pretty good. I was already three or four tenths of a second quicker than yesterday but then, a couple of corners later it was all over – I hit the brake pedal and all of a sudden the front suspension broke. However, I have full faith in everyone that they will get the car rebuilt and ready for the race, I'm remaining optimistic and we'll come out fighting tomorrow."
James Key, Technical Director: "It was a tough day. First, apologies to Brendon for the issue he had on his car this morning. The important thing is that he's OK, which is a testament to how safe these cars are, however, it is not something any of us wish to see. It appears to be a suspension failure, the nature of which we have not seen before. Nonetheless, we are looking into it in detail and as a precautionary measure did not continue with Pierre's car in FP3 this morning until we understood what the problem was and acted accordingly. Brendon wasn't able to participate in Qualifying with the amount of damage he had on his car, so we're gearing up to start him from the pit lane tomorrow. Pierre had to go into qualifying with virtually no laps in FP3, therefore, no opportunity to run the test items planned or refine the car more, with the obvious disadvantage that goes with that. However, Pierre was happier with the car in Qualifying than in free practice yesterday, we gave him three runs in Q1 so he had a better reference after the disrupted session this morning. Q2 is where I think we are with pace here at Silverstone and Q3 was not a possibility today. We have been quite competitive in the high speed, while we've improved on the medium speed corners as the weekend progressed. Our straight line speed and low speed corner performance has been down, so we know coming away from this event, and also Austria last weekend, what we need to concentrate on at the moment. The long run pace we had yesterday looks in line with our competitors, so we'll do everything we can to try and have a clean race tomorrow starting from 14th with Pierre, and take every opportunity that presents itself. With Brendon, we hope to make good progress from the back."
Toyoharu Tanabe, Honda F1 Technical Director: "It's a big relief to know that Brendon is okay after his high speed crash in the morning session. Pierre did well in qualifying, given that he had very little running in free practice. The team did an excellent job to change the suspension on his car and get him out in time for Q1. Of course this has been a difficult day for the team as a whole, but now we focus on tomorrow's race."
Haas F1 Team
Kevin Magnussen (7th, 1:27.244): "This is good fun. We have this 'B' championship that we're focused on with all the midfield teams. It's really entertaining. There's lots of pressure because it's all so close, but we nailed it today with P7 and P8, with Haas best of the rest. It's a pole position in the 'B' championship, so I'm really happy. It's a good position to be in. You're not really looking ahead – we'll be looking behind – so it's completely like being in pole position. The guys in front, they're just going to go ahead and disappear. If I can get out of the first lap in the same position, which will be tricky, then hopefully I'll have a clear track and be able to nurse my tires and do the race. Let's see. It's been a good Saturday today, and it's a good starting point for tomorrow."
Romain Grosjean (8th, 1:27.455): "I'm very happy. Knowing that we didn't drive at all yesterday afternoon and we only did one lap on the soft in the morning, I think it's a really good recovery. This morning, the session with the red flag, it was not easy in FP3, but we got here and we've got the two cars in seventh and eighth. I think that's the best we can do, so we can be very happy with that. My last lap, I didn't put everything on the table, which I think was the right thing to do. For the team, seventh and eighth is amazing, and I think we can have a great race. If we can get as much luck as we did in Austria, it'll be great, but if the two of us can go in the no-man's land and push from there, do our race, it'll be good."
Guenther Steiner, Team Principal: "It was a very good recovery from yesterday. Everybody on the team did a great job to get the car together again, and get a good car for Romain. Both drivers did a fantastic job. We're in a good position for tomorrow to get points. There are a lot of other people that want the points as well, so we'll see what happens."
McLaren F1 Team
Fernando Alonso (13th, 1:28.139): "This weekend in general has been good so far and qualifying has also proved to be okay. We're still missing a couple of tenths, but P13, being close to the points zone and starting on the clean side was our target after all, and we reached that. Saturday seems to be our lowest point of the weekend, as we always seem to qualify around P13, but then we improve on Sundays, so let's aim for that tomorrow and see how the race develops. We know this track is demanding aerodynamically. It's a very long circuit where you need both efficiency and power, so it's quite complex, but we will fight tomorrow. The start will be crucial – here it's difficult to follow other cars due to the high-speed corners, so positions on the first lap are quite important, and after that a good strategy and good tyre management. It's quite warm, and for those on a one-stop strategy the degradation is going to be high, so we need to keep our concentration and hopefully we can score some points."
Stoffel Vandoorne (17th, 1:29.096): "We definitely could have got more out of the car today. We had a bad FP3, there wasn't a good feeling in the car and I really struggled for grip. We couldn't get any decent laps in – it was difficult to push and we didn't have any real pace, so it's a shame to come out of qualifying like this. Since this morning we've had a big issue with the handling which made the car feel almost undriveable. We need to understand why that happened and what went wrong. Clearly the other car seems to have some pace, so it's been a pretty difficult and frustrating day. I think generally we were in much better shape than we looked today. After yesterday, there was an explanation as to why the cars were performing quite differently, so this morning we made both set-ups the same but something didn't feel right in the car at all and we weren't able to find what the problem was before qualifying. In quali too it felt pretty bad, and there was nothing more we could do. I hope we can figure it out for tomorrow."
Gil de Ferran, Sporting Director: "It's disappointing that we weren't able to get one car out of Q1, or be a little bit further forward with the other car. It's been a difficult weekend on Stoffel's side of the garage in particular, and investigations will continue to get on top of the situation. However, in terms of pace it does feel like we've made a small step forward in competitiveness and that we're a little closer to our nearest competitors. It's clear the midfield is extremely tight. We've seen that typically we have better race pace, which makes us more hopeful of a competitive race tomorrow, where it would be nice to put on a good show for our British fans."
Zak Brown:
Alfa Romeo Sauber F1 Team
Charles Leclerc (9th, 1:27.879): "I am very happy to have finished qualifying in Q3 again. This is great for the entire team, and it was a strong team effort. Now, we must focus on the race, and continue working the same way to have a good finish tomorrow. That is what will count in the end. Thank you to the team for today, and I look forward to being back in the car tomorrow."
Marcus Ericsson (15th, 1:28.391): "It was a mixed qualifying for me. After a strong performance in FP3 (P10), Q1 was a really good effort – we managed to put everything together and advanced to Q2 again. The second session was a bit disappointing, as I was not able to improve there. Despite this result, I still feel confident for the race. We had a good race pace on Friday and I feel strong in the car. Hopefully, we can bounce back and be even more competitive tomorrow."
Qualifying Results
| | | | | | | | |
| --- | --- | --- | --- | --- | --- | --- | --- |
| POS | NO | DRIVER | CAR | Q1 | Q2 | Q3 | LAPS |
| 1 | 44 | Lewis Hamilton | Mercedes | 1:26.818 | 1:26.256 | 1:25.892 | 16 |
| 2 | 5 | Sebastian Vettel | Ferrari | 1:26.585 | 1:26.372 | 1:25.936 | 16 |
| 3 | 7 | Kimi Raikkonen | Ferrari | 1:27.549 | 1:26.483 | 1:25.990 | 16 |
| 4 | 77 | Valtteri Bottas | Mercedes | 1:27.025 | 1:26.413 | 1:26.217 | 15 |
| 5 | 33 | Max Verstappen | Red Bull Racing | 1:27.309 | 1:27.013 | 1:26.602 | 14 |
| 6 | 3 | Daniel Ricciardo | Red Bull Racing | 1:27.979 | 1:27.369 | 1:27.099 | 14 |
| 7 | 20 | Kevin Magnussen | Haas Ferrari | 1:28.143 | 1:27.730 | 1:27.244 | 19 |
| 8 | 8 | Romain Grosjean | Haas Ferrari | 1:28.086 | 1:27.522 | 1:27.455 | 20 |
| 9 | 16 | Charles Leclerc | Sauber Ferrari | 1:27.962 | 1:27.790 | 1:27.879 | 19 |
| 10 | 31 | Esteban Ocon | Force India Mercedes | 1:28.279 | 1:27.843 | 1:28.194 | 20 |
| 11 | 27 | Nico Hulkenberg | Renault | 1:28.017 | 1:27.901 | – | 12 |
| 12 | 11 | Sergio Perez | Force India Mercedes | 1:28.210 | 1:27.928 | – | 14 |
| 13 | 14 | Fernando Alonso | McLaren Renault | 1:28.187 | 1:28.139 | – | 12 |
| 14 | 10 | Pierre Gasly | Toro Rosso Honda | 1:28.399 | 1:28.343 | – | 15 |
| 15 | 9 | Marcus Ericsson | Sauber Ferrari | 1:28.249 | 1:28.391 | – | 16 |
| 16 | 55 | Carlos Sainz | Renault | 1:28.456 | – | – | 8 |
| 17 | 2 | Stoffel Vandoorne | McLaren Renault | 1:29.096 | – | – | 9 |
| 18 | 35 | Sergey Sirotkin | Williams Mercedes | 1:29.252 | – | – | 7 |
| RT | 18 | Lance Stroll | Williams Mercedes | Crashed | – | – | 2 |