The Red Dragon wins at The Glen
Simpson restarted the race in third place, behind race leader Jordan Taylor in the No. 10 Konica Minolta Cadillac DPi-V.R and Juan Pablo Montoya in the No. 6 Acura Team Penske ARX-05 DPi. While Taylor led the field through Turn 1, Montoya pulled alongside running uphill through the Esses and neither driver was giving the other an inch.
Simpson, meanwhile, had a full head of steam and as the two leaders began to slow for the famed Watkins Glen International "Inner Loop" chicane, he rocketed down the inside of Taylor and blasted past both cars to take the lead. Simpson then managed to build a gap on Montoya, who was able to get past Taylor for second.
However, that gap got smaller over the closing few minutes in the race and the race was still very much in doubt as Romain Dumas also joined the fray in the No. 54 CORE autosport ORECA LMP2 car. The top three cars were covered by less than two seconds as Simpson took the white flag, but the South African-born driver who recently became a U.S. citizen was able to keep both cars in his mirrors for the final 3.4 miles to score the victory for himself and co-drivers Misha Goikhberg and Chris Miller.
[adinserter name="GOOGLE AD"]"I don't really know what to say," said Simpson, who put the GAINSCO colors back in victory lane for the first time since a GRAND-AM Rolex Sports Car Series race at Circuit of The Americas in 2013. "Setting me up for that restart was the guys in the pits. I mean, we jumped a bunch of cars. I wasn't sure if we could get there on fuel, but the guys weren't saying anything to save extra fuel in my car, so I thought, 'I'm going to go for it.'
"I don't know who the guy was in the Penske car, but him and (Taylor) slowed each other down enough going up the Esses. I don't know, I might have had some wheels on the grass there, but I wasn't lifting off. After that, I really expected a lot of hard work from the Penske behind me, and after a lap or two, I realized that I had a bit more speed than he did. I wanted to build a gap and make sure that when I got to some GT traffic, I had a bit of a gap. I learned from last year. I'm just so proud of this team."
It was the first overall and Prototype class victory for all three drivers and comes after the trio finished second in the Sahlen's Six Hours of The Glen last year. It was third WeatherTech Championship race win for Simpson and Goikhberg. Both previous wins came in the Prototype Challenge (PC) class, the most recent coming in the BUBBA burger Sports Car Grand Prix at Long Beach in 2016.
"There's absolutely no words to describe what we all feel," Goikhberg said. "It's been such a long time coming and all the heartbreak we experienced along the way. To finally close the deal, to seal it and to win a race in the top class feels amazing. You don't understand the work that's been put into this, the time, it's really been a long time coming. Hopefully, this will give us a boost and give us more momentum so we can keep having respectable results in the championship."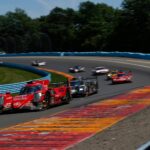 Stephen Simpson drives to victory
It was Miller's second WeatherTech Championship race win. He previously joined Goikhberg, Simpson and Kenton Koch in winning the PC class in the 2016 Rolex 24 At Daytona.
"It's huge," Miller said. "We're such a small team and we've worked so hard for a couple years. Last year, we had two really close calls and you start to wonder how many more opportunities you're going to get. This year, the guys have really stepped it up. We've been pushing so hard. Stephen did an unbelievable last stint. For us, it's a huge moment and hopefully the beginning of even more wins to come."
Simpson won the race by 1.954 seconds over Dumas, who passed Montoya in the final turn of the race to score the runner-up result for the No. 54 team and co-drivers Jon Bennett and Colin Braun. It was their second podium result this year following a third-place run in the season-opening Rolex 24 At Daytona, and the team hasn't finished lower than fourth in any of the three Tequila Patrón North American Endurance Cup races this season.
Montoya and co-driver Dane Cameron combined to lead a race-high 124 of the 202 laps completed over the six hours. It was their second consecutive third-place result, matching their performance in the Chevrolet Sports Car Classic in Detroit last month.
After leading the race at the halfway point, Bruno Senna, Phil Hanson and Paul Di Resta came home fourth in the No. 32 United Autosports Ligier machine to make it three LMP2 cars inside the top four positions. Taylor and Renger van der Zande completed the top five with a fifth-place showing in the No. 10 Cadillac.
With a sixth-place result, No. 5 Mustang Sampling Cadillac DPi-V.R driver Filipe Albuquerque now leads Action Express Racing teammates Eric Curran and Felipe Nasr in the No. 31 Whelen Engineering Cadillac by one point, 169-168, in the Prototype point standings.
Albuquerque shared the No. 5 on Sunday with Christian Fittipaldi, the team's Patrón Endurance Cup driver in 2018, and Gabby Chaves, who was filling in for the injured Joao Barbosa. Curran, Nasr and endurance driver Mike Conway finished seventh in the No. 31.
Next up for the WeatherTech Championship is the series' lone trip north of the border to Canadian Tire Motorsport Park for the Mobil 1 Sports Car Grand Prix next Sunday. The two-hour, 40-minute race will be televised on FS1 on a delayed basis beginning at 4 p.m. ET. The race will be carried live by IMSA Radio on IMSA.com, RadioLeMans.com and SiriusXM Radio.
Ford Wins in GT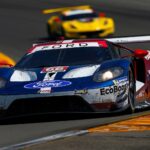 GT category – Winning #66 Ford GT
After dominating practice and locking out the front row in qualifying, it looked like the odds were good that Ford Chip Ganassi Racing would dominate again on Sunday. They didn't, but they made the right moves exactly when it counted and the team walked away with their second win in three years at the Sahlen's Six Hours of the Glen at Watkins Glen International.
For Ford CGR, the race came down to the No. 66 Ford GT pitting exactly at the right time on the last cycle. They did, able to take a shorter stop thanks to a fuel-sipping strategy executed by driver Joey Hand, and when Hand turned the car over to co-driver Dirk Muller, Muller took Team Manager and shot caller Mike O'Gara seriously when he told him to "have the best out-lap of his life."
That move put them in perfect position to inherit the lead when the then-leaders made their own stops, including their No. 67 teammates, who had battled to p2 and stayed in the hunt despite a broken front roll bar.
Müller then kept the lead to the checkered flag to put the No. 66 in Victory Lane for the first time since Road America last year.
"A lot of little things happened early on to prevent us from running our best," Muller said. "We had a little electrical glitch and the team did such an awesome job finding the error and fixing it, then we were caught out by a caution. I thought it might be difficult to come back. Then Joey drove absolutely stellar at the end and (O'Gara) made the perfect call. We leap-frogged everybody. There was a lot of pressure. It sounds easy, but it wasn't. I gave it my all."
Hand and Müller came to Watkins Glen fresh off of a third-place GTE Pro finish at the Le Mans 24.
"We worked on our race car all weekend," Hand said. "We didn't have the fastest car. The No. 67 had a great weekend, actually, and we just kept working at it. We made changes this morning in warm-up. That's one thing we do well as a team on the No. 66 car. Dirk and I have been driving together so long and we know each other so well, we always try to make a racecar, thinking 'what kind of car do we need to pass on the dirt and gravel?'
"You get put in awkward situations in these races, especially in a six-hour race. We had our best race car today in the race and that's a huge testament to the guys at Ford Chip Ganassi Racing, Ford Performance, and all the help we get from Multimatic and Michelin. We were good at the beginning, but these cars pack a lot of aero so we decided we'd try to save fuel, shorten our fuel stops, and as long as we could hang on we could maybe do it. I was able to more than hang on, I was able to attack, even on fuel conserve. As much as I love racing and passing, I knew my job was to save enough fuel so that when Dirk got in, we could have a shorter stop and leapfrog some guys. We had a really good car out front, in clean air, so that's what I was trying to give Dirk."
It was a disappointing result for Westbrook and co-driver Ryan Briscoe, who combined to lead every practice session before Westbrook qualified first.
"The broken roll bar happened on the very first stop, so after an hour," said Westbrook, who ran the quickest lap of the race in GTLM with a 1:42.872. "The car was obviously very difficult to drive. That's a key part of our set-up, to have some roll support. It's a little hard to take because the weekend promised so much. But when it comes down to it, lady luck wasn't with us. I'm really happy our teammates were able to win."
Quotes
Stephen Simpson: "I'm just so proud to get the Red Dragon and GAINSCO Auto Insurance back to victory lane. It really was a team effort, Misha and Chris drove great and the team made really good calls. This JDC-Miller MotorSports team fights so hard. We're a small team but you wouldn't know it, they know how to run with the big boys and I think that was evident today. We had good driver changes and tire changes. I think the first stint at the start of the race was important, we were able to get ourselves to the top two or three and that set the tone for the race. We wanted to try double stinting the tires in case that would need to be an option at the end and we did it fine. They biggest challenge in that stint was the heat. By the final stint, I knew what to expect and it also wasn't quite as long so it was a bit easier. I've been thinking about this win and how it slipped away from us last year every week for the last 12 months….tonight, I can sleep peacefully."
Misha Goikhberg: "It's incredible for us as a team, and for GAINSCO Auto Insurance. We really struggled this weekend. At the end of the day Friday we were really scratching our heads. The guys worked late that night making changes, but honestly yesterday the Red Dragon wasn't much better. Today, we had a car we could compete with, our engineers John Hayes and Barry Mumm made great decisions with the set-up and then again through the race. It was a team effort and I am so pleased. Now we head to Canadian Tire MoSport Park, my home race track and we ran very well there last year. It will be great to go there as a race winner next weekend. Best thing is to get the monkey off our back. Every weekend fans come to us and talk to us about the Red Dragon and how much they love the Red Dragon. It's an honor to drive it, but there was a lot of pressure to perform! Now we can celebrate the Red Dragon with our fans."
Chris Miller: "I am just so excited and to do this with our partner GAINSCO Auto Insurance just makes it even better. WE are all incredibly honored to be able to drive the No. 99 Red Dragon that we all watched for so many years. To be the overall winners at a historic race like the Sahlen's 6 Hour and in these colors is just a career highlight for sure. I think we've all felt some pressure to get it done, to get the Red Dragon back to victory circle in IMSA and we've done it and in just six races. For the JDC guys as well, we're a small team and this is a big deal. Stephen and Misha drove exceptionally well. At the end of the race they carried us to victory. It was an awesome day and an awesome race."