Verstappen nurses tires to victory in Austria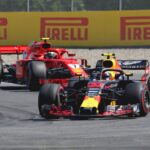 Verstappen holds of Raikkonen
Max Verstappen nursed blistering tires all the way to the finish in his Red Bull to win the Austrian GP ahead of the closing Ferraris of Kimi Raikkonen and Sebastian Vettel at Red Bull's home race as a strategy blunder by Mercedes under the Virtual Safety Car cost championship leader Lewis Hamilton the lead before the Briton retired in the closing stages of the race..
The two Mercedes are usually very reliable but after running 1-2 at the start both the cars of Valtteri Bottas and Lewis Hamilton fell out with mechanical issues giving Vettel a 1-point lead in the points over Hamilton.
Romain Grosjean and Kevin Magnussen rounded out the top-5 in their Haas-Ferraris, their best result ever.
"It was very hard to manage the tires as well, but we managed to hang on til the end. So many Dutch fans here – it is incredible," says a very happy Red Bull man.
[adinserter name="GOOGLE AD"]Raikkonen felt he could have beat Verstappen. "We nursed the tires too long, we should have charged sooner," said Verstappen
"We were chasing him down at the end but couldn't quite make it," says Vettel of Verstappen ahead.
"It was damage limitation but a positive day, could have been better but a very well deserved win for Max."
Verstappen crossed the line just 1.5 seconds clear of Raikkonen to take a third successive podium for the first time in his career, with Vettel completing the rostrum on a very strong day for Ferrari in the foothills of the Styrian mountains.
Raikkonen made a mighty move at the start, utilizing the extra grip his ultrasoft tires afforded him to vault up in between the two Mercedes of Bottas and Hamilton into Turn 1. The Finn ran wide, but rejoined in second ahead of pole-sitter Bottas before attacking Hamilton for the lead on the run up the hill. He locked up, ran wide and then lost a position to Bottas into Turn 4.
Things got worse for the Ferrari driver as Verstappen muscled past, briefly touching the Ferrari, to take third, while Vettel was on the move further back, having dropped to eighth, passing both Haas cars for sixth. Hamilton settled down at the front, ahead of Bottas, with Verstappen third and Daniel Ricciardo fourth in the sister Red Bull – but the race was about to explode into life.
First Nico Hulkenberg's Renault engine blew in spectacular fashion and then Bottas pulled off the track citing a gearbox issue. The latter sparked a virtual safety car period. While Hamilton stayed out, Verstappen, Ricciardo, Raikkonen and Vettel all pitted and switched to the soft tires, suggesting they could get to the end of the race.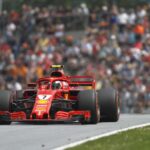 Raikkonen gets 2nd for Ferrari
Hamilton was unhappy. He couldn't understand why Mercedes didn't pit him too. In an unusual move, chief strategist James Vowles came on the radio and said, "It's my mistake. Do what you can." Mercedes boxed Hamilton, in a bid to cover Vettel, and he rejoined ahead. But he struggled for pace on those soft tires, despite them being 10 laps fresher.
Meanwhile, Ricciardo had pitted, too, as his soft tires started to blister in what were the warmest conditions of the weekend. Hamilton was struggling, too, and Vettel pounced to take third.
After complaining about his tires for several laps, Mercedes pitted the world champion for a second time and fitted the supersofts. He rejoined in fifth, behind Ricciardo. But that became fourth when Ricciardo pulled off the track, saying on team radio that he had lost gear sync.
Hamilton looked more comfortable on the supersofts, but disaster struck when he lost fuel pressure, forcing him into retirement for the first time since the 2016 Malaysian Grand Prix.
That promoted Romain Grosjean to a brilliant fourth, the best ever result for Haas, one place ahead of team mate Kevin Magnussen, with Verstappen comfortably leading the Ferrari duo of Raikkonen and Vettel up front.
Force India's Esteban Ocon and Sergio Perez were sixth and seventh respectively, with Fernando Alonso charging from a pit-lane start to an impressive eighth.
Charles Leclerc lost a bunch of time when he ran into the gravel at the start but recovered to take ninth – his fourth points finish in five races – with his team mate Marcus Ericsson taking 10th in what is only his second time in the points in 2018.
STORY OF THE RACE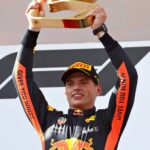 Max gets it right in Austria
Raikkonen was third on the grid on the left hand side. Sebastian had been given a three place grid penalty after qualifying and was sixth. Both men were running the Ultrasofts, as track temperature came close to 50 degrees, the hottest it had been all weekend.
Raikkonen attacked to move up to second, but ran wide at turn 3 and then was hit from behind by a Red Bull to find himself back in fourth. Vettel also had to run wide to avoid an incident at the first corner and lost ground. But he quickly retook Magnussen to go seventh, before dealing with Grosjean with a brilliant pass.
Both Ferraris picked up the pace a bit. On lap 12, Hulkenberg's engine let go, spraying oil onto the track at turn 1. Raikkonen set the fastest lap, under the 1m 9s mark. Two laps later, Bottas parked at the side of the track and the Virtual Safety Car came out. The team therefore called in both cars and fitted the hardest tyre (the Softs.) Red Bull covered the move, but Raikkonen managed to rejoin ahead of Ricciardo.
When the race restarted, Vettel overtook Magnussen again. The two SF70Hs were now third and fifth, but Raikkonen locked up under braking and Ricciardo went past. Hamilton pitted on lap 25 and emerged between Raikkonen and Seb. Verstappen now led, with his four pursuers covered by 4 seconds. Raikkonen, following Ricciardo and Hamilton behind the Ferrari, could use DRS, for attacking and defending.
With half the race completed, Raikkonen could see from the cockpit that the left rear on Ricciardo's Red Bull was blistered. The remote garage back in Maranello was also on the case. Meanwhile, Vettel was closing on Hamilton in the DRS zone and so began the duels: Raikkonen attacked on the outside of the climb and then passed Ricciardo who pitted. On lap 39, Vettel passed Hamilton!
Ferrari were now second and third. It was time to look after the tyres. The gap between Vettel and Lewis moved like an elastic band, while ahead of them, Raikkonen seemed comfortable. On lap 53, Hamilton had to pit again, this time swapping the Softs for Supersofts. He rejoined behind Ricciardo, but the Red Bull immediately parked at the side of the track on the pit straight.
The Ferraris did not drop their pace with Raikkonen nibbling at the gap to Verstappen. With 7 laps remaining there was more drama as Hamilton retired. Raikkonen upped his pace, setting the fastest lap on lap 66. It was not enough to win, but it proved that "never give up" is more than a slogan.
Quotes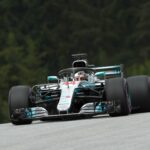 It was a disaster day for Hamilton
Kimi Raikkonen: "At the start I had a good getaway, but I found myself between two cars and I had to lift off to avoid them squeezing me, while I hoped they would see me. I lost momentum, speed and the chance to challenge them in the first corner. It's a pity, because without that, I think I could have been in the lead. The first lap was quite hectic, then the situation calmed down for a while. Tyre management played a big part today: it was hard to know when to go flat out and be on the safe side at the same time. The beginning of both stints was a bit tricky; we struggled a bit to get the grip and to make the tyres work, but then it got better and in the end we had very good tyre. We were obviously hoping to catch Max, but by then it was perhaps a bit too late. Today we had the speed, but there just weren't enough laps left in the race… Of course we wanted to win, we tried very hard, giving our best, but it was not enough. The good thing is that, as a team, we did a solid job. It was a strong weekend."
Sebastian Vettel: "We did a good job and a good race. I had a very solid start, but in Turn 1 things got a bit messy. I tried to recover, but there was no room and lost some positions in Turn 3. From them on, I had to fight with Renault and Haas and lost some time. However, the car was very good, we had a very good pace and we didn't have any issues with the tyres; in fact, the car was very good on them, even if I had to manage the Softs for a long stint, which again proves we have made good progress since Barcelona. Obviously, I am happy with the points that we've got and the podium, but I am not satisfied 100 per cent, because I think there would have been more up for grabs today, if I hadn't g
Lewis Hamilton
This is definitely the worst weekend that I can remember for a long time. Everyone in the team will be feeling pain today, but we've got to take out the positives of the weekend. The car has been great all weekend, we were quickest and we've had such great reliability for so many years. So as painful as it is, we have to take the rough with the smooth. I have every confidence in my team that we will be able to bounce back. We can't throw away points, so we will have to find a bullet-proof method going forward. We will work on it and we will try to re-evaluate and come back stronger.
Valtteri Bottas
The luck I'm having this year feels like a bit of a bad joke at the moment. My start was not ideal; I had quite a bit of wheel spin and there was less grip than we expected, so I dropped a few places. Going into Turn 3, I could recover two places and was back in second place. After that the car felt strong, we were running well, but then I suddenly experienced a loss of hydraulic pressure. There was nothing I could have done to prevent the DNF. We need to investigate and find the cause of the issues we had today, but I'm sure we will recover from this result. I guess it was just not meant to be today – but one day it will be.
Toto Wolff
For me and for the team, this is the most painful day of the last six years – to lose a possible 1-2 finish in this way, through our own mistakes and unreliability, just hurts so much. We had a spectacular first lap: a great getaway for Lewis and Valtteri battling back into P2 under braking for Turn 4. For the first 13 laps, it looked good, with both drivers in control and managing the pace well. The first blow was Valtteri's retirement after losing hydraulic pressure – this brought out the VSC. We decided to leave Lewis on track for one lap, because we thought it would take longer to clear the car from its position, and be able to react what the cars behind us did on the following lap. But the VSC cleared sooner than predicted; we simply made the wrong decision. That left Lewis with an uphill battle – we pitted soon after racing resumed, put him on the soft tyre, and he then had to try and make up the ground on track. In doing so, the rear tyres blistered, he lost position to Sebastian, then we decided to pit again as there was nothing to lose from doing so – but, shortly after, a loss of fuel pressure forced him to retire. A double retirement through reliability is hard to stomach but we know from bitter experience that the difficult days are when we learn the most. We will pick ourselves up in the next days, learn from our errors and go to Silverstone with our heads held high. It is a home race for the many team members in Brackley and Brixworth; we will be aiming to come back strong and make amends for our failures today.
Andrew Shovlin
We don't have any excuses for today. We weren't reliable enough, we didn't make the right strategy call, our starts weren't good enough and we didn't manage the tyres as well as we could have done. We have a lot to improve by Silverstone and we need to put all our focus into remedying our weaknesses today. This is one of the hardest days at the race track that we have faced as a team but it's not the only difficult day that we have ever had. We know how to fix problems and we've always returned stronger than before. We have a few days to regroup and resolve these issues before Silverstone, where we will be looking to perform at the level we know we are capable of.
More to follow…….
Results
| | | | | | |
| --- | --- | --- | --- | --- | --- |
| POS | NO. | DRIVER | CAR | LAPS | BEHIND |
| 1 | 33 | Max Verstappen | Red Bull Racing Renault | 71 | +0.000s |
| 2 | 7 | Kimi Raikkonen | Ferrari | 71 | +1.504s |
| 3 | 5 | Sebastian Vettel | Ferrari | 71 | +3.181s |
| 4 | 8 | Romain Grosjean | Haas Ferrari | 70 | +1 lap |
| 5 | 20 | Kevin Magnussen | Haas Ferrari | 70 | +1 lap |
| 6 | 31 | Esteban Ocon | Force India Mercedes | 70 | +1 lap |
| 7 | 11 | Sergio Perez | Force India Mercedes | 70 | +1 lap |
| 8 | 14 | Fernando Alonso | McLaren Renault | 70 | +1 lap |
| 9 | 16 | Charles Leclerc | Sauber Ferrari | 70 | +1 lap |
| 10 | 9 | Marcus Ericsson | Sauber Ferrari | 70 | +1 lap |
| 11 | 10 | Pierre Gasly | Toro Rosso Honda | 70 | +1 lap |
| 12 | 55 | Carlos Sainz | Renault | 70 | +1 lap |
| 13 | 18 | Lance Stroll | Williams Mercedes | 69 | +2 laps |
| 14 | 35 | Sergey Sirotkin | Williams Mercedes | 69 | +2 laps |
| 15 | 2 | Stoffel Vandoorne | McLaren Renault | 65 | DNF |
| NC | 44 | Lewis Hamilton | Mercedes | 62 | DNF |
| NC | 28 | Brendon Hartley | Toro Rosso Honda | 54 | DNF |
| NC | 3 | Daniel Ricciardo | Red Bull Racing Renault | 53 | DNF |
| NC | 77 | Valtteri Bottas | Mercedes | 13 | DNF |
| NC | 27 | Nico Hulkenberg | Renault | 11 | DNF |