Bottas nips Hamilton for pole in Austria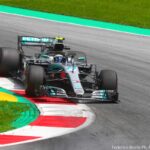 Bottas storms to pole in superior Mercedes car
Frederico Basile/AR1
The car is 99% in F1 and the driver 1% and that was no more evident in qualifying for the Austrian GP Saturday as the two Aldo Costa Mercedes qualified with near identical times.
Valtteri Bottas put up a track record time of 1m03.130s to nip his Mercedes teammate Lewis Hamilton by just 0.019s for an all Mercedes front row.
How superior is the Mercedes?
The Ferraris will start Sunday's race on the ultrasoft tires having used them to set their Q2 times, while Hamilton and Bottas will have supersofts – a harder tire – yet Mercedes are still faster. Sunday should be a complete parade.
"The whole weekend we've made good progress with the set-up. The car felt so good, and in the last run I knew there was a tenth or so. I managed to find it and luckily as I needed it," said Bottas.
"I need a good clean start, no need to be a hero in Turn 1 and then go for it. I can guarantee I'm more hungry for it than anyone on the grid."
"I'm really happy, this is a great result for the team and Valtteri deserves today," said Hamilton.
[adinserter name="GOOGLE AD"]The 2nd row is the Ferrari row but they are far behind – Sebastian Vettel third (0.334s back) and Kimi Raikkonen fourth (0.530s back) – a big gap on such a short lap time track.
"I had a mistake on the first lap, I knew I needed a banker to make safe I qualified in a good position," said Vettel.
"I had a bit left but not enough to challenge Valtteri ahead."
Max Verstappen rounded out the top-5 for Red Bull.
Charles Leclerc, who was 10th fastest in FP3 earlier today, ground to a halt at the very end of the session with a technical issue, leading to the Swiss team replacing his car's transmission ahead of this afternoon's qualifying session in Spielberg.
Since the gearbox had not completed the required six events, Leclerc can now expect to receive a five-place grid penalty for Sunday's race at the Red Bull Ring.
Sauber do hope to get the change complete in time for Leclerc to compete in qualifying, but the penalty will inevitably compromise his chance of scoring points tomorrow – something he has achieved at four of the last five Grands Prix.
McLaren's Fernando Alonso was set to improve on his first-run time in Q2 when he ran wide at the final corner and broke his front wing on his final lap. That left him 14th.
Williams driver Lance Stroll, who did a good job to make Q2 for the first time since the Azerbaijan Grand Prix two months ago rounded out the top 15.
So often the bridesmaid in 2018, can Bottas finally get his first win of 2018? He's certainly well placed to do just that?
Quotes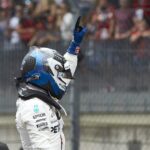 Bottas waves to the crowd
Valtteri Bottas
It feels really good to get my first pole position of the season. I like this track a lot; last year I had a good weekend here and this year the weekend has started well again. It's a tricky circuit; there are only seven real corners on this track, but you can get them wrong very easily and lose a lot of time. For me it helped a lot that my first lap in Q3 was really good, so I could build on that in the second run. I will look at the data in detail to see where there is further room for improvement. The car felt really well-balanced today, so I can't imagine why it wouldn't feel that way tomorrow. We have had very mixed races lately, so I hope that I can get a good start and fight for the win. We have shown that we are quick here and have a really strong package, so we need a nice, clean race to turn our qualifying result into points. It's nice to have a good result, but this was only qualifying, and it's the race that counts.
Lewis Hamilton
This is a great result for the team, I'm really happy for us to have a 1-2. Congratulations to Valtteri, he did a better job today. He went a completely different way with the set-up and maybe in hindsight I should have gone that direction as well. I'm really grateful for all the hard work from everyone at the factory, they've helped us to improve the car, move forward and lock out the front row – it's quite a privilege to be in that position. You can't really follow here, so there usually isn't a lot of overtaking but we will see if the three DRS zones will make a difference. Ferrari will start on the UltraSoft tyres whereas Red Bull and us will start on the SuperSofts so that will be interesting. There is a bit of a performance difference between those tyres, so keeping Sebastian behind at the start will be difficult, but I will give it everything I could. It's going to be close tomorrow, but we're in a good position for the race.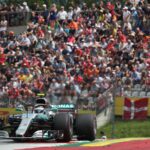 Bottas on full song
Toto Wolff
It's a fantastic result to take the front row here in Spielberg with Valtteri just a few hundredths ahead of Lewis. We have been pushing hard in recent weeks to add performance to the car and, after the upgraded engine last week, it was really impressive to see the size of the aero upgrade here at the second race of the triple header. The hard work has paid off so far, with the car performing well and handling nicely around this circuit. Valtteri has been on good form all weekend and had a clean qualifying session, building up the performance level with each lap; Lewis also started strongly, after a tricky FP3, but made a mistake on his first lap in Q3. That meant it played out like a perfect thriller, with everything riding on the final runs – Lewis was quicker than the provisional pole time, but Valtteri was a little faster still and took his first pole of the season. It's a well-deserved result after some really bad luck in recent races. Now, we need to manage the start well to have a strong race. Like last weekend in France, we will start on the SuperSoft, Ferrari on the UltraSoft; this gave them the advantage from the start last weekend, and we need to be conscious of that tomorrow. But those considerations are for this evening, for a few moments now we can enjoy a strong team result – and the best possible starting point for what will be a hard-fought Grand Prix.
Andrew Shovlin
It's great to get our second front row in succession and a fantastic reward for all the hard work that has gone on in Brixworth and Brackley bringing updates to these recent races. Congratulations also to Valtteri on his first pole of the year. He's had more than his fair share of bad luck this year but has remained completely focused and committed so it's nice to see his hard work rewarded. The day has run quite smoothly, we made some changes to the car overnight that seemed to be a step in the right direction but we still had a bit of time to find in the slow corners that required some fine tuning for qualifying. The qualifying session was more or less to plan. Both drivers were finding time as the track improved, Valtteri getting a very good first lap on the board in final qualifying whereas Lewis had a mistake in Turn 3 which left him with everything to do on the final run. To see them separated by two hundredths with such a good gap behind shows that they were both really getting all the performance out of the car. The long run picture from Friday looks like it will be closer in the race than we saw in qualifying and the start tyre difference between us and Ferrari adds another dimension. We've got a long way to go to convert the front row into a one two but we'll be working hard tonight on a race plan to help us achieve that.
Qualifying Results
| | | | | | | | |
| --- | --- | --- | --- | --- | --- | --- | --- |
| POS | NO | DRIVER | CAR | Q1 | Q2 | Q3 | LAPS |
| 1 | 77 | Valtteri Bottas | Mercedes | 1:04.175 | 1:03.756 | 1:03.130 | 18 |
| 2 | 44 | Lewis Hamilton | Mercedes | 1:04.080 | 1:03.577 | 1:03.149 | 21 |
| 3 | 5 | Sebastian Vettel | Ferrari | 1:04.347 | 1:03.544 | 1:03.464 | 18 |
| 4 | 7 | Kimi Raikkonen | Ferrari | 1:04.234 | 1:03.975 | 1:03.660 | 21 |
| 5 | 33 | Max Verstappen | Red Bull Racing | 1:04.273 | 1:04.001 | 1:03.840 | 18 |
| 6 | 8 | Romain Grosjean | Haas Ferrari | 1:04.242 | 1:04.059 | 1:03.892 | 17 |
| 7 | 3 | Daniel Ricciardo | Red Bull Racing | 1:04.723 | 1:04.403 | 1:03.996 | 22 |
| 8 | 20 | Kevin Magnussen | Haas Ferrari | 1:04.460 | 1:04.291 | 1:04.051 | 20 |
| 9 | 55 | Carlos Sainz Jr. | Renault | 1:04.948 | 1:04.561 | 1:04.725 | 19 |
| 10 | 27 | Nico Hulkenberg | Renault | 1:04.864 | 1:04.676 | 1:05.019 | 20 |
| 11 | 31 | Esteban Ocon | Force India Mercedes | 1:05.148 | 1:04.845 | – | 19 |
| 12 | 10 | Pierre Gasly | Toro Rosso Honda | 1:05.011 | 1:04.874 | – | 16 |
| 13 | 16 | Charles Leclerc* | Sauber Ferrari | 1:04.967 | 1:04.979 | – | 19 |
| 14 | 14 | Fernando Alonso | McLaren Renault | 1:04.965 | 1:05.058 | – | 17 |
| 15 | 18 | Lance Stroll | Williams Mercedes | 1:05.264 | 1:05.286 | – | 17 |
| 16 | 2 | Stoffel Vandoorne | McLaren Renault | 1:05.271 | – | – | 9 |
| 17 | 11 | Sergio Perez | Force India Mercedes | 1:05.279 | – | – | 11 |
| 18 | 35 | Sergey Sirotkin | Williams Mercedes | 1:05.322 | – | – | 10 |
| 19 | 28 | Brendon Hartley | Toro Rosso Honda | 1:05.366 | – | – | 11 |
| 20 | 9 | Marcus Ericsson | Sauber Ferrari | 1:05.479 | – | – | 11 |
Note – *Leclerc penalized five grid places for an unscheduled gearbox change.
[adinserter name="GOOGLE AD"]