IndyCar Road America Friday Press Conference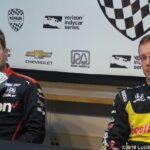 Power and Bourdais
Drivers
1st – Josef Newgarden (Chevy)
3rd – Sebastien Bourdais (Honda)
4th – Will Power (Chevy)
Press Conference
THE MODERATOR: We are joined now by Josef Newgarden, driving the No. 1 Verizon Team Penske Chevrolet this weekend. Finished fastest in today's morning practice.
Josef, what are you feeling from the car? What are you thinking of your chances this weekend?
JOSEF NEWGARDEN: Yeah, it feels pretty good. We didn't have any big issues to start out. It's the first session, so you always got to be a little bit careful of where that's going to go.
Trend-wise it looks like a couple guys did two sets of tires, not many. I was looking more at degradation. Looks similar to last year. Actually the feeling in the car is similar to last year in a lot of respects.
You can get away with more power slides this year. I was talking to my teammates. We actually were all having these massive slides on the exits of T12, T14. This car is a little bit more engaging so it lets you know when it's going to happen. You can get away with more. That's a lot of fun. That's a difference from last year.
I think our cars seemed pretty strong to start. We have to look at them and try to progress as everybody else through the weekend.
THE MODERATOR: You have behind Takuma Sato and Alexander Rossi. Parity up front. Everyone is trying to figure out their package around this track. Who are you seeing might be some of your competitors for pole tomorrow?
JOSEF NEWGARDEN: It's hard to tell. If you look at last year, last year actually I think Rossi was the quickest last year in the first session with a Honda. It's kind of similar this year where you have all it mixed up.
Session two might tell a better story of what's really going to happen throughout the weekend. Same thing with session three. Might have a better insight.
Seems like as the track rubbers up, you start to get really a better picture of where everyone is at. That's the only thing I would caution from session one, maybe it's not showing the full picture.
Wickens looks good. He was good at the test from what I saw a week ago. He would be strong. I expect Andretti to be good. They looked strong in the first session. Dixon, as well, I think he'll be up there, looking at him last year.
THE MODERATOR: This particular track seems to be one of the favorites of the drivers in the paddock.
JOSEF NEWGARDEN: It's just a great driver's track. It's a great IndyCar track. You look at the cars around here, it's exciting to be around this place. Not only to drive them, but I think to watch all the other support series. There's just kind of a buzz about it. You feel an energy around this place that you don't get everywhere.
It just feels like a proper IndyCar track. People use that terminology a lot, which I think is very fitting. It's just an awesome track. You don't get many places that are four miles, so you really open up the legs of the car. You really have to put it on the limit on high-speed corners to try to get the most out of it.
It can bite you. You don't have a ton of place to hide here. If you mess up, it will show the mistake. I think guys like it for those characteristic reasons.
[adinserter name="GOOGLE AD"]Just the fan support up here has been incredible. Everyone is very knowledgeable about what's happening in the series. That's fun.
THE MODERATOR: I saw on Twitter yesterday there is actually a Josef Newgarden campsite with your face plastered on it.
JOSEF NEWGARDEN: It's multiple faces. They have a vegetable garden with my face. I have to go see them, I think in turn one. I have to go visit them because they built this garden up, which is super cool.
Yeah, you get that type of stuff around here. People that come and camp, have a good time, make the whole weekend out of it. It's a tradition for a lot of people. I think it's fun to be part of that atmosphere.
THE MODERATOR: You were recently nominated for an ESPY award earlier this week as well. Talk about that honor, as you're looking at the progression of your career, what that means to you.
JOSEF NEWGARDEN: Yeah, it's a big deal. Obviously the ESPYs are a huge recognition within sports. To represent IndyCar in that mix is a big deal. I feel honored just to be included in the list. They only have four people listed there for best driver. It's a narrow list. To be considered on there is a huge deal.
A lot of that is down to the team, Team Penske, what they did last year. They put us in a position to be successful. I think they're recognizing that. It's very much about the team more than just the individual drivers, in my opinion.
Huge honor. I'm excited to go out there and see the event. I've heard great things about it.
THE MODERATOR: Questions for Josef.
Q. I think you tested here earlier. Was there any significant changes made after the test of the car which put you in the quickest position?
JOSEF NEWGARDEN: I didn't test. I wasn't here. I think they only had six or eight cars. I don't know how many were here.
I saw some information from the test. I read quotes, some driver talk of what they were experiencing. Yeah, I don't know. I think we rolled off really good because our cars were good here last year. They seemed to be similar from a trend standpoint.
Yeah, I don't know if it's changed much from the test. I think it's probably cooled off. From everything I heard, it was hotter here last weekend. That's probably the biggest difference.
Q. (No microphone.)
JOSEF NEWGARDEN: So far no, but maybe it will be towards the end of the weekend. We'll wish we did.
Q. At what part of the season, or do you start thinking about the championship?
JOSEF NEWGARDEN: I mean, you think about it all the time. I mean, a lot of it's out of your control, though. The way I look at it, it's one race at a time. You try to maximize one race at a time. We still have a long way to go now. We're only halfway through.
I think crunch time is probably more around three or four races to go, then it's really crunch time. You get an idea if you're in the mix or you're not. That's what I would say.
Q. The Penske Chevys have been pretty good on road courses this year. Has that been able to translate? Did it feel like you had a better setup in your first session than your teammates?
JOSEF NEWGARDEN: I think those guys will be strong. I saw their stuff. They look good. I expect them to be right up there in the second session and third session.
Our cars were really good here last year. Everyone I think kind of saw that, that we had good performance. I think that's carried over. I think the Chevy package has been really good this weekend. I think it should be. This is a track more suited I think to our package, what Chevrolet has done.
Hopefully it's something we can carry through performance-wise through the rest of the weekend. But the first session is really hard to gauge. If you look at last year's first session, it didn't really tell the full story. I don't think this one did, either. Maybe we'll pull more clear in the second session or maybe it will still be mixed up or maybe Hondas are stronger. I don't really know yet till we get through this afternoon.
Q. With how long the laps are here, how hard is it to get a perfect lap here compared to another track that is not as long?
JOSEF NEWGARDEN: It doesn't feel that way when you're putting a lap together. You put a lap together on the short track, you have the straightaway to open everything up. You have more time to think about what's happening.
I guess saying that, when you make a mistake in a corner, it gives you more time to be pissed about it till you get to the next corner afterwards. Yeah, it's a long lap.
I mean, generally when you're testing stuff now, you go out, you do a long out lap, you do one lap, you come right back in. It's only one lap you need to evaluate something now. You kind of have to do that from a time standpoint because it's so long, you don't want to burn up too many laps testing a change. I try to do one lap whenever I want to feel something out.
Q. Let's go back to that power slide thing you were talking about. Can you describe a little bit more in-depth, put us in the seat for what you experience.
JOSEF NEWGARDEN: Yeah, I mean, with this car, it talks to you a lot more. It gives you a lot more feedback. When you're on the edge of breaking the rear free, you get a lot more warning for that. Places like T12, even the Carrousel or turn 14, you'll be coming off after max load and you'll be finishing the corner, the rear will start talking to you, saying it's too much, too much. You can actually go to the point where it is too much, completely break the rear free.
You have huge moments now with this car where you're completely crossed up. You would think you're wrecking. You can somehow straighten it back up and continue the lap.
It's kind of fun. I think in the old car you probably would have spun off or wrecked, whereas this thing, it just has a longer string. The string doesn't break as quickly as the old car did.
THE MODERATOR: Josef, thanks for coming in.
JOSEF NEWGARDEN: Thanks, guys.
Press Conference
THE MODERATOR: We are joined now by our third fastest driver of the day, Sebastien Bourdais, driving the No. 18 Team SealMaster Honda for Dale Coyne Racing.
A former pole winner and a former race winner here, wasn't here last year, unfortunately, I know you wish you were, but take us through your practices today and your thoughts heading into the qualifying tomorrow.
SEBASTIEN BOURDAIS: Yeah, no, pretty happy. I think obviously we didn't test, a couple of guys did. Felt a little bit off this morning. We're pretty confident because it was just mostly understeer in the car.
Yeah, just pretty happy with the day. Our guys did a good job. The Firestone red tires are definitely giving a huge amount of grip in comparison to the prime. But for us, it really wasn't much of a balance change, so that was nice. Could definitely get a pretty decent run. Consistency was quite good, as well.
Yeah, looking forward to the rest of the weekend.
THE MODERATOR: Everyone that we've been talking to so far today has mentioned what a classic IndyCar track this is, historic track. Seems to be high up there in terms of favorites. Is it one for you, as well?
SEBASTIEN BOURDAIS: Yeah, definitely. I think it's that place when you get the setup right, you put the lap together, it's extremely satisfying. Probably one of the most fascinating tracks that we go to as far as drivers are concerned because you really just have to let it flow, let it go. That's where the car are stretching their legs, looking fast even on TV. It's always great fun.
Obviously, it seems to be a good parity between the engines, as well. Just looking up there for Honda. Hope we can, like I said, just keep building on it, make a few tweaks to it, climb a little bit for tomorrow.
THE MODERATOR: We've also been chatting a little bit about how most everybody got a breather last weekend.
SEBASTIEN BOURDAIS: Off weekends are overrated.
THE MODERATOR: Not so at all for you. You went to work. Talk about the grind of that, going back from such different cars, as well.
SEBASTIEN BOURDAIS: Yeah, I mean, I can't even start to detail and describe to you how much crap I get from my teammates when I get to Le Mans. That's all they hear, Sebastien, Sebastien, Sebastien. Take pictures, this is and that. It's becoming a little bit crazy, to be honest.
It used to be a tough week for me, but it's become a very complicated week. On top of that, when you squeeze it between two IndyCar races, you come out of the plane on Monday morning, go straight to the engineering, it's just like you get completely overwhelmed with everything and everyone, media people, stuff to do.
Yeah, I think I could actually complete a week of media and signing autographs and still not be done with it. It's interesting, for sure. So I was definitely looking forward to getting into the car for the race because I probably did a total of 10 laps before the race started, which is pretty normal. The lap is long, you got three drivers.
It was great to be back. Just a tough week because you got that Monday, then you go straight onto Tuesday. It was filled with stuff to do. You get ready for Wednesday and you go to bed at 2:30 in the morning, again on Thursday, then you get the parade on Friday, some meetings. It's like, When do we get this thing started so we can start driving a little bit?
The race was great. We put on a great performance for the Ford guys, Chip Ganassi Racing. Dirk and Joey did an awesome job. We drove the hell out of that thing. It's all we had. Felt really good we could salvage a podium at the end. The guys definitely deserved it big-time.
For me it was great. Obviously, I flew back on Wednesday, back to the IndyCar world.
THE MODERATOR: Questions.
Q. I know you're all about the here and now, Dale Coyne Racing, but seems like a lifetime ago, this is a pretty special track in your earlier IndyCar career. I'm sure you have a lot of great memories from the days when you ran for Newman/Haas here. What are some of the things you remember when you come through the gates?
SEBASTIEN BOURDAIS: Yeah, I mean, I have to say it's probably the best memory I have from a qualifying, that 2007 pole lap. I think it was like 40 point something. It was ridiculous. That thing was so good. I mean, it's when you make one with the car, and it's just on another planet. It was a huge, huge amount of fun. We ended up winning it, finally like after five years of touching it and missing out.
Yeah, it was a very special race for Newman/Haas. Obviously the home race. All the families from the team were coming and everything. It was always very special. Yeah, to win here always meant a big deal. Yeah, I'm always glad I could do it. Hopefully, we can taste it again someday.
Q. And Carl (Haas) had cronies here for the weekend, too. The hospitality tent was always jammed pack.
SEBASTIEN BOURDAIS: I don't know. You'd probably know more than me. It's just one of those where, yeah, like I said, there were a lot of friends from the team and all around. It was a pretty special moment for everybody involved.
THE MODERATOR: I want to welcome in Will Power, fourth fastest in this afternoon's session.
Give us a quick overview of how your car has been performing, looking ahead to qualifying tomorrow.
WILL POWER: Yeah, definitely changed the setup a bit, then went back. I think the track was really low grip at the beginning of every session, then got better. Kind of a little bit hard to pick what to do.
But obviously Josef is really quick, so got plenty of data to look at. Just keep working away at it.
THE MODERATOR: We'll continue with questions.
Q. Fuel consumption. Will we need a full course caution to stop you guys having to fuel save all the way through?
WILL POWER: Yeah, probably for the first (indiscernible) it will definitely make it easier. If it's all green, you're probably going to be saving fuel.
Q. Has this car's lack of drag made a big difference to your fuel mileage?
WILL POWER: Actually at this track it's a very similar drag level. Very close. Just a lot less downforce. The fact it's less downforce, you're braking earlier, getting on the throttle later. That saves a bit of fuel in itself.
SEBASTIEN BOURDAIS: It's on that side of the pond.
Q. Honda is completely happy?
WILL POWER: Yeah, they seem to have the mileage thing down. It's unbelievable.
Q. Sebastien, is it strange for you to go over to Le Mans, be driving for the Ganassi team, come back over here and go back to Dale Coyne?
SEBASTIEN BOURDAIS: Yeah, obviously I've done this for a long time. That's the third year I do the jumping around between an IndyCar team and the GT program. Yeah, it has become kind of normal.
It's great. I mean, I have a great environment on both sides, a chance to win races every time. It's just a lot of fun really.
THE MODERATOR: Guys, thank you very much. Good luck this weekend.