Alonso and Toyota win the 24 Hours of LeMans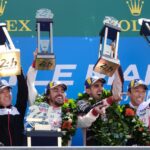 Alonso celebrates with Buemi and Nakajima
Fernando Alonso now has won two legs of the triple crown he so desires by winning the 2018 24 Hours of LeMans with #8 Toyota co-drivers Sebastian Buemi and Kazuki Nakajima. Now he has to win the Indy 500 and he will have achieved his dream.
The 2018 24 Hours of Le Mans finished with Toyota finally lifting the most coveted trophy in endurance racing after Kazuki Nakajima took the checkered flag in the no. 8 Toyota TS050 Hybrid two laps ahead of the no7 Toyota with Kamui Kobayashi at the wheel.
It looked like the race between the two Toyotas was going to be closer but two ten second stop and go penalties, the first for exceeding the maximum number of laps per stint and the second for exceeding the fuel / quantity limit. The no7 Toyota also slowed in the penultimate hour, the car travelling back to the pits slowly. Suddenly the car was back up to speed but Kobayashi still headed to the pits for the car to be checked.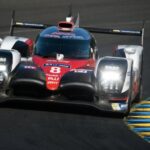 The winning #8 Toyota
Kazuki Nakajima crossed the line and stood with Sebastien Buemi and Fernando Alonso on the top step of the podium. Mike Conway, Kamui Kobayashi and Jose Maria Lopez were second. The two Rebellion Racing R13s were third and fourth, with Thomas Laurent, Mathias Beche and Gustavo Menezes taking the final podium position one lap ahead of their teammates in the no1 R13-Gibson. The no. 5 CEFC TRSM Racing was the only other finisher in the LMP1 category, with five retirements including the no11 SMP Racing BR01-AER of Jenson Button in the final hour of the race.
The LMP1 non-hybrids were unable to match the Toyotas, and many of the new cars experienced technical issues during the race, but Rebellion Racing's Mathias Beche, Thomas Laurent and Gustavo Menezes took the final podium place and the No.1 crew came home in fourth. It was Laurent's second podium finish in a row, Le Mans treating the young Frenchman particularly well! The No.5 CEFC TRSM Racing Ginetta G60-LT P1 Mecachrome was the only other classified LMP1 car.
SMP Racing, which showed early pace with the two BR Engineering BR1-AERs, failed to get either of its two cars to the finish, with engine failure forcing Jenson Button out of the race with less than one hour to go.
The event, which was started by Rafael Nadal in front of a host of stars and celebrities, attracted a 256,900-strong crowd.
G-Drive wins LMP2
[adinserter name="GOOGLE AD"]Following wins at Spa (WEC) and Monza (ELMS), the No.26 G-Drive Racing ORECA 07 Gibson took a commanding LMP2 class victory today. Jean-Eric Vergne, Roman Rusinov and Andrea Pizzitola were all first-time winners of the French endurance classic and the TDS-run car had a flawless run to the flag after the opening hour.
Frenchman Vergne took the car over the finish line to record victory two laps ahead of the No.36 Signatech Alpine Matmut entry of Nicolas Lapierre, Andre Negrão and Pierre Thiriet. As well as being a first Le Mans class win for the drivers, it was also the first for G-Drive and the TDS team.
Fourth on track and third in the WEC points classification, due to podium finisher Graff SO24 not being a WEC entrant, was the TDS Racing entry of Francois Perrodo, Matthieu Vaxiviere and Loïc Duval which made a late charge for the podium place.
Manthey Porsches Claim 1-2 in GTE-Pro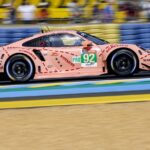 The #92 Pink Pig Porsche 911 RSR wins GTE-Pro
In its 70th anniversary year, and sporting iconic liveries from its past, the No.92 'Pink Pig' of Michael Christensen (DNK), Kevin Estre (FRA) and Laurens Vanthoor (BEL) took the checkered flag one lap ahead of the No.91 in the blue and white colors from the 70s.
The two cars, the No.91 in the hands of Richard Lietz (AUT), Gimmi Bruni (ITA) and Fred Makowiecki (FRA) led the French classic, the second round of the FIA World Endurance Championship Super Season, from the first hour and dominated thereafter. It is the first win at Le Mans for Porsche in the GTE categories since 2013.
The manufacturer which came closest to challenging the Porsche 911 RSRs throughout the race was Ford and two cars from the Ford Chip Ganassi Racing stable finished in third and fourth places. The No.68 (Joey Hand (USA, Dirk Müller (DEU), Sébastien Bourdais (FRA) from the US arm of the team took the final LMGTE Pro podium place while the No.67 of Andy Priaulx (GBR), Harry Tincknell (GBR) and Tony Kanaan (USA) will take points for third place in the FIA WEC points classifications (the American Ford entry does not score points as it is not a full season WEC competitor).
The AF Corse Ferraris and BMWs put up a strong challenge at times but ultimately were let down by technical issues and penalties which cost them time in the pits. Aston Martin Racing got both its new cars through to the finish to give them confidence for the rest of the season.
Patrick Dempsey team wins GTE-AM Class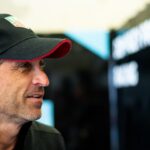 A happy Patrick Dempsey
Delighted team owner Patrick Dempsey was on hand in Le Mans to see his team take victory in the LMGTE Am class. The No.77 of Matt Campbell (AUS), Christian Ried (DEU) and Julian Andlauer (FRA) cross the line 1m 39s ahead of the No.54 Spirit of Race Ferrari 488 GTE of Thomas Flohr (CHE), Francesco Castellacci (ITA) and Giancarlo Fisichella (ITA).
As in the Pro class, Dempsey-Proton dominated the class although for many hours it was the sister No.88 Porsche 911 RSR which led. Unfortunately, just after 07h00 this morning, in the hands of Matteo Cairoli, the car went off track and into the barriers just after the Porsche Curves …into retirement.
Third in class was the No.85 Keating Motorsports Ferrari from the USA, and third in the points classification is the No.56 Team Project 1 Porsche of Jorg Bergmeister (DEU), Patrick Lindsey (USA) and Egidio Perfetti (NOR) – the team's first season in the WEC and first participation at the world's most famous endurance race, the 24 Hours of Le Mans.
Winners Quotes
Akio Toyoda, President, Toyota Motor Corporation:
"Thank you for driving all out!" Please let me direct these words to our drivers, who drove our cars for the longest distance at Le Mans, finally in our 20th challenge. At the same time, I would like to say the same to our cars, completing 388 laps, approximately 5,300 km.
And "thank you very much for letting us and our drivers drive all out!" I want to say this to all fans who have supported us for a long time, our partners and suppliers who have battled together with us, and all the team members and the people related to our team. I want to express my sincere appreciation to all.
In our history we never won Le Mans, just watching the rear of our rivals, so we devoted ourselves developing new technology, believing if we make a car that drive faster than theirs, we could win.
However, we could not win our 19th race last year. After the race, I raised my voice to the team: "We can't win Le Mans if we only care about making a fast car! What we do not have is strength. We are not a strong team!" Then, they re-built the operation asking why they didn't have strength from the ground up, and finally reached the conclusion that what was missing is idea of kaizen, or continuous improvement.
There is every detailed operation to make and drive a car, and each person needs to consider how to prevent any mistakes. Then they will find out what to do next. They spent the year working on improvement, trying to acquire the "strength".
Porsche, who we did not beat, maybe already had such strength. We could not compete with them again this year, but we would like again take this opportunity to show our sincere appreciation to those great rivals.
Before the race starts this year, I received a message from one of the team members. "I feel uneasy this year. We have continued to improve throughout the year, but finally I realized that kaizen is continuous, that it never ends because there is always room for improvement. I think that's why I feel uneasy. We will keep doing our best and continue kaizen with my team members until we get to the checkered flag. Morizo san, please keep supporting us during the race."
Having read this, I felt that they are getting stronger. So I really wanted to see them win, and decided to fight together with them even though I was in Japan.
We are developing a road car from a race car competing in the Le Mans. Kaizen is ever-continuing – it is a common idea in Toyota and now racing team members also understand it linked to victory, so I believe that we took one step closer to the realization of the project.
Finally, we won 24 Hours of Le Mans this year. I want to enjoy the great feeling today with all fans who have supported us for long time. Of course this is another step towards the next challenge so I would like to ask your continuous support from now on too. Thank you very much. "
Hisatake Murata (Team President)
"I am so proud of everyone in the team for this result. It has been our dream to win Le Mans and finally we have achieved it. Thank you so much to everyone for their incredible hard work, team spirit and never-give-up attitude. To win Le Mans for Toyota after so many frustrations and disappointments is a truly magical moment."
Mike Conway (TS050 HYBRID #7)
"It was an intense, close fight for a long time; we were all nervous watching on TV. We were all out there to do the best we can without taking big risks. It's been a long race, lots of things changing. It shows that Toyota can build two strong cars and we can race hard. Congratulations to car #8, they had a great week and a great race. Our car fell short but it's a great team result."
Kamui Kobayashi (TS050 HYBRID #7)
"Congratulations to the car #8 crew and the whole team. Toyota made a great job to finish the race without any mechanical troubles; just amazing. We wanted to win of course but car #8 was really strong. This is endurance racing so we tried to be safe and to manage the car. In the end both cars finished well. To be second and part of a winning Toyota team makes me very happy."
Jose María Lopez (TS050 HYBRID #7)
"I want to congratulate car #8 and the whole team. I am really proud of my #7 team, and Kamui and Mike; we gave it our all. We are here as six drivers but there are so many people behind us, working so hard. This is a big achievement for Toyota and that was the main target this week. We had a fair fight between the cars but to be able to bring the trophy back to Toyota is fantastic."
Sebastien Buemi (TS050 HYBRID #8)
"This is definitely the biggest win of my career. I struggle to realize it right now because in the last few laps I couldn't forget 2016. To finally see the car crossing the line was really special. All the preparation that goes into this day from everyone in the team, when you finally win it, it is something really big so I will enjoy this. Congratulations as well to car #7 who did an amazing job as well."
Kazuki Nakajima (TS050 HYBRID #8)
"It's great to be here finally; it has been a long time. I am almost speechless. I had great team-mates and Toyota gave us a very strong car. We finished the race without any issue on both cars so I feel we all deserved to win the race. To win this race has been a big dream for all of Toyota since 1985. There have been many people involved in this project so I am proud to be here to represent all that effort."
Fernando Alonso (TS050 HYBRID #8)
"It has been amazing. We know how important and iconic Le Mans is in the world of motorsport and as a team we achieved an amazing result. Every moment was a reminder of how tough and long this race is, anything can happen so we tried to execute our race and stay calm. Happily everything worked well. The race was hard because the two cars were very close, within one minute after 23 hours, so it was tough competitive but fair and very sporting. We wanted a one-two and we achieved that so I am very happy."
Result
| | | | | | |
| --- | --- | --- | --- | --- | --- |
| POS | CLASS | CAR | DRIVERS | LAPS | BEHIND |
| 1 | LMP1 | #8 Toyota | Buemi, Nakajima, Alonso | 388 | + 0.000s |
| 2 | LMP1 | #7 Toyota | Conway, Kobayashi, Lopez | 386 | + 2 Laps |
| 3 | LMP1 | #3 Rebellion | Laurent, Beche, Menezes | 376 | + 12 Laps |
| 4 | LMP1 | #1 Rebellion | Lotterer, Jani, Senna | 375 | + 13 Laps |
| 5 | LMP2 | #26 Oreca | Rusinov, Pizzitola, Vergne | 369 | + 19 Laps |
| 6 | LMP2 | #36 Alpine | Lapierre, Negrao, Thiriet | 367 | + 21 Laps |
| 7 | LMP2 | #39 Oreca | Capillaire, Hirschi, Gommendy | 366 | + 22 Laps |
| 8 | LMP2 | #28 Oreca | Perrodo, Vaxiviere, Duval | 366 | + 2.539s |
| 9 | LMP2 | #32 Ligier | De Sadeleer, Owen, Montoya | 365 | + 23 Laps |
| 10 | LMP2 | #37 Oreca | Jaafar, Jeffri, Tan | 361 | + 27 Laps |
| 11 | LMP2 | #31 Oreca | Gonzalez, Maldonado, Berthon | 360 | + 28 Laps |
| 12 | LMP2 | #38 Oreca | Tung, Richelmi, Aubry | 356 | + 32 Laps |
| 13 | LMP2 | #29 Dallara | Van Eerd, Van Der Garde, Lammers | 356 | + 27.097s |
| 14 | LMP2 | #33 Ligier | Cheng, Boulle, Nicolet | 355 | + 33 Laps |
| 15 | LMP2 | #23 Ligier | Buret, Canal, Stevens | 352 | + 36 Laps |
| 16 | LMP2 | #35 Dallara | Shaitar, Newey, Nato | 345 | + 43 Laps |
| 17 | GTE Pro | #92 Porsche | Christensen, Estre, Vanthoor | 344 | + 44 Laps |
| 18 | GTE Pro | #91 Porsche | Lietz, Bruni, Makowiecki | 343 | + 45 Laps |
| 19 | GTE Pro | #68 Ford | Hand, Muller, Bourdais | 343 | + 26.729s |
| 20 | GTE Pro | #67 Ford | Priaulx, Tincknell, Kanaan | 343 | + 1m59.292s |
| 21 | GTE Pro | #63 Chevrolet | Magnussen, Garcia, Rockenfeller | 342 | + 46 Laps |
| 22 | LMP2 | #47 Dallara | Lacorte, Sernagiotto, Nasr | 342 | + 4.645s |
| 23 | GTE Pro | #52 Ferrari | Vilander, Giovinazzi, Derani | 341 | + 47 Laps |
| 24 | GTE Pro | #66 Ford | Mucke, Pla, Johnson | 340 | + 48 Laps |
| 25 | GTE Pro | #51 Ferrari | Pier Guidi, Calado, Serra | 339 | + 49 Laps |
| 26 | GTE Pro | #95 Aston | Sorensen, Thiim, Turner | 339 | + 3m32.870s |
| 27 | GTE Pro | #71 Ferrari | Rigon, Bird, Molina | 338 | + 50 Laps |
| 28 | GTE Am | #77 Porsche | Campbell, Ried, Andlauer | 335 | + 53 Laps |
| 29 | GTE Am | #54 Ferrari | Flohr, Castellacci, Fisichella | 335 | + 1m39.044s |
| 30 | GTE Pro | #93 Porsche | Pilet, Tandy, Bamber | 334 | + 54 Laps |
| 31 | GTE Am | #85 Ferrari | Keating, Bleekemolen, Stolz | 334 | + 29.094s |
| 32 | GTE Am | #99 Porsche | Long, Pappas, Pumpelly | 334 | + 1m51.905s |
| 33 | GTE Am | #84 Ferrari | Griffin, Macneil, Segal | 332 | + 56 Laps |
| 34 | GTE Am | #80 Porsche | Babini, Nielsen, Maris | 332 | + 2.872s |
| 35 | LMP2 | #50 Ligier | Creed, Ricci, Dagoneau | 332 | + 4.753s |
| 36 | GTE Pro | #81 BMW | Tomczyk, Catsburg, Eng | 332 | + 23.627s |
| 37 | GTE Am | #56 Porsche | Bergmeister, Lindsey, Perfetti | 332 | + 37.026s |
| 38 | GTE Am | #61 Ferrari | Mok, Griffin, Sawa | 332 | + 2m32.499s |
| 39 | GTE Pro | #97 Aston | Lynn, Martin, Adam | 327 | + 61 Laps |
| 40 | GTE Am | #70 Ferrari | Ishikawa, Beretta, Cheever | 324 | + 64 Laps |
| 41 | GTE Pro | #69 Ford | Briscoe, Westbrook, Dixon | 311 | + 77 Laps |
| 42 | LMP1 | #5 Ginetta | Robertson, Simpson, Roussel | 289 | + 99 Laps |
| 43 | GTE Am | #86 Porsche | Wainwright, Barker, Davison | 283 | + 105 Laps |
| 44 | LMP2 | #44 Ligier | Bertolini, Jonsson, Krohn | 334 | + 54 Laps |
| 45 | LMP1 | #11 BR | Petrov, Aleshin, Button | 315 | Retired |
| 46 | LMP2 | #48 Oreca | Lafargue, Chatin, Rojas | 312 | Retired |
| 47 | GTE Am | #90 Aston | Yoluc, Hankey, Eastwood | 304 | Retired |
| 48 | LMP2 | #22 Ligier | Hanson, Albuquerque, Di Resta | 288 | Retired |
| 49 | GTE Pro | #64 Chevrolet | Gavin, Milner, Fassler | 259 | Retired |
| 50 | LMP1 | #10 BR | Hedman, Hanley, Van Der Zande | 244 | Retired |
| 51 | LMP2 | #25 Ligier | Patterson, De Jong, Kim | 237 | Retired |
| 52 | GTE Am | #88 Porsche | Cairoli, Al Qubaisi, Roda | 225 | Retired |
| 53 | GTE Pro | #82 BMW | Farfus, Felix Da Costa, Sims | 223 | Retired |
| 54 | LMP2 | #40 Oreca | Allen, Gutierrez, Guibbert | 197 | Retired |
| 55 | LMP2 | #34 Ligier | Taylor, Ledogar, Heinemeier-Hansson | 195 | Retired |
| 56 | LMP1 | #6 Ginetta | Rowland, Brundle, Turvey | 137 | Retired |
| 57 | LMP1 | #17 BR | Sarrazin, Orudzhev, Isaakyan | 123 | Retired |
| 58 | GTE Pro | #94 Porsche | Dumas, Bernhard, Muller | 92 | Retired |
| 59 | GTE Am | #98 Aston | Dalla Lana, Lamy, Lauda | 92 | Retired |
| 60 | LMP1 | #4 Enso | Webb, Kraihamer, Dillmann | 65 | Retired |
[adinserter name="GOOGLE AD"]