No. 7 Toyota leads LeMans at halfway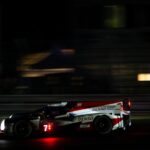 The #7 Toyota leads at halfway with Alonso's #8 Toyota chasing it down
The No. 8 Toyota TS050 Hybrid has been given a 60-second stop-and-hold penalty, dropping it to two minutes behind the sister Toyota Gazoo Racing entry shortly after midnight and the two Toyotas held a 5-lap lead at the 24 Hours of Le Mans as the race reached its midway point.
Jose Maria Lopez was behind the wheel of the leading No. 7 Toyota TS050 at the 12th hour, 1 minute 21 seconds ahead of Fernando Alonso in the No. 8 car.
A 60-second stop and hold penalty for Alonso's teammate Sebastien Buemi widened the gap between the two Toyotas.
At the halfway milestone, the nearest non-hybrid LMP1 car was the No. 3 Rebellion Racing R13 Gibson with Mathias Beche at the controls but they do not have a chance to win because God did not give them a BoP adjustment so they can be competitive. In sportscar racing, God determines who will be fast and who won't be.
[adinserter name="GOOGLE AD"]The Swiss driver was five laps down and a lap ahead of the No. 1 Rebellion in fourth place, driven by Bruno Senna.
G-Drive Racing has continued to dictate the pace of the LMP2 category since taking the lead during the first round of pit stops in the opening hour.
Jean-Eric Vergne, Andrea Pizzitola and Roman Rusinov's No. 26 Oreca 07 Gibson put a lap on the field shortly after midnight to put the trio in a commanding position heading toward morning.
Porsche 1-2 in GTE-Pro
GTE-Pro has seen the No. 92 Porsche 911 RSR shared between Kevin Estre, Michael Christensen and Laurens Vanthoor lead much of the way since it assumed the lead during a fortuitous fourth-hour safety car.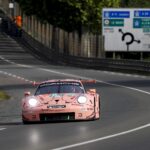 #92 Porsche continues to lead GTE-Pro
The 'Pink Pig'-themed car hasn't relinquished its sizeable advantage, which stood at 1 minute 53 seconds with 12 hours to go.
Almost two minutes behind was the Rothmans-liveried No. 91 Porsche of Gianmaria Bruni, Richard Lietz and Frederic Makowiecki.
Third at halfway was the No. 68 Ford GT, some 45 seconds behind Bruni's Porsche, while the No. 52 AF Corse Ferrari 488 GTE ran fourth.
Porsche also led in GTE-Am, with the No. 77 Dempsey-Proton Racing Porsche 911 RSR of Matt Campbell, Julien Andlauer and Christian Ried holding a 1 minute 50s advantage over the No. 85 Keating Motorsports Ferrari.
Quotes
Mike Conway (TS050 HYBRID #7): "We are only halfway so there's still a long way to go. We are running as a team and trying not to take too many risks. It was quite close for a while but we got the buffer and now we will try to keep that. We have seen how you can lose a lot of time with slow zones and safety cars. Even though we have a decent lead it can disappear quickly so we have to keep doing what we are doing."
Kamui Kobayashi (TS050 HYBRID #7): "I think my stint was quite good but for most of the session I struggled with traffic. It's a long race so I tried to be cool and not push like crazy. It's quite difficult. I tried not to take any risks but sometimes things can happen so we have to be careful and have a quiet race. We are in good shape; the most important target is to keep the car in one piece."
Sebastien Buemi (TS050 HYBRID #8): "I was unlucky with the slow zone at my pit stop which cost us some time; until then I had been very close to the #7. It was unfortunate to have the drive through as that put us quite a bit behind but there is half the race remaining so many things can happen. We are in the game and that's the main thing at this stage."
Kazuki Nakajima (TS050 HYBRID #8): "It's a good position for the team to have two cars at the front but we have to stay calm and take care to have a clean race until the end. The traffic was pretty bad for me and I wasn't taking any risks on my stint. It went well and I was running very close to Kamui for most of it. There's still a long way to go so we need to keep our heads down."
Standings at 12-Hour Mark
| | | | | | | |
| --- | --- | --- | --- | --- | --- | --- |
| POS | NO. | DRIVER | CAR | BEHIND | LAPS | CAT. |
| 1 | #7 | LOPEZ Jose Maria | Toyota TS050 – Hybrid | 0.000s | 194 | P1 |
| 2 | #8 | ALONSO Fernando | Toyota TS050 – Hybrid | 1:21.142 | 194 | P1 |
| 3 | #3 | BECHE Mathias | Rebellion R13 – GIBSON | 5 Laps | 189 | P1 |
| 4 | #1 | SENNA Bruno | Rebellion R13 – GIBSON | 6 Laps | 188 | P1 |
| 5 | #26 | RUSINOV Roman | Oreca 07 – Gibson | 9 Laps | 185 | P2 |
| 6 | #23 | BURET Timothe | LIGIER JSP217 – Gibson | 10 Laps | 184 | P2 |
| 7 | #36 | LAPIERRE Nicolas | Alpine A470 – Gibson | 0.831 | 184 | P2 |
| 8 | #48 | CHATIN Paul Loup | LIGIER JSP217 – Gibson | 49.232 | 184 | P2 |
| 9 | #28 | VAXIVIERE Matthieu | Oreca 07 – Gibson | 11 Laps | 183 | P2 |
| 10 | #39 | GOMMENDY Tristan | Oreca 07 – Gibson | 1:09.282 | 183 | P2 |
| 11 | #22 | HANSON Philip | LIGIER JSP217 – Gibson | 12 Laps | 182 | P2 |
| 12 | #40 | GUTIERREZ Jose | Oreca 07 – Gibson | 14.491 | 182 | P2 |
| 13 | #34 | HEINEMEIER-HANSSON David | LIGIER JSP217 – Gibson | 1:12.086 | 182 | P2 |
| 14 | #32 | MONTOYA Juan Pablo | LIGIER JSP217 – Gibson | 13 Laps | 181 | P2 |
| 15 | #29 | VAN EERD Frits | Dallara DALLARA P217 GIBSON | 14 Laps | 180 | P2 |
| 16 | #35 | NEWEY Harrison | Dallara P217 – Gibson | 1:12.171 | 180 | P2 |
| 17 | #37 | JAAFAR Jazeman | Oreca 07 – Gibson | 15 Laps | 179 | P2 |
| 18 | #31 | MALDONADO Pastor | Oreca 07 – Gibson | 6.120 | 179 | P2 |
| 19 | #44 | BERTOLINI Andrea | LIGIER JSP217 – Gibson | 16 Laps | 178 | P2 |
| 20 | #33 | BOULLE Nicholas | LIGIER JSP217 – Gibson | 17 Laps | 177 | P2 |
| 21 | #47 | NASR Luis Felipe | Dallara DALLARA P217 – GIBSON | 18 Laps | 176 | P2 |
| 22 | #10 | VAN DER ZANDE Renger | BR ENGINEERING BR1 – GIBSON | 21 Laps | 173 | P1 |
| 23 | #38 | RICHELMI Stéphane | Oreca 07 – Gibson | 1:00.634 | 173 | P2 |
| 24 | #92 | CHRISTENSEN Michael | Porsche 911 RSR | 22 Laps | 172 | Pro |
| 25 | #91 | BRUNI Gianmaria | Porsche 911 RSR | 1:53.291 | 172 | Pro |
| 26 | #68 | MÃœLLER Dirk | Ford GT | 23 Laps | 171 | Pro |
| 27 | #52 | VILANDER Toni | Ferrari 488 GTE EVO | 55.109 | 171 | Pro |
| 28 | #67 | TINCKNELL Harry | Ford GT | 1:33.360 | 171 | Pro |
| 29 | #69 | BRISCOE Ryan | Ford GT | 1:49.885 | 171 | Pro |
| 30 | #63 | GARCIA Antonio | Chevrolet Corvette C7.R | 2:00.438 | 171 | Pro |
| 31 | #51 | CALADO James | Ferrari 488 GTE EVO | 3:33.052 | 171 | Pro |
| 32 | #50 | DAGONEAU Thomas | LIGIER JSP217 – Gibson | 24 Laps | 170 | P2 |
| 33 | #82 | FELIX DA COSTA Antonio | BMW M8 GTE | 23:08.182 | 170 | Pro |
| 34 | #95 | SØRENSEN Marco | Aston Martin VANTAGE AMR | 25 Laps | 169 | Pro |
| 35 | #66 | JOHNSON Billy | Ford GT | 2:15.091 | 169 | Pro |
| 36 | #81 | TOMCZYK Martin | BMW M8 GTE | 26 Laps | 168 | Pro |
| 37 | #77 | ANDLAUER Julien | Porsche 911 RSR | 27 Laps | 167 | Am |
| 38 | #85 | BLEEKEMOLEN Jeroen | Ferrari F488 GTE | 1:33.465 | 167 | Am |
| 39 | #71 | BIRD Sam | Ferrari 488 GTE EVO | 1:45.990 | 167 | Pro |
| 40 | #97 | MARTIN Maxime | Aston Martin VANTAGE AMR | 1:50.778 | 167 | Pro |
| 41 | #84 | GRIFFIN Liam | Ferrari F488 GTE | 2:22.008 | 167 | Am |
| 42 | #64 | GAVIN Oliver | Chevrolet Corvette C7.R | 3:27.381 | 167 | Pro |
| 43 | #54 | CASTELLACCI Francesco | Ferrari F488 GTE | 3:37.970 | 167 | Am |
| 44 | #56 | LINDSEY Patrick | Porsche 911 RSR | 28 Laps | 166 | Am |
| 45 | #88 | AL QUBAISI Khaled | Porsche 911 RSR | 59.513 | 166 | Am |
| 46 | #99 | LONG Patrick | Porsche 911 RSR | 2:05.872 | 166 | Am |
| 47 | #80 | NIELSEN Christina | Porsche 911 RSR | 3:34.504 | 166 | Am |
| 48 | #61 | SAWA Keita | Ferrari F488 GTE | 4:30.215 | 166 | Am |
| 49 | #5 | ROUSSEL Léo | Ginetta G60-LT-P1 – MECACHROME | 29 Laps | 165 | P1 |
| 50 | #93 | PILET Patrick | Porsche 911 RSR | 42.258 | 165 | Pro |
| 51 | #90 | HANKEY Euan | Aston Martin VANTAGE | 31 Laps | 163 | Am |
| 52 | #86 | BARKER Benjamin | Porsche 911 RSR | 32 Laps | 162 | Am |
| 53 | #70 | CHEEVER Edward | Ferrari F488 GTE | 35 Laps | 159 | Am |
| 54 | #11 | PETROV Vitaly | BR ENGINEERING BR1 – AER | 51 Laps | 143 | P1 |
| 55 | #6 | ROWLAND Oliver | Ginetta G60-LT-P1 – MECACHROME | 57 Laps | 137 | P1 |
| 56 | #17 | ISAAKYAN Matevos | BR ENGINEERING BR1 – AER | 71 Laps | 123 | P1 |
| 57 | #25 | DE JONG Ate Dirk | LIGIER JSP217 – Gibson | 75 Laps | 119 | P2 |
| 58 | #94 | DUMAS Romain | Porsche 911 RSR | 102 Laps | 92 | Pro |
| 59 | #98 | DALLA LANA Paul | Aston Martin VANTAGE | 6:08.912 | 92 | Am |
| 60 | #4 | KRAIHAMER Dominik | ENSO CLM P1/01 – Nismo | 129 Laps | 65 | P1 |