Nakajima, Alonso, Buemi on pole for Toyota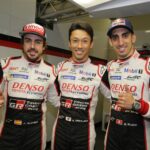 Pole winning Toyota drivers Alonso, Nakajima and Buemi
Toyota Gazoo Racing took pole position for the 86th Le Mans 24 Hours and locked out the front row as qualifying for the second round of the FIA World Endurance Championship (WEC) concluded at the Circuit de la Sarthe on Thursday night.
Kazuki Nakajima earned his second career pole position at Le Mans, and TOYOTA's fourth, with a lap of 3mins 15.377secs right at the start of third qualifying in the #8 TS050 HYBRID he shares with Sebastien Buemi and Fernando Alonso.
Both TOYOTAs will start Saturday's race from the front, with the #7 TS050 HYBRID of Mike Conway, Kamui Kobayashi and Jose Maria Lopez earning second place thanks to a best lap set by Kamui in first qualifying.
A perfect qualifying result brings an extra World Championship point but the team's focus throughout preparations has been on consistent, reliable performance in the race, which TOYOTA is attempting to win for the first time at its 20th attempt.
Grid positions are decided by the fastest lap from any of the three two-hour qualifying sessions, but there was no opportunity to improve on Wednesday's times during second qualifying. Two red flags made for relatively little action and ultimately saw the session halted 24 minutes early as a result of an LMP2 accident.
But third qualifying was different, with both TS050 HYBRIDs immediately hitting the track to fight for pole position. A clean lap from Kazuki significantly improved the pole position time and set a new track record for the updated 13.626km circuit lay-out, in use for the first time this year.
[adinserter name="GOOGLE AD"]With up to 60 cars on track, traffic is always a factor in qualifying and it did not fall kindly for Kamui, who was unable to improve on his Wednesday lap time. For the remainder of the session both cars focused on race preparations and experienced a wet track when light rain began to fall around 10.30pm.
That provided important data ahead of the race but meant the fight for grid positions was effectively over for the entire grid well before midnight.
In LMP2 Paul Loup Chatin took pole position at the very last second with a lap of 3:24.842 at the wheel of the No.48 IDEC Sport ORECA 07 Gibson. He was in front of the No.31 DragonSpeed of Nathanael Berthon (3:24.883 and the No.26 G-Drive Racing with Jean-Eric Vergne at the wheel who recorded a lap of 3:25.160.
The 60 entrants won't be on track tomorrow but drivers will take part in the traditional and very popular Grand Parade from 17h00 onwards.
Porsche seal the double in LMGTE for Le Mans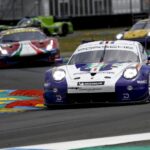 No. 91 Porsche
In the LMGTE Pro battle it will be Porsche on pole position after Gimmi Bruni's 3:47.504 lap, set yesterday, wasn't bettered today.
The No.91 Porsche GT Team 911 RSR thus secured the top spot in the world championship class, nearly 1.6 seconds ahead of the sister No.92 Porsche with Michael Christensen posting the fastest lap.
Gianmaria Bruni – No.91 Porsche GT Team Porsche 911 RSR (LMGTE Pro Pole Position)
"It is something very good, I think yesterday was a really good lap, I was able to put it all together. I had a bit of a slipstream from another car which helped. The car was well balanced and I tried to go faster on the next lap but it didn't work and I spun over the gravel. But better yesterday than today or Saturday. It is 70 years of Porsche with this special livery which we have talked a lot about this week and it feels so good to be working with this special family."
The No.66 Ford GT will start in third place with a lap of 3:49.181, three tenths ahead of the reigning world champions Ferrari.
The LMGTE Am battle once again saw Porsche see off the challenge to take the top three places in the class.
Matteo Cairoli was confirmed as the fastest driver to secure the class pole with a 3:50.728 lap in the No.88 Dempsey-Proton Porsche, six tenths ahead of Ben Barker in the No.86 Gulf Racing 911, with the No.77 Dempsey-Proton Racing Porsche in third. The No.54 Spirit of Race Ferrari of Giancarlo Fisichella was fourth fastest, 1.2 seconds behind the pole position car.
Matteo Cairoli – no88 Dempsey–Proton Racing Porsche 911 RSR (LMGTE Am Pole position)
"It is something special to be on pole position at Le Mans, it is really amazing. I'm really proud of the team, they did an amazing job. I'm a little bit disappointed about the last session, I had a spin in Mulsanne. Luckily everything was fine. We are pretty confidant for the race and I just can't wait to start the race."
There is no track action on Friday but that does not mean anyone in the team has a day off. While mechanics will work hard to prepare both cars for the race, the drivers will meet some of the 250,000 fans during the unique drivers' parade in the city center.
Mike Conway (TS050 HYBRID #7): "Well done to Kazuki and the #8 guys on getting pole position. I'm pleased for everyone in the team but the real job is still to come in the race. We have concentrated on having a strong car in the race and I'm happy with the work we have done so far. We know from experience that Le Mans is a tough race but I'm ready for it."
Kamui Kobayashi (TS050 HYBRID #7): "It's great for TOYOTA to be on the front row at Le Mans. Congratulations to Kazuki; he did a really good lap. I think everyone in the team, the engineers, mechanics and drivers, did a good job to prepare a strong car which has run without trouble. We have done a lot of laps so far this week and I think we are in a good position for the race."
Jose Maria Lopez (TS050 HYBRID #7): "Congratulations to the team for this qualifying result, and to Kazuki for pole position. Everyone has worked so hard to be ready for Le Mans and this is a small step, but the big push comes in the race and I think we have a good car in race conditions. I'm looking forward to it; as always it will be a challenging race here and many things can happen."
Sebastien Buemi (TS050 HYBRID #8): "It's great to be on pole; I'm really pleased for the team. Kazuki did a great lap so well done to him and everyone for this one-two in qualifying. We still have plenty of work to do to achieve our target in the race; we will enjoy this moment but our focus is on the important business of the race. We've prepared all year for this and we know what we need to do now."
Kazuki Nakajima (TS050 HYBRID #8): "I was pushing hard and it was a clean lap; it was a good lap time so I'm happy. The track conditions were good, much better than yesterday when I didn't feel as comfortable as today. I think we have a really good balance for the race so I am pleased with what we have done so far. Qualifying is only maybe 1% of the whole weekend but this pole position is nice for the team but we all know that the race is very long and it's going to be tough."
Fernando Alonso (TS050 HYBRID #8): "I'm definitely happy. We know that qualifying is not really important for a 24-hour race but I'm happy for TOYOTA to be one-two ahead of the long race in front of us. Kazuki did a very good lap. I'm happy for him to put the car on pole. It's what we wanted to achieve. But we have earned nothing yet, this is just a preparation for the race. We have a long 24 hours in front of us but so far it has been a smooth preparation without any issues on the car. We are ready."
Combined qualifying results:
| | | | | | |
| --- | --- | --- | --- | --- | --- |
| Pos | No/Team | Car | Class | Time | Gap |
| 1 | 8 Toyota Gazoo Racing | Toyota TS050 – Hybrid | LMP1 H | 3:15.377 | +0.000s |
| 2 | 7 Toyota Gazoo Racing | Toyota TS050 – Hybrid | LMP1 H | 3:17.377 | +2.000 |
| 3 | 1 Rebellion Racing | Rebellion R13 – Gibson | LMP1 | 3:19.449 | +4.072 |
| 4 | 17 SMP Racing | BR Engineering BR1 – AER | LMP1 | 3:19.483 | +4.106 |
| 5 | 3 Rebellion Racing | Rebellion R13 – Gibson | LMP1 | 3:19.945 | +4.568 |
| 6 | 10 Dragonspeed | BR Engineering BR1 – Gibson | LMP1 | 3:21.110 | +5.733 |
| 7 | 11 SMP Racing | BR Engineering BR1 – AER | LMP1 | 3:21.408 | +6.031 |
| 8 | 4 Bykolles Racing Team | Enso CLM P1/01 – Nismo | LMP1 | 3:22.505 | +7.128 |
| 9 | 6 CEFC TRSM Racing | Ginetta G60-LT-P1 – Mecachrome | LMP1 | 3:23.757 | +8.380 |
| 10 | 48 Idec Sport | Oreca 07 – Gibson | LMP2 | 3:24.842 | +9.465 |
| 11 | 31 Dragonspeed | Oreca 07 – Gibson | LMP2 | 3:24.883 | +9.506 |
| 12 | 26 G-Drive Racing | Oreca 07 – Gibson | LMP2 | 3:25.160 | +9.783 |
| 13 | 28 TDS Racing | Oreca 07 – Gibson | LMP2 | 3:25.240 | +9.863 |
| 14 | 5 CEFC TRSM Racing | Ginetta G60-LT-P1 – Mecachrome | LMP1 | 3:25.268 | +9.891 |
| 15 | 23 Panis Barthez Competition | Ligier JSP217 – Gibson | LMP2 | 3:25.376 | +9.999 |
| 16 | 36 Signatech Alpine Matmut | Alpine A470 – Gibson | LMP2 | 3:26.681 | +11.304 |
| 17 | 39 Graff-SO24 | Oreca 07 – Gibson | LMP2 | 3:26.701 | +11.324 |
| 18 | 22 United Autosports | Ligier JSP217 – Gibson | LMP2 | 3:26.772 | +11.395 |
| 19 | 38 Jackie Chan DC Racing | Oreca 07 – Gibson | LMP2 | 3:27.120 | +11.743 |
| 20 | 37 Jackie Chan DC Racing | Oreca 07 – Gibson | LMP2 | 3:27.226 | +11.849 |
| 21 | 40 G-Drive Racing | Oreca 07 – Gibson | LMP2 | 3:27.280 | +11.903 |
| 22 | 47 Cetilar Villorba Corse | Dallara P217 – Gibson | LMP2 | 3:27.993 | +12.616 |
| 23 | 29 Racing Team Nederland | Dallara P217 – Gibson | LMP2 | 3:28.111 | +12.734 |
| 24 | 32 United Autosports | Ligier JSP217 – Gibson | LMP2 | 3:28.159 | +12.782 |
| 25 | 35 SMP Racing | Dallara P217 – Gibson | LMP2 | 3:28.629 | +13.252 |
| 26 | 34 Jackie Chan DC Racing | Ligier JSP217 – Gibson | LMP2 | 3:29.474 | +14.097 |
| 27 | 44 Eurasia Motorsport | Ligier JSP217 – Gibson | LMP2 | 3:33.585 | +18.208 |
| 28 | 33 Jackie Chan DC Racing | Ligier JSP217 – Gibson | LMP2 | 3:35.237 | +19.860 |
| 29 | 50 Larbre Competition | Ligier JSP217 – Gibson | LMP2 | 3:38.206 | +22.829 |
| 30 | 25 Algarve Pro Racing | Ligier JSP217 – Gibson | LMP2 | 3:39.518 | +24.141 |
| 31 | 91 Porsche GT Team | Porsche 911 RSR | LMGTE Pro | 3:47.504 | +32.127 |
| 32 | 92 Porsche GT Team | Porsche 911 RSR | LMGTE Pro | 3:49.097 | +33.720 |
| 33 | 66 Ford Chip Ganassi Team UK | Ford GT | LMGTE Pro | 3:49.181 | +33.804 |
| 34 | 51 AF Corse | Ferrari 488 GTE EVO | LMGTE Pro | 3:49.494 | +34.117 |
| 35 | 68 Ford Chip Ganassi Team USA | Ford GT | LMGTE Pro | 3:49.582 | +34.205 |
| 36 | 93 Porsche GT Team | Porsche 911 RSR | LMGTE Pro | 3:49.589 | +34.212 |
| 37 | 69 Ford Chip Ganassi Team USA | Ford GT | LMGTE Pro | 3:49.761 | +34.384 |
| 38 | 94 Porsche GT Team | Porsche 911 RSR | LMGTE Pro | 3:50.089 | +34.712 |
| 39 | 63 Corvette Racing – GM | Chevrolet Corvette C7.R | LMGTE Pro | 3:50.242 | +34.865 |
| 40 | 71 AF Corse | Ferrari 488 GTE EVO | LMGTE Pro | 3:50.246 | +34.869 |
| 41 | 67 Ford Chip Ganassi Team UK | Ford GT | LMGTE Pro | 3:50.429 | +35.052 |
| 42 | 82 BMW Team MTEK | BMW M8 GTE | LMGTE Pro | 3:50.579 | +35.202 |
| 43 | 81 BMW Team MTEK | BMW M8 GTE | LMGTE Pro | 3:50.596 | +35.219 |
| 44 | 88 Dempsey – Proton Racing | Porsche 911 RSR | LMGTE Am | 3:50.728 | +35.351 |
| 45 | 64 Corvette Racing – GM | Chevrolet Corvette C7.R | LMGTE Pro | 3:50.952 | +35.575 |
| 46 | 52 AF Corse | Ferrari 488 GTE EVO | LMGTE Pro | 3:50.957 | +35.580 |
| 47 | 86 Gulf Racing | Porsche 911 RSR | LMGTE Am | 3:51.391 | +36.014 |
| 48 | 77 Dempsey – Proton Racing | Porsche 911 RSR | LMGTE Am | 3:51.930 | +36.553 |
| 49 | 54 Spirit of Race | Ferrari F488 GTE | LMGTE Am | 3:51.956 | +36.579 |
| 50 | 97 Aston Martin Racing | Aston Martin Vantage AMR | LMGTE Pro | 3:52.486 | +37.109 |
| 51 | 56 Team Project 1 | Porsche 911 RSR | LMGTE Am | 3:52.985 | +37.608 |
| 52 | 90 TF Sport | Aston Martin Vantage | LMGTE Am | 3:53.070 | +37.693 |
| 53 | 80 Ebimotors | Porsche 911 RSR | LMGTE Am | 3:53.402 | +38.025 |
| 54 | 61 Clearwater Racing | Ferrari F488 GTE | LMGTE Am | 3:53.409 | +38.032 |
| 55 | 84 JMW Motorsport | Ferrari F488 GTE | LMGTE Am | 3:53.439 | +38.062 |
| 56 | 95 Aston Martin Racing | Aston Martin Vantage AMR | LMGTE Pro | 3:53.523 | +38.146 |
| 57 | 98 Aston Martin Racing | Aston Martin Vantage | LMGTE Am | 3:53.817 | +38.440 |
| 58 | 85 Keating Motorsports | Ferrari F488 GTE | LMGTE Am | 3:54.000 | +38.623 |
| 59 | 99 Proton Competition | Porsche 911 RSR | LMGTE Am | 3:54.720 | +39.343 |
| 60 | 70 MR Racing | Ferrari F488 GTE | LMGTE Am | 3:54.951 | +39.574 |