Bowyer edges Harvick, in rain-shortened Michigan 400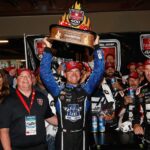 lint Bowyer, driver of the #14 Haas 30 Years of the VF1 Ford, celebrates with the trophy after winning the Monster Energy NASCAR Cup Series FireKeepers Casino 400
Jeff Zelevansky/Getty Images
Clint Bowyer scored on a soggy day at Michigan International Speedway, claiming Sunday's Monster Energy NASCAR Cup Series race for his second win of the season.
Bowyer's Stewart-Haas Racing No. 14 Ford led eight of the 133 laps in the FireKeepers Casino 400, which was shortened from its scheduled 200-lap, 400-mile distance because of rain. Bowyer's 10th win of his premier-series career was his first at the 2-mile track.
Bowyer took advantage of quick two-tire stop during his final trip to pit road. Crew chief Mike Bugarewicz's call bore fruit as Bowyer held off Harvick on the final restart before rain stopped the event.
Kevin Harvick led a race-high 49 laps and finished second in Stewart-Haas' No. 4 Ford. Pole-starter Kurt Busch led 46 laps and completed a 1-2-3 sweep for Stewart-Haas Racing, a first for the organization. Kyle Busch took fourth with Paul Menard rounding out the top five.
The race started 2 1/2 hours late because of early afternoon showers.
Kyle Larson's hopes for a fourth straight Michigan victory were hampered by a Lap 85 spin off Turn 4.
Larson's Chip Ganassi Racing No. 42 Chevrolet skidded into the infield grass, damaging the front splitter. Larson limped home as one of the last cars on the lead lap.
Three Joe Gibbs Racing drivers — Kyle Busch, Erik Jones and Denny Hamlin — started at the rear of the field after issues with their splitter in pre-race inspection. All three rallied to race into the top 10, though Jones dealt with further adversity with a speeding penalty on his first pit stop.
The Monster Energy Series takes next weekend off, returning to action for the Toyota/Save Mart 350 on June 24 (3 p.m. ET, FS1, PRN, SiriusXM) at Sonoma Raceway.
Results
| | | | | | | |
| --- | --- | --- | --- | --- | --- | --- |
| Fin | Str | No. | Driver | Team | Laps | Status |
| 1 | 12 | 14 | Clint Bowyer | Haas 30 Years of the VF1 Ford | 133 | Running |
| 2 | 4 | 4 | Kevin Harvick | Jimmy John's Ford | 133 | Running |
| 3 | 1 | 41 | Kurt Busch | Monster Energy/Haas Automation Ford | 133 | Running |
| 4 | 3 | 18 | Kyle Busch | M&M's Red White & Blue Toyota | 133 | Running |
| 5 | 15 | 21 | Paul Menard | Menards/Jack Links Ford | 133 | Running |
| 6 | 2 | 2 | Brad Keselowski | Miller Lite Ford | 133 | Running |
| 7 | 5 | 22 | Joey Logano | Shell Pennzoil Ford | 133 | Running |
| 8 | 9 | 12 | Ryan Blaney | DEX Imaging Ford | 133 | Running |
| 9 | 13 | 9 | Chase Elliott | Mountain Dew/Little Caesars Chevrolet | 133 | Running |
| 10 | 24 | 1 | Jamie McMurray | McDonald's Chevrolet | 133 | Running |
| 11 | 6 | 10 | Aric Almirola | Mobil 1 Ford | 133 | Running |
| 12 | 10 | 11 | Denny Hamlin | FedEx Freight Toyota | 133 | Running |
| 13 | 14 | 24 | William Byron # | Liberty University Chevrolet | 133 | Running |
| 14 | 16 | 3 | Austin Dillon | Dow Salutes Veterans Chevrolet | 133 | Running |
| 15 | 8 | 20 | Erik Jones | DeWalt Toyota | 133 | Running |
| 16 | 21 | 88 | Alex Bowman | Nationwide Chevrolet | 133 | Running |
| 17 | 25 | 47 | AJ Allmendinger | Kroger ClickList Chevrolet | 133 | Running |
| 18 | 17 | 78 | Martin Truex Jr. | Auto-Owners Insurance Toyota | 133 | Running |
| 19 | 28 | 43 | Bubba Wallace # | Meijer Chevrolet | 133 | Running |
| 20 | 20 | 48 | Jimmie Johnson | Lowe's for Pros Chevrolet | 133 | Running |
| 21 | 31 | 13 | Ty Dillon | Twisted Tea Chevrolet | 133 | Running |
| 22 | 11 | 31 | Ryan Newman | Okuma Chevrolet | 133 | Running |
| 23 | 29 | 95 | Kasey Kahne | Chevy Accessories Chevrolet | 133 | Running |
| 24 | 18 | 37 | Chris Buescher | Scott Comfort Plus Chevrolet | 133 | Running |
| 25 | 23 | 34 | Michael McDowell | Dockside Logistics Ford | 133 | Running |
| 26 | 33 | 15 | Ross Chastain(i) | FlightPath International Chevrolet | 133 | Running |
| 27 | 32 | 72 | Corey LaJoie | Zomongo Chevrolet | 133 | Running |
| 28 | 26 | 42 | Kyle Larson | Credit One Bank Chevrolet | 133 | Running |
| 29 | 7 | 17 | Ricky Stenhouse Jr. | Fastenal Ford | 133 | Running |
| 30 | 22 | 19 | Daniel Suarez | ARRIS Toyota | 132 | Running |
| 31 | 34 | 23 | Gray Gaulding | Toyota | 132 | Running |
| 32 | 36 | 00 | Landon Cassill | Star Com Fiber Chevrolet | 132 | Running |
| 33 | 19 | 6 | Matt Kenseth | Wyndham Rewards Ford | 132 | Running |
| 34 | 37 | 7 | * DJ Kennington | APC Chevrolet | 132 | Running |
| 35 | 38 | 66 | * Timmy Hill(i) | MBM Motorsports/CrashClaimsR.us Toyota | 132 | Running |
| 36 | 30 | 32 | Matt DiBenedetto | Can-Am/Wholey Ford | 131 | Running |
| 37 | 35 | 51 | BJ McLeod(i) | Prefund Capital Chevrolet | 131 | Running |
| 38 | 27 | 38 | David Ragan | MDS Tranpsort Ford | 35 | Accident |
| 39 | 39 | 99 | * Garrett Smithley(i) | Victory Lane Quick Oil Change Chevrolet | 1 | Transmission |
[adinserter name="GOOGLE AD"]