Penske team 1-2-3 in Texas Qualifying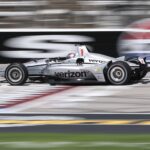 Newgarden streaks to pole
The Penske Chevy cars appear to have just a little extra top-end HP than all the other Chevys on the high-speed ovals like Texas and Indy.
That power was on display Friday afternoon in Texas as the Penske Chevy cars were the only ones over 220 mph and will start 1-2-3.
Newgarden drove the No. 1 Verizon Team Penske Chevrolet to a two-lap average speed of 220.613 mph on the 1.5-mile high-banked oval. It earned Newgarden the fourth pole position of his seven-year career and first on a superspeedway. It's also the 10th pole at Texas for Team Penske, the most of any team at the track.
Simon Pagenaud qualified second in the No. 22 DXC Technology Team Penske Chevrolet, at 220.311 mph. Will Power, who won the 102nd Indianapolis 500 on May 27 and defending Texas race winner, was third at 220.194 mph in the No. 12 Verizon Team Penske Chevrolet.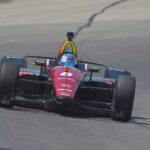 Impressive Robert Wickens was the fastest Honda in 4th
Qualifying took place in sweltering midday conditions, with the track temperature surpassing 130 degrees Fahrenheit.
Twenty-two cars qualified for Saturday night's race. Schmidt Peterson Motorsports' Robert Wickens continued his impressive rookie season by qualifying fourth in the No. 6 Lucas Oil SPM Honda (219.561 mph).
Power entered the race weekend as the championship leader, with a five-point advantage over Chip Ganassi Racing's Scott Dixon, who qualified seventh on the No. 9 PNC Bank Honda (219.112 mph). Andretti Autosport's Alexander Rossi is third in points, 11 behind Power, and qualified eighth in the No. 27 NAPA AUTO PARTS Honda (218.894 mph).
A final 60-minute practice is set to begin at 7:15 p.m. ET today and streams live on RaceControl.IndyCar.com, youtube.com/indycar and the INDYCAR Mobile app.
Race coverage on NBCSN and the Advance Auto Parts INDYCAR Radio Network begins at 8 p.m. Saturday. The DXC Technology 600 is the ninth of 17 races on the 2018 Verizon IndyCar Series schedule.
Quotes
JOSEF NEWGARDEN (No. 1 Verizon Team Penske Chevrolet): "I think (starting from pole here) helps a lot. It's very warm. I don't think I saw a person not sweating outside. We're dealing with the heat. I think this is a big boost for us particularly coming off of Detroit. It was a tough weekend for us on the No. 1 car side. I don't think it was the best weekend as a whole for Team Penske. We fought all weekend. To come here and have speed in all the race cars is really nice. I think it comes down to a lot of things – the team, the personnel we have. We have some of the best people in the paddock. You can see that. When you have cars go 1-2-3, it shows the competitiveness of all the cars. That's the thing that impresses me most about the team, is how competitive they make each car they have. They're really, really good at that. It's a big credit to Team Penske and Team Chevy as well, if you look at the speed we've had during the month of May, the 500. It helped us secure the pole today. That's a big part of it. Now that we have good speed, we have to figure out how to make the car last on tires. That is definitely the big deal tomorrow night. If we can do that, we're going to be just fine, find ourselves back in victory lane."
MATHEUS LEIST (No. 4 ABC Supply AJ Foyt Racing Chevrolet): "It's a pretty difficult track, to be honest, not that easy. Really just trying to go step by step. I think we have a great car here and I look forward to the race tomorrow. I know it's going to be a long race and it's been a tough one the past few years, so hopefully, we will have a good one."
JAMES HINCHCLIFFE (No. 5 Arrow Electronics SPM Honda): "We don't run in track conditions like this any other time of the weekend, so the only time you're running with 130 plus degree temps is when you've peeled all the downforce off and you're going for broke in qualifying. That's the toughest part – the unknowns. I don't think we did the best job in the Arrow Electronics car today, unfortunately. We'll do what we can in the race tomorrow, and like it's been said, you can win from anywhere here. With this new aero kit, passing seems to be a little bit trickier than it has in years past. We've driven up through up the field here before, and hopefully, we can do it again tomorrow."
ROBERT WICKENS (No. 6 Lucas Oil SPM Honda): "Every day in INDYCAR is a new adventure, but we keep coming to each weekend with great cars. I think today is the perfect example. I'm definitely not comfortable on a superspeedway yet, but everyone on the Lucas Oil car are doing a good job. We were quick in practice, and now we're starting fourth – can't complain about that."
SCOTT DIXON (No. 9 PNC Bank Chip Ganassi Racing Honda): "The PNC Bank car was great earlier today and wasn't bad in the afternoon, we just missed a little bit on the balance. But I'm not worried too much, as it really doesn't matter where you qualify here because you can win about from any starting position. The car just had a bit of understeer so we had to lift. Not a bit deal and we'll be ready to race tomorrow night for sure."
ED JONES (No. 10 NTT DATA Honda): "The race this year will be a bit different with the change in the amount of downforce we have on the car. So that will be interesting. The conditions here today are a little difficult, but I'm happy with our NTT DATA car. We just missed the balance a little in qualifying, but we should be in the top half of the field and in a good place to go racing for the win here tomorrow night in Texas."
TONY KANAAN (No. 14 ABC Supply AJ Foyt Racing Chevrolet): "A good run. I didn't think we were going to have it for the pole anyway, so I think if we're in the top six, it's a good spot to start and a great way to start the weekend. I think we have a good car for the race. I think we're improving as a team every weekend, so hopefully this will be a turnaround. Our best finish was last weekend, so we'll try to do a lot better than seventh."
GRAHAM RAHAL (No. 15 Fleet Cost & Care Honda): "We're not as good as we should be on these superspeedways right now. It's kind of been our weakness over the last handful of years. This team has been good everywhere else, but we struggle on this type of track. The out lap was super loose. I had a lot of understeer on the first lap and the second lap was better. It was just an inconsistent balance, which is the same as I had this morning. Takuma (Sato) is doing a good job, but I am just unhappy with the car. We didn't have a great practice and it just carried over to qualifying. We'll see what practice brings tonight and try to bounce back Saturday night."

SEBASTIEN BOURDAIS (No. 18 Team SealMaster Honda): "Overall, it was a pretty good day. The SealMaster Honda No. 18 was good this morning in practice and it was good in qualifying. It's very hot, so the car wasn't as stuck as it was in practice. We lost a lot of grip because the track was so much hotter, close to 140 (degrees), but it's the same for everyone. The guys gave me a good car. I was pretty comfortable with the balance. I had a little understeer, but I knew what I was going to get before the qualifying run. A good run, so pretty happy.
ED CARPENTER (No. 20 Fuzzy's Vodka Chevrolet): "The first half of practice earlier, I felt like we were really good. Then as people starting doing (qualifying simulations), we kind of fell behind. We took a little bit of a swing at it there in qualifying and just missed the balance. Ultimately, I think the speed is there. I wasn't flat, I was lifting in (Turn) 1 and 2 for understeer. However, I thought the car was really good on long runs. I've struggled here in qualifying and gotten to the front before, that's what we will do tomorrow."
SPENCER PIGOT (No. 21 Fuzzy's Vodka Chevrolet): "It's definitely a lot harder to drive here today in these conditions than it was in the tests. We had a little bit too much understeer in (Turns) 1 and 2 that made me have to get out of the throttle. We're going to have our work cut out for us tomorrow night, but hopefully, we'll make good progress in tonight's final practice."
SIMON PAGENAUD (No. 22 DXC Technology Team Penske Chevrolet): "We (Team Penske) seem to qualify (on the) front row pretty much every oval. We missed the pole on three ovals so far by a little bit. It was a fantastic effort from the whole No. 22 team. We had a bit of a tough practice this morning. We managed to make the right changes for this afternoon qualifying. I held my breath for those two laps – managed to keep the pedal to the floor the whole time. The handling was really good. Thanks to my engineer for sorting that out. Obviously, it's super important for us to do well this weekend for DXC. It's an incredible partner we have…they do all the data and analytics for the race team, basically get all the information from the cars, the other teammates for us as soon as possible to be successful on the racetrack. They're obviously a leader in their industry, just like Team Penske. Having these two together is a dream team. We couldn't be happier to have them onboard and be here as the title sponsor, as well."
CHARLIE KIMBALL (No. 23 Tresiba Chevrolet): "I'm pretty confident and happy with that qualifying run from the No. 23 Tresiba Chevrolet. We had a couple of issues on our qualifying sims this morning in practice, just with traffic and things like that, but overall, I'm just really proud of the Carlin guys. We unloaded here at Texas with a very stable car, and I've got to say that with how intimidating this place can be for both drivers and teams alike, that's pretty impressive. It's going to be a long race tomorrow night – it's going to be hot and slippery. I honestly think that whoever takes care of their tires the longest during the race will end up the best."
ZACH VEACH (No. 26 Relay Group 1001 Honda): "We just missed the tools the first lap. Obviously, you don't know what you're getting until you get out there. This being my first time here, I was a little conservative on the first lap and that hurt us. You should be flat through (Turn) 1, I tried to keep it flat as long as I could, but the front end took off on me. I'm kind of kicking myself because the second lap is what the first lap should have also been."
ALEXANDER ROSSI (No. 27 NAPA AUTO PARTS Honda): "I don't think we had enough for the front row, but maybe a Row 2. We just had quite a bit of understeer that built pretty dramatically on the first lap. That's the way it goes. I think it's more important to have a car that's strong. We were pretty happy with the NAPA car this morning and have another practice session tonight. It's going to be a long night tomorrow night, and it will be about staying out of trouble."
RYAN HUNTER-REAY (No. 28 DHL Honda): "We just have to keep the momentum going – last weekend was a huge weekend for us, but we've got to keep it rolling. The points are going to be so valuable, the competition is so close, the competition is so tight that you can't really afford to give up much as the season rolls along. Hopefully, we can put it together here in tonight's practice – tonight's practice is going to be so important. We're starting 10th, and we can absolutely do it from there with a strong car."
TAKUMA SATO (No. 30 ABeam Consulting Honda): "It was a little sketchy in Turns 1 and 2 and I had to lift a little bit because the car was sliding over the bumps; it was a little bit too neutral. But in Turns 3 and 4, I was happy certainly after today's practice session, I am happy with the speed I achieved. I'm happy that qualifying went extremely well with the No. 30 car under the circumstances. For the race, we are way over 400 pounds down on downforce from last year, so obviously, you can expect that the pack will be a little bit stretched out and it will be very difficult to follow as you observed in the Indy 500. With the banking here, typically Texas is a good two-wide race. Once the sun sets, I think you will be able to use the second lane and it will still be an exciting race."
MAX CHILTON (No. 59 Gallagher Chevrolet): "We had a problem with the throttle body this morning, so we were only able to do about 10 laps of pushing. We've had no testing here as a new team and going into a qualifying session in this heat is just extremely difficult for any team, but especially a new team. We just did the job we needed to do with the No. 59 Gallagher Chevrolet. At the end of the day, at a track like Texas Motor Speedway, you can qualify last and still come back and win the race."
GABBY CHAVES (No. 88 Harding Group Chevrolet): "The car felt fantastic today. The guys have been full throttle for so long and I'm happy with the car they gave me, so I know we'll be able to get it to the front during the race tomorrow. Texas is one of my favorite tracks because I've had some of my best results here, so we'll see how everything pans out."
MARCO ANDRETTI (No. 98 U.S. Concrete/Curb Honda): "I don't think we had enough for pole, but fortunately, it's 248 laps – a long night tomorrow night. This is a big home race for U.S. Concrete, and we're proud to carry their colors and look forward to, hopefully, getting them into victory circle tomorrow."
Qualifying Results
| | | | | | | | | | |
| --- | --- | --- | --- | --- | --- | --- | --- | --- | --- |
| Pos | No | Name | L1Speed | L2Speed | QSpeed | Diff | Gap | Engine | Team |
| 1 | 1 | Josef Newgarden | 220.444 | 220.782 | 220.613 | –.—- | –.—- | Chevy | Team Penske |
| 2 | 22 | Simon Pagenaud | 220.198 | 220.424 | 220.311 | 0.0643 | 0.0643 | Chevy | Team Penske |
| 3 | 12 | Will Power | 219.911 | 220.478 | 220.194 | 0.0893 | 0.0250 | Chevy | Team Penske |
| 4 | 6 | Robert Wickens | 219.419 | 219.704 | 219.561 | 0.2250 | 0.1357 | Honda | Schmidt Peterson Motorsports |
| 5 | 18 | Sebastien Bourdais | 219.387 | 219.218 | 219.302 | 0.2808 | 0.0558 | Honda | Dale Coyne Racing |
| 6 | 14 | Tony Kanaan | 219.284 | 219.031 | 219.157 | 0.3121 | 0.0313 | Chevy | AJ Foyt Enterprises |
| 7 | 9 | Scott Dixon | 219.262 | 218.962 | 219.112 | 0.3218 | 0.0097 | Honda | Chip Ganassi Racing Teams |
| 8 | 27 | Alexander Rossi | 218.455 | 219.335 | 218.894 | 0.3690 | 0.0472 | Honda | Andretti Autosport |
| 9 | 30 | Takuma Sato | 218.703 | 218.453 | 218.578 | 0.4375 | 0.0685 | Honda | Rahal Letterman Lanigan |
| 10 | 28 | Ryan Hunter-Reay | 218.195 | 218.912 | 218.553 | 0.4430 | 0.0055 | Honda | Andretti Autosport |
| 11 | 98 | Marco Andretti | 218.435 | 218.426 | 218.430 | 0.4695 | 0.0265 | Honda | Andretti Herta Autosport |
| 12 | 23 | Charlie Kimball | 218.255 | 218.034 | 218.145 | 0.5317 | 0.0622 | Chevy | Carlin |
| 13 | 10 | Ed Jones | 218.138 | 218.102 | 218.120 | 0.5371 | 0.0054 | Honda | Chip Ganassi Racing Teams |
| 14 | 20 | Ed Carpenter | 217.772 | 218.344 | 218.057 | 0.5507 | 0.0136 | Chevy | Ed Carpenter Racing |
| 15 | 5 | James Hinchcliffe | 217.323 | 217.858 | 217.590 | 0.6528 | 0.1021 | Honda | Schmidt Peterson Motorsports |
| 16 | 26 | Zach Veach | 217.013 | 217.935 | 217.473 | 0.6785 | 0.0257 | Honda | Andretti Autosport |
| 17 | 88 | Gabby Chaves | 216.992 | 217.307 | 217.149 | 0.7496 | 0.0711 | Chevy | Harding Racing |
| 18 | 21 | Spencer Pigot | 216.815 | 216.975 | 216.895 | 0.8056 | 0.0560 | Chevy | Ed Carpenter Racing |
| 19 | 4 | Matheus Leist | 216.750 | 216.465 | 216.607 | 0.8690 | 0.0634 | Chevy | AJ Foyt Enterprises |
| 20 | 15 | Graham Rahal | 215.487 | 216.700 | 216.092 | 0.9832 | 0.1142 | Honda | Rahal Letterman Lanigan |
| 21 | 19 | Zachary De Melo | 215.430 | 216.197 | 215.813 | 1.0452 | 0.0620 | Honda | Dale Coyne Racing |
| 22 | 59 | Max Chilton | 213.467 | 215.089 | 214.275 | 1.3901 | 0.3449 | Chevy | Carlin |
[adinserter name="GOOGLE AD"]